THE 50TH ANNIVERSARY 1963 - 2013
20th August 2013 – The BAC One-Eleven is 50


Today we celebrated a very special milestone in the long and successful history of this fine British Jet Airliner. Fifty years of flying by this superb aircraft since it first took to the air on the evening of August 20th 1963 at Hurn Airport, Bournemouth.

A special gathering by those linked to the aircraft has taken place at Brooklands Museum today to share this important moment in the long life of the BAC 1-11.
Test Pilots, Engineers, Production line workers etc have all come together for one final celebration. How fitting that this event has been staged at the home of the most famous aircraft in the entire fleet G-ASYD. First flown on the 13th July 1965 "Yankee Delta"c/n 053 was the series 400 prototype aircraft before being lengthened as a series 500 and then shortened to be a 475, 670, and then a 475 again. It flew into Brooklands for preservation on the 14th July 1994.
After some serious thought regarding a suitable venue, Brooklands Museum was finally selected on the basis that it is a very historic site with some fabulous exhibits and most importantly it is the home of the most famous BAC 1-11 of them all G-ASYD. Of course, it was always hoped that the event would be held at Bournemouth as had been the case before, but with no "live" aircraft left in service to support the anniversary, it was decided beyond any doubt that Brooklands was the only serious contender. Therefore over one hundred "veterans" who were linked with the aircraft in many different ways attended what turned out to be a very special day indeed. It was just a shame that everyone could only come together for just a few hours as there was so much to talk about!
Joining the former One-Eleven pilots, engineers, air traffic controllers, cabin crew and enthusiasts at the Brooklands Museum for the celebration were the Mayor and Mayoress of Elmbridge. Inevitably, perhaps, Councillor Mike Bennison is a former One-Eleven pilot. Now a retired British Airways senior captain, he flew most of the airline's European routes out of Heathrow with particular emphasis on Berlin. In fact, he was there when the wall came down.
The celebration was opened by Brooklands Director of museum operations, Julian Temple, who thanked everyone for attending the event before passing over to myself as Master of Ceremonies. I took the opportunity to thank the following who have supported me over the years, Nik Read, organiser of the event, Richard Church, Author of "The One-Eleven Story", and Ian Haskell who has supplied many historic images of the aircraft.
Among those with One-Eleven stories to tell was former BAC flight test engineer John Thorpe. Retired from the CAA's general aviation department where he was much in demand for his entertaining but thought-provoking presentation to safety evenings at flying clubs nationwide, John pointed out that One-Elevens were active in 71 counties, flew with 50 UK operators and were involved in 13 fatal accidents. There was a total of 31 hull losses of which 11 were in Nigeria.
British Eagle archivist and historian Eric Tarrant gave a résumé of how Eagle came from Halifax 8 aircraft in 1948 to BAC 1-11 aircraft in 1966. He said that although the airline only operated seven One-Elevens over a total of two and a half years the service provided to passengers matched the airline's name given to its first aircraft – 'Superb ' Its iconic logo and stylish paint scheme added to a very impressive addition to the fleet.
Retired RAF Squadron Leader Colin Froude flew One-Elevens for QinetiQ and its predecessors. Colin highlighted the strength of the aircraft which helped make it suitable for so many research programmes. On one occasion XX105 (formerly G-ASJD) suffered a damaged tail. Colin explained what happened next: 'Jack it up, take the tail off, straighten it all out, bang it together and its good for another 35 years.' The One-Eleven was, he said, 'over engineered.' The type's versatility also helped with trials of controller-pilot data-linking systems in the 1990s. 'It could do any sort of approach,' He remembered. 'It was a wonderful piece of kit.' Colin also recalled the last flight of QinetiQ One-Eleven ZH763 which arrived at Newquay in April 2013 for display at the museum there operated by the Classic Air Force. 'It was the cheapest One-Eleven in history, - It sold for £1!'
Mike Stanbrook is one of several former One-Eleven people working as consultants to Northrop-Grumman. 'In October 2006 Airbus declared they didn't want legacy aircraft so there was no more customer support for One-Elevens,' he said. 'Northrop-Grumman asked us to work for them." As a result Mike and his colleagues now provide 'basic' support for the two airframes still used regularly by the contractor. Two further examples are stored in Arizona and act as spares sources. 'They want to keep the aircraft in service,' Mike said. 'I'm not quite sure how.'
Although it's known that the Northrop-Grumman One-Elevens have been involved in testing for the B-1 F-22 and F-35 programmes he added: 'They're very secretive about what they do.'

Secrecy of another kind cloaked the story of Mike Romeo. Former Heathrow air traffic controller Alan Carter related how he and his colleagues were determined to look after BA's G-AVMR, a One-Eleven delivered to its predecessor British European Airways in 1970, after they had temporarily 'mislaid' the aircraft during a particularly busy period in the Heathrow tower. As a result, they determined – totally unofficially - that this particular One-Eleven would have their undivided attention from then on. 'How we looked after Mike Romeo,' Alan said. When 'A' Watch was on duty the aircraft never had to wait in a holding pattern when landing at LHR and on one occasion was treated to a stand normally reserved for BA long-haul flights.
Eventually `MR was disposed of and might like several other One Elevens have passed to Okada Air had it not been rejected by the Nigerian carrier for its lack of air stairs. When Alan retired from his job with NATS his colleagues - perhaps inevitably - presented him with a reminder of the aircraft he'd been so determined to pamper. As a result the 'chunk' of One-Eleven bearing the registration G-AVMR now hangs on his garage wall.
After the speakers, a superb lunch was laid on by the museum, before a photo shoot in front of G-ASYD with historic airline vehicles placed around the aircraft to add some historic flavour to what was an amazing day. Thank you to everyone who either helped to organise the event or who just attended. I was certainly in some "great" company!
I've followed the BAC 1-11 since I was 12 years old in 1978 and have to say that it has been an absolute pleasure. Now we have reached the 50th anniversary it is time to reflect on "a job well done"! I've met many interesting people along the way who have been connected with the aircraft in one form or another. We celebrated the 40th and 45th at Bournemouth with several aircraft in attendance but although today is a celebration of the aircraft's achievements over the past 50 years It is now time to announce that it is the end of the road for my long journey.
The very last UK based 1-11 ZH763 has been retired to its new home at Newquay thanks to a three year long campaign to save it. This was something that I was very much involved in from day one and I am very pleased indeed that such a great result was finally achieved thanks to the extremely hard work by all involved.

Two aircraft remain in service with Northrop Grumman in the US as radar test beds which fly only occasionally from their Baltimore Washington Base. Due to the nature of this "secretive work", they are very unlikely to be seen in public again unless one is preserved.

My website will continue as a tribute to all those who have put in so much effort with me over the past 12 years. One person who deserves a special mention more than anyone else is Richard Church, Author of "The One-Eleven Story". His superb book was first published in 1994 but he has kept it fully updated at home since then and I have now transferred all this additional data to my 1-11 website.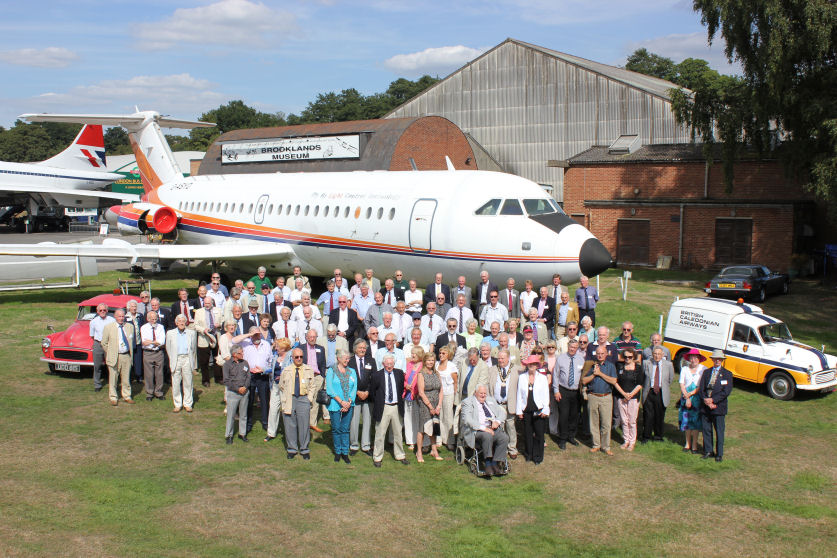 The assembled guests in front of G-ASYD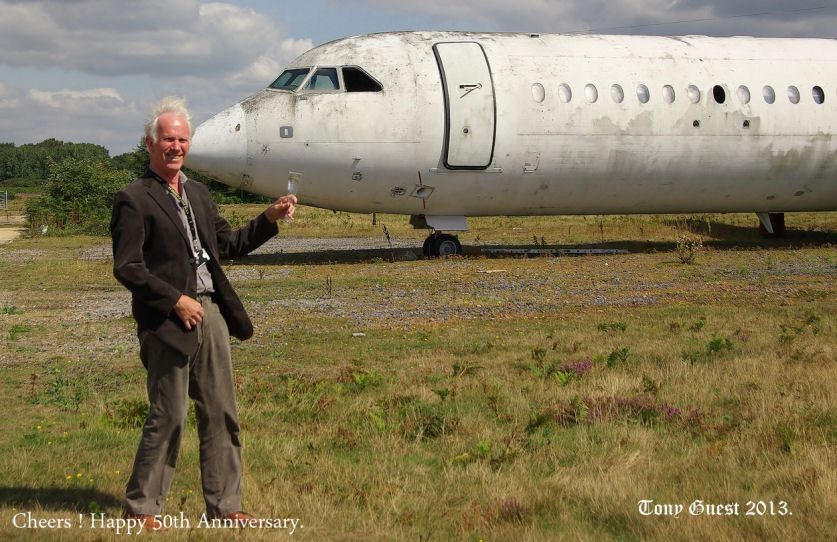 Bournemouth Airport Historian Mike Phipp celebrates at Bournemouth
AND FINALLY - LET US REMEMBER THOSE THAT MADE THE ULTIMATE SACRIFICE DURING FLIGHT TESTING - A TIMELY REMINDER THAT SUCCESS ISN'T WITHOUT RISK!
Another "50th" Anniversary was remembered shortly after the main event, but unlike the celebration held on the 20th August at Brooklands Museum to celebrate 50 years since the very first flight of the aircraft, this anniversary was a rather more sombre affair. Unfortunately just over two months after the prototype G-ASHG first flew, it sadly crashed and killed all on board. It was recently decided to remember this tragic event with a memorial service and unveiling of a 50th Anniversary memorial stone / plaque at the crash site near Chicklade in Wiltshire.
As BAC 1-11 historian Richard Church recalls, the hopes of everybody involved in the BAC 1-11 project were put in jeopardy when on the 22nd October 1963 the prototype G-ASHG crashed on Salisbury Plain near Chicklade in Wiltshire. The aircraft had relocated earlier to BAC's flight test centre at Wisley to continue with the flight test programme. The aircraft was on its fifty-third flight and had departed from Wisley for a continuing programme of flights to assess its stability and handling characteristics as it approached the stall together with measurements of the lift coefficient of the wing. It was during the fifth approach to the stall that the aircraft suddenly entered a deep stall condition from which it didn't recover. The cause of the accident was attributed to the previously unknown 'Deep Stall' phenomenon. This is now known to apply primarily to aircraft configured with rear mounted engines and a high set tailplane. The two people first on the scene 50 years ago, a forestry worker who saw the aircraft descending and heard the impact through the trees, together with a farm worker, who was working in the next field recalled how they quickly ran to the scene but immediately realised that there was nothing they could do.
Sadly all seven people aboard the aircraft were killed when all but the tail of the aircraft was destroyed in the ensuing fire. The crew comprised Lt-Cdr M J Lithgow (Pilot), Captain R Rymer (Co-Pilot), B J Prior (Assistant Chief Aerodynamicist at Vickers), C J Webb (Assistant Chief Designer at Hunting), R A F Wright (Senior Flight Test Observer One-Eleven), G R Poulter (Flight Test Observer Vickers) and D J Clark (Flight Test Observer Hunting).
The service, held on Sunday 20th October, was supported by many local residents of this small close knit community, together with representatives from the local Fire Brigade, BAe Systems Heritage, BAC (Roy Radford, Alan Smith, Peter Clark), Penny & Giles, The C/O of the Royal Navy/FAA Historic Flight and Nik Read, who represented Brooklands Museum. Unfortunately the weather did its best to ruin proceedings with heavy rain throughout the service however when it came to the unveiling of the memorial plaque, which was done by members of the crews families, the sun finally broke through. Special thanks must go to the villagers of Chicklade who were the organisers of this very fitting occasion. As I'm sure you will agree, it was long overdue! Without them, the service and memorial plaque unveiling would not have been possible.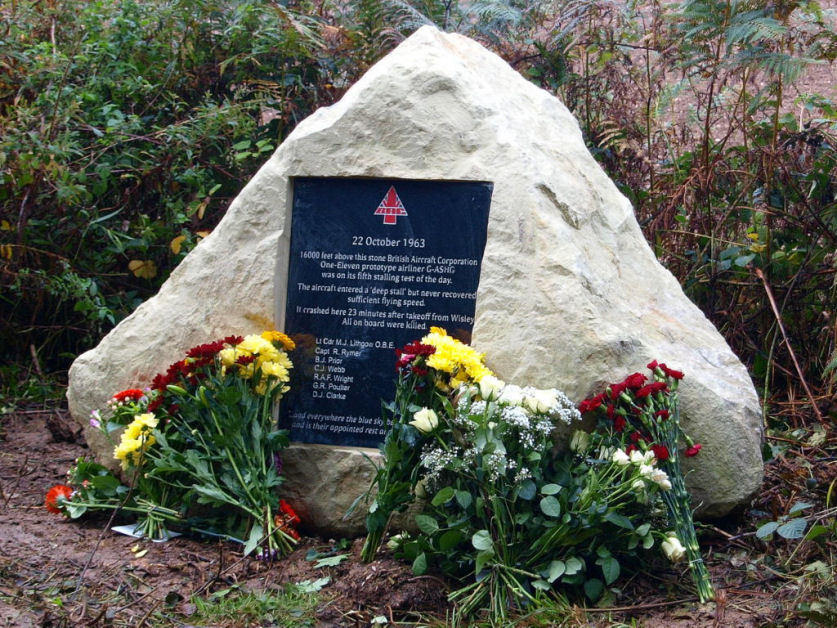 The memorial stone at the crash site
A Debt Today's Air Travellers Owe To Mike Lithgow