THE 40th ANNIVERSARY

The day is the 20th August 1963 and the time is 7.42pm. 1-11 Prototype G-ASHG  accelerates along the runway at Hurn Airport and gets airborne for the very first time.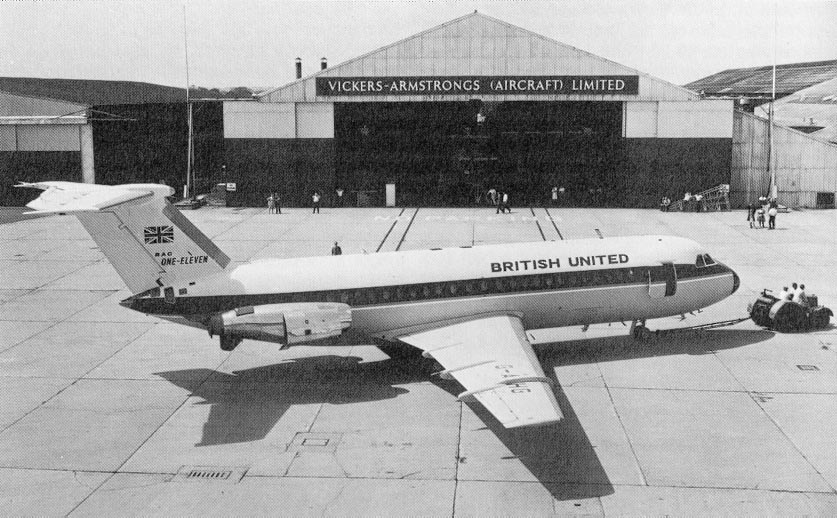 The 20th August 2003 and this fine British Jetliner reaches another important milestone, its 40th anniversary! As a tribute QinetiQ 1-11 ZH763 makes 3 low passes over the Hurn runway 
It is the first British jetliner to reach its 40th year and remain in commercial service!
There have been many highs and lows throughout its history but this month is all about celebrating one of our finest passenger jets. 244 were finally built. It should have been many more, but those that have seen service have done this country proud over the past 40 years! We should pay tribute not just to the aircraft itself, but to the designers, the assembly workers, the test pilots and all those airlines who have put their faith in a superb British product!
I could mention many memorable moments that have taken place through the years, but here are a selection of highlights to remind you what a superb product that "our" aircraft has been!
Aug 1963  -  As the prototype gets airborne BAC have notched up orders for 60 aircraft including American Airlines, Braniff and Mohawk.
1966  -  A second production line is opened up at Weybridge to keep up with demand and six aircraft are delivered from there during the year. The 1-11 was  the UK's "top dollar earner" with the American Airlines contract setting a new record of over 100 million dollars for a single order for British equipment from a US customer!
1967  -  British European Airways orders 18 of the new 500 series. Total deliveries of all series reached 100 during December.
1968  -  BAC wins the Queen's Award to industry for the second year running for its export record. The 1-11 becomes Europe's most successful airliner programme!
1970  -  A record ten aircraft were delivered from Hurn during March. Orders reach 200 during the year.
1975  -  Tarom orders its first 1-11 500 series which paves the way for the Rombac project.
1980  -  Gatwick is the 1-11 "hub" of the world with nearly 50 examples of the 1-11 being operated by Air UK, British Caledonian, Dan Air, and Laker Airways.
1982  -  The first Rombac 1-11 YR-BRA takes to the skies in Romania.
1988  -  The 25th anniversary is celebrated during the TVS Air Show South at Hurn Airport. British Caledonian is bought by British Airways. The combined 1-11 fleet creates the largest in the world. Over 30 aircraft are in service with the airline.
1992  -  British Airways and Dan Air start retiring their fleets. By November a record number of  1-11s are parked at Hurn. In all 23 aircraft can be seen on the former BAC site. Amazingly, not one is scrapped and they all fly out again!
1993 - European Aviation Air Charter and British World Airlines are created. European takes the entire fleet of series 510s from British Airways, except the 2 donated to Cosford and Duxford, while British World takes all 11 ex Dan Air aircraft.
1998 - The combined fleets of European and British World soldier on throughout the nineties with the fleets peaking during the late summer of 98 with 16 and 5 in service respectively. Meanwhile, the first 400 series aircraft appears with stage 3 hushkits fitted.
2003 - As the 40th anniversary passes this month 34 aircraft remain "current" although it has to be said that many of these don't fly regularly. The very last scheduled passenger services are currently being operated by Nationwide Airlines of South Africa. The fact that the 1-11 has reached this milestone in significant numbers is due in the most part to the fact that many airframes have been converted to executive jets or test beds in one form or another. It just proves what a versatile airframe it has been over the years. I hope that it will continue to serve for another ten years so that we can celebrate the 50th anniversary. Who knows? I think that the current fleet size will certainly remain steady for the next couple of years at least, although its future rests with the stage 3 hushkit programme. The 475 series is currently in the process of being certified. As well as the 5 aircraft already fitted with the hushkit, another half a dozen or so may be in the pipeline.
As for the 1-11's birthplace at Hurn, I would suggest a visit to any of you that would like to see the aircraft once again in any significant numbers. It is by a "twist of fate" that several of the aircraft remain parked outside the original production hangars! In fact, if you are lucky, you will still see as many as 10 aircraft parked on the airport site in 2003. Of these only one is currently in service. This is the stage 3 equipped Aravco aircraft VP-CCG.
"Happy 40th Anniversary BAC 1-11"
A Special Anniversary Article by Richard Church
The BAC One-Eleven Forty Years on.
On the 20th August 1963 the prototype BAC One-Eleven took to the air for the first time from Hurn Airport near Bournemouth with G.R. (Jock) Bryce in command. This was the first of all but thirteen of the 235 One-Elevens completed in the United Kingdom to fly from Hurn. The remaining aircraft were completed at Brooklands airfield set amid the historic banked Brooklands car racing circuit near Weybridge in Surrey and first flew from there. A further nine aircraft were completed at Baneasa airfield at Bucharest in Romania where they were produced under licence by ROMBAC.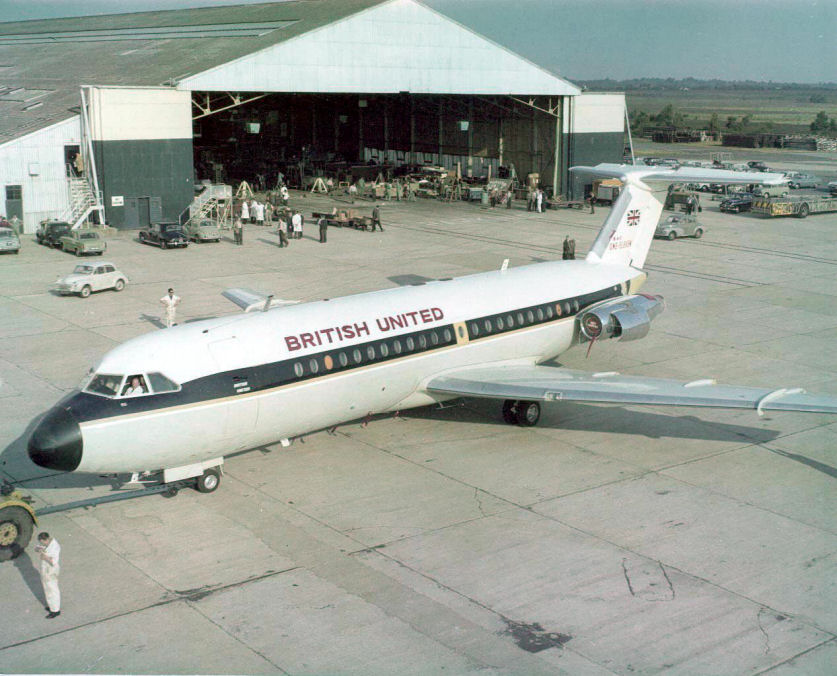 Prototype 200AB G-ASHG being rolled out at Hurn on the 28th July 1963
To celebrate this fortieth anniversary of the first flight of the last all British built airliner, an event was organised at Hurn on the 23rd August at which nearly two hundred people who had been associated with the type got together for a lunchtime buffet and reunion that carried on until the early evening. The event was organised by Nik Read from the Brooklands Museum and Peter Clark who runs the One-Eleven website. Among those attending were design staff, test pilots, engineers and production people, many of whom had been retired for several years and who relished the chance of meeting old colleagues again. Following the buffet and after introductions by Bill Coomber (Chief Executive Hurn), talks were given by Heinz Vogel (Chief Aerodynamicist 1-11) on the evolution of the One-Eleven from its Hunting P107 origins, by John Prothero-Thomas (Director Sales Engineering) on the One-Eleven in retrospect and by Peter Clark (Chief Project Manager) on the Rombac One-Eleven project before a Test Pilot's Forum ended the formalities chaired by Derek John (Sales and Service Director 1-11). Pilots on the panel were Roy Radford (1-11 Project Test Pilot), Alan Smith (Senior Training/Test Pilot), Paddy Cormican (Training/Test Pilot) and Captain Stan Websper (Pilot in Command first 1-11 commercial flight). The audience was kept entertained by many amusing stories from the early One-Eleven demonstration tours. Archive films were shown of the first flight and of the celebratory departure from Gatwick to Genoa of the first commercial service flown by a One-Eleven by British United Airways on 9th April 1965. Aravco Ltd positioned their two current operational One-Elevens close to the event while European Air Charter lined up their last three One-Elevens on the tarmac in front of the original production hangars for nostalgic photographic opportunities.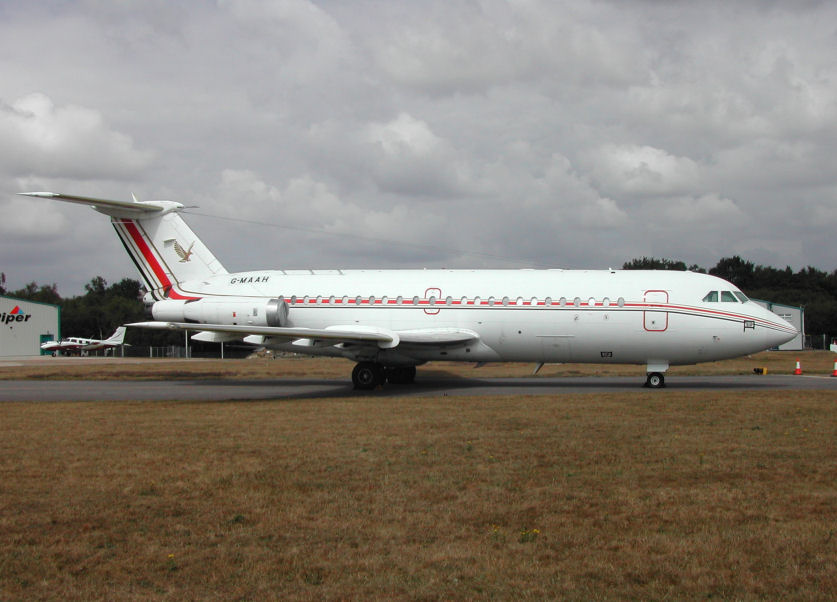 Aravco 488GH G-MAAH outside Bournemouth Flying Club Hurn 23rd August 2003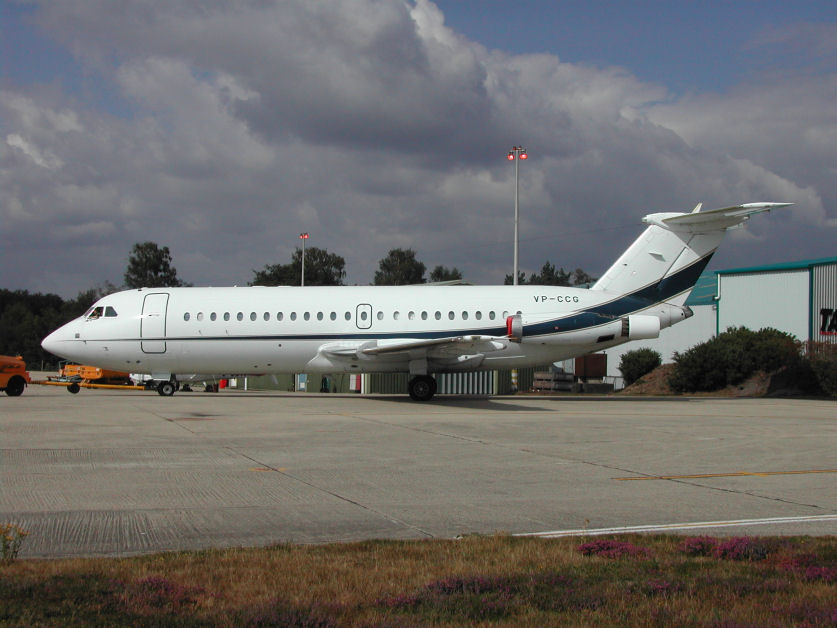 Aravco 401AK VP-CCG on the FR Aviation ramp Hurn 23rd August 2003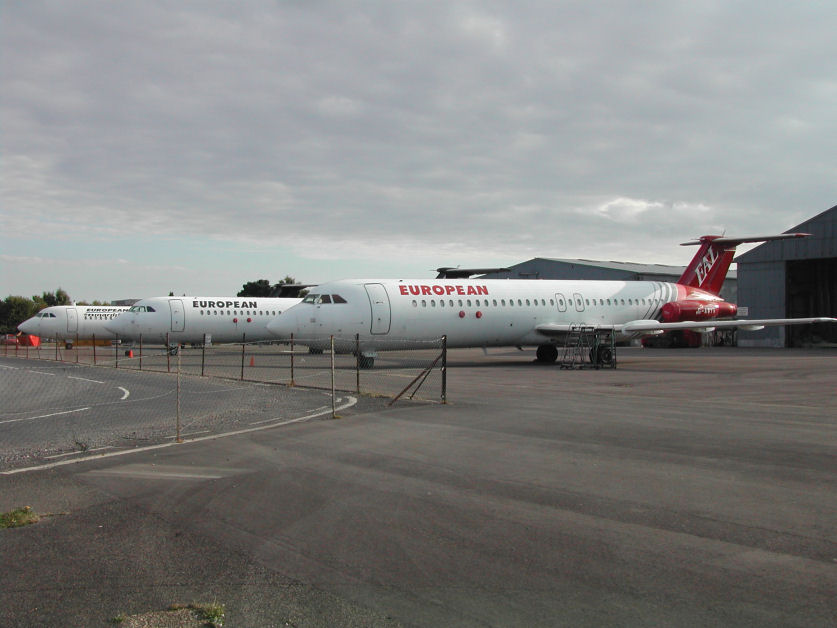 G-AWYV, G-AZMF, G-AVMT  on the European ramp Hurn 23rd August 2003 
Much has been written on the One-Eleven recently. However, this article will show what tasks the One-Eleven is performing today. The BAC One-Eleven project was publicly launched on 9th May 1961 with an initial order for ten aircraft from British United Airways and was soon to achieve major sales successes in the United States to Braniff Airways, Mohawk Airlines and American Airlines. The company also chalked up early sales to customers in Central and South America, Europe, Africa, the Near East, Asia and Australia. The main competitors for the One-Eleven were the Douglas DC-9 and the Boeing 737 which were not launched until April 1963 and February 1965 respectively.
First One-Elevens produced were the Series 200s with Series 300s and 400s added later and although of identical dimensions to the initial Series 200 had increased weights and payload. Passenger seating generally ranged between 69 and 84 in these versions with different customers. The stretched Series 500 was launched with an order for 18 aircraft for BEA in January 1967. Some 13½ feet longer and with the wing span increased by 5 feet, the Series 500 was initially fitted with 97 passenger seats. This version was somewhat short on payload/range performance for the inclusive tour market. To overcome this problem with prospective customers, engines were upgraded to Spey Mk-512-14DWs with water injection for all other Series 500s produced. This gave another 550 lbs of static thrust per engine. With a modified wing leading edge, the new Series 500 became ideal for the inclusive tour market with passenger seating up to a maximum of 119. The final version produced was the Series 475 which employed the wings and engines of the Series 500 with the short fuselage of the Series 400. Fitted with larger wheels with low pressure tyres and a redesigned main undercarriage housing, the Series 475 was designed for use out of gravel strips in hot/high situations and was particularly suited to the routes in the high Andes that were to be served by the first customer, Faucett of Peru. Over a period of well over twenty years of production BAC sold One-Elevens to no fewer than twenty-two countries throughout the world.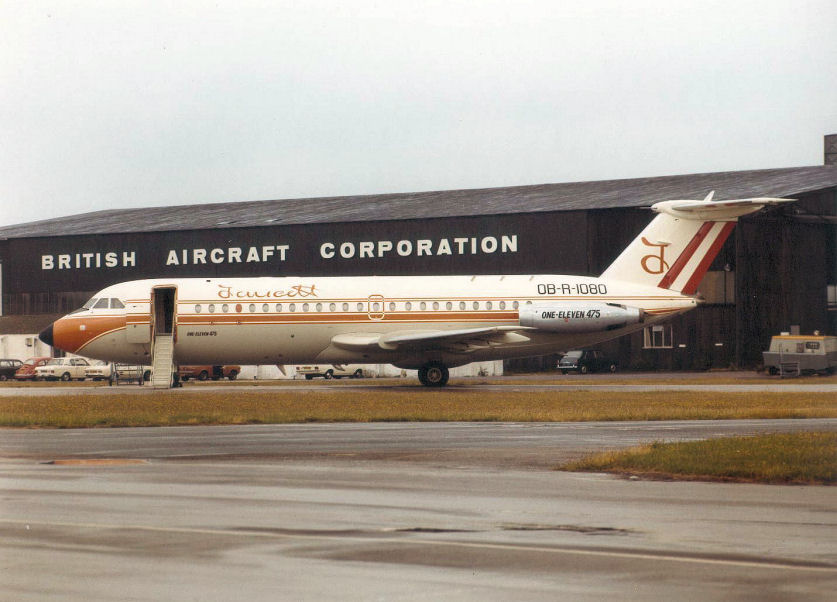 Faucett 476FM OB-R-1080 being prepared for delivery at Hurn July 1974
Attempts had been made in the 1970s to overcome the excessive noise problem of the Spey engine and most aircraft were modified to accept Rolls-Royce/BAC designed hush-kits that just conformed to the Stage 2 noise limits. Sadly the Stage 3 noise restrictions that became effective in the EEC on 1st April 2002 put an end to the use of the type commercially within Europe while in the USA similar rules have also come into use. Airline use of the One-Eleven in the USA came to an end in November 1989 when Braniff Airways finally ceased trading while British Airways, the last major operator in Europe, withdrew the type in May93. The aircraft did continue flying in British Airways livery through Birmingham based Maersk Air Ltd until they too withdrew the type in early August 1998.
After the major carriers withdrew the type, aircraft passed on to operators throughout the world. European Air Charter in the United Kingdom and its parent company European Aviation obtained no less than twenty-four Series 500 One-Elevens of which sixteen were made operational. A highlight for this company was Sunday 20th September 1998 when all sixteen aircraft flew. However, the fleet was gradually run down to three aircraft by the time the Stage 3 restrictions came into force. Over the years this company's fleet was employed flying inclusive tour passengers, ad hoc charter work and on behalf of numerous domestic and European airlines. Similarly, British World Airlines flew five Series 500s on similar duties until their last aircraft was withdrawn in December 2000.
Some seventy-six used aircraft of all versions were sold to airlines in Nigeria where the aircraft soldiered on until a fatal crash at Kano on 4th May 2002 saw the type grounded by the Nigerian authorities. By the time of the accident approximately seventeen One-Elevens were flying with Albarka Air Services, Chanchangi Airlines, Chrome Air, EAS Airlines, Kabo Airlines, Oriental Airlines and Savannah Airlines and it is difficult to determine how many of the remaining Nigerian fleet could be made airworthy. Other aircraft were sold in the Democratic Republic of Congo, South Africa and Rwanda. Apart from the countries to which new aircraft were delivered, One-Elevens have also been registered in thirty-one additional states over the years.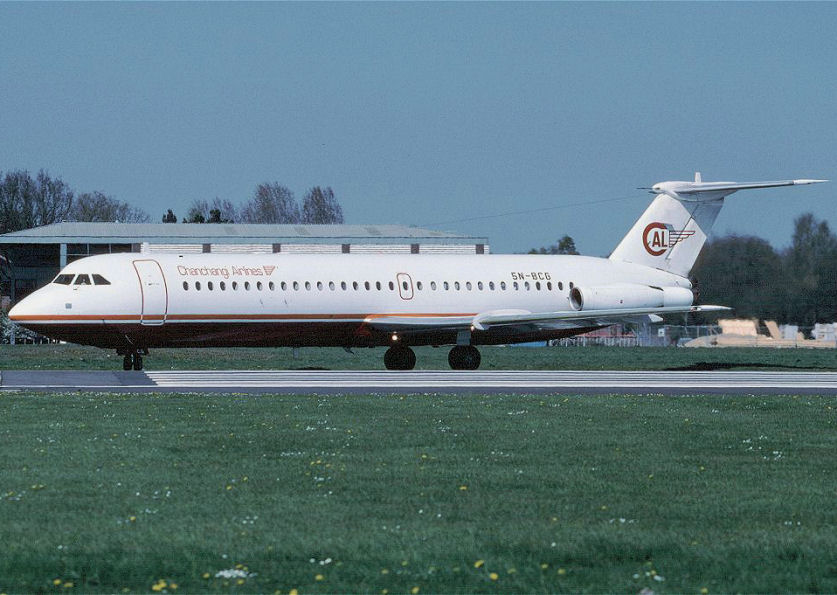 Chanchangi 510ED 5N-BCG about to become the last 1-11 series 500 to depart from Hurn 6 Apr 2002 
It is thought that only one aircraft is still flying on scheduled services in the world today and that is a Series 537GF of Nationwide Airlines of South Africa which has recently emerged from a 'C' Check at their engineering base at Lanseria. However, it is believed that it was due to be withdrawn from use this September. The remainder of the eleven strong fleet of this airline is in store at Lanseria near Johannesburg. One of the last scheduled operators of the type was Tikal Jets of Guatemala which flew two Series 400s on tourist flights to Flores (for the Tikal Mayan ruins) and to San Pedro Sula in Honduras as well as on charters throughout Central America and the Caribbean until earlier this year.
BAC sold a handful of new Series 200, 400 and 475 aircraft to executive and military customers in Australia, Brazil, Germany, Oman, Saudi Arabia and the United States. When American Airlines withdrew its fleet of thirty Series 400s in January 1972 a deal was struck with National Aircraft Leasing to convert sixteen of the aircraft into executive configuration with long range fuel tanks installed in the forward under-floor hold. These luxuriously appointed aircraft were eagerly taken up by corporations in both the USA and the Middle East. Later many other short fuselage versions were converted into executive configuration and were used all over the world and it is in this configuration that the majority of the survivors are operating today. One company had the vision to endeavour to produce a hush-kit that would confirm to the Stage 3 noise limits. Quiet Technology Venture Ltd in Florida (now Quiet Technology Aerospace) carried out flight tests with a Series 400 in July 1998. One of European Air Charter's Series 500s was also flown across the Atlantic on a couple of occasions and was flown with the kit fitted to the starboard engine. However, it was found that the costs of certificating the Series 500 that would satisfy BAe, Rolls-Royce and the UK Civil Aviation Authority were far too high to warrant the work for a relatively small fleet and the project was abandoned. In the USA however the programme for the Series 400 culminated in the granting of a Supplementary Type Certificate for the converted aircraft in July 2000. The Stage 3 modifications include the fitting of a new nose cowl acoustic lining of carbon graphite and Nomex honeycomb sandwich, a twelve lobe fluted exhaust mixer nozzle and a dustbin type jet exhaust noise suppression ejector. Efforts were also made to reduce the noise level from the Auxiliary Power Unit using similar technology. It should be pointed out that the Series 500 and 475 had never been certificated in the USA. It is understood that five aircraft have undergone conversion so far and that the Series 475 might well be certificated in a third country to enable the existing fleet of aircraft to continue flying unrestricted throughout the world. Aravco's G-MAAH was flight tested after being fitted with Reduced Vertical Separation Minima (RVSM) equipment on the 6th August this year and in all probability will be the last flight of a United Kingdom civil registered One-Eleven. This will enable the aircraft to fly at higher and more economic flight levels where airspace is at a premium. It is expected that other aircraft will be similarly fitted.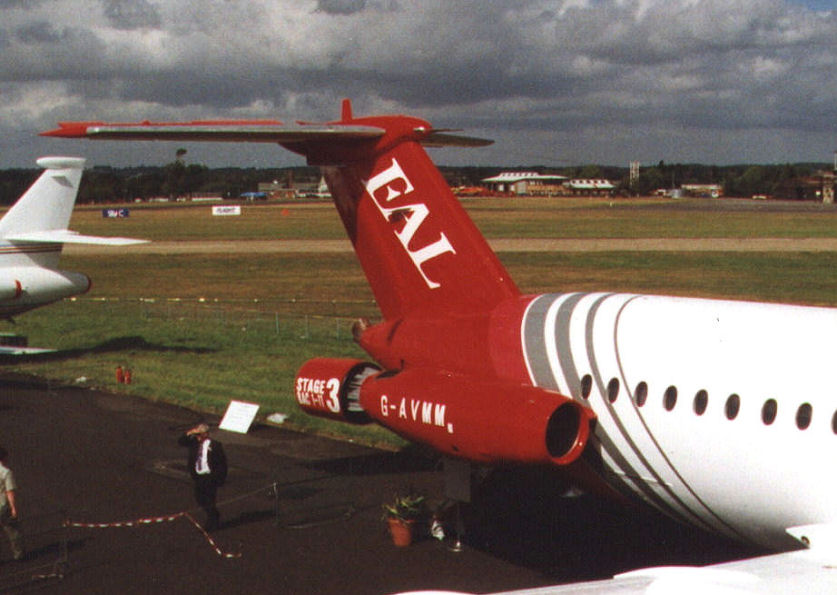 "What might have been" European 1-11 510ED G-AVMM Farnborough September 1998 with "dummy" stage 3 hushkit
Apart from four corporate aircraft that are operating in the United States that have been Stage 3 hush-kitted, a further sixaircraft are in use in the corporate rôle with Stage 2 modifications which are operated at reduced weights and power settings. In this way noise levels are kept within acceptable limits. Generally speaking these reduced settings are not a problem with the low payloads of corporate aircraft. The two largest operators in the USA are Select Leasing and Business Jet Services, both of whom currently operate three aircraft. Three Series 400s and a Series 475 aircraft are operated by Jetline Inc on behalf of a group of North African governments in the corporate rôle and a fifth Series 400 has recently appeared in the same area in the colours of Libyan Arab Airlines. Other current operators are Aravco in the United Kingdom with a Cayman registered Stage 3 hush-kitted Series 400 and a Series 475, Indonesia Air Transport with a Series 400 and a Series 475 while eight other Series 200s and 400s are flown as corporate aircraft mainly in North Africa and the Middle East. In Romania, Romavia is still flying its three Rombac built Series 500s outside the EEC area where ever it can find work for them while one of the aircraft operates as a corporate aircraft on behalf of the Romanian Government.
The Royal Air Force of Oman is the only customer still flying aircraft delivered new to it apart from Romavia. Three Series 475s that were fitted with main deck cargo doors have been serving this organisation faithfully for nearly twenty-nine years.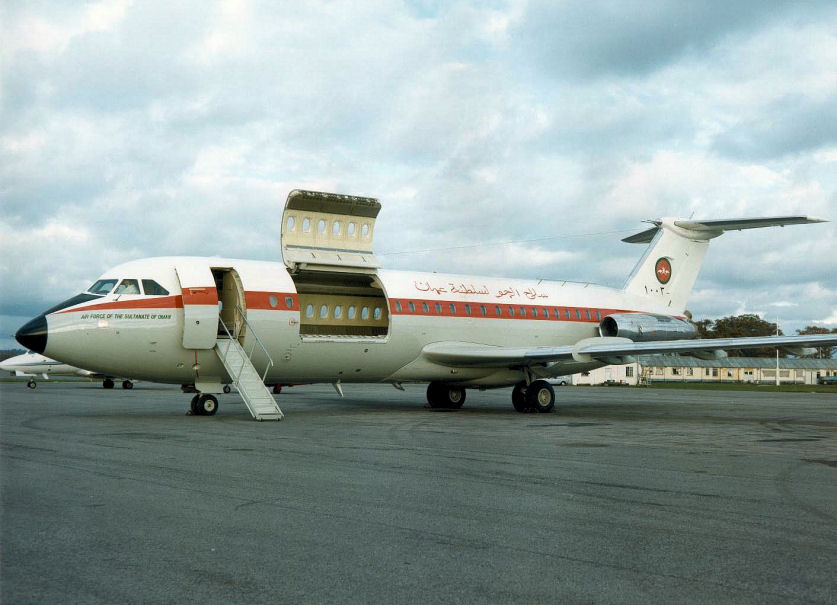 SOAF 485GD 1003 showing off its main deck cargo door at Hurn 1st November 1975
In the research rôle Northrop Grumman operates a fleet of three Series 400s out of Baltimore in the USA. These three aircraft have been very much modified over the years with extended radar noses and many other protuberances and aerials visible and are used to flight test radars and other equipment destined for new aircraft. Similarly in the United Kingdom QinetiQ based at Boscombe Down has flown several aircraft in the research rôle although only one Series 500 is now operated together with a Series 475 that is flown by the Empire Test Pilots' School. The sister ship of the Series 475 has been flown by GEC Ferranti out of Edinburgh testing new radars in its extended nose. Qinetiq recently retired one of the oldest One-Elevens in service in the world. This aircraft was the seventh One-Eleven to take to the air and a former British United Airways Series 201AC and was registered XX105. To celebrate its retirement, QinetiQ flew all three of the Boscombe Down based fleet on a photographic sortie on the 28th May this year while its final flight included a fly past at Hurn on 5th June. QinetiQ also celebrated in its own way the fortieth anniversary of the One-Eleven first flight by carrying out three low passes down Hurn's runway on the 20th August with ZH763, a former British Airways Series 539GL. The claim to being the oldest One-Eleven still active falls upon the first Braniff Airway's Series 203AE which has been flying since 9th June 1964 and was the sixth One-Eleven to fly. It now flies as a corporate aircraft in the United States with Select Leasing Inc as N200JX. Another veteran which still flies regularly is a former British United Series 201AC (G-ASJI) which is flown on behalf of the Government of the Democratic Republic of Congo by Air Katanga as 9Q-CSJ. This veteran has been flying since 22nd December 1964 and still flies with no hush-kitting whatsoever.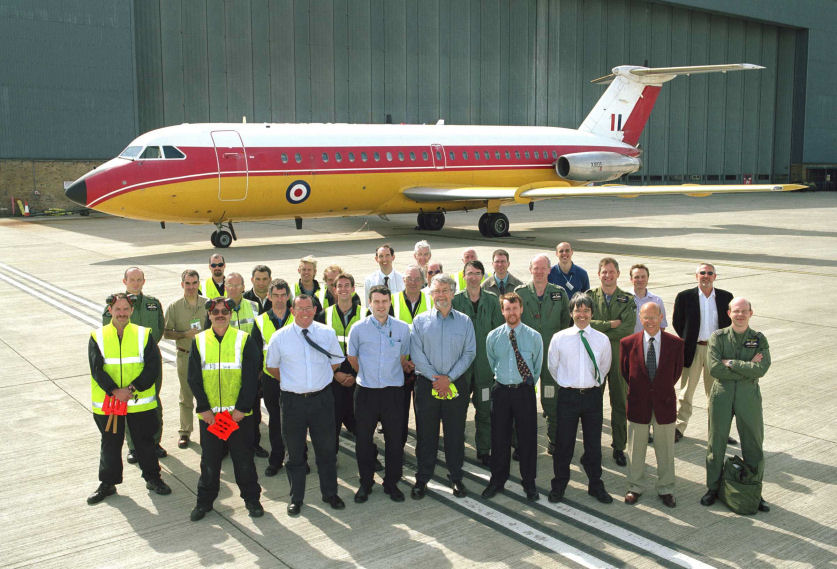 QinetiQ 201AC XX105 team photo at Boscombe Down after its last flight 5th June 2003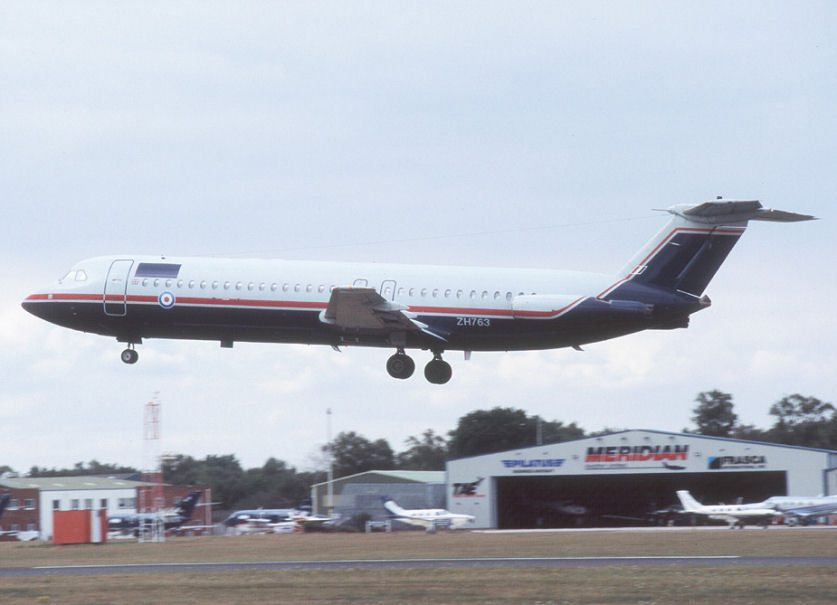 QinetiQ 539GL ZH763 carrying out one of 3 low passes at Hurn on the 20th August 2003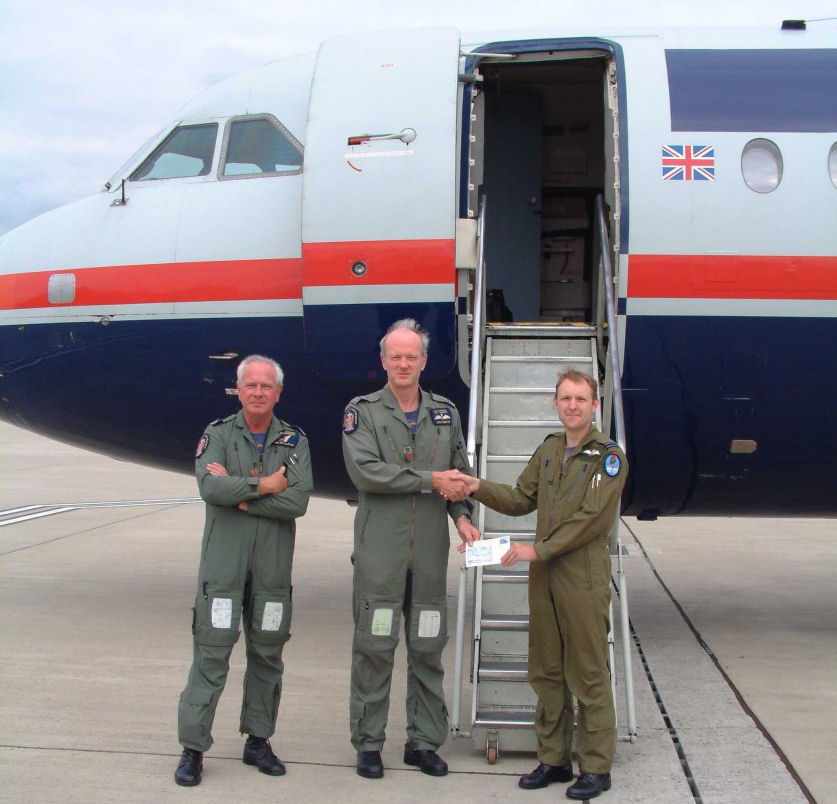 Celebrating the 40th anniversary flight with a commemorate first day cover. ZH763's crew at Boscombe Down
Four aircraft are preserved in the United Kingdom at Museums at Brooklands, Cosford, Duxford and Hurn while in Argentina one ex Austral aircraft is used as an instructional ground based aeroplane by the Instituto Nacional de Aviación Civil at Morón in the Buenos Aires western suburbs.
There are several aircraft capable of being put back into use if suitable work can be found for them including three Series 500s that were once flown by European Air Charter that are currently stored at Hurn, the Nationwide fleet at Lanseria and four Series 500s in store in Malta. It is believed that in Pakistan, Aero Asia's four aircraft fleet is still in store while several more aircraft are in store at several locations around the world.
It is clearly the twilight of the One-Eleven's career but it will always be remembered for being a rugged and reliable airliner that served all its operators well. For many thousands of British and German tourists, the One-Eleven was their first experience of flying when they went on package tours to numerous Mediterranean destinations with such carriers as Bavaria, BCAL, British United, Caledonian, Court Line, Dan-Air, Germanair, Monarch and Paninternational. In British Airways service it flew over one million accident free hours while overall the type has flown some eight and a half million hours. Individually the highest time One-Eleven has flown 64,592 hours while the highest cycled aircraft has carried out 80,672 landings.
| | | | | | | | |
| --- | --- | --- | --- | --- | --- | --- | --- |
| Type | Total built | Overall height | Span | Overall length | Max take-off weight | Engines | Static thrust |
| 200¹ | 58 | 24ft 6in | 88ft 6in | 93ft 6in | 79,000lb | Spey Mk.506-14 or 14AW | 10,410lb |
| 300 | 9 | 24ft 6in | 88ft 6in | 93ft 6in | 88,500lb | Spey Mk.511-14 or 14W | 11,400lb |
| 400 | 70 | 24ft 6in | 88ft 6in | 93ft 6in | 88,500lb | Spey Mk.511-14 | 11,400lb |
| 500² | 95³ | 24ft 6in | 93ft 6in | 107ft 0in | 104,500lb | Spey Mk.512-14DW | 12,550lb |
| 475 | 12 | 24ft 6in | 93ft 6in | 93ft 6in | 98,500lb | Spey Mk.512-14DW | 12,550lb |
¹The series 207AJ and 217AU were powered by Spey Mk.511-14s.
² Series 510ED had Spey Mk.512-!4E engines of 12,000lb static thrust.
³ Of which nine were completed in Romania.
Richard Church is the author of the excellent book "THE ONE-ELEVEN STORY" published by Air Britain (Historians) Limited