THE STORY OF "THE TRUCK - WABBIT ONE"
Royal Australian Air Force BAC 1-11 A12-124 Disposal Ferry Flight by Bud Oke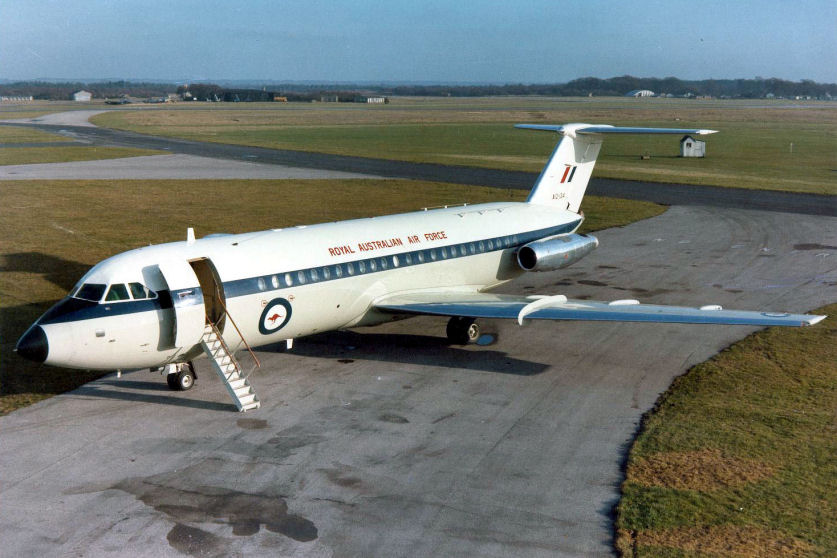 A12-124 at Hurn before delivery in 1968
Since 1968, No 34 Squadron had operated a mixed fleet of aircraft consisting of two HS748s, three Dassault Mystere-20s and two BAC 1-11s, transporting the Royal Family, Heads of State, Governors, Prime Ministers and various Government Ministers on official duties, to all parts of Australia and the Asia-Pacific region. A review, conducted during 1987, concluded that the fleet should be replaced by a single type under a lease agreement. Several potential contenders were considered, with the Dassault Falcon 900 going through to selection, a fleet of five aircraft entering service in late 1989.
The existing fleet continued operating until January 1990, when the two HS748s were reallocated to No 32 Squadron, RAAF East Sale, and the remainder of the fleet and spares parts were sold to Paul Stoddart's European Aviation LTD. The Mysteres were resold locally to PELAIR Aviation and the BAC 1-11s were destined to be ferried to the UK for refitment and resale to Okada Air (Nigeria): A12-125 (G-KROO) in April 1990 and A12-124 (G-EXPM) in August 1991.
The aircraft were registered G-KROO and G-EXPM on 5 March 1990. Shortly after this time Paul Stoddart began negotiations with Chief Okada of Nigeria for the sale of both aircraft to Okada Air, at the time operating BAC 1-11s. The negotiations were more complex than Paul had anticipated and, consequently, caused delays in delivery. Finding customers for our BAC 1-11s was difficult. Some people, it seems, don't appreciate the music that a non-hushkitted 511-14 produces at full power and re-engining with Tays would require structural modification and around US$13000000. Nigeria, like many other African states, is not plagued by the Philistines as we are in the West and is able to allow the operation of the aircraft as is.
Unfortunately for Paul, the limited market allowed his prospective customers to screw him down on price and after ferry costs, refitting and hangar fees were paid, the profit was negligible. On 19 April 1990, G-KROO under the command of Captain R.J. (Paddy) Cormican, with FLGOFFs Gavin Brown and Shane Toonen, flew via Alice Springs, Port Hedland, Cocos Id, Male, Bahrain, Iraklion and Nice to Bournemouth/Hurn, where, 23 years before, the aircraft rolled off the production line. G-KROO remained at Hurn, awaiting specifications for refit. G-EXPM was left unloved and uncovered at Hawker Pacific, Sydney.
During 1990, the weather took its toll on the external surfaces of the "truck", however, its internal workings were lovingly maintained by Ed Zoing (HP's Chief Engineer), James King (HP's Tarmac Co-ordinator) and Peter Hudson (ex 34SQN "sumpy" now working for Paul Stoddart). I would occasionally pop in to visit, kick the old beast over and run some fuel and electrons through it. It was still very sad to see the once grand lady of our VIP fleet looking so shabby.
By May 1991, much progress had been made on the sale to Okada. Paul decided to move G-EXPM from Sydney, and G-KROO from Bournemouth, to Southend-on-Sea for refitting to the Chief's specifications. Ed and Pete began preparing the aircraft for the ferry and James negotiated with CAA for temporary certification. James and I liaised with Jeppesen (our handling agents) for ground handling, fuel and flight planning. The target date of 11 July was set for departure so I called Mike Birks to ask him if he would be available for two or possibly three weeks around that time, to test fly and ferry the truck to the UK. He agreed to do it and we began organising the passports, visas and other personal admin for the trip.
I employed Jeppesen's Jetplan Flight Planning and Weather system, which incidentally, still had A12-124 & 125 on the database, to examine and compare the various routes to the UK. Although there were quite a few exotic locations I would have preferred to visit, the route selected was via Alice Springs, Port Hedland, Cocos Id, Colombo, Dubai, Cairo and Nice to Southend, with overnights in Cocos and Dubai.
The aircraft preparations continued smoothly. Ed had to remanufacture a broken strut for the rear stairs and replace a few seals in the hydraulics but, generally, the aircraft was in good condition; even the customary oil spots under the engines were absent. The negotiations with the British and Australian CAAs, however, ran into a bureaucratic bog and consequently delayed the operation. Departure was rescheduled for 30 August.
On Tuesday, 27 August 1991, the crew, minus Paddy who was due to arrive Wednesday night, met at Hawker Pacific. Mike Birks and I gave the truck a thorough inspection and did a bit of dusting and polishing prior to departing for our accommodation. Paul put us up in the Sydney International Motor Inn, which turned out to be very comfortable and convenient to the airport. The following day saw us engine running, systems checking and high speed taxying. All we found was some moisture in some of the gauges, a transmitter fault in our cheap, nasty digital RADAR and a mysterious void where once sat our DMEA. The aircraft looked quite dull with its deteriorated paintwork and absence of markings, other than the small, black "G-EXPM", so I decided to paint a "Bad Wabbit", the unofficial 34SQN badge, on the tail.
We returned to our accommodation, where, later that night, we met Paddy on his arrival from the UK. We found Paddy a very interesting character, with a wealth of knowledge and experience and a great sense of humour. Over dinner and a few beers, we extracted from him that he had flown everything from Canberras to Concordes and had amassed some 29000 flying hours, 6000 on "trucks". He had operated BAC 1-11s with Cyprus Airways prior to retirement and was currently instructing on the simulator to keep his hand in.
We discussed the condition of the aircraft, the proposed route to the UK and planned the flight test for the following morning. I was finding the phonetic G-EXPM painfully cumbersome so Paddy suggested we use the callsign "Wabbit One": the "truck" was officially re-named.
After a morning of intense negotiation with CAA and some serious card playing, "Wabbit One" launched for a test flight at 1430 Hours. I had arranged to use Nowra and R437 for a couple of touch and gos and some high level pressurisation and stall warning checks, so we tracked to Nowra via Wollongong and returned via Bindook. The RADAR was useless beyond ten miles, No1 Compass System was stuck on heading 185, the Doppler went to sleep above 5000 feet and No2 Air conditioning Pack dropped off line above F130. Otherwise all was OK; even the callsign met with the approval of the controllers. The road to this point in the project had not been easy, but the unique sound of the Speys, the massive acceleration and the vibration on that first takeoff after 18 months made the effort worthwhile.
At 1030 hours, on Friday, 30 August 1991, "Wabbit One" departed Sydney for the last time with Paddy Cormican, Mike Birks, Ed Zoing, James King and me on board. Prevailing Westerlies prevented us from making Port Hedland direct so we planned via Alice for fuel. To save a bit of time, we levelled off at FL260, cruised at VNE (330 KIAS) and opened doors at Alice Springs 3.3 hours later. Although we lacked any area nav equipment, the high density of radio and visual navaids made up for the malfunctioning Doppler and assisted our track keeping and ETAs. The RADAR picture improved during the flight, but not to an acceptable level of performance, and we discovered that the air conditioning would behave at normal cruise power. We ended up climbing on one pack and selecting No 2 once level.
We hit the ground running at Alice, managed a 40 minute turnaround and departed for Port Hedland; another FL260 dash. With 20000lb of fuel and 1000lb payload, we climbed at 300KIAS to FL260 in 11 minutes. Lake Mackay and Lake Disappointment passed by below and soon we were on the ground at Port Hedland for a refuel and Customs clearance. The 874 mile leg was chewed up in 2.6 hours burning 12320lb of fuel and about two litres of Club Soda. We checked into the Flight Service Unit to collect our Met and NOTAMS and file our plan for Cocos. I guess we would have been the last transit crew to do that at Port Hedland before the service was withdrawn. The Customs man had not been informed of our requirements but we managed to chase him up and clear out without much delay and departed for Cocos at 1530Hours (Local).
The leg to Cocos was 1350 miles of open ocean with no alternates. We squeezed 24200lb of fuel into the old "truck" and climbed to FL350. On the plan, we would arrive with 8580lb; enough for one approach at Cocos and a diversion to Christmas Id to arrive with 2000lb, 800lb less than fixed reserve. The trouble with using Christmas as an alternate was that if there was bad weather at Cocos, there would most likely be bad weather at Christmas. The higher elevation of Christmas (916ft) and lack of effective approaches made it a fair weather consideration only. We carried a PSD for Learmonth, which worked out to be 260 miles short of Cocos.
The crew day began to look a little long but any fatigue seemed to be subdued by our enthusiasm. We did however try to expedite our progress. Paddy's airline background told him that BAC 1-11s cruised at Mach 0.76 but Birko and I eventually convinced him that the engineers at BAC had put a lot of time and effort into the development and installation of little bells to tell the operator when he is travelling at the correct speed. Our bells rang at M0.80.
Navigation to this point had been relatively easy but eventually the DMEs and NDBs dropped out and I was forced to resort to….. wait for it…..the sextant! It had been some time since I had last peered through a bubble at a celestial object but it was a bit like riding a bike, though I'm not very expert at that either. I ran a 20 minute fixing cycle, using Sun and Moon lines and popped out on track and on time inbound to Cocos. The Freon treatment we had given the compass system in Sydney seemed to have worked although we still had a two degree split. No 2 system checked out on the "Sun Gun" so we ran the show on it. A P3C, bound for Cocos at about the same time, called us and asked us to turn on our transponder. We complied and requested air-to-air TACAN. The TACAN locked on at 47 miles, reducing, so we opted for a high speed descent. The race for the fuel truck was on. At high levels, the BAC 1-11 was reasonably rapid mode of transport, but low down with our 330 KIAS VNE we were no match for the P3. As we joined downwind for Runway 15, the P3 reported at 30 DME, indicating an average of 60 Knot overtake on us. Luckily we had a bit of head start, so by the time they landed, we were unpacked, refuelling and sipping our first beer.
Our after-flight revealed three cracked passenger windows something I had not seen before on the type. Only the outer glass was broken, so we decided to carry the fault, fill in the EE500 with 9.5 hours for the day and put the "truck" to bed. After a tour of the remains of the P3 that crashed in the lagoon in the previous April, we dined and made an early night of it.
Day broke on Cocos on Saturday 31 August. We rose early with ease due to our three and a half hour body clock advantage and after a hearty breakfast, visited the Cocos Flight Service Unit to file one of their last flight plans. Doors closed at 0845 and after a faultless start, taxi and takeoff, we did a standard Cocos Departure: for the uninitiated, that's a full power takeoff on Runway 15 followed by a left turn and low level tour of the atoll, a 330 knot gear up run down the runway at about 50 feet and a 2G pull-up. The purring Speys ensured that even the sleepy heads on the island would benefit from a couple of extra weekend hours awake.
We set heading for Colombo and climbed to our customary FL350, doing the air conditioning pack shuffle and carefully watching windows. At top of climb, I inserted the sextant and prepared for the first shot of the day, when I noticed a five degree split in the compasses. No1 read 319, No2 was 324 and my shot read 321. Both systems seemed to annunciate normally. I decided to leave everything on No 2, due to the known fault, but felt uneasy because of the Sun shot. A dark smear on the horizon heralded more interesting times to come.
Soon, the gentle chop we had been experiencing became a little more moderate. The RADAR was working well within 30 miles, but as the turbulence increased became useless. The cloudless skies we had left at Cocos had become eight eighths over the undercast and there were thunderstorms about. Well, there we were! No radio aids, no Doppler, no RADAR, no Sun and dodgy compasses, with the weather deteriorating – just one of those days. We visually picked our way around the cells, dialled up 350 KHz (Ratmalana NDB) on the ADF and roughly headed 320.
Ratmalana was very weak and the ADF needle swung from cell to cell. I dialled up Channel 74 (Colombo INTL) on the TACAN and waited for a lockon. When the aids began to lock on, I realised that we were about six minutes late on ETA and 15 miles left of track, indicating that No1 compass system was now more accurate. We revised our ETA and turned toward Colombo. Luckily, the destination weather was reasonably clear, so we made an uneventful approach and landing, shutting down with 7000lb of fuel remaining.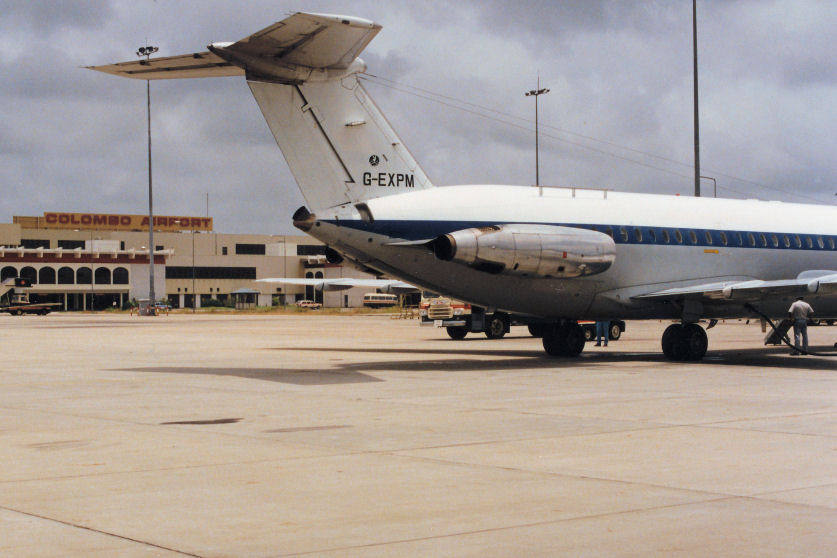 "Wabbit One" in Colombo
We opened doors and were immediately invaded by a group of 12 local men, all identically dressed with white shirts, black ties and sunglasses (the Blues Brothers?). They rushed on board and offered all assistance: we just wanted fuel and out of there. To this day, I can't figure out what they all did. We turned around in 45 minutes, noting that the window count had grown to seven and giving the compass clutches a good squirt, and blasted off to Dubai.
In our original planning, we had intended avoiding Indian Territory, to save the hefty navigation fees they charge even overflying aircraft, but the complex route required to avoid all the little bits of rock belonging to India made it impractical. We tracked out via the air route over Trivandrum and paid the fees. During the climb, the compasses were split by three degrees, but this reduced to two degrees in level flight. The weather was fine so the "Weather RADAR" came out of hiding and worked well. What a useful aid! Communications on VHF were good, so long as we didn't request anything non-standard. HF comms, however, were atrocious.
As we rocketed across the Arabian Sea, we transferred to Bombay radio, who generally ignored our transmissions or, when acknowledged, misunderstood them. Perhaps my mumbled Australian drawl put them off. Initially, we had been cleared to FL280, but we required our standard FL350 to make the 1785 mile leg with reserves. "Bombay, Bombay, Wabbit One on 8,9", I called….no response. "Bombay, Bombay, Wabbit One on 8938", still nothing heard. Air India called and received service. Once they had concluded their business, I called again, this time with positive results: "Wabbit One go ahead". "Wabbit One, request Flight Level 350". After about 30 seconds Bombay replied, "Wabbit One, confirm maintaining level 350?"…"Wabbit One, negative. Request clearance to climb to Flight Level 350."……"Wabbit One confirm maintaining level 350". These exchanges continued for some minutes and were typical of the entire route section. Eventually, Bombay understood what we were on about and cleared us to FL350. Whether there was any conflicting traffic or not was unknown. We climbed anyway.
We battled on with Bombay until, after what seemed an eternity, we were handed over to Muscat. The sky was covered with a light cirro-stratus, which was light enough to see the Sun but obscured the Moon and Venus. The Sun was behind us, at first, giving us across track position lines and, consequently good along track position information. Due to our speed and Westerly heading, the Sun was never in a position to give us a good across track update and in fact, never made it past 45 degrees to track. The Compasses were still split and equally inaccurate, but a feeling in my water told me we were right of track. I steered us left just before Muscat RADAR, with a very Australian accent, identified us 20 miles right. This, of course, was embarrassing, but at least we were on time. We were cleared direct from present position to Izki, our confidence restored by the knowledge of our position and the reassuring eloquence of our controller.
On the horizon, we could see evidence of a landmass through a very thick smoggy haze. Crossing the coast revealed the spectacular, rugged scenery characteristic of the Middle East. Wide arid plains divided by huge gorges and rocky mountains devoid of vegetation; its solitude disturbed only by the occasional small village or a lonely, dusty track. It was easy to draw comparisons of this vast land with our own, but this seemed too much more desolate that I thought orbiting Mars would be like this.
Soon the vacant inland faded into the coastal collection of large cities. We requested descent and returned to reality. The efficient control in this area impressed us and allowed us to open doors in Dubai six minutes early. Our handling agent was there, ready to receive us and we were on our way to the hotel within 20 minutes. Bob Catt from Jeppesen had booked us into the very comfortable, Dubai International Hotel. We surveyed the ground floor on arrival and selected a restaurant for dinner. Ed and James had filled us with delicious steak sandwiches enroute so we booked for eight thirty.
After a refreshing swim and shower, dinner time arrived. I was surprised that fatigue had not affected us, considering the long days and the six hour time zone change. At dinner we met up with Paul Stoddart and Sue Aston (Manager, European Aviation) just arrived from London and enjoyed a splendid meal. Later that night, I retired to my room opposite the Royal Suite. Typically, for my luck, the occupant across the hall had arranged a party without inviting me. I spent the rest of the night trying to sleep through the pounding drums of Arabic music and the giggling of scantily clad girls coming and going from the orgy.
Sunday's checkout was early. We expected delays in clearing customs, flight planning and departing so we rapidly breakfasted and bussed to the airport. When we were leaving Sydney, we made sure we had the essentials with us, including clip-on ID cards. James, however, proclaimed "I won't need that" and left his behind. On arrival at the airport, those of us with ID cards, obviously crew, were ushered through the express lane, but James was led away by an armed guard to the Customs Office. The other thing that stood out about James was that he was the only man within 1000 miles wearing shorts; a bad idea in this part of the world. The others waited in the crew lounge, wondering what our hosts were doing with him, while I went to flight planning. They were still there on my return. As our scheduled departure time approached, James arrived white faced and saying very little. He never told us what happened to him in there but our imaginations filled in the blanks.
We closed doors on time at 0900 hours and departed for Cairo. The temperatures at this time were around 40C on the ground and showed up the deficiencies of our power plants. On takeoff, we hit our 580C TGT limit and only managed 66 inches of P7 pressure, giving us a rather long roll. We rotated, everyone leaning forward, and lumbered skywards, setting 540C (Max Continuous), for a demonstration of the worst climb performance I had seen from a "truck". Our single engine performance would have been somewhat less than startling. A dark, heavy haze, resulting from the recent war, reduced visibility to about three miles to 10000 feet, but, once clear of the sludge, we could see large plumes of black smoke from the oil well fires on the horizon.
Our track took us via Bahrain and Halaifa, over some of the most desolate country in the world. Large circles on the ground below gave us an indication of the type and scale of agriculture in the region. Communications in the area had been good, but when we transferred to Jeddah, there was silence. My initial suspicion was that our No 2 VHF set had overheated, as it had done in the past, due to inadequate cooling; a legacy of the after market fit that it was. I switched off No2 and tried No1 with the same results. Paddy tried HF and I tried the previous VHF frequency with no luck. I managed to raise an Air France aircraft, who was experiencing the same problem and we exchanged positions, wondering how many other jet aircraft would be in this part of the world at our altitude. Eventually, it dawned on me to try Medina tower, who advised us that Jeddah had suffered a power failure. A long two or three minutes passed until comms were restored and we returned to the relaxed mode. Wejh and Ras Nasrani passed by and, in the wink of an eye, we were on descent into Cairo.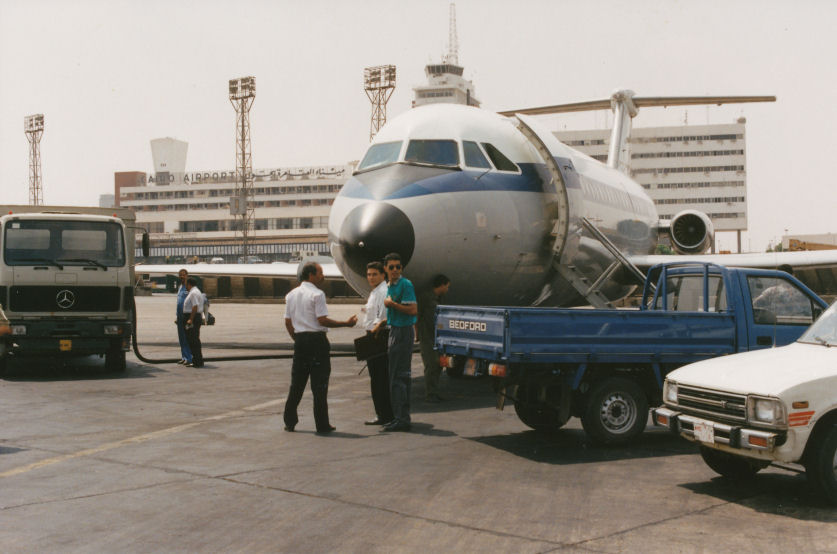 Fill 'er up and check the windows - A smiling Caltex man pumps 10000 litres of Avtur into "The Truck". They must be paid by commision here!
Doors opened on time at 1030 and we set about refuelling and replanning. As I was tidying the Flight deck, I noticed a Shell Fuel tanker arrive. By the time I had stuffed our excess paper into the rubbish bag, another truck had arrived, this time Mobil. I checked our Handling sheet from Jepesen, which nominated Caltex as our refueller in Cairo, and proceeded outside. I rounded the nose of the aircraft to find the Shell tanker plugged in and three locals, one being the Caltex man, grasping each other by the collar and yelling some very unfriendly Arabic. In my best WOD voice, I attracted their attention and showed them the paperwork, saying CALTEX very clearly. They ceased their discussion and the Shell man unplugged with much spitting and cursing, allowing the broad smiling Caltex man to hook up. I could not understand what the Shell man said to me on his departure but I'm sure it was something to do with my anatomy. I hope what they say about Egyptian curses is not true.
I had filled a flight plan for our leg to Nice in Dubai, but when I checked with Cairo Ground to see if they had our onwards details, they had us planned via Yugoslavia at FL260, which didn't really appeal to any of us. I grabbed our agent, gave him a copy of our original plan and sent him back to Ops. We closed doors five minutes late, with our plan still filtering through the system, and, surprisingly, received the departure clearance we were expecting.
Our heavy weight and 38C OAT gave us another nervous departure. We tracked via Menku to Alexandria, where we were given a northerly RADAR heading for separation with a 737 at our level, passing FL260. After climbing to our planned FL350, we requested a left turn to track towards Paleochora. Eleven minutes later and halfway to Cyprus, we were cleared direct. The deep blue Mediterranean appeared peacefully calm as we passed over Caraffa and Elba. French ATC, who spoke the indigenous tongue to their domestic traffic and instantly reverted to English for everyone else, managed to route us around and cause a 40 minute delay in our arrival in Nice, so we prepared for a rapid turn around to make our scheduled time in Southend. [
As we taxied towards our parking bay, we noticed the conspicuous absence of any people or vehicles in the area. I asked Nice Ground if they had our onwards details and they replied, "contact your handling agent for slot time". I called our agent, Air Azure and asked them for our slot time and the whereabouts of our fuel. They gave us a slot time ten minutes away and advised that the fuel was on its way. It was about this time that we realised that we were not going to make our Southend ETA. I requested a revised slot time as we shut down and a few minutes later they gave us a time two hours away. We needed a drink!
An Air Azure representative arrived in a car and offered us a lift to the terminal so we waited another 10 minutes for the fuel to arrive and went with him. After tea and buns with Tina Turner in the terminal, we returned to the aircraft and closed doors two and a half hours late. I thought we were cutting things a bit fine by planning to arrive at Southend 15 minutes before Jet curfew and I new that the French would be a problem but I was not expecting such expert nobbling. It may have had something to do with the "G" registration.
We were issued an airways clearance that bore no resemblance to our plan. Obviously, the direct route via Lyon and Boulogne was not for us: instead, they tacked us via Montpellier to Spain, perhaps? The excuse was traffic, but we saw little evidence of that. They eventually turned us right on to about 300, but that heading would never get us back on track. As time progressed we rocketed further west and further away from our desired track. Paddy said there was nothing we could do about it. "You get used to this sort of thing around here", he said. Soon, my patience expired; "Wabbit One, request direct track to Nantes due weather". There were actually some clouds around there too. "Wabbit One, clear direct Nantes", ATC replied. We turned and began to point toward our destination. "That's a novel approach, Bud", said Paddy, seeming a little surprised by my 34SQN technique. As soon as we were handed over to the next controller, I did it again. This time I managed a direct track to Dover and soon we were in contact with London. The confident voice of the British controller broke the tension we had been feeling across France and heralded the close proximity of our final destination. After a bit of RADAR vectoring, we rolled out on final at 1905, two hours and five minutes after curfew.
British skies are graced with a wide variety of aircraft one would never see here. It's as if there is a daily display of everything from ultralights to Tornados. As we approached Southend we were given a free demonstration, as the only original Mel09 in the world launched and departed. After he departed, we landed, trying to minimise the noise for the locals with our stealth approach and minimum reverse thrust, but trying to be quiet in a "truck" is a bit like saying "Sshh" to Guns and Roses.
We taxied in and shut down, three days and 27.6 flying hours from Sydney. Pete Hudson was there to meet us, armed with the customary Veuve Clicquot, and much partying began, with no regard to the lynch mob of local residents that had assembled outside the fence. We filled in the EE500 for the last time, noting 13 broken windows, and transferred our gear to Paul's bus. I sat in the seat that I had occupied for five years, knowing that I would never again hear the roar of the Speys or the voices of the people that had grown so close in that time.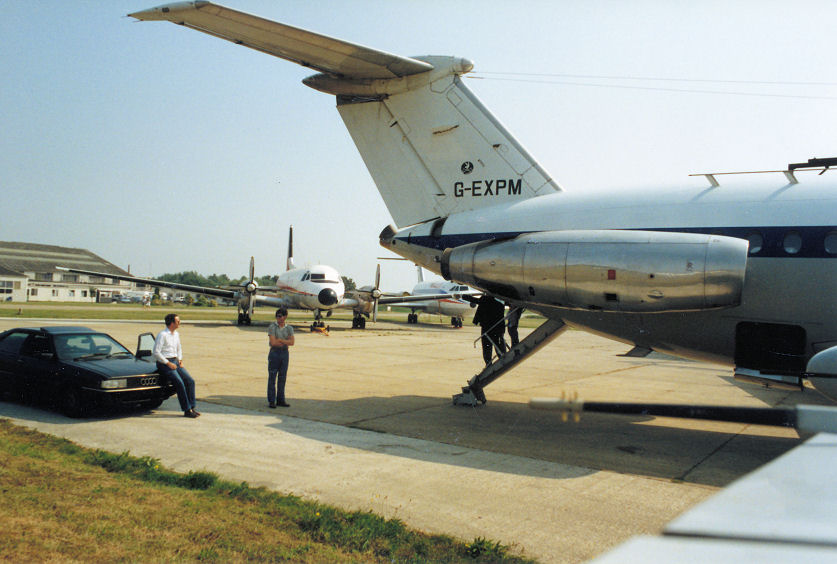 Our last moments with "The Truck" at Southend
Fatigue was becoming evident amongst the crew, as we set off for Paul's home in Ledbury (four hours busride away). It was hard to contemplate that we were in Dubai that morning. Paul looked after us in grand style for two weeks and gave us the opportunity to see quite a bit of the UK. Paddy went home to Camberley and the rest of us travelled home separately.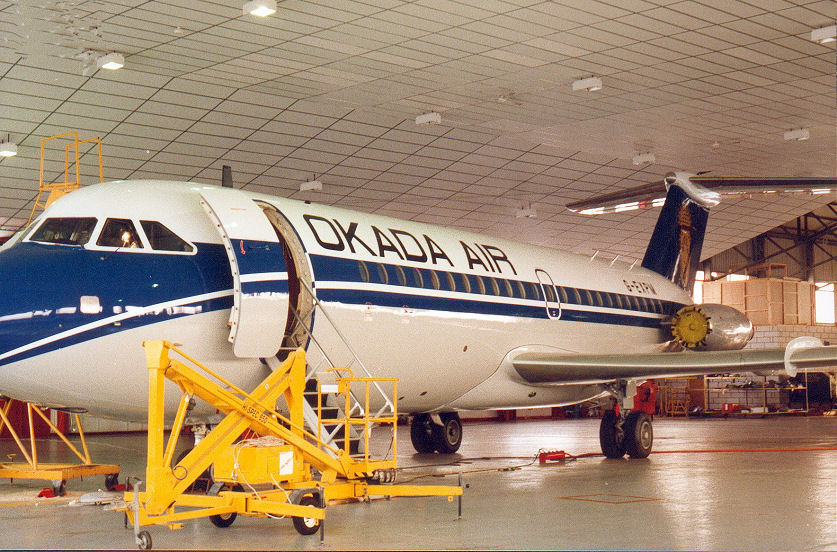 Our last view of "Wabbit One" after her makeover at Southend
The wrestling with Okada continued for some time but eventually G-EXPM was repainted, refitted and on its way to Nigeria in January 1992. During the refit, they found that all the passenger window frames had been installed back to front, explaining our high failure rate. G-KROO's delivery was slowed by corrosion problems and consequently, was delayed until May 92. Both Aircraft were reconfigured to carry 76 passengers and adapted to their new role well, until August 1992, when G-KROO suffered Category 5 damage in a heavy landing at Lagos. G-EXPM went on to operate in Nigeria on regional routes.
Paul Stoddart went on to expand European Aviation to be Europe's No 1 "Truck" dealer, Paddy Cormican retired to spend his time in the garden, James King left Hawker Pacific to Loadmaster for Ipec, Ed Zoing still wrecks airframes and engines for Hawkers, Pete Hudson eventually suffered from home sickness and left Ledbury to live in Australia and I vanished into one of those RAAF ground jobs, never to fly again.
Mike Birks went home to his job as Commander Air Training at HQTC at Point Cook, where he went back to flying his beloved Tiger Moth. On 30 November 1991, while instructing a student, he experienced an engine failure after take-off and fatally crashed. Of my friend, I can say that he was the best Pilot, Teacher and Commander I had ever known. His memory will live forever in the minds of those that knew him. We will all remember his selfless dedication, his humour and his welcome advice, and, when we're down, think of the good times we had.