AROUND THE WORLD ON A ONE-ELEVEN

A reflection on the last all-British airliner, whose 45th anniversary occured last August by Paul Howard
In this tribute to the BAC1-11 we look at the lifespan of just one example c/n 065, initially ordered as a passenger airliner followed by a later career in the executive role.
When Captain Geoff Burgess finally took off his cap to salute his beloved BAC 1-11, PK-PJF in November 1991, he knew it would never be quite the same again. Having spend some 19 years flying for its owner, Freeport McMoRan, firstly in a Fairchild F-27J and then on this BAC 1-11, mostly between Australia and Indonesia, with both aircraft operating in the executive category, he was about to join the mainstream on Airfast's Boeing 737's. With his turboprop days in the Fairchild now over, this story traces the career of just one example of the One-Eleven, which Burgess flew for many years. An opportune time perhaps, as the 45th anniversary of the type's first flight has recently been celebrated. Sadly no longer in regular airline service, several still operate in corporate and military roles. The story of the BAC One-Eleven with which Burgess became so closely associated with is typical of similar long-lived aircraft that went on to secondary careers after mainline service and sums up the diverse roles that the One-Eleven has served in during its 45 year history.
ORIGINS
The BAC 1-11 was a further example of a product from the British Aerospace industry penetrating the US short haul market, following in the footsteps of the Vickers Viscount, which gained substantial sales worldwide. The One Eleven can trace its ancestry back to 1956 when Hunting Aircraft began studies on a short haul jet. It was 1961 however, when the newly formed British Aircraft Corporation (BAC), whom Hunting were now part of, elected to go ahead with the design albeit in a larger form and as a potential jet successor to the Viscount. Airline interest was high and British United Airways placed the first order in May 1961, followed later that year by an order from Braniff. The prototype One-Eleven, a twin jet airliner in the 70 (plus) seat feeder category, powered by two Rolls Royce Spey 506 engines, first took to the air from Hurn on August 20th, 1963 under the command of G R Bryce, with first delivery going to British United Airways in April 1965. Further airlines ordering the twin jet in the United States in addition to Braniff were Mohawk and Aloha, although Ozark and Frontier who also wanted the aircraft, were prevented from ordering on the threat of losing home route subsidies, all elected for the 200 series. The Corporation offered two models initially the marque 200 and 300, plus a variation of the latter designated 400, basically a 300 developed for the United States market but powered by the Spey 51 offering increased payload/range. The 400 effectively replaced the 300, and later on the 475 and 500 series were developed. The prestigious American Airlines, who liked the 400 series, soon came on board, and became the largest customer for the twin jet in the United States, initially ordering 15 examples after inclusion of additional modifications requested by this carrier and allocated as the 401AK. Deliveries commenced in March 1966 and after acceptance American introduced the One-Eleven on to their short haul routes. Amongst the batch of 15 (N5015-N5029 c/n 055-069) for American was c/n 065, N5025, which first flew on March 25th 1966, was delivered on April 7th, and which is the topic of our feature here.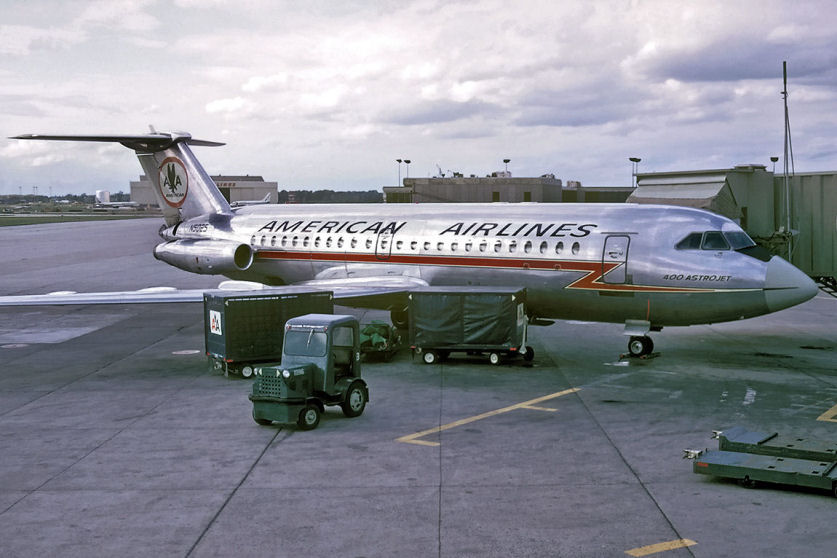 Detroit Wayne County October 1970 by Gene Standard via Jason McDowell
The BAC 1-11 served in American Airlines for the rest of the decade. They christened it the '400 Astrojet' with N5025 operating within the fleet on designated short haul routes. As the seventies unfolded the type simply became outgrown on the routes operated, and was superseded by the bigger Boeing 727-23 tri-jet, itself having been displaced elsewhere in the network by the larger-223 series of the model. In November 1971, N5025 was placed in storage at Tulsa with a number of others withdrawn. Leasing companies had eyed the One-Elevens as they came up for disposal, the large corporate market in the United States a fan of the twin jet, a number having been purchased as executive models off the production line by Corporate America such as Tenneco and Engelhard Industries. The low hour and well maintained One-Elevens of American would make prime contenders for executive conversion, and many did. National Aircraft Leasing (Tiger Leasing Group) was one who had just such ideas, and eventually obtained a number of these aircraft.
POST AIRLINE CAREER
In September 1973, National Aircraft Leasing acquired N5025 and after ferrying it to San Antonio, proceeded to have it converted by Dee Howard to an executive standard with increased fuel capacity giving it an endurance of up to eight hours. It was rolled out in February 1974 in its new configuration and re-registered N111NA, one of four examples that would eventually carry similar marks, the others being c/n 55, 60 and 86, although not at the same time. Following sales tours in the USA the One-Eleven returned across the Atlantic for demonstration at the 1974 Farnborough show.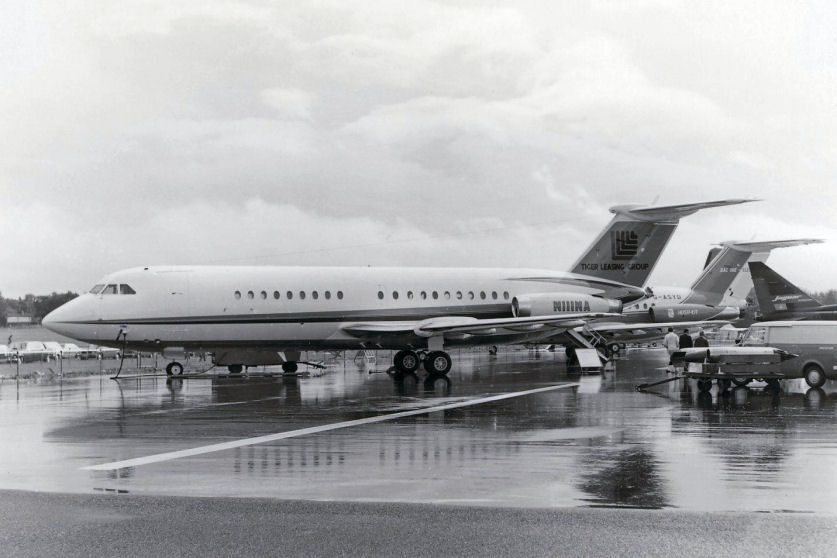 Farnborough September 1974 via Peter Upton
After further corporate activity in Europe, it returned to the USA via Shannon, Ireland on January 18th, 1975. It was the following month, February, when the demonstrator was delivered to the First National Bank of Chicago, reverting to its original registration of N5025. Apart from its VIP forays around the continental USA it was noted back across the Atlantic in June of 1975 sighted at Dublin, Ireland on the 26th. According to information furnished by company staff at Moisant, rock and roll king Elvis Presley flew in the aircraft within the United States during the 1974-1976 period, which resulted in the One-Eleven being dubbed 'Elvis's aeroplane', an inherited legend that would never go away!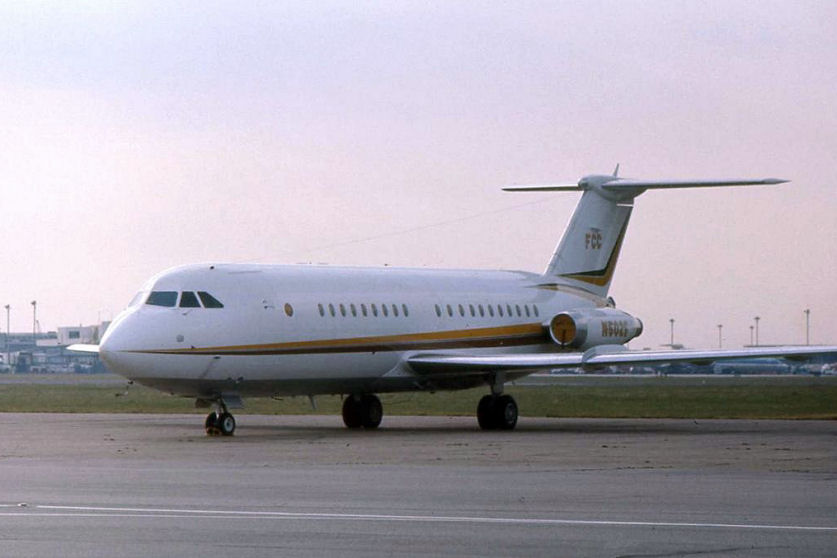 Heathrow 20 June 1975 by Trevor Warne
In February 1976, the aircraft was leased to George Wallace's presidential campaign, re-registered appropriately N76GW, and wore the title 'Trust the People'.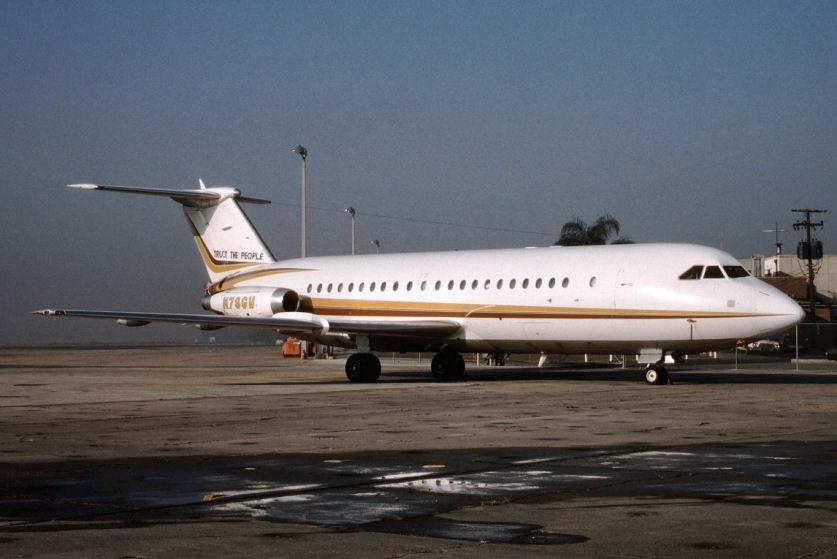 February 1976 via Pierre Parvaud
After his campaign faltered in the primaries some four months on, the aircraft was returned to the bank who promptly found a customer in the Allis Chalmers Corporation in June 1976. Following customised registration as N825AC, within two months it was back across the Atlantic, noted arriving at Dublin from Belgrade on August 11th and departing Shannon on the 14th. It appears to have led an active executive role with Allis Chalmers with unconfirmed report of markings N825AR applied for a short time.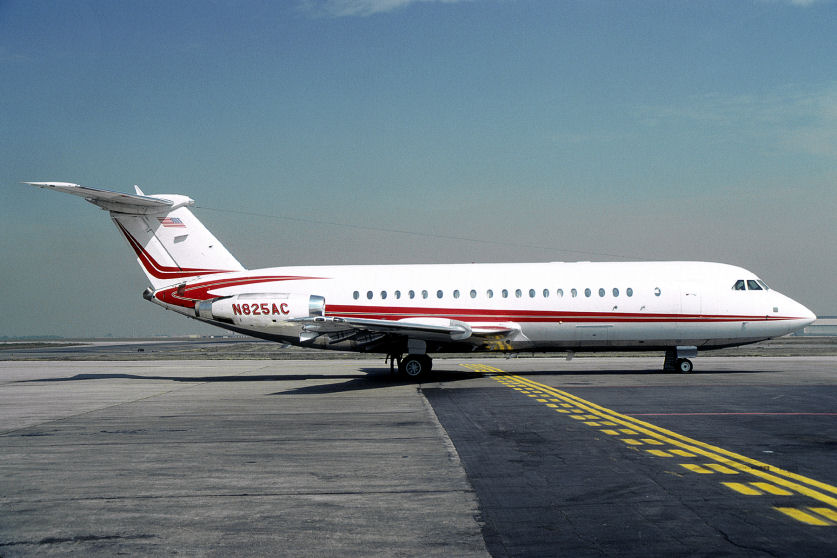 July 1979
CORPORATE OWNERSHIP
In April 1982 the aircraft came on the market once again and McMoRan Properties (Freeport) of New Orleans, Louisiana, purchased it outright that month briefly re-registering it N825AQ, until taking up house markings N117MR in May. The aircraft was a busy bird in McMoRan hands. For the next five years it was flown widely around the continental United States corporate flying from Moisant Airport, New Orleans, the company's headquarters.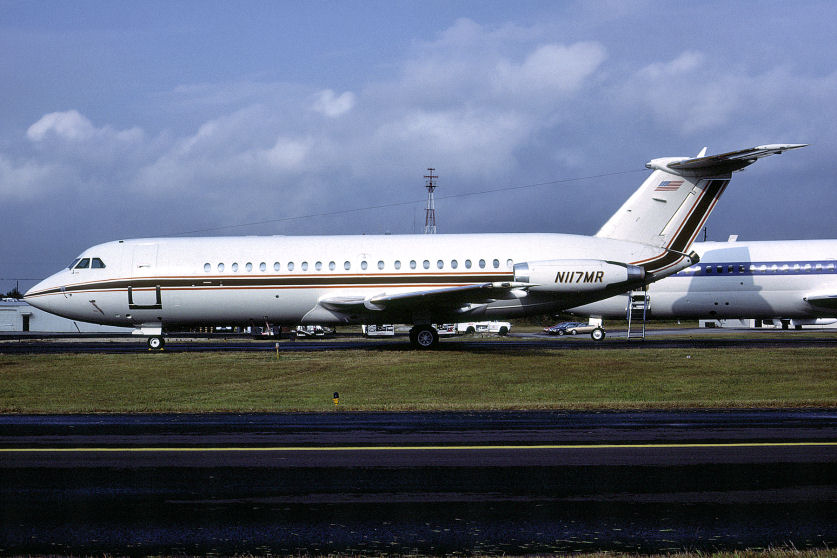 Fulton County October 1984
In 1987, on the other side of the Pacific, the Indonesian regulation barring jet operations by resident foreign companies was lifted, and in July that year the One-Eleven was transferred to Freeport (Indonesia) Inc. Although Freeport's copper mine site is located at Timika, in the Irian Jaya (now West Papua) regency of Indonesia the aircraft would be based in Cairns in the tropical far north of the Australian state of Queensland. At that time Freeport's shuttle between Cairns and Timika was flown by an executive configured Fairchild F-27J (PK-VFM) and the twin jet was set to replace it.
JET INTRODUCTION
In preparation for the One-Eleven's entry into service, Captain Geoff Burgess, Freeport Indonesia's chief pilot had flown to the USA from Cairns in March and was busy acquiring his initial instruction on the type at US Air's One-Eleven simulator in Pittsburgh. One of the regulations for foreign Corporations operating their own aircraft in Indonesia, required the aircraft to be registered under an Indonesian AOC (airline operating certificate), and wear an Indonesian registration. The Fairchild had been operating under Dirgantara Air Services (DAS) certificate as PK-VFM. In the One Eleven's case, Freeport elected to use the indigenous Pertamina Oil company's own air wing, Pelita Air Services, which was based at Pondak Cabe, outside Jakarta for this purpose. Pelita itself, had once operated its own example (PK-PJC) in the executive role during the mid seventies. The arrival of the Freeport BAC 1-11 saw the premature retirement of the Fairchild F-27J.
Burgess commenced his 100hrs ICUS (in command under training), a company requirement, in April from Moisant with training Captains' Leon Pruett and Charlie Sailer rotating, accompanied by Pelita Captain E.Herdianto during which they visited many parts of the continental US in the following weeks on routine company business. Visits included Teteboro, NY, Austin, Houston and Longview, TX, Stuart Field, Tallahassee and Sarasota, FL, Phoenix and Tuscon, AZ, Oklahoma City, OK and Las Vegas, NV. Circuit training was conducted locally around Moisant and Layfaette, LA, while some test flights were carried out at San Antonio,TX where re-fitting of the long range tanks at Dee Howard's facility was completed.
Following the installation of HF radio, the then well equipped aircraft included dual INS (intertial navigation system), Burgess in company with Charlie Sailer and Herdianto flew N117MR out to Cairns, where the remaining (ICUS) training would be completed. The ferry flight commenced on June 23rd 1987 routing from Moisant to Oakland via a short stop at Houston's Hobby. The next day the One-Eleven flew across the Pacific Ocean to Honolulu, completing this stage in a sprightly 5hrs 35min. After an overnight stay, the One-Eleven then headed south west to Majuro in the Marshall Islands group, completing this leg in 5hr 40mins. With the usual day lost crossing the International Date Line but with extra daylight gained (westbound), it was now June 26th when the final leg to Cairns was flown. Following refuelling at Majuro, the aircraft reached Cairns that afternoon after a leg of 5 hours 15 mins.
ONE-ELEVEN DOWN UNDER
The BAC 1-11 was a relatively rare sight in the Australian region, in the same vein as the SE.210 Caravelle. The only purchase within this continent followed a sales tour by the BAC factory demonstrator, when a pair of series 217s were purchased by the RAAF for its No.34 (VIP) Squadron based at Canberra. A later demo by a Philippine Air Lines example (RP-C1131) to East West Airlines did not prove fruitious. Air Pacific, based in nearby Fiji, remained the only scheduled operator of the type into Australia (1972-1984), apart from a short stint by Pelita's sole example (PK-PJC) operating for Merpati Nusantara servicing their Bali (Denpasar) - Darwin schedule during 1977-1978 on a relief basis, following the withdrawal of the Vanguard (operated under limited dispensation by the Australian D.O.T) from this route. An itinerant operator, Flightways, operated a series of Singapore - Christmas Island (Indian Ocean) flights during 1987 with a 400 series N172FE, which occasionally continued on to Perth, West Australia. With the rare visit of a corporate example (N18HH) in 1983 that was about the depth of exposure for the type down under. After the pair of RAAF was sold in 1990 other examples of the type rarely, if ever, visited Australia making Freeport's aircraft the first and only commercial One-Eleven based in the country, albeit under foreign registry.
WORKING UP
As it was being prepared for entry into service, the One-Eleven's predecessor, the company Fairchild F-27J was placed in storage at Sydney and put on the market. It never sold and was eventually parted out. An Airfast F-27 (PK-OBP) was leased in to continue the weekly timetable until N117MR was ready to take up the schedule. Some local flying for Capt. Herdianto's re-currency followed the completion of the paper trail and with cabin crew inducted under executive flight attendant Di Jensen, all was complete for an entry into service on August 16th 1987. The inaugural was performed from Cairns to Timika and return in a time of 4 hours 50 mins which would become the average for the rotation, rounded out to 5 hours. It shortened Burgess's day from his turboprop sectors of 9 hours by around 40%. On the other hand this new found swiftness offered the advantage of a double shuttle if required.
LOCAL OPERATIONS
The executive interior of the One-Eleven was appointed in a 23 seat configuration including swivel chairs in club setting, three and four place leather sofas, office desk, table and seating, all sectionalised down the cabin. Washroom facilities were generous, with fully equipped galley and drinks cabinet located at the rear of the aircraft, without doubt the way to travel to and from site! The One-Eleven slipped quietly into its two scheduled Cairns-Timika-Cairns rotations a week with further services on demand, sometimes dovetailed into additional company flying internally in Indonesia from Timika to Ujung Pandang, Surabaya, Jakarta and Denpasar. Burgess was now beginning to relish flying his new steed. An early visit was made to two alternate airports it could use in West Irian should weather or other factors preclude a landing at Timika. Both are located in the north of Irian Jaya (Timika is situated close to the south coast), at Jayapura (Sentani), regional centre in the extreme northeast of the province, and Mokmer (now Frans Kaisiepo) on Biak Island just off the central north coast.
Over the next few months the paper trail was prepared (a mammoth task within the local bureaucracy) for the aircraft to join the Indonesian register. By the end of November 1987 the task was completed and N117MR performed its last flight under this guise on December 1st from Ujung Pandang to Jakarta's Halim P.K. airport (HLP). The following day the personalised markings PK-PJF (Pelita Jet Freeport) were applied and its first flight as such was from Halim P.K back to Timika on December 3rd. The aircraft was booked into Dowty Rotol at Singapore's Seletar on December 15th for repainting into full Pelita livery, and Stage Two hush kit modification to the Spey's. It ferried Timika-Biak-Seletar that day in 4hrs 50mins, and remained there until February 13th, 1988 when a test flight was conducted. It resumed service from February 15th after ferrying Seletar-Halim P.K adorned in its new crimson livery, picking up the schedule the following day at Timika from the Pelita F-28 which had been operating in the One-Eleven's absence. Now on the register, indigenous flightdeck crew could be trained on the aircraft under local licence provisions (USA [N] registry under FAA regulation require an American Air Transport Pilots Licence - ATPL).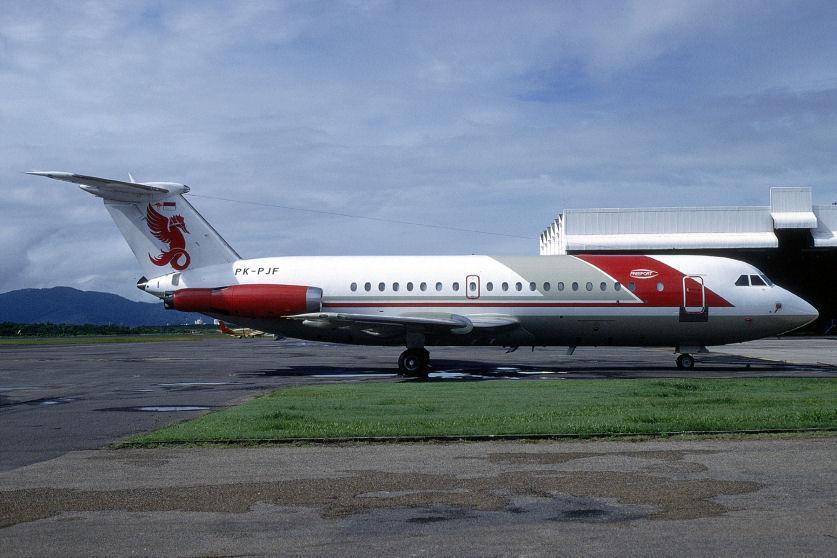 Cairns May 1989
Operations in 1988 saw the One-Eleven perform a monthly average of 40 hours utilisation on the normal schedule with internal flying in Indonesia generating around a further 16 hours. Additional flying was conducted from Cairns within Australia on other Freeport business and technical requirements. Trips noted, were to Sydney (diverted to Tamworth due excessive ATC holding at SYD), some undercarriage checks performed at RAAF Fairbairn, Canberra, a visit to Kununurra and Argyle in the Kimberley region of West Australia, Darwin in the Northern Territory and six monthly check and training at Proserpine airport on the central Queensland coast. On September 17th it performed a one off charter from Cairns to Honolulu via Majuro to pick up management personnel and take them to Timika routing again via Majuro, and back to Cairns. Total trip time for the five legs was 24 hours 5 mins.
BACK TO THE UK
In 1989 a notable event was the ferry of the One-Eleven for a major check in the UK. A Pelita F-28 would again be called upon to operate the schedule during its absence. The ferry commenced following the Timika rotation with the aircraft positioning to Jakarta. On June 13th, PK-PJF flew from Halim P.K. Airport to Colombo in 4hrs 25mins. After refuelling, a four hour leg saw the One-Eleven arrive at Muscat for the overnight. The next day's legs saw Papa Juliet Foxtrot skimming by the Pyramids before landing at Cairo in an flying time of 4 hours 20 mins, before refuelling and departing again for Rome's Ciampino. The eternal city was reached in 3 hours 40 mins for another overnight. The morning of the 15th saw the One-Eleven heading across Europe for Manchester's Ringway airport arriving after 3 hours 5 mins. It was placed in the care of Dan Air's engineering facility shortly after arrival, for its 'D' check. The Spey engines were sent on to Rolls Royce at East Kilbride in Scotland for inspection and overhaul.
On August 25th a test flight of two and a half hours was undertaken following the check, for issue of a new Certificate of Airworthiness which the Indonesian DGCA insisted upon. There was a difference of opinion with Pelita over the level of engine overhaul that had been completed, Pelita looking at full overhaul while Freeport insisted that only work to the hot end (turbine section) was required. Pelita won out, resulting in one of the engines being returned to Rolls Royce. This delay extended the relief F-28's tasking back at the mine until October. Finally a further C of A test flight of ninety minutes duration was conducted over the Irish Sea on October 7th prior to acceptance of the aircraft. The ferry flight returned via the Middle East again, calling at Athens (sector time 3 hours 55 mins), Bahrain (4 hours) October 9th, Bombay (3 hours 40 mins), Bangkok (4 hours 35 mins) October 10th, then Jakarta (3 hours 25 mins) arriving on October 11th. It resumed the schedule on October 14th for the rest of the year. Into 1990 the regular schedule continued with little variation, though some increase of domestic flying in Indonesia was performed. In December, one of Cairns wet season cyclone's (named Joy) threatened, and forced the evacuation of the One-Eleven from Cairns to Mt.Isa, Queensland until the risk passed.
ENTER AIRFAST
In 1991 the monthly schedule increased dramatically. In January alone 86 hours were flown, gradually reducing by mid-year. Later in the year, following an in-house audit on company aviation operations, Freeport McMoRan elected to outsource carriage of Freeport Indonesia personnel, with the indigenous and progressive Airfast company appointed. Airfast, a regional operator with a well respected reputation in oil and mineral contract support throughout Asia was about to receive its first jet equipment in the form of the Boeing 737-200srs. These examples were bought by Airfast with Freeport acting as guarantor. This was made possible with Indonesia's new open aviation policy, when independent airlines were finally approved to operate jet aircraft, a decree previously permitting only government controlled airlines Garuda and Merpati Nusantara to do so.
Airfast were already a contractor for Freeport at Timika, operating local Irian Jaya feeder and cargo services, and provided rotary services in the mine area. Three Airfast B737-200's, one being QC capable, were sourced in the USA and replaced the One-Eleven schedules in February 1992 on a twice weekly rotation. The larger fleet enabled Freeport to expand its domestic movement of personnel. Burgess transferred to the Airfast operation after completing his last flight on PK-PJF on November 16th, before proceeding to the USA for his Boeing 737 endorsement with STI (Simulator Trianing Inc) in Seattle. He had logged 2005 hours on the One-Eleven.
FINAL OPERATORS
Following the change over to the 737 operation, PK-PJF made one more visit to Europe when it flew into Berlin Tegel and Amsterdam during May 1992, before it was ferried up to Pelita's company airfield at Pondak Cabe, 60km south of Jakarta where it was donated to Pelita and placed in storage. It had 19,317 hours on the airframe. Both this writer and Burgess noted the faithful old 'Spey Dog' parked there a year later in 1993 on a peaceful Sunday morning, just begging to be flown! However entry could not be gained, or the old girl's wish might have come true! It was 1994 before we both caught up with it again, this time active at the Halim P.K. airport, in the service of Citra Air Cargo. Its basic trim was retained though Pelita's in house seahorse logo had been replaced by a logo of a bird in flight on a navy blue background. The significance of this did not occur to us until later in the year when Burgess caught up with it again during a turnaround at Surabaya. Sighting a familiar crew member from previous days he was invited aboard, and was astonished to find the former luxury interior gutted and containing a full consignment of boxed day old chickens! It wasn't the ideal retirement, but at least the old bird (sic) was flying.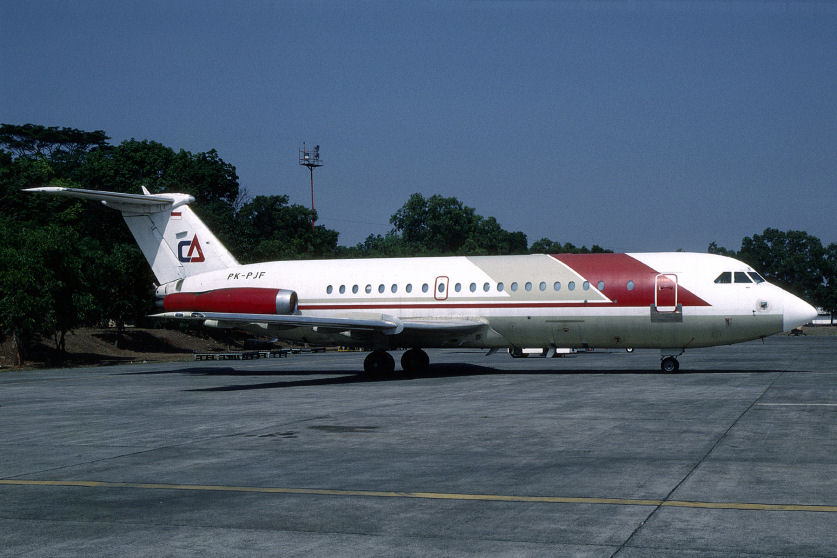 Jakarta Halim August 1994
It was 1995 when it was noted once more, this time at Jakarta's Soekarno-Hatta (Cengkareng) Airport, where it was being operated by Bouraq on contract passenger services to Banjarmasin for ATS. The basic Citra bird logo was retained (now in yellow) on a newly painted all navy blue fin, this colour also applied to the former highly visible red cowls.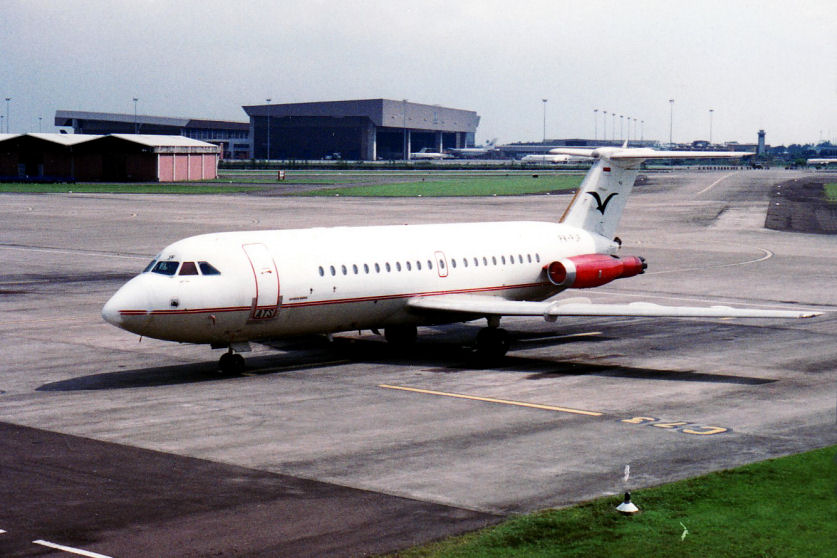 Jakarta Halim mid 1990s via Paul Howard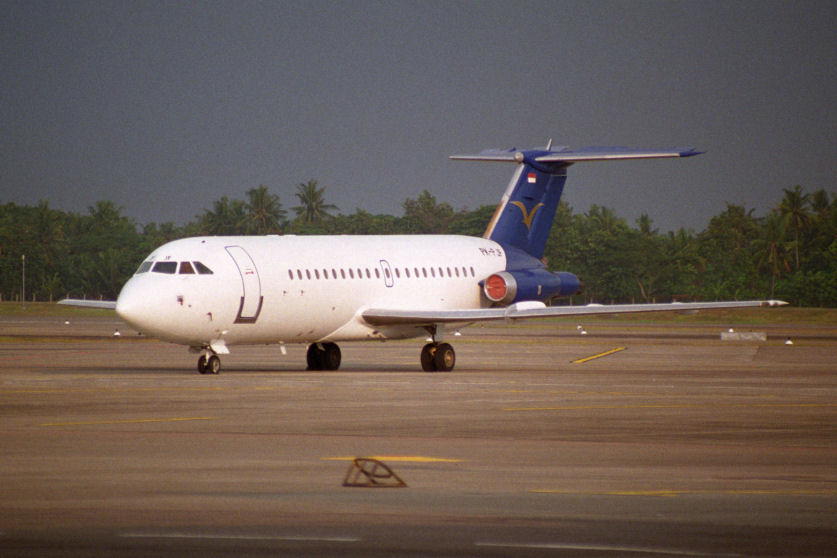 Jakarta Soekarno Hatta 14 August 1995 by Felix Toggenburger
Later that year Bouraq's full green trim was applied to the aircraft, which looked especially smart.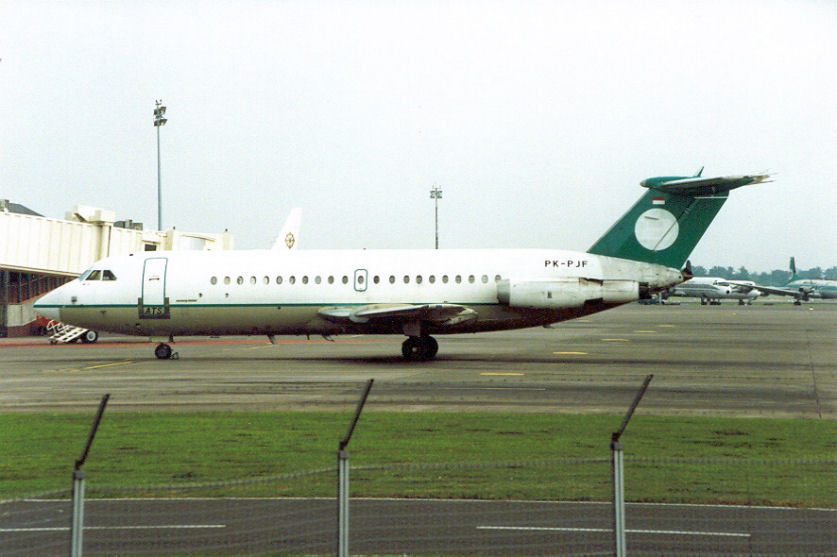 Jakarta Soekarno Hatta 6 May 1996 by Soren Madsen - CPH Aviation
That was the last report of the aircraft in service until Mar 2000 when it was noted back at Halim P.K again in Citra service. Sadly, within a year in 2001 it was sighted once more in Cengkareng's corrosion corner deteriorating in the open tropical climate minus engines and looking abandoned. It was surrounded by a number of retired Bouraq HS748s and Vickers Viscount Fuselages, in worse shape. It is unlikely it will fly again and regrettably the most that could have been hoped for in the survival stakes was the addition of the jet to another of the city's disco pubs that use retired airframes as a central theme, especially given its Elvis connections! However true, this wisp of information should have ensured that an enterprising entrepreneur would acquire the airframe for his very own, and toast the "King's" transport for eternity! Sadly though it doesn't appear to have been saved! As of January 2009 this old "Spey Dog's" final fate is still unknown!
Paul Howard
| | | | | | | | | | |
| --- | --- | --- | --- | --- | --- | --- | --- | --- | --- |
| c/n 065 | 401AK | N5025 | American Airlines | 07Apr-66 | 15Nov-71 | Ferried San Antonio exec conv 27Sep-73 | | | |
| | | N5025 | National Aircraft Leasing | 09Sep-73 | Feb-74 | NAL 5 | | | |
| | | N111NA | National Aircraft Leasing | Feb-74 | Mar-75 | Displayed Farnborough Air Show Sep-74 | | | |
| | | N5025 | First Nat Bank Chicago | Mar-75 | Feb-76 | | | | |
| | | N76GW | First Nat Bank Chicago | Feb-76 | Jun-76 | Operated by Governor George Wallace | | | |
| | | N825AC | Allis Charmers Corp | Jun-76 | Apr-82 | | | | |
| | | N825AQ | McMoRam Properties | Apr-82 | May-82 | | | | |
| | | N117MR | McMoRam Properties | May-82 | 26Jun-87 | | | | |
| | | N117MR | Freeport Indonesia | 26-Jun87 | 01Dec87 | | | | |
| | | PK-PJF | Freeport Indonesia | 03-Dec87 | Mar-93 | | | | |
| | | PK-PJF | Pelita Air Service | Mar-93 | Sep-95 | | | | |
| | | PK-PJF | Bouraq Airlines/Citra Grp | Sep-95 | 2000 ? | Last reported - Cengkareng - Fate unknown | 18697+ | 20216+ | Derelict |
This article first appeared in the August 2008 issue of "Airways" Magazine. I am very grateful to Paul for allowing me to reproduce it for my website as a special feature. Airways Magazine
I would just like to add that I've been unable to verify the ownership of several of the images shown in this article. Therefore if anyone has any objections regarding any of these please contact me and I can remove them.