WHY AM I SO INTERESTED IN THE BAC ONE-ELEVEN?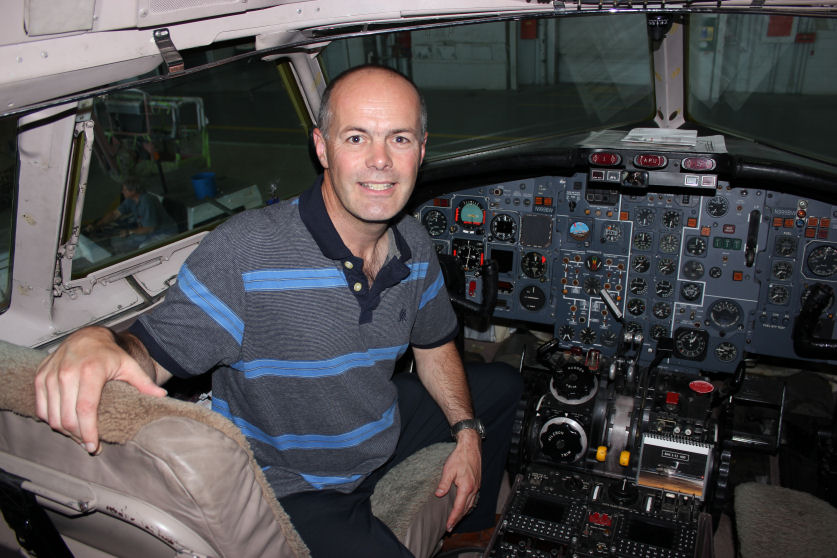 Many aviation enthusiasts and "normal" people ask me the same question. "Why are you so interested in the BAC One-Eleven"? So I thought that it was about time to try and explain this "obsession" of mine!
Way back in 1978 I was at a school friend's house in Ferndown Dorset when he asked me if I would like to go to Hurn airport with his dad, who worked at British Aerospace, to have a look at the BAC 1-11 production line. Of course I agreed and off we went. As a 12 year old this was a big adventure for me! We arrived and toured the vast hangars and looked at the awesome sight of several gleaming 1-11s in various stages of assembly. Various Tarom aircraft, another one being resprayed into BIA livery and most impressive of all a Philippine Airlines 1-11 RP-C1184 which had an amazing tale to tell! This aircraft had not only been blown up once but twice and survived and was being put back into service for a third time! The flight shed was a hive of activity with two aircraft being worked on prior to final delivery to their customers including one of the first of many Saudi registered 1-11s. Little did I realize at the time that this tour was to be my very first step towards a life in aviation and dare I say it, the beginning of my "love affair" with the 1-11!!!
Shortly after this very inspirational visit to the BAe Factory at Hurn another school friend invited me to Bournemouth Flying Club where his big brother was learning to fly and I was lucky enough to have my "first ever" flight in an aircraft, a Cessna 172. (I won't say whether or not I used the sick bag!) The Air Training Corps followed with several flights in the Chipmunk etc and my first career away from school began as a Hurn airport "spotter"!!! For the next few years, 363 days a year, I cycled the 10 mile round trip armed with my pen and paper and very basic camera to my favourite spot on a small patch of grass verge beyond the threshold of runway 35 or to the "wooden" terminal where much time was spent on the "Cosmic Monsters" arcade game not to mention occasionally annoying the security guards! Whilst at ATC I discovered that the best way to spend the evening was in the "link trainer" with an ex BOAC VC-10 Captain. What a start to my flight training!!! Throughout my later school years I watched many 1-11s come and go including the last three to be delivered to British Airways and the last few Tarom aircraft including the 475 freighter YR-BCR that came back many times carrying important parts in conjunction with the ROMBAC project that was building up in Romania. Best of all Dan Air started using 1-11s on their Wednesday evening summer service to Jersey, so no guesses where I spent some very enjoyable Wednesday evenings with the rest of the "spotting gang" and of course my parents knew exactly where I was! Did I ever skive off from school? That would be telling!
After school my spotting days continued but any thoughts of a career in flying were rapidly diminishing as I'd obviously spent far too much time at the airport watching aeroplanes and not enough time doing my homework over the past few years!!! So one "O" level later I finally accepted that a new career in plumbing and heating might be a better option! Not that I had any other choice in the matter at the time! Fortunately I was lucky enough to have a very good apprenticeship. Only one major problem existed though and that was that a plumbing apprenticeship didn't teach me how to fly a plane!!!
As the 1980s progressed I watched with great sadness as the last 1-11s left the BAe factory. This unfortunately led to several thousand employees of the once proud British Aircraft Corporation loose their jobs forever! As they left, the vast doors of the once buzzing assembly hangars were closed for what looked like the last time and the huge site fell silent!
I eventually realized that I couldn't keep straining my neck looking up into the skies above so I started a PPL course in 1987. I won't bore you with the details except to say that what a master stroke / life changing decision that turned out to be! Little did I realize it at the time but this was to be the most important moment of my life. Three years later and much to my amazement I was flying Fokker F27s for Air UK and the rest is history! My finest moment to date has to be my "actual" take off in a Monarch A300 from Hurn in 2005! Yes I was actually flying a widebody out of Hurn!!! It will have to be a 747 next!
So back to the 1-11s. Throughout the 1980s I watched them come and go from airports such as Gatwick which was the major UK 1-11 hub with airlines such as Laker, BIA, Air UK, Dan Air, British Caledonian, frequently coming and going. In fact it was like watching the Tridents at Heathrow since there were so many of them that you hardly raised an eyebrow to watch them! Of course you couldn't fail to hear them - what did you say!!! Of course in those days we all thought that they would go on forever and never thought about a world without them! Hurn became silent overnight when the BAe factory closed in 1984 but this wasn't to be the end of the story as expected! A company called Lovaux moved into the former BAC site and once again 1-11s started appearing for maintenance including the Omani Air Force fleet which have been coming back ever since! In 1988 my interest in the 1-11 had grown to such an extent that I contacted Paul Bowen of the International Air Tattoo and asked him whether or not he would be willing to celebrate the 25th anniversary of the 1-11 by incorporating the event into the programme for the TVS Air Show South due to be held at Hurn in June. He agreed and three 1-11s were lined up on the taxiway, RAE's XX919, Exec A6-RKT and newly resprayed Ryanair YR-BVI. A British Airways 1-11 was expected to fly according to the programme but sadly never turned up on either day of the Air Show although BA did produce a "1-11 25th sticker"!!! (I could hardly complain though because next up on the programme was Concorde and that did turn up for an amazing display!) Lovaux was eventually taken over by FLS who remained on the site until 1993 when something very unexpected happened! Before then a number of 1-11s started appearing again at Hurn for maintenance including the British Airways and Dan Air fleets. By 1992 British Airways had started retiring their 1-11s and they were being flown into Hurn for storage and a very probable scrapping. Seven 1-11s looked as if they would escape the scrapmans axe when they were sold to Okada Air and resprayed into their livery. None ever left for Nigeria as sadly the whole deal fell through right at the last! By November 1992 Dan Air's 1-11s had also been flown into Hurn after the company's demise. An amazing photo taken overhead the former BAC site in November 1992 showed no less than twenty three 1-11s parked on the ground! The future looked very bleak indeed so we all made sure that we photographed these aircraft for one last time before what looked like an imminent mass scrapping! Then a very remarkable event took place. Firstly the Dan Air 1-11s all flew out less than a month after arriving for storage having being bought by British Air Ferries and a further announcement was made by a small company called European Aviation that they would buy the entire fleet of series 510s from British Airways as well as a small number of the ex BCAL fleet. Incredibly every single 1-11 in that historic photograph flew out again!
And so European Aviation was born and gave the 1-11 and the aviation community another eight years of operations from Bournemouth airport. Some amazing liveries were to be seen gracing the fuselages of these aircraft over the coming years until they finally came to the end of their lives in 2002. I spent most of the 1990s based at Stansted airport flying F27s, Fokker 50s and Fokker 100s and was lucky enough to discover that there were more 1-11s flying in and out of the airport than anywhere else in the UK. It was British World's main operating base and also the base for AB Airlines and their operations to Ireland. Not to mention a small low cost airline owned by Michael O'leary who had just a few 1-11s at the time!!! Unfortunately for me, instead of snapping all the 1-11s, I was far too busy flying my Fokkers for Air UK! How I regret that now! Many of European's 1-11s could be seen at Stansted during the years that I was based at there.
I changed my job in 1999 when I joined Monarch Airlines flying Airbus A300s and later A320/A321s. My new base was Gatwick so I moved South once again. This brought me much closer to my "spiritual home" of Hurn airport which I was to frequent again for the final years of 1-11 operations. It was during 2001 that I finally took on board that I really should be doing something to record the pending retirement of one our finest British airliners. In conjunction with the "new computer revolution" and particularly through the internet I set about the task of creating a permanent historic record of the aircraft by creating a website dedicated to it. Much to my surprise, no other website existed with reference to the 1-11 so I thought I'd better put this right! And so became www.bac1-11jet.co.uk! The race was on to go live in conjunction with the last passenger flights of the aircraft at the end of March 2002. With many hours of hard work and research from books such as "The One-Eleven Story" by Richard Church, I made it and so began the most intensive period of my 1-11 "obsession" which has continued to this day! At the same time as I launched the website I held an exhibition at the Bournemouth Aviation Museum to help with the launch. So the last commercial 1-11 flights in the UK, and much more importantly the last from the former BAC site at Hurn, were captured for posterity.
Since 2002 the website has grown and grown and has now been joined by an online forum which I run via Yahoo Groups to keep the memory going strong and to make sure that the last operations by the surviving twenty or so 1-11s are recorded. The group now has over 360 members so there is every chance that we can make sure that the BAC One-Eleven goes out in style! The internet has provided me with an amazing outlet to pursue my aim of following every last 1-11 into retirement and has given me easy access to every corner of the world where the aircraft is still in service. The computer age has also given me the chance to scan the many photos from the BAe archives and those of private collectors, without which I couldn't have provided such interesting images on the website to share with you. Google Earth has also been an amazing tool which has enabled me to find many stored 1-11s which I didn't realize existed any more!
I've put many hundreds, if not thousands of hours into this ongoing project. I couldn't do it without the help of many of you who have taken the time to view my website, joined the forum or just simply given me invaluable information about the aircraft. Thank you very much for all your help.
So what actually made the 1-11 so special for me? The Rolls Royce Spey engine start has always been a unique feature which has always helped the aircraft stand out from other jet airliners. Watching the aircraft carrying out high powered engine runs on the engine test bay has always been an amazing sight and sound as has the take off and climb out / go around. They just look / sound absolutely superb! I was once watching a BIA 1-11 carrying out circuits from a site about a mile away from the airport, underneath the climbout, and it was an amazing place to be when the 1-11 kept going round and round again!
And what of the future? Well I shall continue flying commercial jets from Gatwick and light aircraft from Hurn, but I do have one final mission as far as the 1-11 goes! There is one small matter that needs sorting out once and for all! There are only a handful of 1-11s left flying and one of those needs to find it's way back to Hurn for preservation!!! As of May 2009 there is just one final opportunity to "bring one home"! So please start making some very loud noises around Hurn Airport, amongst your fellow enthusiasts and particularly with the museum. We can't allow "Hurn's finest" to slip from our grasp and disappear into oblivion without a final fanfare! It's been "loudly" gracing our skies for nearly half a century! One must be saved so please do your part in making it happen!
Well it's now 2011 and sadly the opportunity to bring a 1-11 back to Hurn has now all but disappeared but I am still hopeful that the last QinetiQ 1-11, ZH763, can be retired to the Air Atlantique Classic Flight / Airbase at Coventry Airport where it can hopefully be preserved in a taxiable condition.
If anyone wishes to "grill me" further about my "obsession" then please contact me!
God! That's another four hours dedicated to my favourite aircraft, and I was supposed to be doing the hoovering, ironing, washing etc etc. Oh well!!!
Peter