DANIEL'S SCAT AIR COMPANY TOUR 2007
Daniel's mission:- To fly on a BAC 1-11 with SCAT Air Company
On the 8th/9th July 2007 aviation enthusiast Daniel, flew on a SCAT Air Company BAC 1-11 Airliner from Moscow Domodedovo (DME) to Taraz/Zhambyl (DMB) and on to Almaty (ALA) for a last look at the aircraft in passenger service.
Ques:- Why did you go all the way to Moscow to fly on a "BAC 1-11"?
This would be one of the last ever opportunities to fly on a BAC 1-11 in commercial service. I am always willing to go out of my way to combine a more or less exotic holiday destination with a flight on a rare aircraft, be it the SAHA 707 in Iran, the Thai Sky TriStar in Thailand or the Asian Spirit YS11 in the Philippines, so why not a trip to Almaty on a "nearly extinct genuine first generation jet".
Ques:- How did you book your flight?
Booking was rather complicated since SCAT don't have a ticketing agreement with any airline to whose systems either my travel agent or Opodo and the likes had access. I finally found a travel agency in Munich specialised in the CIS countries that was able to issue a ticket through a Russian partner agency of theirs, on Rossiya stock (195 ticket number).
Ques:- How did you get to Moscow?
I flew from Dusseldorf to Moscow Domodedovo on the 8th July with Sibir Airlines on a Tu154M RA-85628.
Ques:- Was the SCAT Air Company check in at Moscow DME straight forward?
I checked in without any hassles at DME's transfer counter in the transit area. A Russian transit visa was not required for me, being a German citizen.
Ques:- What was it like onboard the SCAT 1-11 EX-086 c/n 253 ex YR-BCJ.
The aircraft seemed to be in a good state (as far as a layman can judge from a cursory glance), clean on both inside and outside and with comfortable seats. I found the noise level okay, even in the last row, where I sat for the second leg DMB-ALA. Comparable to a DC9, definitely more quiet than the last row of the Tu154 where I had sat on DUS-DME a couple of hours earlier. The overhead baggage compartment was actually locker style, i.e. not just hat racks but very small though. Performance during take off and climb seemed to be a bit under par. The plane seemed to handle very smoothly during turns. I've no idea whether this is owed to the aircraft itself or the pilot's individual style of flying.
Ques:- Were there many passengers on your flights?
Load was about 60 on DME-DMB, 22 on DMB-ALA, with just 5 pax doing the complete DME-DMB-ALA. The aircraft was configured with one row of Biz (row 1, four seats) and 18 rows of Economy (rows 3 to 20, 89 seats). As far as I could see, I was the only non-Russian/Kazakh on DME-DMB, while three Americans were on DMB-ALA.
Ques:- Was the aircraft actually operated by SCAT Air Company or by Trast Aero?
It was the regular twice-weekly DME-ALA service of SCAT. There was no mention whatsoever of Trast Aero, full SCAT colours, SCAT safety cards and SCAT stewardesses. I'm not sure about the cockpit. The guys were definitely Central Asian, I couldn't tell a Kyrghyz from a Kazakh though. The only hint at the Trast Aero wetlease was the Kyrghyz registration.
Ques:- What were the exact flight details?
Sunday, 08 Jul Moscow Domodedovo - Taraz
2335-0530 DV484
Aviakompaniya SCAT, operated by Trast Aero BAC 1-11-500 EX-086
Monday, 09 Jul Taraz - Almaty
0730-0830 DV814
Aviakompaniya SCAT, operated by Trast Aero BAC 111-500 EX-086
While the flight is marketed as a through flight DME-ALA as flight number DV484, everybody had to get out at the stop and go through immigration. Upon presenting my passenger receipt for DME-ALA (the flight coupon obviously had to be surrendered at DME), I got a new boarding pass for DMB-ALA.
On Wednesdays, SCAT route their DME-ALA service through Aktyubinsk. A full schedule can be found under http://www.scat.kz/Shedule.asp with the Bac 1-11 flights being indicated as follows:
From Aktau (SCO) Kazakhstan
DV-832 Almaty Day 7 1150 - 1540
From Aktyubinsk (AKX ) Kazakhstan
DV-816 Almaty Day 3 1800 - 2140
DV-847/459 Baku Day 7 1850 - 0100 AN-24/BAC 1-11 via Atyrau
DV-485 Moscow DME Day 3 1000 - 1130
From Almaty (ALA) Kazakhstan
DV-815 Aktyubinsk Day 3 0645 - 0830
DV-833 Atyrau Day 7 1945 - 2200
DV-833/459 Baku Day 7 1945 - 0100 via Atyrau
DV-469 Dushanbe Day 5 1100 - 1140
DV-831/453 Erivan Day 2 1305 - 1900 BAC 1-11/AN-24 via Aktau
DV-819 Kustanay Day 7 0935 - 1205
DV-819 Kustanay Day 5 1500 - 1720
DV-813/483 Moscow DME Day 7 1730 - 22-10 via Taraz
DV-815/485 Moscow DME Day 3 0645 - 1130 via Aktyubinsk
DV-813 Taraz Day 7 1730 - 1830
From Astana (TSE) Kazakhstan
DV-463 St. Peterburg Day 3 2200 - 2400
From Atyrau (GUW) Kazakhstan
DV-834 Almaty Day 1 0630 - 1040
DV-459 Baku Day 7 2340 - 0100
From Baku (BAK) Azerbaijan
DV-460/848 Aktyubinsk Day 1 0300 - 0830 BAC 1-11/AN-24 via Atyrau
DV-460/834 Almaty Day 1 0300 - 1040 via Atyrau
DV-460 Atyrau Day 1 0300 - 0420
From Dushanbe (DYU) Tajikistan
DV-470 Almaty Day 5 1350 - 1730
From Kustanay (KTQ) Kazakhstan
DV-820 Almaty Day 7 1330 - 1600
DV-820 Almaty Day 5 1830 - 2050
From Moscow Domodedovo (DME) Russia
DV-486 Aktyubinsk Day 3 1315 - 1620
DV-484/814 Almaty Day 7 2335 - 0830 via Taras
DV-486/816 Almaty Day 3 1315 - 2140 via Aktyubinsk
DV-484 Taraz Day 7 2335 - 0530
From St. Peterburg Pulkovo (LED) Russia
DV-464 Astana Day 3 2330 - 0530
DV-464/804 Shimkent Day 3 2330 - 1100 BAC 1-11/AN-24 via Astana
From Taraz/Zhambyl (DMB) Kazakhstan
DV-814 Almaty Day 1 0730 - 0830
DV-483 Moscow DME Day 7 2000 - 2210
From Shymkent (CIT) Kazakhstan
DV-807/463 St. Peterburg Day 3 1330 - 2100 AN-24/BAC 1-11 via Astana
Ques:- Did you manage to take any photos of it?
Yes, but I had to be discreet, since taking photographs at airports is still frowned upon in that part of the world, to put it mildly!!!
The very basic but functional cabin.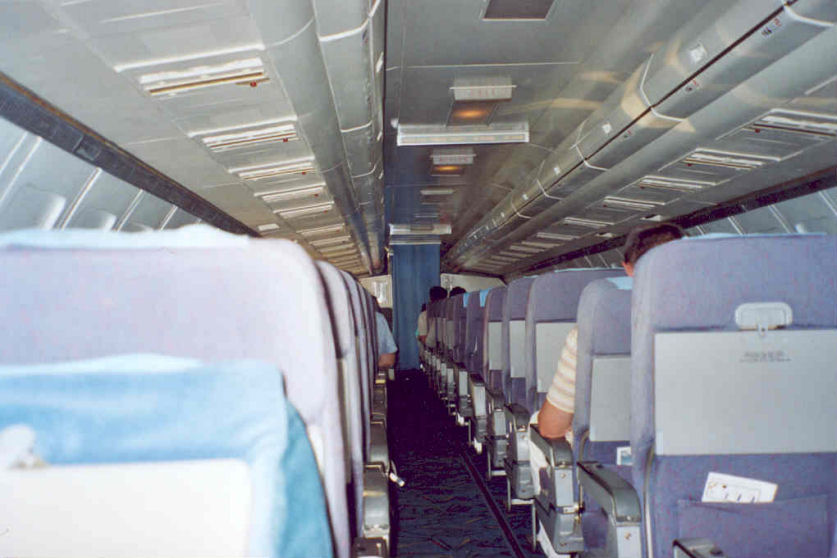 That's definitely a 1-11!!!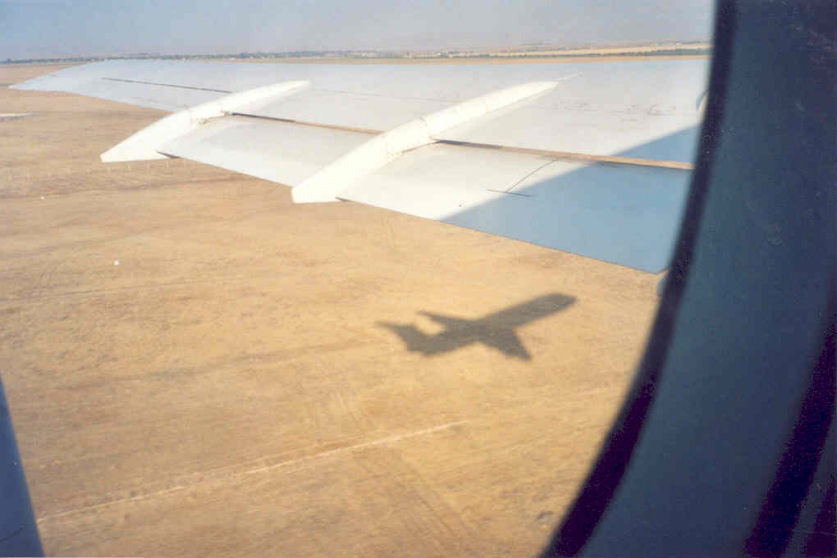 And a Rolls Royce Spey to go with it!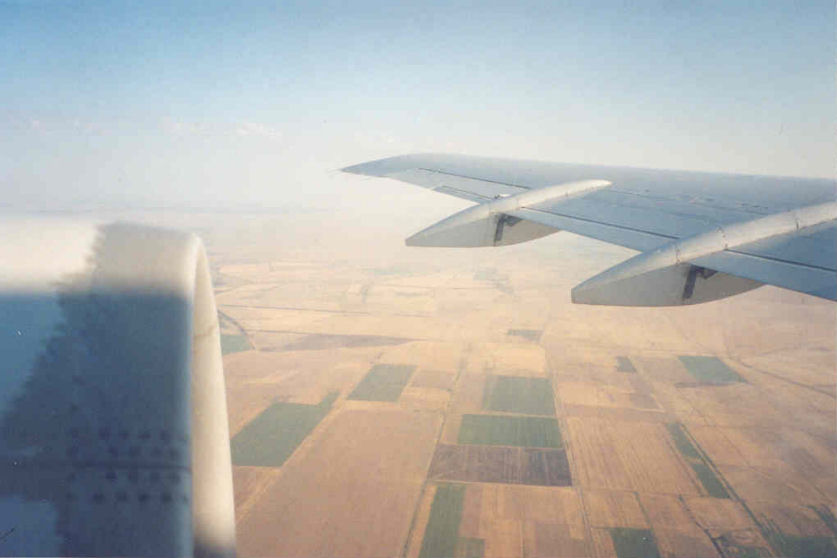 And finally the whole aircraft!