BRITISH AIRWAYS AND THE BAC ONE-ELEVEN
By Richard Church
British European Airways (BEA) was experiencing strong competition on its Internal German Services (IGS) after its main competitor out of Berlin-Tempelhof had replaced its Douglas DC-6B piston-engined aircraft with Boeing 727-100s on these routes. Only British, American and French registered aircraft were permitted to operate through the Berlin corridors over East Germany into Berlin. Air France flights had to operate into Berlin-Tegel due to restrictions on operations into Tempelhof's restricted runways with their Sud Caravelle 3s which were not fitted with thrust reversers. The Vickers Viscounts used on these routes by BEA were struggling to compete with the jet competition which led to them being fitted with just 53 passenger seats and the airline offering an improved cabin service marketed as the 'Silver Star' service in 1966.
Although originally selecting Boeing 737-236s to operate the IGS services, the government of the day insisted that the airline buy a British type to replace its Viscounts. It was for this reason that the airline negotiated a deal to purchase 18 BAC One-Elevens with an option on six more which was announced on the 27th January 1967. The type ordered was the Series 510ED, a stretched version of the current Series 200 and 400 then in production. The fuselage length was increased by 13 ft 6 in (4.11 m) made up of two plugs. An 8 ft 4 in (2.64 m) plug was introduced forward of the wing and a 5 ft 2 in (1.57 m) plug aft of the wing. At the same time the wing span was increased by 5 ft to 93 ft 6 in (28.50m). The increase in fuselage length enabled an additional four seat rows to be fitted increasing passenger capacity by 20. The type was somewhat different to later production Series 500s and was tailor-made to BEA's requirements. The aircraft were the only One-Elevens fitted with the uprated Rolls-Royce Spey Mk.512-14E engines which produced 12,000 lb (5,493 kg) of static thrust and for some unexplained reason were not fitted with the type's usual forward airstairs. They were also fitted with a non-standard Smiths Industries SF5 flight director and compass system and the instrument layout was completely different to that of all other One-Elevens built. The cockpit changes were made to make the aircraft more in common with the airline's HS Trident fleets.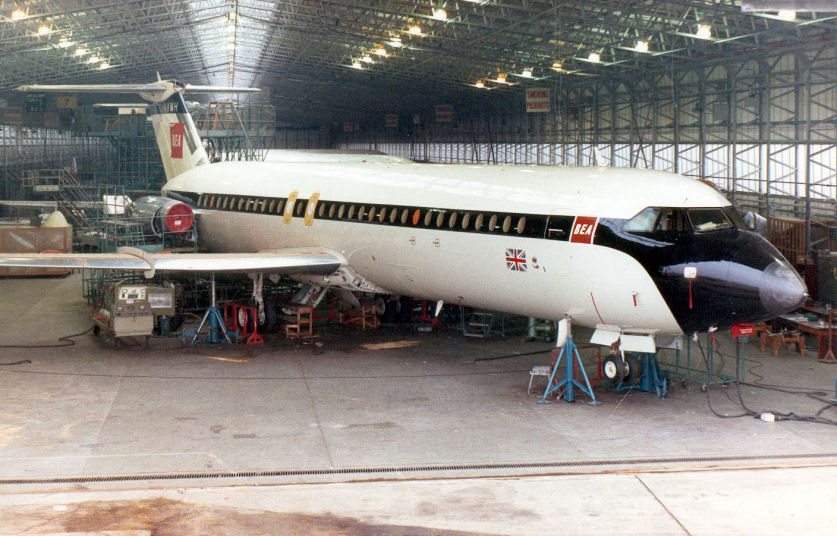 British European Airways first 1-11 G-AVMH during final checks at Hurn February 1968
During 1968 Comet 4Bs had been introduced onto some of the IGS services to recover from a falling market share but the type was hardly economic flying down the Berlin corridors at lower levels than they normally flew at and having to fly through the bad weather. The new BAC One-Elevens were eagerly awaited to improve the service, regularity and economy on the IGS services. The first production aircraft, G-AVMH, first flew from Hurn on the 7th February 1968 just over seven months after the first flight of the prototype converted Series 400/500.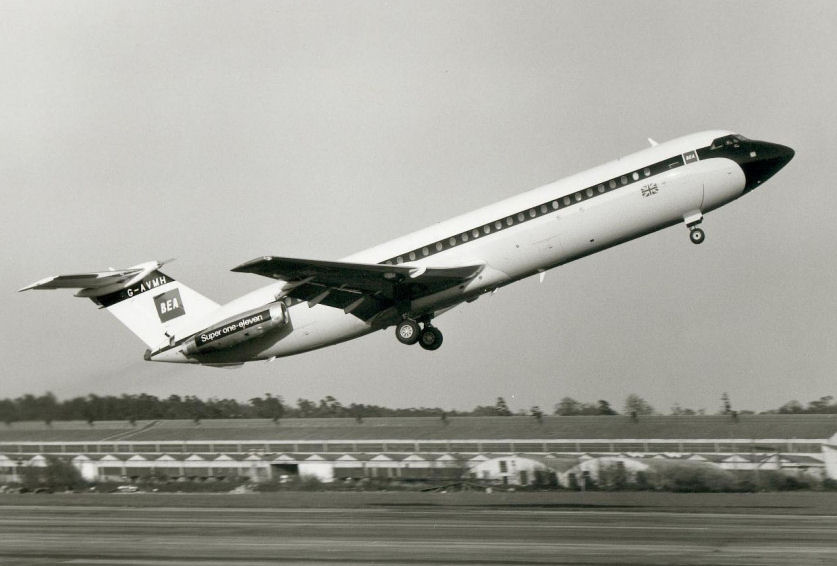 G-AVMH undergoing flight testing at Weybridge during February 1968
All but one of the aircraft were delivered to BEA between late August 1968 and mid August 1969 and commenced ad hoc substitutions on scheduled services on 1st September 1968 before entering regular service on 17th November 1968 both on the IGS routes and on schedules to London-Heathrow. In early May 1969 G-AVMK was employed on a State visit to Austria by the, Queen, the Duke of Edinburgh and Princess Anne visiting Vienna, Salzburg and Graz.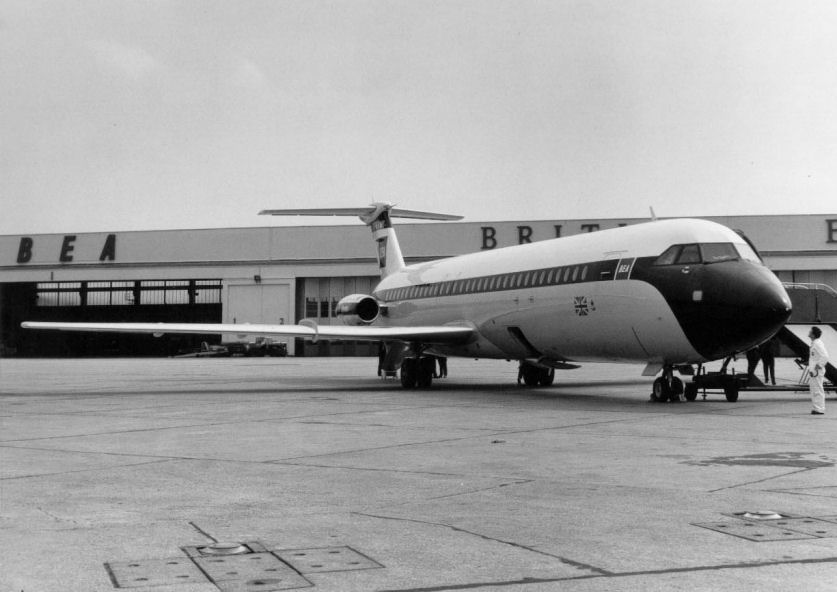 G-AVMI at its Heathrow base during 1969
The final aircraft was delivered to BEA in May 1970 after retention by BAC for autoland development. The initial six One-Elevens were delivered in BEA's red square colour scheme in a 97 seat all tourist configuration which was later increased to 99. However, with Air France's market share falling away due to it having to operate from the more distant Tegel airport, the airline formed an alliance with BEA to operate joint services on the Berlin-Tempelhof to Frankfurt and Munich routes utilising BEA's One-Elevens. BEA's flight deck crews were used while an Air France and a BEA cabin crew member were utilised in the cabin. To placate Air France's feelings, aircraft were painted in a neutral colour scheme and all the later new aircraft were delivered as such.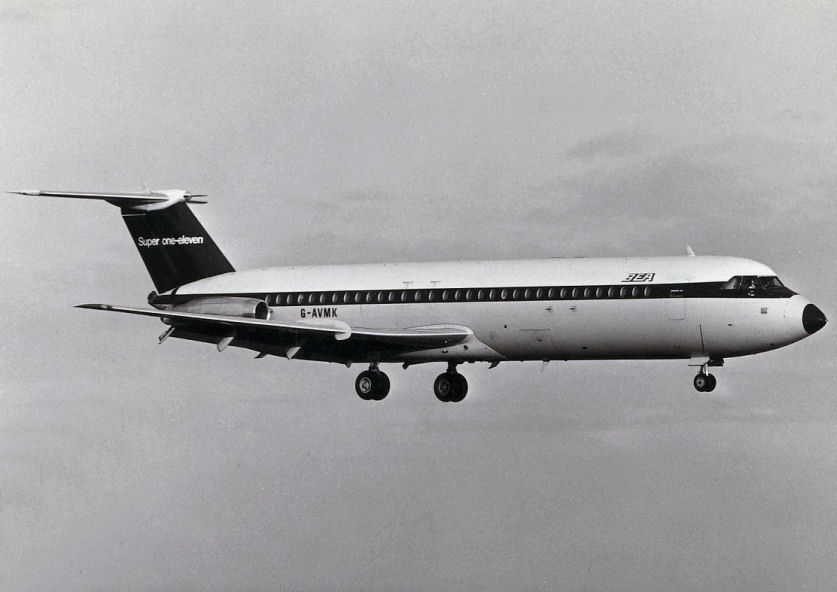 G-AVMK after its respray into the more neutral livery via Peter Upton
This arrangement continued until 31st October 1972. From the 1st November 1971 all IGS services were operated by One-Elevens after the Viscounts had finally been withdrawn from the network. Between 1970 and March 1972 Cambrian Airways Series 400 One-Elevens were rotated through Berlin to operate some of the schedules between Tempelhof and Bremen, Hamburg and Hannover and also operated some Dublin to Birmingham and Manchester schedules. Other destinations served from Tempelhof were Cologne, Düsseldorf and Stuttgart while from Manchester, Amsterdam, Brussels, Copenhagen, Dublin, Tempelhof via Düsseldorf, Frankfurt, Glasgow, Paris-Orly and Zurich were served by the type as was the Birmingham to Dublin route.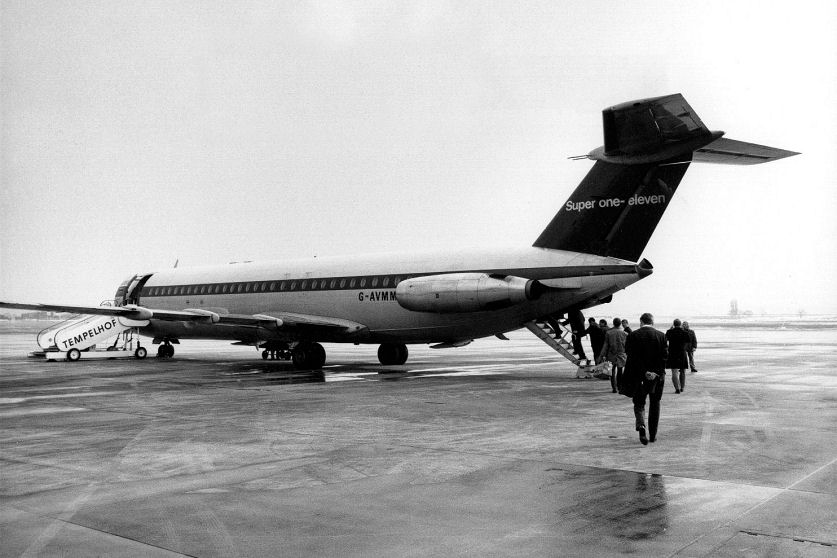 G-AVMM in the BEA/Air France neutral livery during a quick turnaround at Berlin's Tempelhof Airport
During 1971 the One-Eleven division was set up at Manchester and the fleet was maintained and controlled from there. Additional destinations were added to the One-Eleven network of BEA with Manchester linked to Belfast, Edinburgh, Geneva, Milan, Munich and Palma while Heathrow was served from Aberdeen, Alghero, Berlin-Tempelhof, Birmingham, Bremen and Hannover, Cagliari, Munich and Shannon. Birmingham schedules to Glasgow and Paris were flown with the type while Münster, Sylt and Nüremberg were added to the IGS network. A programme of charter flights was also flown from Manchester mainly at weekends to points including Barcelona, Gerona, Ibiza, Mahón, Milan, Munich, Oporto and Palma.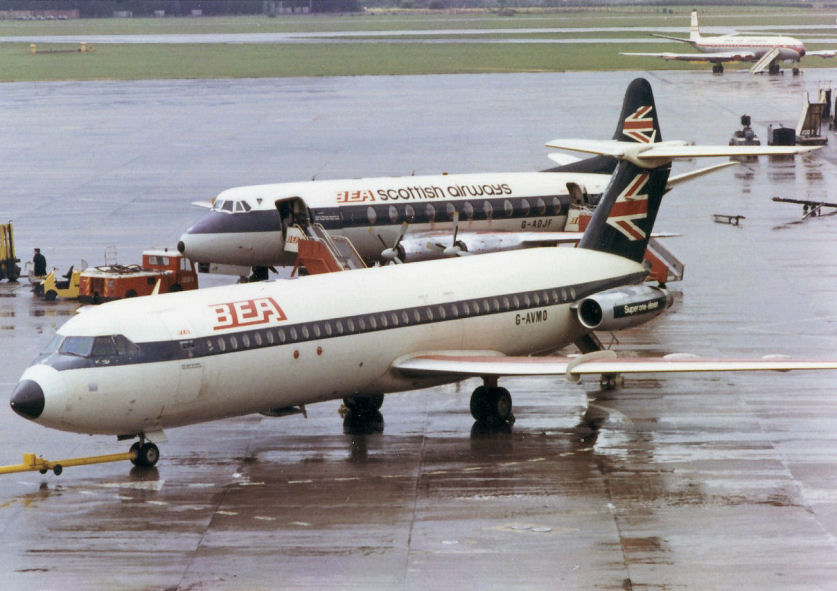 The third and final BEA livery seen on G-AVMO at Manchester September 1972 via Peter Upton
BEA officially ceased to exist on 1st April 1974 after the formation of British Airways plc although trading in the British Airways name had started on 1st September 1973. At this time the airline was operating all eighteen Series 510EDs together with the former Cambrian Airways/British Air Services fleet of four Series 400s while three additional used Series 400s were being added to the fleet at this time.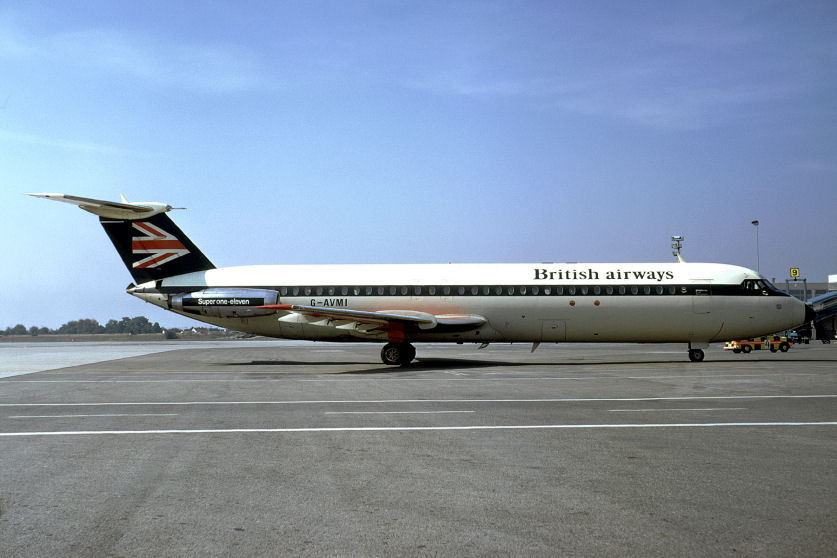 G-AVMI with British Airways titles after the formation of the new British Airways plc at Munich via Michael Roeser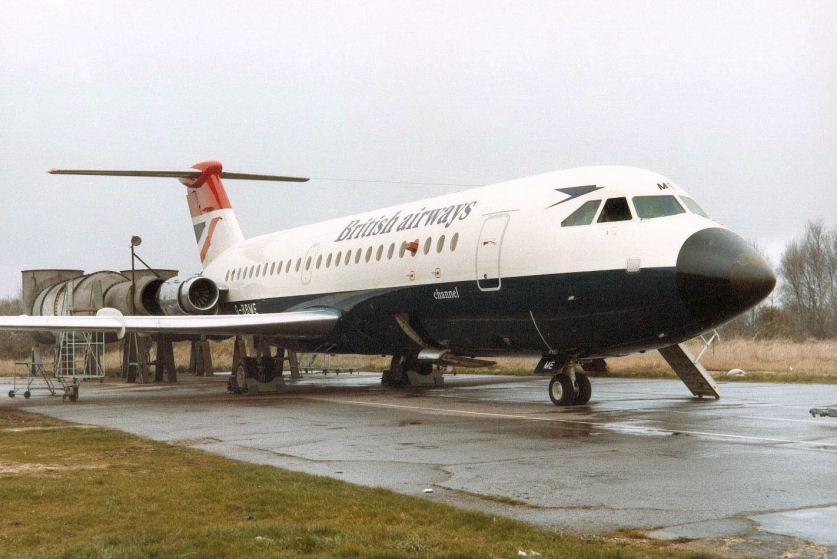 Ex American Airlines 1-11 G-BBME carrying out engine runs at Hurn after its refurbishment in 1974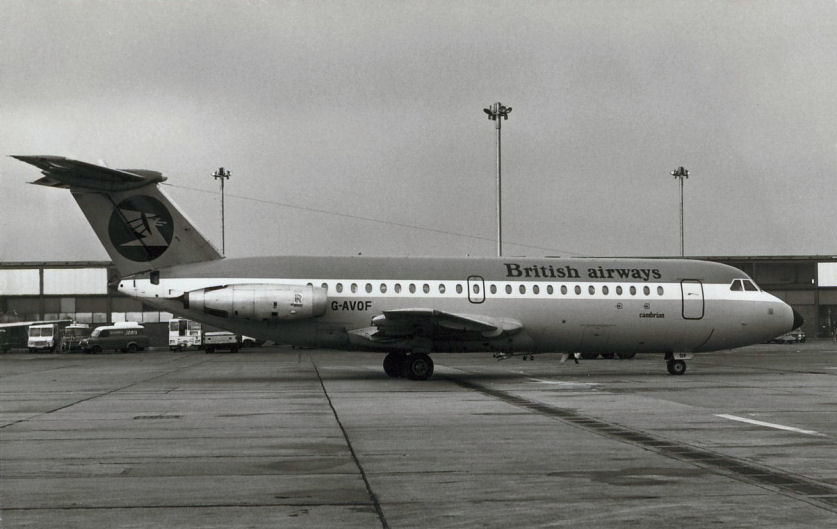 Former Cambrian Airways 1-11 G-AVOF at Heathrow in 1974 - Note the small Cambrian titles via Peter Upton

Following a drop in demand for the IGS services, Pan American World Airways and British Airways reached an agreement in which British Airways would operate exclusively on the routes to Cologne, Düsseldorf and Hannover while Pan American would operate exclusively to Frankfurt, Hamburg and Munich while other routes would continue to be in competition with each other. This became effective on 1st May 1975. In the late 1980s the One-Elevens were gradually replaced by Boeing 737-236s on the IGS routes with last being used in March 1986. The Series 510EDs had earlier replaced HS Trident 1Cs in the 'Shuttle' back-up rôle from 1981 flying from Heathrow to Belfast, Edinburgh, Glasgow and Manchester. In March, June and August 1980 three new Series 539GLs were delivered these replacing two of the Series 416EKs which were traded in for the new aircraft.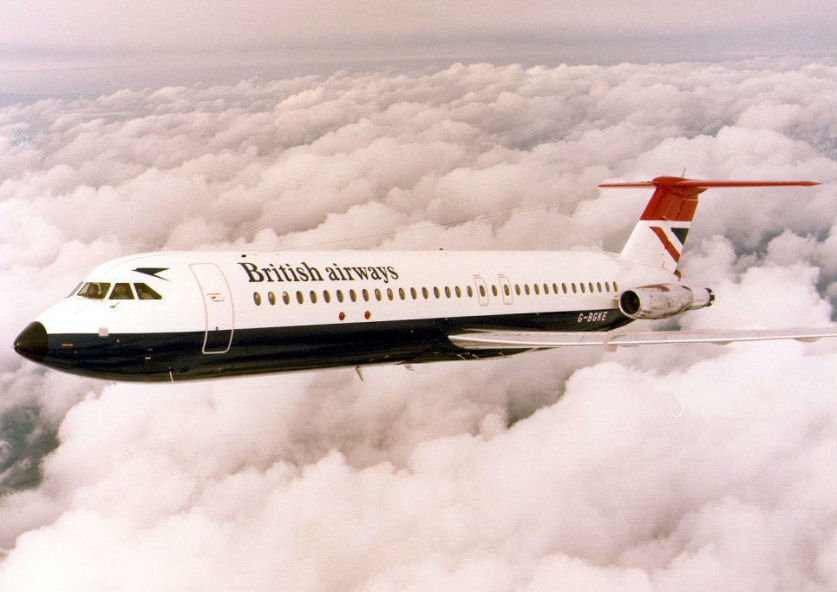 G-BGKE taken during a test flight from Hurn 1980
The use of these three aircraft was relatively short lived compared with other company One-Elevens and they were withdrawn and sold in March 1991. A new Series 537GF was leased from Cyprus Airways from October 1978 until April 1980 while a Series 530FX was leased from British Caledonian in October 1978 until the end of April 1979. The main base for these five aircraft was Birmingham due to their cockpit commonality with the Series 400s and their ability to be flown by the same crews.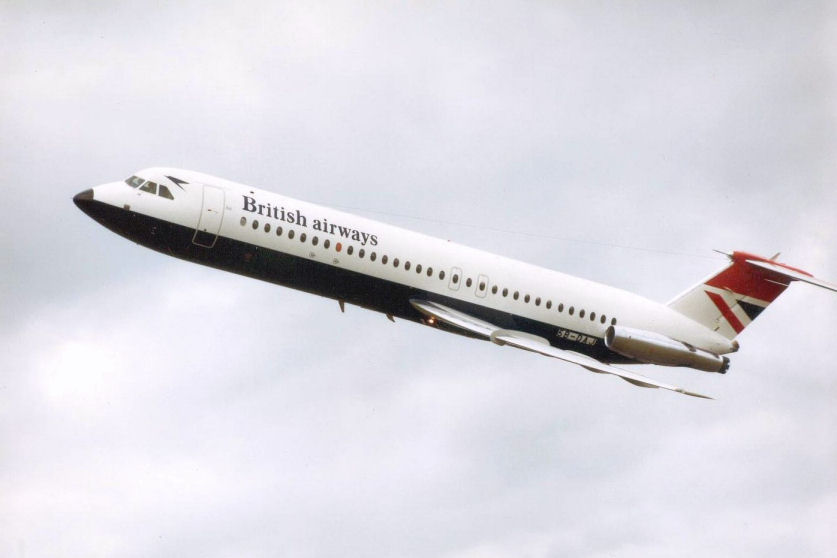 Cyprus Airways 1-11 5B-DAJ was leased to BA directly from the Hurn factory and temporarily registered as G-BFWN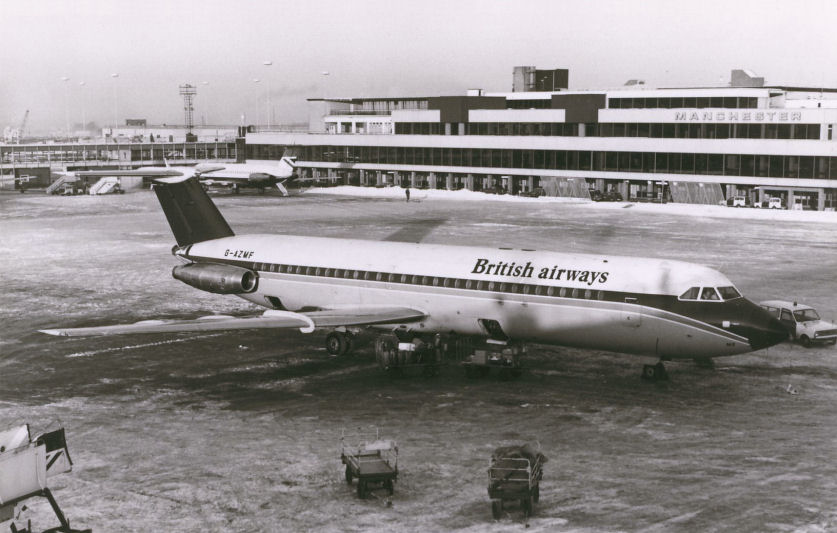 BCAL leased this aircraft to BA for the 1978/79 winter season. It's seen here at a rather snowy Manchester via Peter Upton
On the 1st April 1988 British Caledonian Airways Ltd was merged into British Airways adding their fleet of thirteen Series 500s of varying types. After repainting in British Airways colours these latest aircraft were transferred to Birmingham leading to the retirement of the last of the Series 400 aircraft.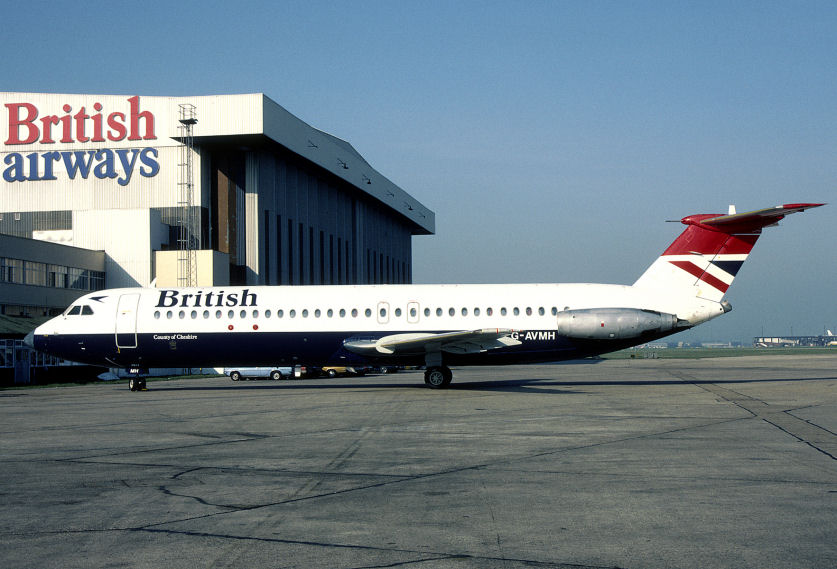 During the early 1980s the entire BA fleet had the "Airways" removed from the titles via Michael Roeser
Scheduled points served over the years by British Airways One-Elevens included the following:-
Austria - Vienna, Belgium - Brussels, Czechoslovakia - Prague, Denmark - Copenhagen, Eire - Cork, Dublin and Shannon, France - Bordeaux, Lyon, Marseille, Nice, Paris Charles de Gaulle and Orly, Germany - Berlin Tempelhof and Tegel, Bremen, Cologne, Düsseldorf, Frankfurt, Hamburg, Hannover, Leipzig, Munich, Munster, Stuttgart and Sylt, Italy - Milan-Linate, Rome-Fiumicino and Turin, Luxembourg, Malta, Netherlands - Amsterdam, Norway - Stavanger, Portugal - Faro, Spain - Barcelona, Bilbao, Madid and Malaga, Sweden - Gothenburg and Stockholm-Arlanda, Switzerland - Basel, Geneva and Zurich, United Kingdom - Aberdeen, Belfast, Birmingham, Edinburgh, Glasgow, Inverness, Jersey, London Gatwick and Heathrow, Manchester and Newcastle.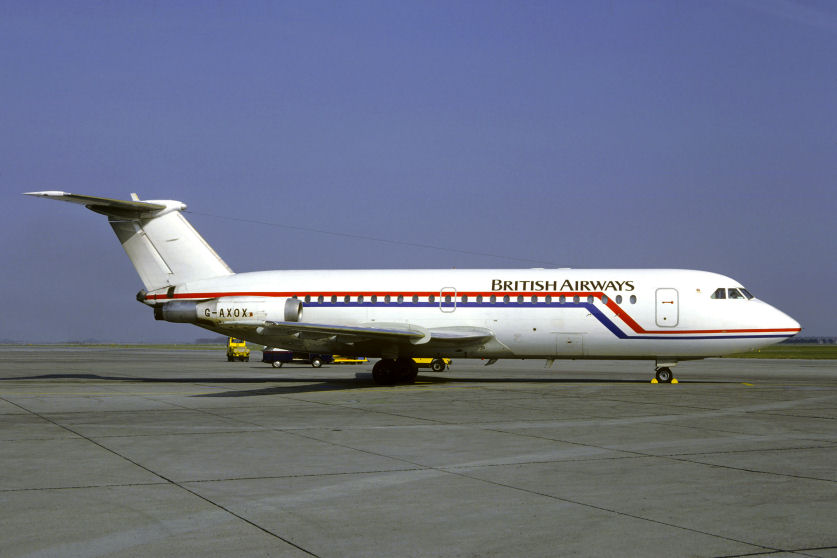 Air UK leased this 1-11 from BIA. It was then sub-leased to BA during the 1986/87 winter season via Christian Volpati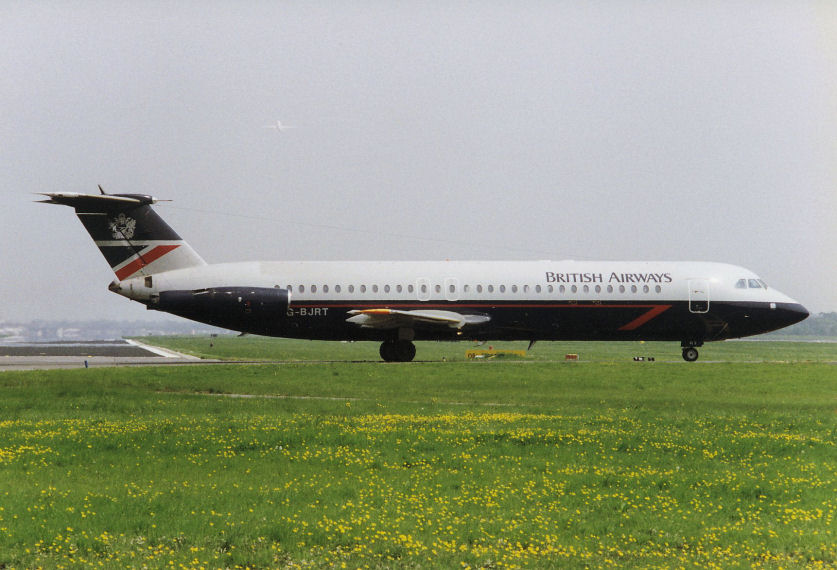 Former BCAL 1-11 G-BJRT waits for clearance to line up on Gatwick's runway 08R in the new landor livery via Peter Upton
The last scheduled flight by a British Airways One-Eleven out of Heathrow was flown on a round trip to Newcastle on 12th January 1992 and the Series 510EDs used in the 'Shuttle' back up rôle were replaced the following day by Boeing 737-236s. On this day six of the Series 510s were ferried to Hurn from Belfast, Manchester and Glasgow where they joined a seventh that had been ferried there earlier in early November 1991 for storage pending sale. The six crews all changed out of their uniforms and headed to the Woolpack in nearby Sopley village to celebrate the occasion with a meal and drinks with their Flight Manager before being coached back to Heathrow. The remainder of the Series 510s continued to fly from Manchester, Birmingham and Glasgow for the summer of 1992 and into the winter of the same year with aircraft gradually being withdrawn from August until 31st December when G-AVMS flew the last revenue international flight as BA5601 from Paris-Charles de Gaulle to Glasgow followed by the last revenue flight as BA5382 from Glasgow to Birmingham on the same date.
Three of the Birmingham based ex BCAL Series 500s were withdrawn in December 1992, with further retirements taking place in January, February and March 1993 but the others continued to fly into the summer season. The last scheduled British Airways One-Eleven flight took place on 23rd June 1993 when G-BJRT flew from Edinburgh to Birmingham as BA5543. G-AZPZ did remain on strength a little later and flew the last revenue flight by a British Airways One-Eleven when it flew from Belfast to Birmingham on behalf Brymon European Airways as BC306 on 1st July 1993. This would however not be the last operation of One-Elevens in British Airways colours.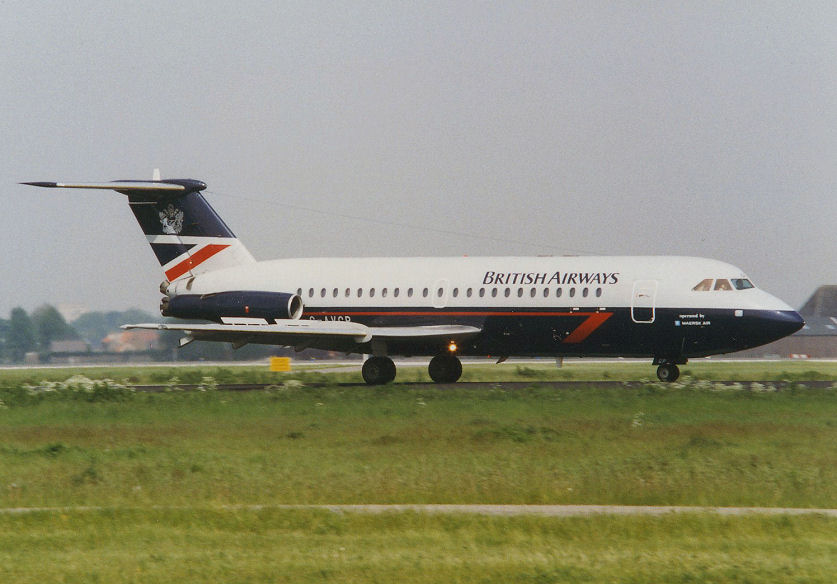 G-AVGP was resprayed back into BA livery when Maersk Air became a BA franchise carrier. It's seen here at Amsterdam via Peter Upton

On the 1st August 1993 Brymon European Airways was broken down into its component parts of Birmingham European Airways and Brymon Airways Ltd. Brymon European Airways had ensured that the break between June and August 1993 had continued to see One-Eleven use by operating a twice daily schedule from Bristol to Paris-Charles de Gaulle from Monday to Friday and once on Sundays with the type on behalf of British Airways with effect from April 1993 until the company was dissolved. The former company was taken over by Maersk Air I/S of Denmark and operated as a separate organization named Maersk Air Ltd and immediately became a British Airways franchise carrier and repainted its aircraft in British Airways colour scheme. At this time it was operating four Series 400s and one Series 501EX on scheduled routes linking Birmingham with Amsterdam, Belfast International, Copenhagen, Milan and Stuttgart. From late March 1994 Cork and Lyon were added to the network. An additional Series 501EX was leased from British Airways in August 1994 and purchased from them a year later. During March and April 1995 this carrier's One-Elevens were reconfigured to meet the new British Airways Club Europe launch. The Series 400 seating capacity was reduced from 77 to 63 (comprising 28 four abreast club seats and 35 five abreast tourist seats) while the Series 500 seating capacity was reduced from 99 to 86 (comprising 32 four abreast club seats and 54 five abreast tourist seats). A third Series 501EX was leased from European Aircharter Ltd from late March 1996 for two years. The Series 400s were sold in South Africa in July and December 1996 and February and April 1997 after flying the last revenue service on 20th March 1997 when G-BBMG flew from Birmingham to Milan-Malpensa after diverting from Milan-Linate with undercarriage warnings. The last revenue flight by a Series 500 took place on 4th August 1998 when G-AWYS flew from Copenhagen to Birmingham as BA8363 with Captains Kelly and Kerr in the cockpit.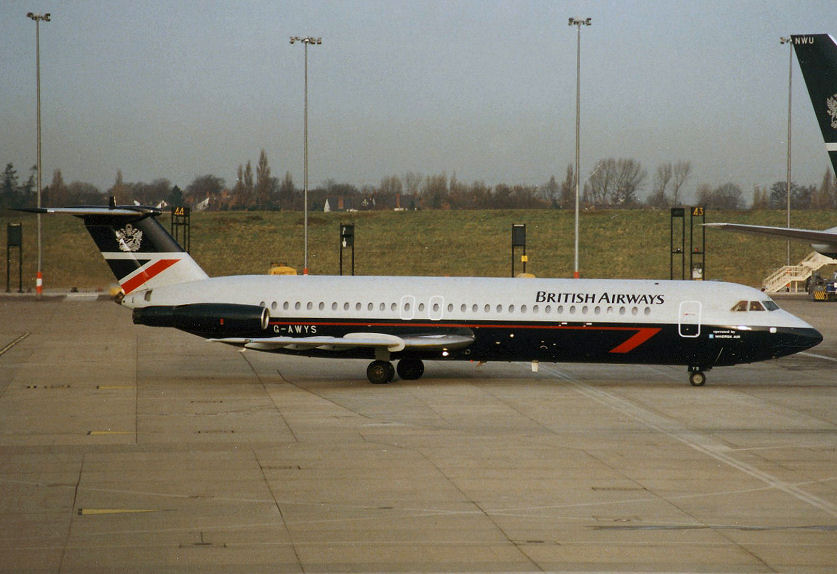 G-AWYS taxies in at Birmingham shortly before its final withdrawal, bringing to an end 30 years of BA 1-11 operations via Peter Upton
The BAC One-Elevens flew BEA/British Airways services continually for just short of thirty years with an almost unblemished safety record. During that time only five major incidents took place and all without the loss of life or major injury. On 21st February 1973 G-AVMX belly landed at Teesside while crew training. On the 7th January 1975 G-AVMP was hijacked while en route from Manchester to Heathrow and was diverted to Stansted where the hijacker was overpowered. On 13th November 1985 the starboard main landing collapsed as G-AVMY was taxying for take-off at Copenhagen after the failure of the landing gear support beam at the aft attachment. On 11th March 1988 G-AVMN suffered port wing damage after slicing off the cab roof of a cement truck while taxying at Glasgow. The final occurrence was on 10th June 1990 with G-BJRT while en route from Birmingham to Malaga over Didcot in Oxfordshire. In this much publicised event Captain Tim Lancaster was sucked out of the flightdeck at 17,300 feet when the Captain's windscreen blew out. Luckily his feet became tangled in the yoke and a member of the cabin crew held on to his legs while the First Officer regained control and made an emergency landing at Southampton-Eastleigh. Captain Lancaster later fully recovered and progressed to being a Captain on Boeing 757s and later Boeing 747s.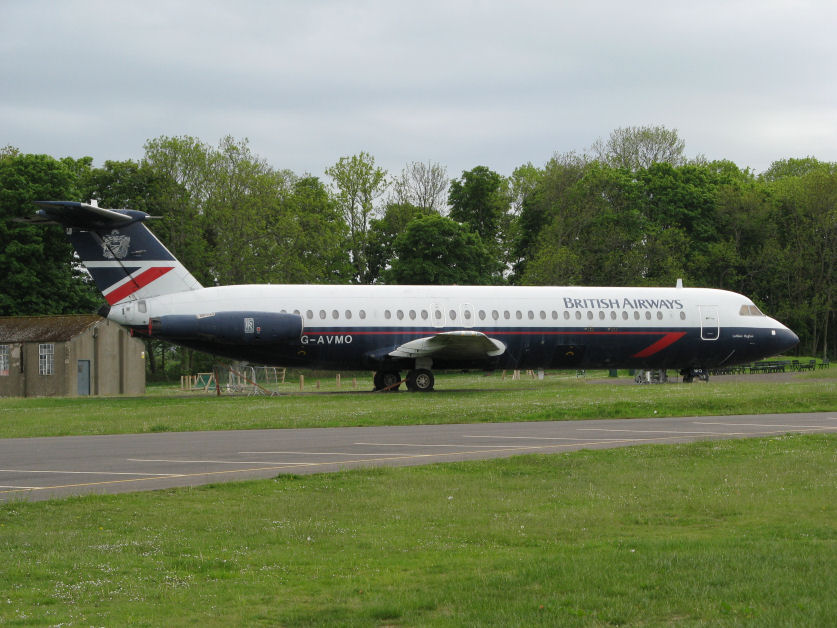 G-AVMO's final resting place at East Fortune National Museum of Flight

During the thirty years of flying One-Elevens in BEA/Cambrian/British Airways service flew a total of 1,056,616 hours and performed 1,162,841 landings, a most impressive record for an aircraft type that the airline originally stated that it did not want. Two of the Series 510EDs remain preserved at museums in the United Kingdom after they were donated to them by the airline. Both were flown to their final locations by Captain Douglas Brown. G-AVMU was flown to Duxford on 4th March 1993 where it is exhibited by the Duxford Aviation Society while G-AVMO was flown to Cosford on 22nd March 1993 for display with the British Airways collection. This last aircraft was dismantled and moved to the National Museum of Flight Scotland at East Fortune near Edinburgh on 9th September 2006 where it was re-assembled for display.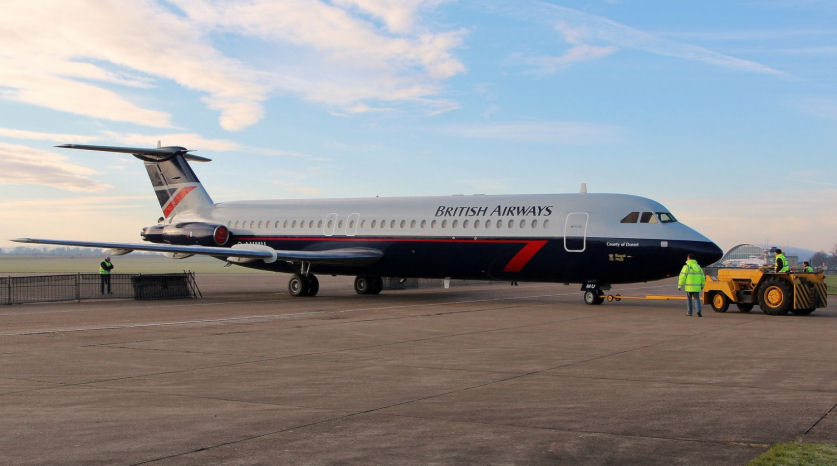 G-AVMU was repainted at Duxford during January 2015. It is shown here being towed back to the flightline on the 20th January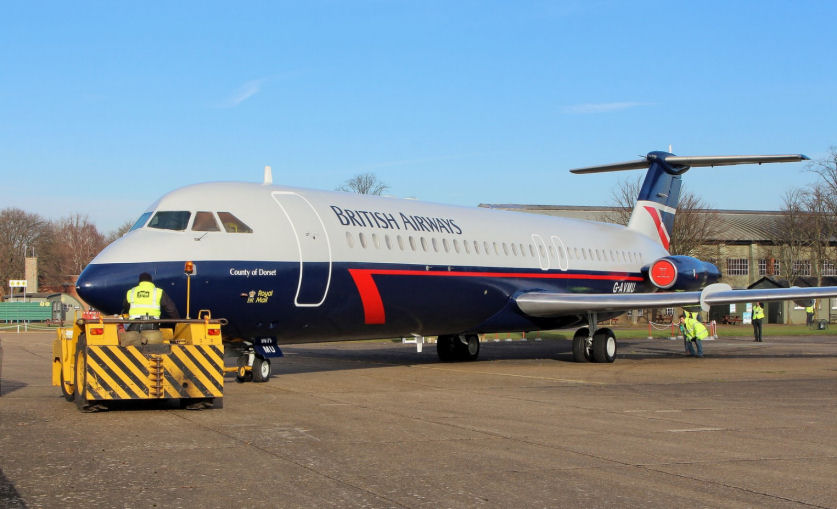 Looking absolutely immaculate in its new "Landor" livery G-AVMU is pushed into position - Photos by David Whitworth