EUROPEAN AVIATION - THE LAST GREAT 1-11 ERA!
European Aviation and the BAC One-Eleven - by Bournemouth Airport Historian Mike Phipp
European Aviation was the last major airline user of the One-Eleven. It was also unique in that its base at Bournemouth was housed in the former BAC hangars where their fleet had been constructed in the 1960's and 70's.
European Aviation owed its origin to Australian entrepreneur and F1 racing enthusiast Paul Stoddart. As a thirty year old he arrived in the UK in 1986 and one of his early operations was a Yugo car dealership. He entered the aviation business in 1989 with the formation of European Aviation, turning it into a Limited Company in April 1990 and becoming its Chairman and Managing Director. The company headquarters were established at Warley, West Midlands and warehouse premises were acquired at Ledbury to house the stock of aviation spares, which was the company's original business (Paul already lived at Ledbury). This grew to include Boeing, DC-10, A320 and Tristar spares. Initially it was the company's intention just to deal in spares, but this changed fairly quickly. Paul soon arranged the purchase of the surplus Royal Australian Air Force (RAAF) executive fleet of three Dassault Falcon 20s and two BAC One-Elevens. The Falcons were resold locally in Australia. However the One-Eleven 217s were flown back to the UK having been registered G-KROO and G-EXPM, the registrations reflecting Kangaroo and Ex-Prime Minister.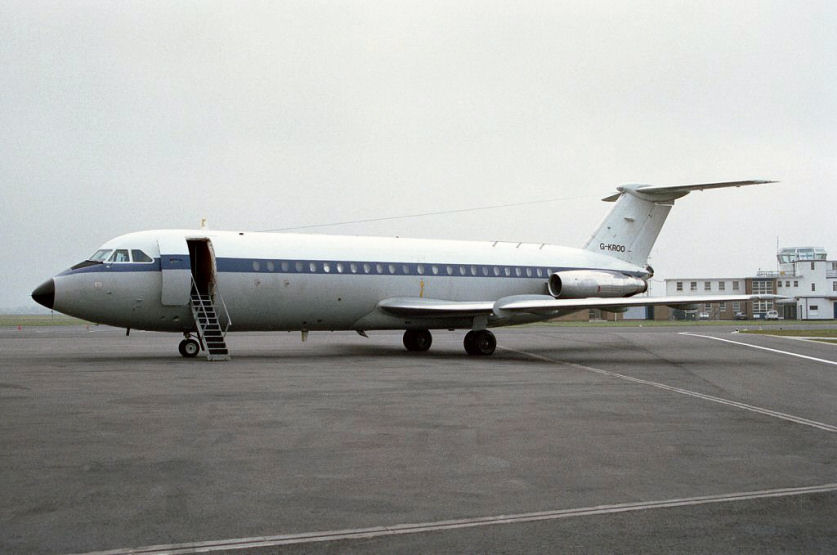 G-KROO arrived at Bournemouth in April 1990, with G-EXPM delayed and not reaching Southend until August 1991. [See Special Feature 9 'The Truck – Wabbit One']. At the time European had no connection with Bournemouth. Paul's intention had been to make a quick dollar on the deal, either turning the aircraft into spares or selling them on quickly. Okada Air of Lagos, Nigeria was expanding its fleet of second hand One-Elevens and arrangements were made for the two aircraft to be sold to Okada. However delays over price, red tape, refurbishment, etc saw a delay which meant that work did not get under way at Southend as quickly as Paul had hoped. One reason was that the aircraft had been operated by the RAAF with a flight engineer position with a sextant mounted in the cockpit roof and the aircraft had to be converted to a standard two crew configuration. G-KROO was flown from Bournemouth to Southend shortly after G-EXPM's arrival. G-EXPM was completed first and delivered to Okada as 5N-TOM in January 1992; G-KROO followed as 5N-SDP in May. Also during 1992 European acquired the majority of British Airways (BA) One-Eleven spares holding. An advert of the time said European had an inventory of 20,000 items for purchase or exchange.
European's major break came in May 1993 when British Airways put sixteen of its One-Eleven 510's up for sale at a price which could not be refused. [G-AVMH – MZ; not included were G-AVMO and G-AVMU which BA donated for preservation at the Cosford and Duxford Museums]. Also included was BA's remaining spares stock. BA had started withdrawing its One-Elevens in 1991 and as others were withdrawn they were flown to Bournemouth for storage. All eighteen had arrived by the end of 1992.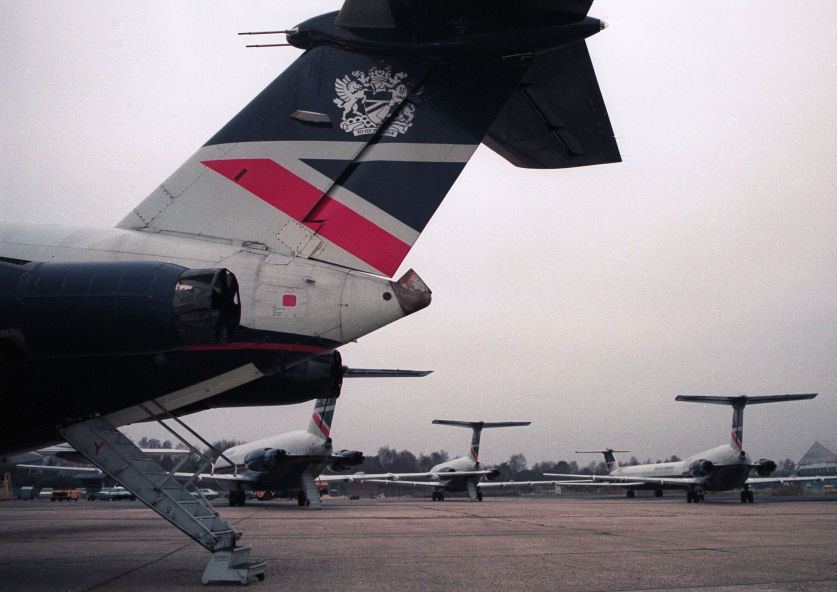 Okada Air of Nigeria were still expanding their fleet and early in 1992 arranged to acquire seven of the former BA aircraft, which were repainted in Okada colours (G-AVMJ/L/M/R/X/Y/Z). However the deal fell through when Okada realised that the cockpit layouts were different from their standard 1-11s and there were no forward airstairs therefore BA put the fleet up for sale as a job lot.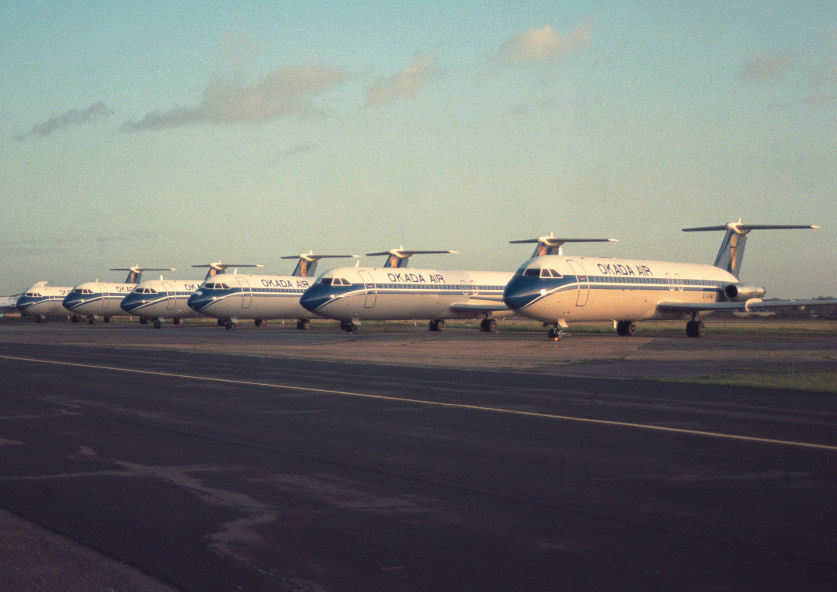 European put in a bid and their offer was accepted in May 1993. The sixteen aircraft were registered to European Aviation at Ledbury in three batches during June, August and September. European's intention was either to quickly sell on the aircraft or break them up for spares. However with a ready-made fleet European decided to operate the aircraft themselves in the IT, ACMI and ad hoc charter market. The Okada Air aircraft, swiftly had their Okada titles replaced by European.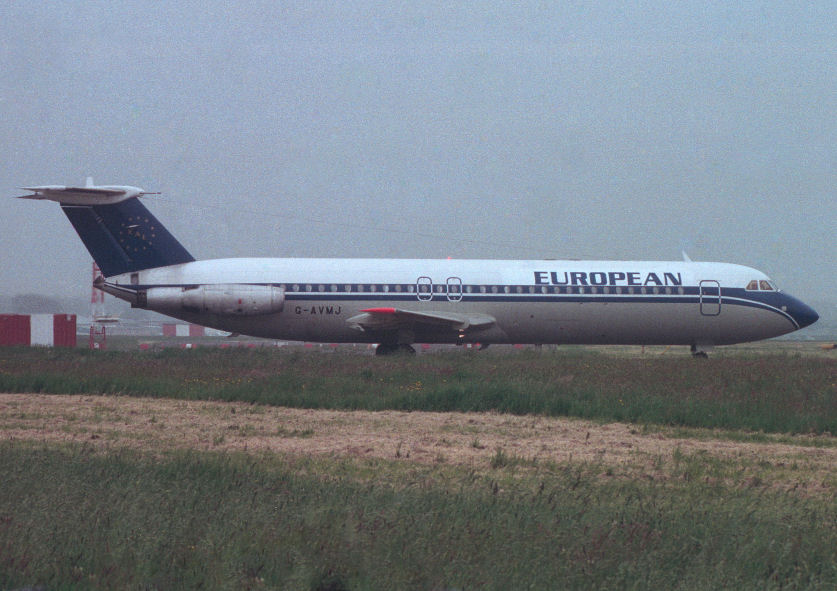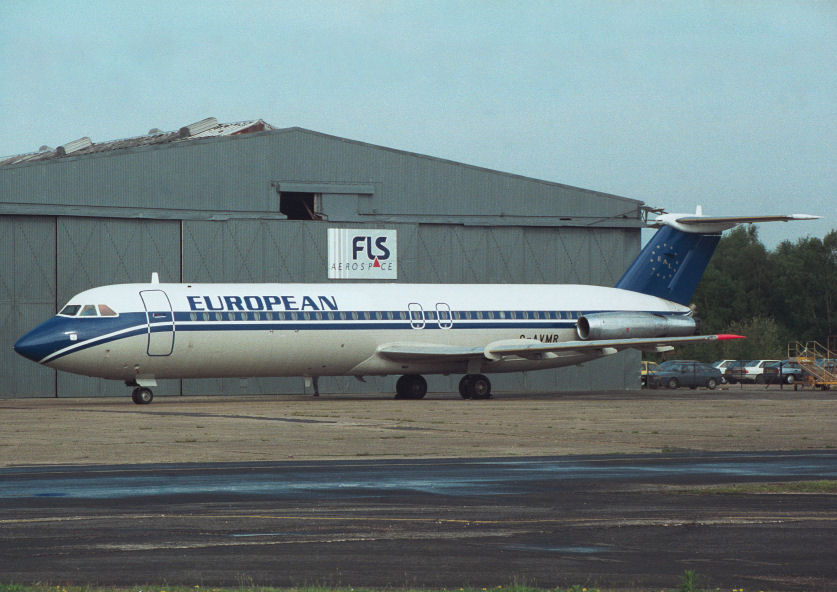 It was felt that there were a number of aircraft available for charter in the 130/50 seat range, but the 100 seat range, such as that offered by the One-Eleven, was overlooked. This was the market segment that European was aiming for therefore. In September 1993 European Aviation Air Charter (EAAC) to be the 1-11 operating company and European Aviation Maintenance were formed with Paul as their Chief Executive. As well as the fleet, Paul found he had inherited many of the former BA engineers as well. They turned up looking for company cars, only to be offered a fleet of Yugos. The engineers were not impressed! However the majority of the flight deck crews were former Dan-Air employees seeking work following the airline's demise the previous November. The series 510 aircraft had been a special variant for BEA/BA which included a flight deck equipped to similar standards as their Trident fleet, and so the new crews had to be retrained. The aircraft were not fitted with the normal forward airstair and this could prove a problem at some airports. However, an advantage was the large galley area specified by BEA, which European put to good advantage. In due course European Maintenance became renowned for its world wide support of the One-Eleven.
Initially European planned to use Cardiff as their operating base, but then switched to Bristol Filton where a hangar was acquired. The One-Elevens were flown to Filton from Bournemouth during the summer of 1993 by former BA crews.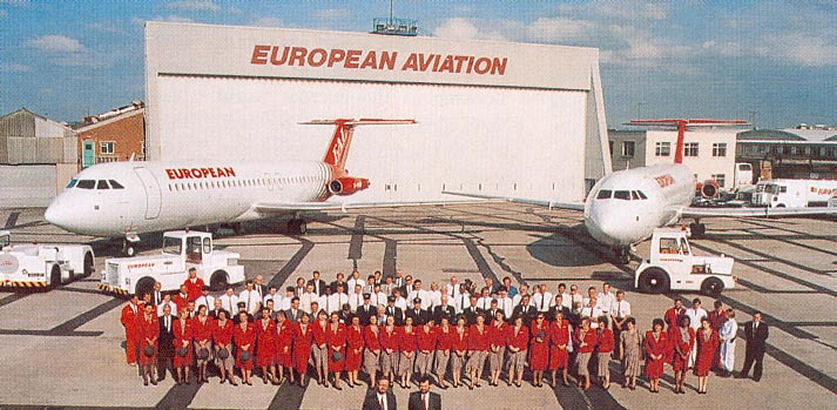 The hangar and adjacent offices had formerly been used by the Rolls-Royce/Turbo Union Flying Unit with its specialised cargo door equipped One-Eleven G-BGTU. Initially maintenance would be undertaken by FLS and FR Aviation at Bournemouth, giving European time to set up facilities at Filton. G-AVMT/MW were soon leased to newly formed Air Bristol. As from October 1993 they were mainly used to operate the BAe weekday shuttle service between Filton and Toulouse.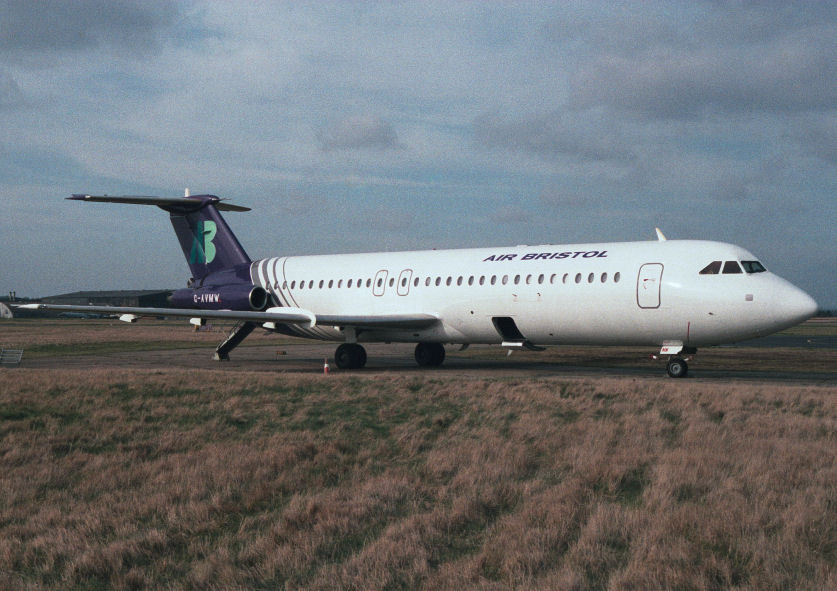 The Air Bristol fleet was expanded to four aircraft in February 1995 with two being used for operations by a new airline based at Belfast International called Air Belfast (G-AVMH/MN) commencing in March 1995.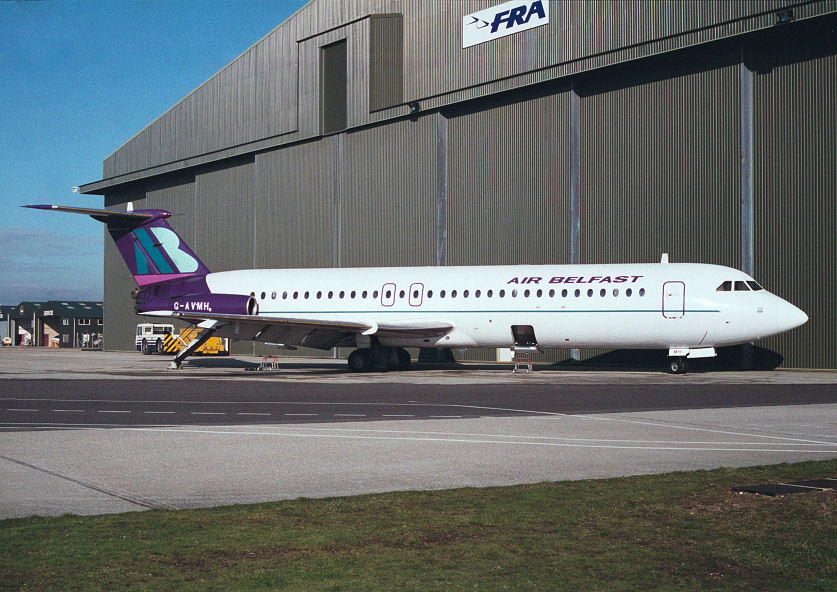 A new subsidary called AB Shannon Ltd commenced operations in December 1995 (G-AVMT).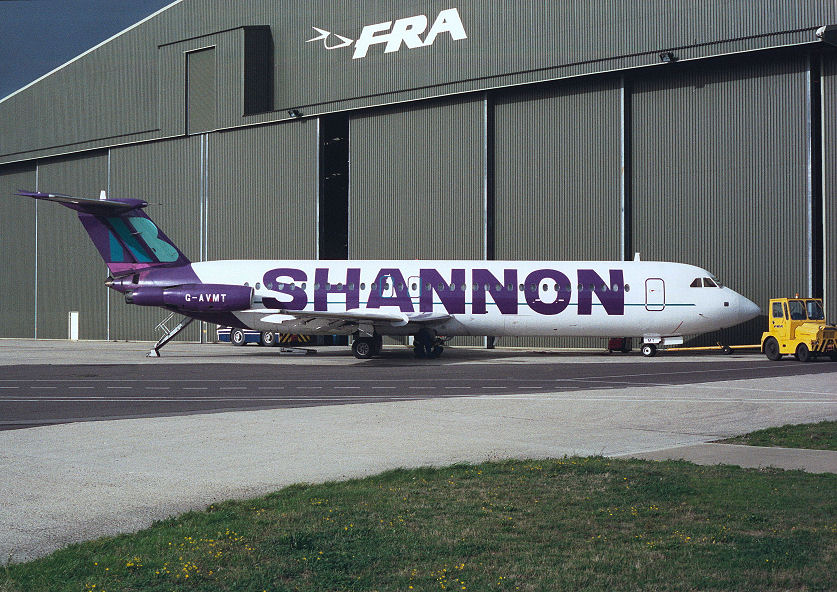 From May 1997 Air Bristol and AB Shannon were merged to form AB Airlines.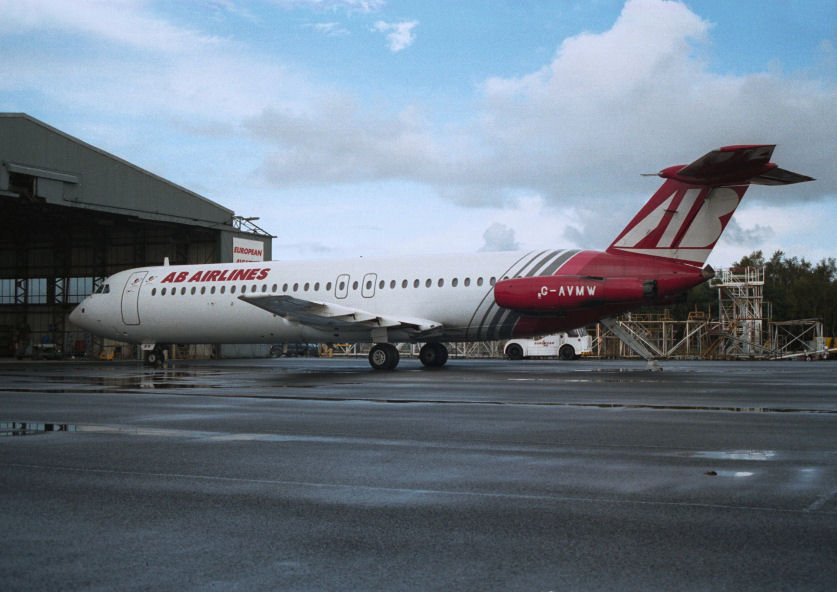 Other One-Elevens were flown to Filton, in due course appearing in full European colours (inc G-AVMH/MI/MK/ML/MN/MP. G-AVMH/MI/MP were given European Aircharter titles and EAC on the fin, rather than EAL).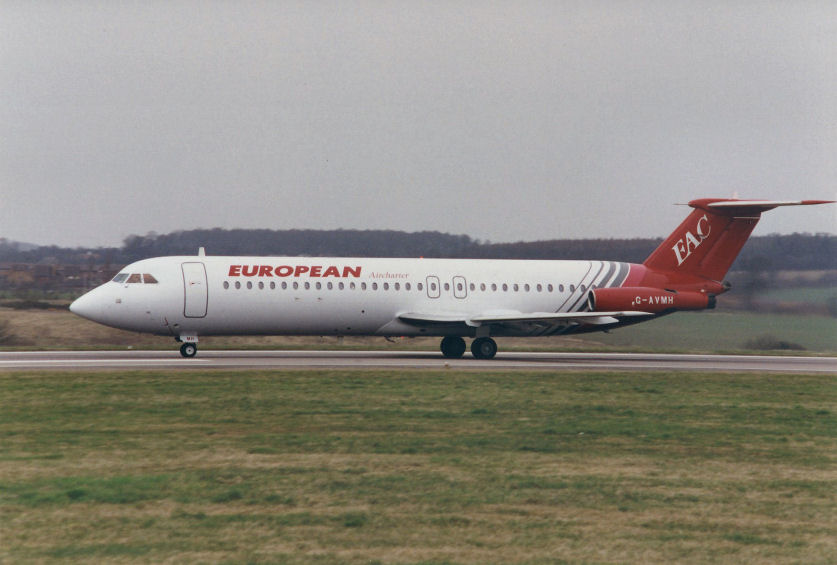 Some of the aircraft were initially given names but this was very short lived. These were 'The Brussels Express' on MH, 'The Rome Express' on MI, 'The Paris Express' on MK, 'The Dublin Express' on MN, 'The Madrid Express' on MP, 'The London Express' on MS and 'The European Express' on MW. This last name was later used on ZMF after MW was repainted in Air Bristol's colour scheme. Having obtained its AOC, G-AVMH flew EAAC's first charter on 16 February 1994 from Filton to Lyon. Later a publicity photo shoot took place at Cardiff with G-AVMH/MK/MN.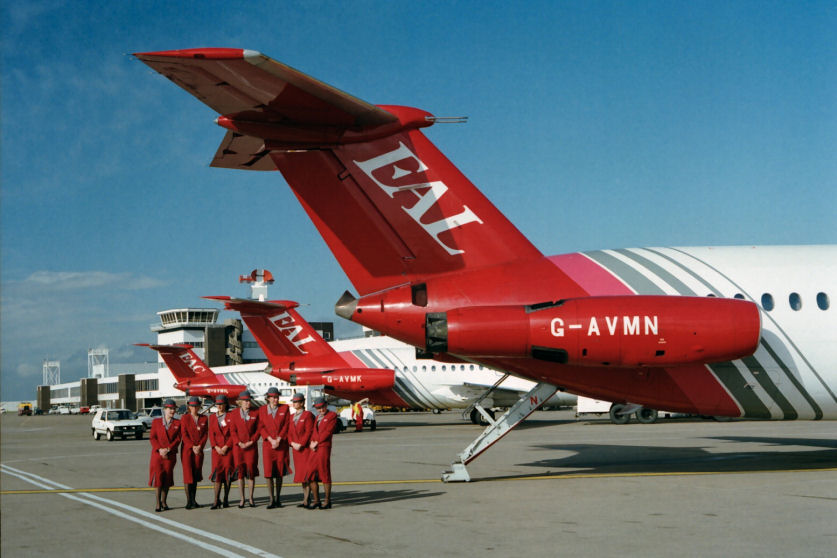 As well as apron shots there was a unique three ship formation as the aircraft were positioning to Cardiff from Filton.
During the year a further four BA (ex B/Cal) One-Elevens were purchased (G-AWYV/XLL/YOP/ZMF) and flown to Filton. Unlike the earlier ex BA aircraft with Smiths Industries avionics these were fitted with standard Rockwell-Collins instruments and had forward airstairs. European advertised the One-Elevens as 'available 24 hours a day, 7 days a week, at competitive rates and available on an ACMI basis'. From their Filton base the One-Elevens were used on charters by tour companies from the likes of Gatwick, Manchester and Stansted to the Mediterranean holiday destinations. Even Ryanair made use of one of the One-Elevens for flights out of Stansted. A subsidiary company, Emerald European A/L, was formed in December 1994. It operated services between Luton and Belfast, initially with G-AVMH. However the operation was not profitable and the airline closed down in June 1995. A July 1994 advert was for One-Eleven cabin crew based at these airports and for engineers based at Filton. The following spring Captains and First Officers were sought, again based at Filton. With the size of their fleet European found they had insufficient space at Filton. [15 there in Jan 95]. So the airline selected Bournemouth as its new operating and maintenance base in April 1995, taking over the former One-Eleven production hangars which had been used by FLS Aerospace. Their Head Office was now housed in European House adjacent to the hangars. The One-Elevens were gradually flown back to Bournemouth, except for G-AVMJ. Although one of the aircraft selected for Okada Air, it was found to be too costly to keep airworthy. As a result, the wings and tail were removed and the fuselage was taken by road to Bournemouth.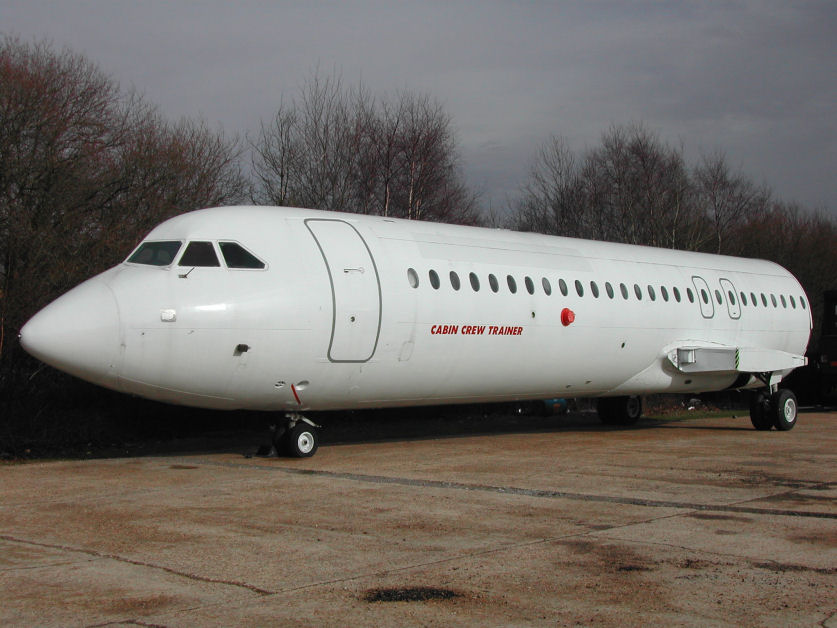 G-AXLL had arrived at Bournemouth at the end of 1994. In January it appeared in basic BA colours but with 'Limping Lil' titles for its part in a Charity Pull along the runway.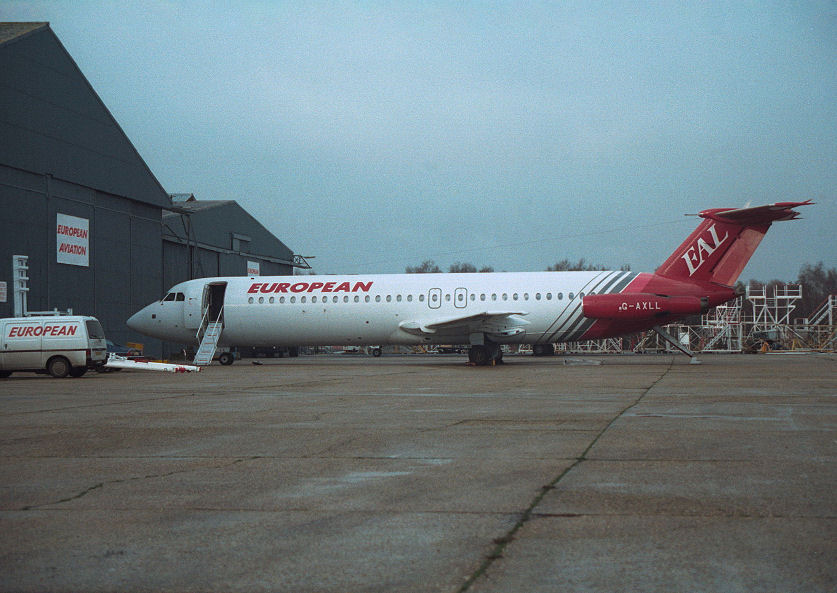 The One-Eleven fleet was also chartered or leased by airlines to make up capacity shortfall. These included Air Liberté (G-AXLL in 1996), Debonair (G-AYOP in 1999), Euroscot Express (G-AVMT in 1997-98), Jersey European (G-AVMK 1997-98), Maersk Air (G-AWYV in 1996-98) and Sabena (G-AVMI/MK/ML in 1995-96).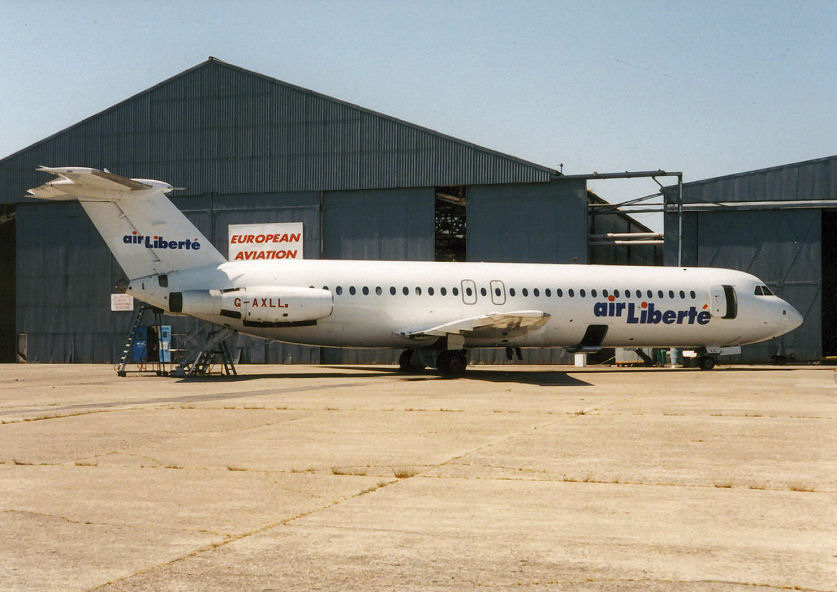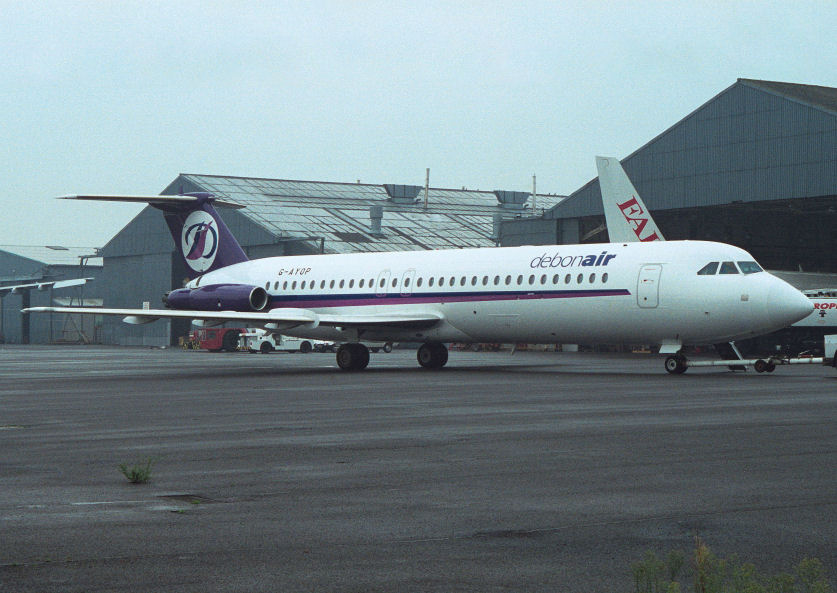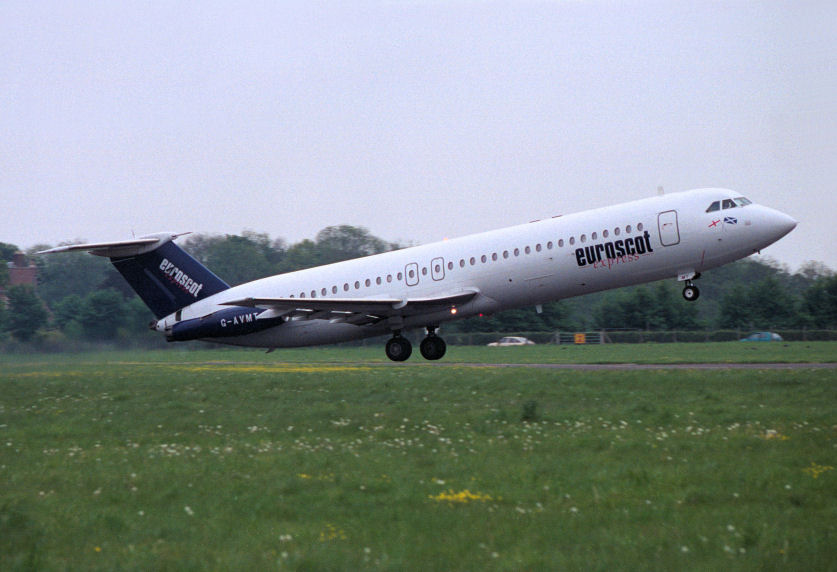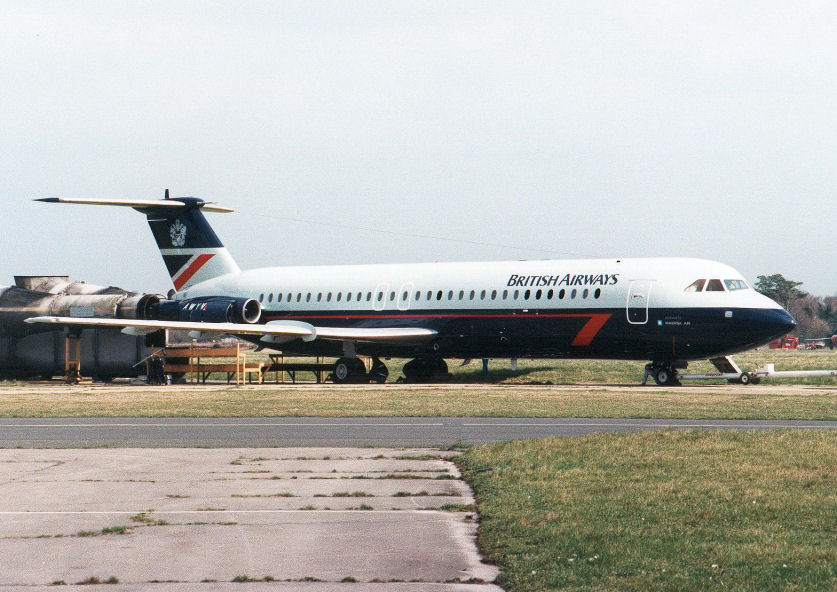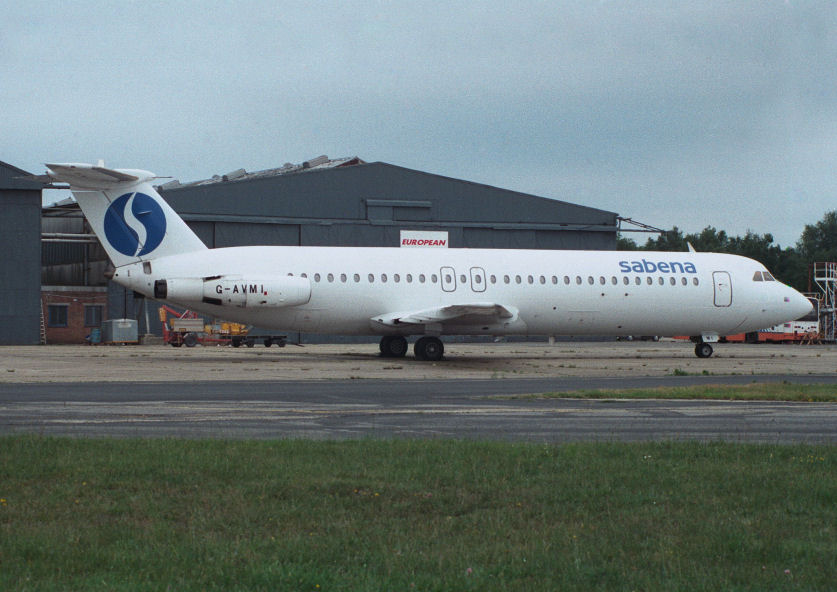 Business from its home base of Bournemouth included charters for Islanders Ltd each summer Saturday (1997) to Jersey and the Costa Brava. In 1998 European described itself as the 'foremost operator of the BAC 111 in the world'. Passengers were provided with 'European Life' - the in-flight magazine of EAAC. In August they were advertising for 1-11 Captains to be based at Gatwick and Stansted.
European VIP First was established in January 1995 for executive charters using G-AZMF fitted with fifty First Class seats and two galleys. It was hired by sports teams, pop groups, government ministers and celebrities. Its first use was by Nissan Cars for a flight from Gatwick to Lisbon and return.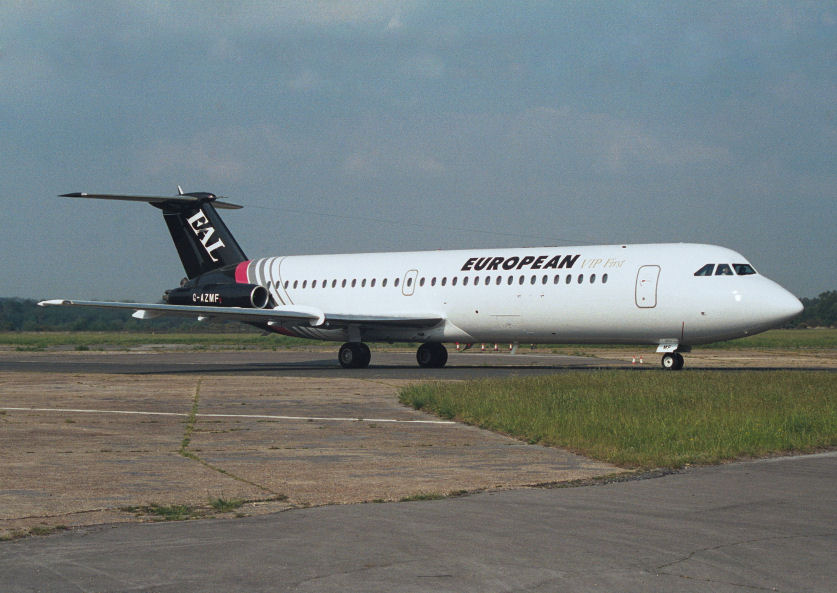 G-AVMI was refitted with only seventy seats in the summer of 1996 and was used by Air Bristol on the Filton to Toulouse shuttle. Paul had purchased a large number of long haul first class seats from BA at a knock down price, some of which were refurbished and used in the One-Elevens. European Aviation Flight Simulator Centre was also established at Bournemouth in June 1997 to train new crews. It was equipped with One-Eleven (ex BA), Boeing 727 (ex Melbourne!) and Tristar simulators, with the fuselage of G-AVMJ available for cabin crew training.
The European fleet reached a maximum of sixteen airworthy One-Elevens in September 1998 and on Sunday 20th September they were all in service on the same day. At the time the company was advertising for Captains to be based at Gatwick and Stansted, with the aircraft operating far and wide all over Europe. However withdrawals of the fleet commenced in October with G-AVMH/MK stored at Bournemouth. Here they joined G-AVMR/MV/MX which were never converted for service. MR and MX had remained in Okada Air colours and MV in BA colours.
As well as its own fleet, European Aviation Maintenance also maintained the MoD and three RAFO One-Elevens until 2002, when Cobham took over the work. Many other One-Elevens also passed through Bournemouth with the work split between European and FR Aviation. N217CA arrived from America in January 1996 in the colours of new Nigerian airline International Air Tours. The airline failed to start operations and after a period of storage N217CA was reregistered TG-TJK in August and departed for Guatemala.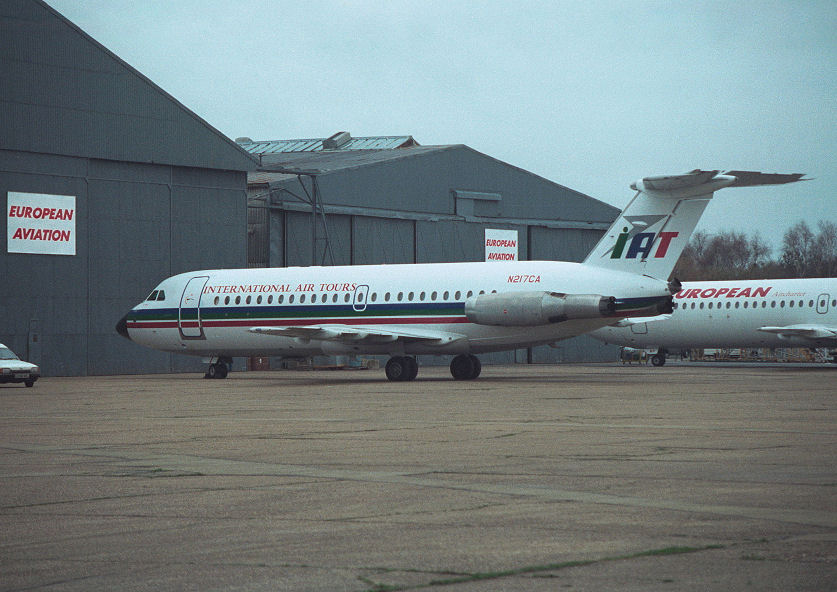 5N-BAB of ADC Nigeria arrived on May 1997 for overhaul, but the airline went out of business. After a period of storage it was scrapped in August 2000.
European knew that there was a deadline approaching concerning One-Eleven operations due to UK & European noise regulations coming into force at the end of March 2002. Their aircraft were only 'Stage Two' noise compliant (as were many 737s and DC-9s) and action needed to be taken. Over in Florida the Quiet Technology Corp was developing a 'Stage Three' silencer that would enable One-Elevens to meet the new requirement. They had already provided hush kits for Spey powered Gulfstream IIs and IIIs. In August 1995 European announced that they had joined forces with Quiet Technology to develop the silencer and have their fleet modified to keep them flying for another twenty years! To support this programme, two former Philippine Airlines aircraft arrived at Bournemouth in the spring of 1996, these being registered as VR-BEA and VR-BEB for their ferry flight from Manila.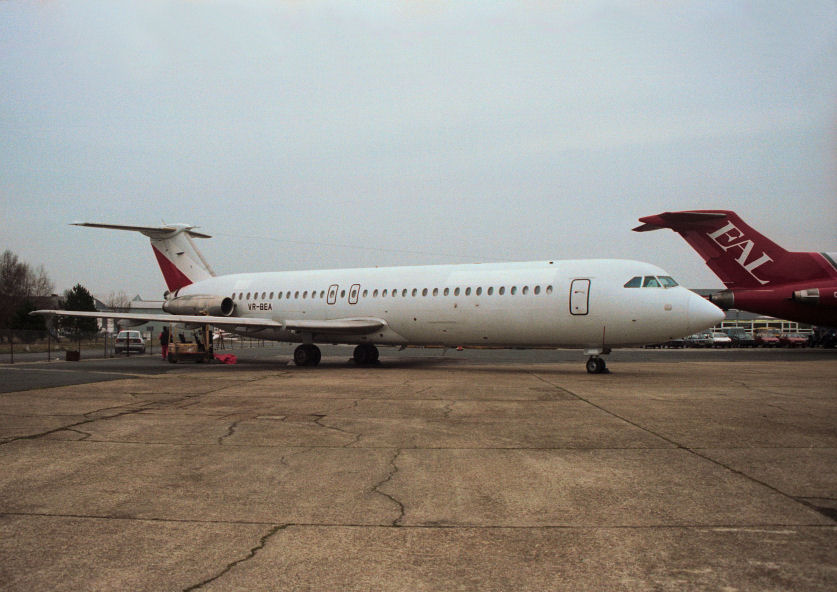 In June 1996 two former Austral aircraft also arrived for future modification. These were allocated VR-BEC and VR-BED for their ferry flight from Buenos Aires. Shortly after their arrival they were appropriately registered G-HKIT and G-IIIH (Hush KIT & 1-11 Hush).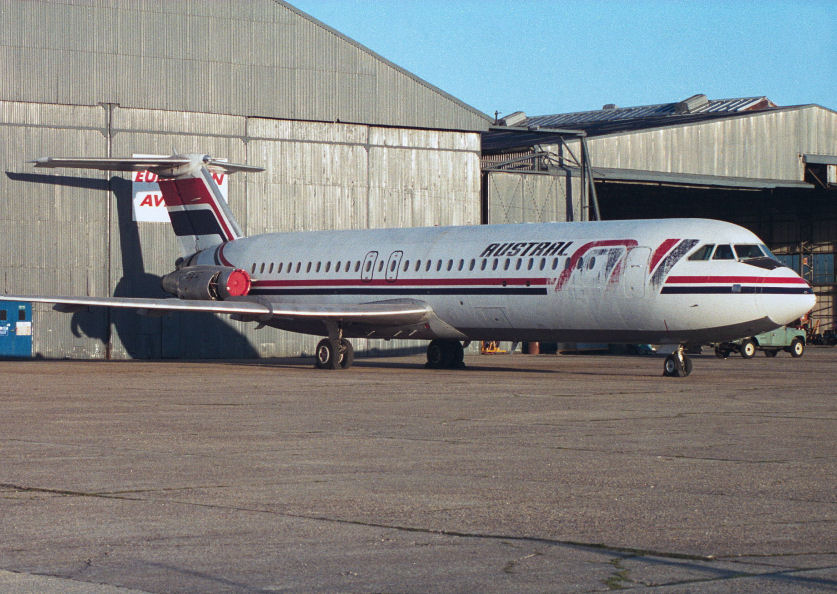 It was intended that the latter aircraft be the first fitted with the new silencer by the end of 1997, with certification by the UK CAA granted by early 1999. However the plan changed and G-AVML was sent to Florida in July 1998 for a mock silencer to be fitted as a Proof of Concept. It returned to Bournemouth as a standard aircraft. G-AVMM, which had not flown since being purchased from BA, was selected to appear at the 1998 Farnborough Air Show to demonstrate the hush kit. However, as it was yet to be certified, G-AVMM flew up from Bournemouth without the hush kit, a dummy Stage 3 kit being added on the starboard engine for static display only.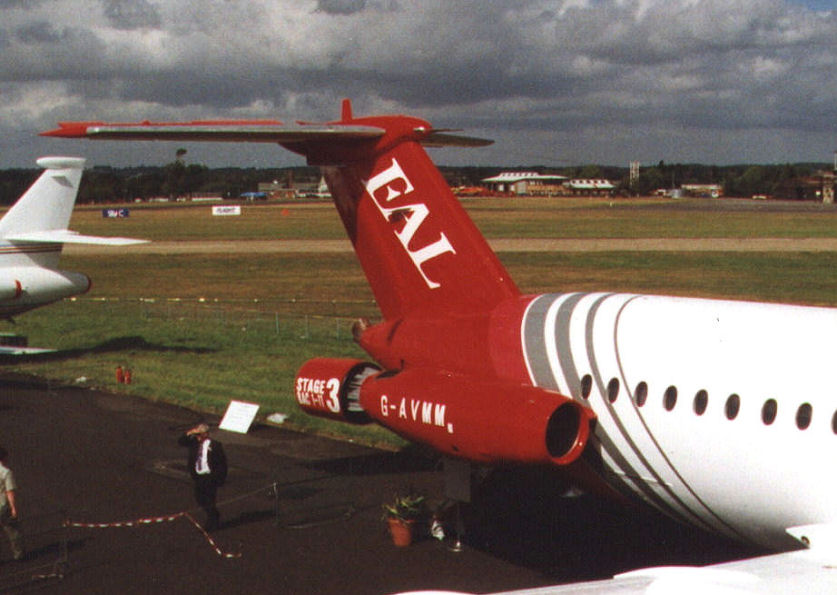 G-AVML returned to Florida in October where it flew with the silencer fitted to its No 2 engine. Ever mindful of the fact that a replacement aircraft might be necessary, European embarked on a One-Eleven replacement programme. Sabena were disposing of its fleet of Boeing 737 Series 200 early in 1998 and in April European agreed to purchase the fleet of thirteen. Prior to entering service they were modified with silencers that would meet the 2002 requirements. The first entered service with European in the summer of 1999 with the rest following over the next eighteen months (8 for sale 9/99). In the spring of 2000 Quiet Technology announced that One-Eleven 400s would shortly be certified, followed by 500s – the European aircraft. In August 2000 this all fell apart with the withdrawal of the UK design authority which meant it would no longer be cost effective to proceed. (5 Series 400 and 2 Series 475 were later fitted with the QT silencer). The by now un-airworthy G-HKIT and G-IIIH were scrapped in April 2001.
Paul Stoddart had built up a collection of F1 racing cars – a Benetton, Brabham & Minardi – all of which he raced. His love of F1 saw European Aviation become one of the Tyrrell F1 team sponsors for 1997, with VIP fitted G-AZMF as team transport. Tyrrell engineers planned to build their own wind tunnel in one of the European hangars for testing their cars. Paul was on the verge of buying the team when British American Tobacco stepped in first. They brought in new cars resulting in Paul buying many of the surplus Tyrrell F1 cars in 1998. In 1999 European switched sponsorship the Jordan F1 Team, again flying the team around the European F1 events by G-AZMF. For 2000 European sponsored the Arrows F3000 Team (one step below F1) being their official carrier around the European F1 scene. This brought Paul into contact with fellow Australian Mark Webber who had just joined Arrows as a new driver. Changing direction again, in January 2001 Paul purchased the Minardi F1 Team, based near Bologna, Italy. Hence the launch of the European Minardi F1 Team with aerial transport around Europe provided by G-AVMT from April 2001, now fitted out as a VIP aircraft with Minardi F1 titles. It was frequently used between Coventry and Forli, Italy as well as the various F1 races.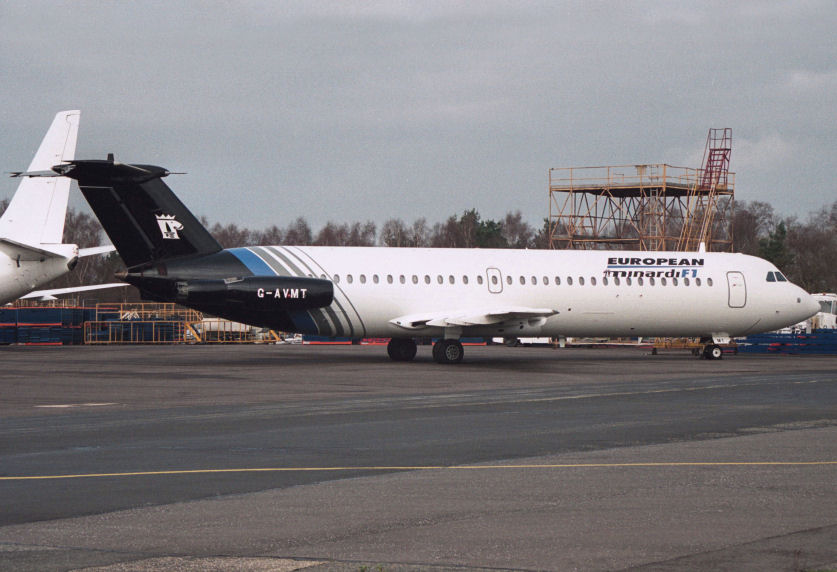 G-AZMF was refitted with normal airline seating. As well as team members, another racing personality who flew in the One-Eleven was commentator Murray Walker. He often hitched a lift back to Bournemouth as his home was at nearby Ringwood. In August 2001 Paul demonstrated the two Minardi twin seat F1 cars up and down the runway at Bournemouth. In 2005 Paul sold Minardi to Red Bull. The European engineers were also involved with another twin Spey aircraft which had racing connections. The team behind the Quicksilver racing boat had purchased a Hawker Siddeley Buccaneer for its two Spey engines. The boat was to be powered by a Spey and the two in the Buccaneer were brought back to working order in 2000. European Aviation was initially one of the sponsors behind the world speed record attempt and in April 2001 the Buccaneer was painted in European colours. However the project faltered and the initial boat was never completed. The Quicksilver team then worked on a second design with the project still 'live' in 2014.
In June 2000 European was behind the setting up of Flyeuropean in Sweden, operating G-AVMT/MZ between Stockholm and Malmo. This venture only lasted a few months.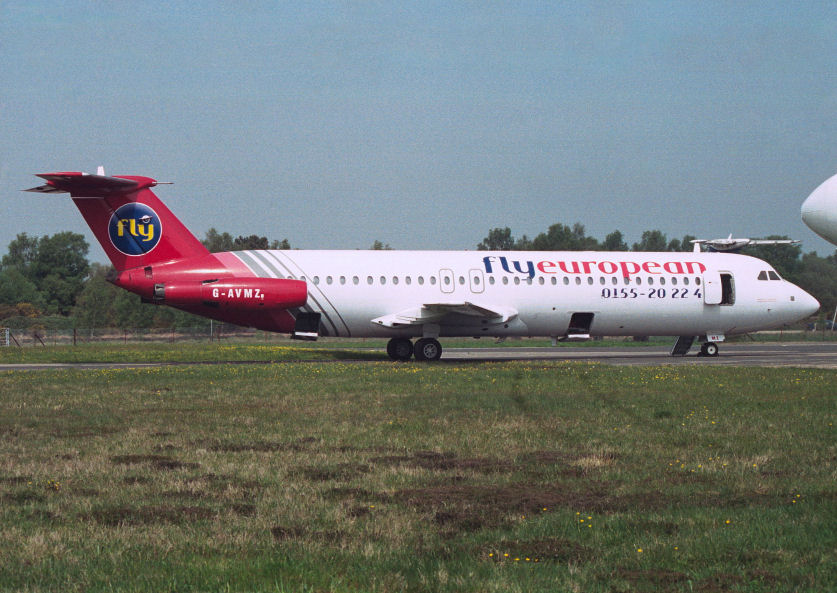 With the arrival of the 737s European began withdrawing the One-Elevens, with only eight in active service by the summer of 2000. (At the time reported still 100+ worldwide, although not all airworthy). A number of stored airframes were scrapped by ASI (G-AVMV/X Sept 2000), whilst G-AVMN, still in AB Airlines colours, was put on display at the Bournemouth Aviation Museum from May 2001.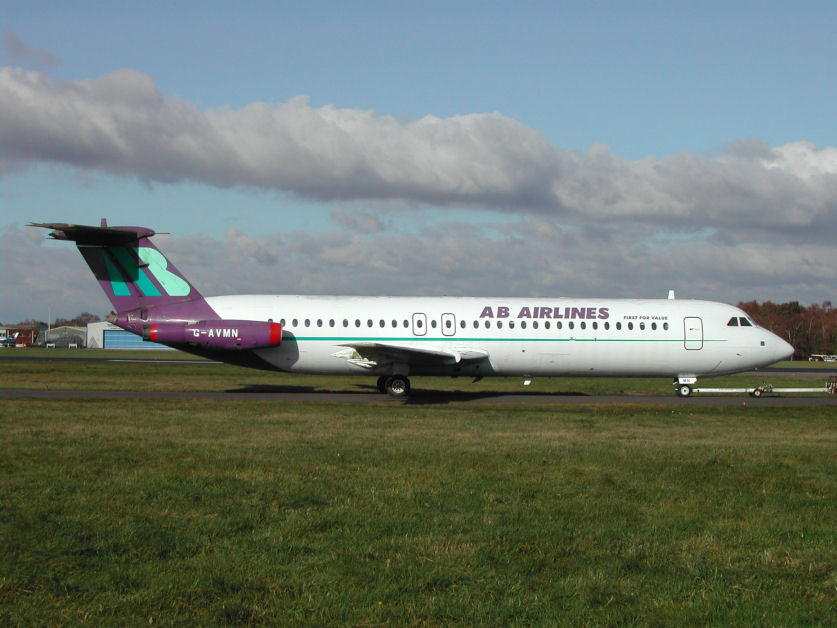 G-AVML/MM were sold to Nigerian operator Chanchangi Airlines in November 2000, being the only two ex BA aircraft modified to have standard cockpit and forward airstairs.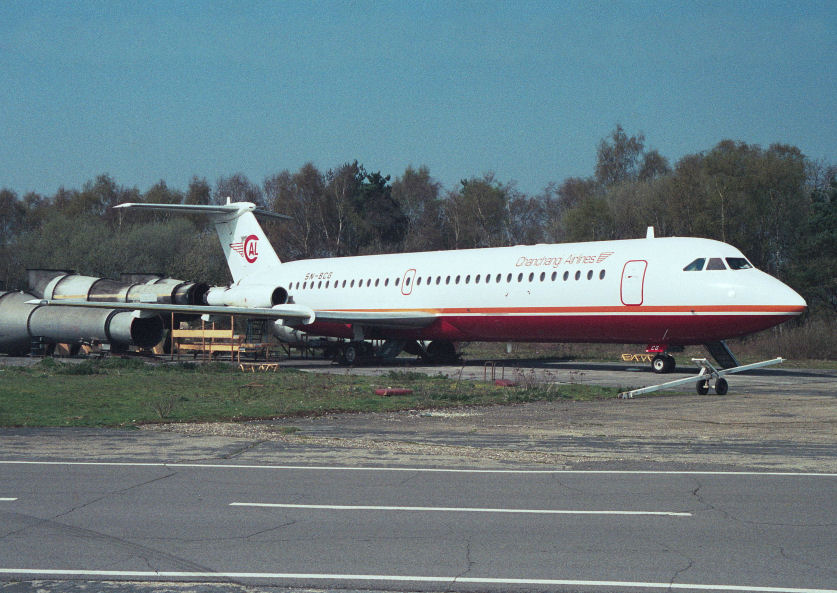 G-AXLL/YOP followed them south for Savannah Airlines twelve months later, but there was no other interest due to the forthcoming noise ban.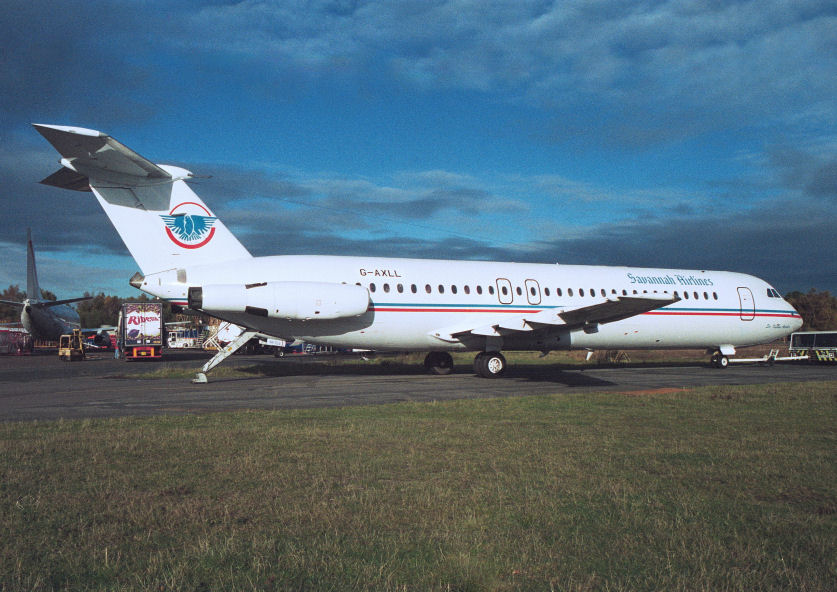 By the beginning of 2002 only G-AVMT, G-AWYV and G-AZMF remained airworthy, but there was little work for them. G-AZMF operated two Santa flights from Bournemouth on 8 December 2001. It then appeared to have operated the final One-Eleven scheduled service with the regular Bournemouth to Turin ski flight on 30 December 2001. However an unserviceable 737 saw it fly to Turin again on 17 February. Then on 16 March it was chartered by Aeroprint Tours and flew three enthusiasts' flights from Bournemouth. Finally Ian Allen Travel arranged farewell flights with G-AZMF from Belfast, Luton, Manchester and Newcastle on 30 and 31 March 2002. On 31 March G-AZMF operated the final UK One-Eleven fare paying flights with three special farewell charters from Bournemouth (Bath Travel, Ian Allen & European's own at 1810 in the evening).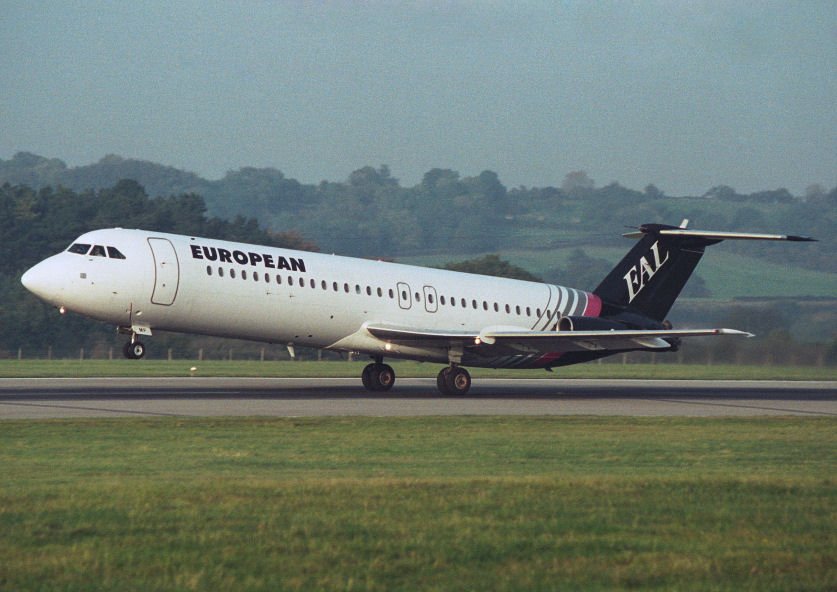 With the noise ban now in force none of the European One-Elevens flew again, remaining in storage at Bournemouth until scrapped or 'saved' for cabin training duties. The former BAC production hangars were now surrounded by Boeing 737s. However there was a former European One-Eleven still lurking in the hangars. 5N-BCG of Chanchangi had returned in March for maintenance, departing back to Nigeria on 6 April. Having returned home it was grounded permanently on 9 May along with all other Nigerian One-Elevens following a fatal One-Eleven crash.
Scrapping was being undertaken by "First Rail" in the spring of 2002. G-AVMP was scrapped in Sept 02; G-AVMH in Oct 02; with G-AVMS/Z in Jun/Jul 2003 by which time Air Salvage International (ASI) were carrying out the work.
For the One-Eleven's 40th Anniversary on 20 August 2003 European still had G-AVMT/ WYV/ZMF which they kindly lined up on their apron for photographs.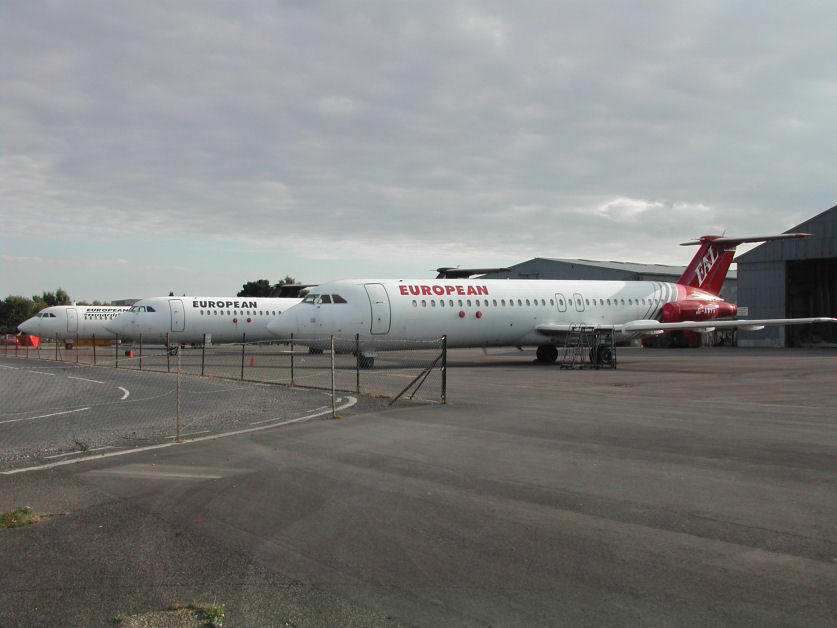 Boscombe Down's ZH763 undertook three low passes at Bournemouth. This aircraft became the last UK flying One-Eleven by 2009 and was eventually preserved in 2013.
In November 2004 G-AZMF moved across to the Bournemouth Aviation Museum, replacing G-AVMN which was dismantled with the fuselage ending up in Denmark.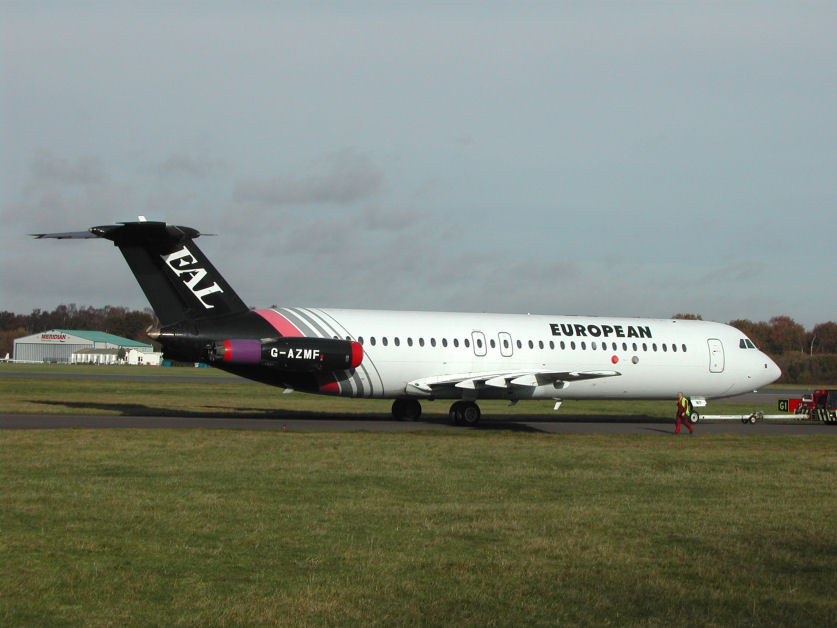 However when the Museum were forced to relocate, G-AZMF returned to European in May 2008 with a campaign launched to preserve it. In the end it was scrapped with the main fuselage section saved as a cabin trainer at Newcastle.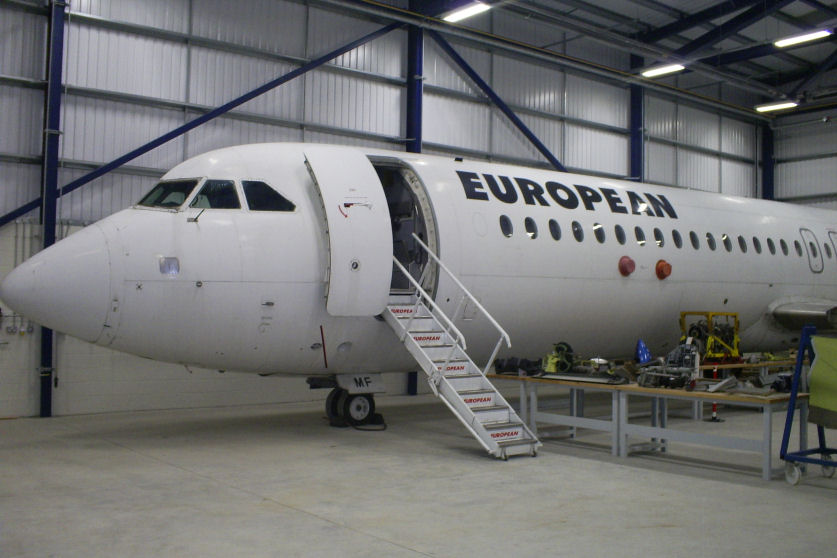 A number of former European One-Elevens can still be found around the country
| | |
| --- | --- |
| G-AVMJ | Fuselage at Tresham College Kettering 8/10 |
| G-AVMK | Fuselage at Police College, Gravesend 2/02 |
| G-AVMP | Forward fuselage at Humberside Airport |
| G-AVMT | Fuselage at Cardiff Airport Fire Section 10/04 |
| G-AVMZ | Fwd fuselage at Atlantic AirVenture Shannon 6/10 |
| G-AWYV | Fuselage at Departure Lounge Cafe at Alton 11/05 |
| G-AZMF | Fuselage at Newcastle Aviation Academy 12/08 |
| VR-BEB | Bournemouth Airport Fire Section 00 |
Fleet List
| | | | | | |
| --- | --- | --- | --- | --- | --- |
| Registration | c/n | Type | Delivery | Withdrawn | Notes |
| G-EXPM | 124 | 217EA | 01Sep91 | --- | To Okada Air 5N-NRC |
| G-KROO | 125 | 217EA | 22Apr90 | --- | To Okada Air 5N-SDP |
| G-AVMH | 136 | 510ED | 07May93 | 26Oct98 | B/U |
| G-AVMI | 137 | 510ED | 07May93 | 28Nov99 | B/U |
| G-AVMJ | 138 | 510ED | 07May93 | --- | Never operational |
| G-AVMK | 139 | 510ED | 07May93 | 24Oct98 | B/U |
| G-AVML | 140 | 510ED | 07May93 | 26Oct00 | To Chanchangi 5NBCH |
| G-AVMM | 141 | 510ED | 07May93 | 14Nov00 | To Chanchangi 5NBCG |
| G-AVMN | 142 | 510ED | 07May93 | 15Feb99 | To B'm'th Av Museum |
| G-AVMP | 144 | 510ED | 07May93 | 02Oct00 | B/U |
| G-AVMR | 145 | 510ED | 07May93 | --- | Never operational |
| G-AVMS | 146 | 510ED | 07May93 | 19Oct00 | B/U |
| G-AVMT | 147 | 510ED | 07May93 | 13Feb02 | B/U |
| G-AVMV | 149 | 510ED | 07May93 | --- | Never operational |
| G-AVMW | 150 | 510ED | 07May93 | 27Sep99 | B/U |
| G-AVMX | 151 | 510ED | 07May93 | --- | Never operational |
| G-AVMY | 152 | 510ED | 07May93 | 19Aug00 | B/U |
| G-AVMZ | 153 | 510ED | 07May93 | 30Oct00 | B/U |
| G-AWYV | 178 | 501EX | 07Jul94 | 20Jan02 | B/U |
| G-AXLL | 193 | 523FJ | 22Dec94 | 25Sep01 | To Savannah 5N-BDU |
| G-AYOP | 233 | 530FX | 07Jul94 | 02Oct01 | To Savannah 5N-BDV |
| G-AZMF | 240 | 530FX | 20Sep94 | 31Mar02 | To B'm'th Av Museum |
| G-HKIT | 196 | 521FH | 17Jun97 | --- | Never operational |
| G-IIIH | 200 | 518FG | 17Jun97 | --- | Never operational |
| VR-BEA | 195 | 524FF | 12Mar96 | --- | Never operational |
| VR-BEB | 226 | 527FK | 29May96 | --- | Never operational |
| VR-BEC | 196 | 521FH | 09Jun96 | --- | Never operational |
| VR-BED | 200 | 518FG | 09Jun96 | --- | Never operational |