CAMBRIAN AIRWAYS "BUS STOP JET" - FROM THE SHARP END

Much has been said about the BAC 1-11 in service with Cambrian, I myself have sometimes been critical on operational grounds as I felt Cambrian did not have the Route Structure to make them profitable, but I am not qualified to comment on it's Technical Merits. The following article was written by Captain Ken Wakefield, Fleet Captain, One-Elevens, Cambrian Airways, which included being a Base Training Captain, the person responsible for technical aspects of the aircraft's operation including procedures, the production of associated ops manuals and carrying out C of A Renewal Air Tests, liason with the manufacturers, and so on. This therefore makes Ken the most qualified to evaluate it's Technical Merits in service with Cambrian Airways.
Garry Hillard.
Cambrian Airways enters the Jet-Age by Ken Wakefield - Cambrian Airways BAC 1-11 Captain

In early 1969 Cambrian made the decision to acquire several medium size twin-jet aircraft to replace to some extent its existing fleet of turbo-prop Viscounts. The jets were also to provide more capacity on certain routes, as well as significantly reducing sector times, but there was also an increasing demand for Inclusive Tour (IT) flights to more distant Mediterranean destinations for Hourmont Travel and, later on, for Cambrian Air Holidays. Consequently an assessment of available jet aircraft was carried out by the Company and this left no doubt that the British Aircraft Corporation (BAC) One-Eleven 400 Series best met Cambrian's requirements. Negotiations with BAC then got under way, and at this point it became known that Autair International Airways was preparing to exchange its existing fleet of 400 Series One-Elevens for the larger 500 Series. The result was a deal for Cambrian to purchase three of these 400s from BAC in 1970, followed by a fourth in 1971, after they had been returned to the manufacturer for a major overhaul.
Preparations then got under way for the One-Elevens to operate on scheduled services from 1st April 1970, and this led to an extensive training programme for pilots, engineers and cabin crew. In what proved to be a far sighted move Capt Geoff Perrott, our Flight Operations Manager, made arrangements in March 1969 for George Keeble, his Deputy, and myself to spend the rest of that year flying One-Elevens with Autair International to gain the necessary experience to qualify as Training Captains on type. Accordingly, on 9th April 1969 George and I commenced a four weeks ground technical course at the BAC training school at Hurn. Then came four days with Rolls-Royce at Derby, covering the Spey engine in some detail, followed by a written Type Rating examination conducted by the Board of Trade (forerunner of the Civil Aviation Authority). The next stage of our training took us to Dublin for five days with Aer Lingus in their One Eleven flight simulator, followed by base training with Autair. Operating from Luton, this began on 20th May with Capt Pete Hogg, their Fleet Captain One-Elevens. Our conversion ended with the necessary Instrument Rating renewal on type, carried out by Capt Mike Ellis, Autair's Chief Pilot. In the course of our training we had been told that Autair experienced a failure rate of about 15% for pilots transitioning from the turbo-prop HS748 to the much faster and more complex One-Eleven, and that Cambrian should be prepared for a similar failure rate for pilots converting from the Viscount.
George and I now had the One-Eleven on our licences and next came 20 sectors of line training. These covered many destinations, operating from Luton under the supervision of Line Training Captains. Most of this was carried out as captains in the left-hand seat, but we were also required to complete several sectors as co-pilots in the right hand seat. Our line training ended with a final check flight, in my case from Luton to Palma and back, and I was then cleared to operate as a captain with Autair. George was similarly cleared and we were then rostered to fly three days (or nights) each per week, in effect providing Autair with the equivalent of one 'freebee' six-day week captain. More than that, Cambrian was paying Autair for the privilege!
To travel between South Wales and Luton we were supplied with a Company car, George and I doing our three-day stints in turn and then handing the car over to the other for his three days at Luton. During my non-flying days I spent some time in Geoff Perrott's office at Rhoose preparing the Cambrian One-Eleven Flight Operations Manual, which covered operating procedures, etc. It was largely based on a BAC publication, but I also made use of the American Airlines equivalent. At this time American Airlines had a large fleet of 400 series aircraft, equipped with the Collins FD 108 flight system like those of Autair, so a copy of the manual that I obtained from Ken Herschel of AA proved most useful. Previously, with the Pionair and Viscount, BEA had supplied us with manuals, but with their fleet of One-Eleven 500 Series aircraft fitted with the Smith's flight system like the Viscount 800 and Trident, their manuals were of no use for the 400. Nor, unlike previously with the Pionair DC-3 and the Viscount, could we expect assistance from BEA with regard to training. However, for flight planning purposes I opted for BEA's Volume 3, similar to the one we had used for the Viscount but suitably changed to meet 400 performance data, and this was produced for us by BEA's Flight Services Department.
I was now appointed Fleet Captain One-Elevens, responsible for technical and other aspects of the aircraft's operation, and while I was engaged in preparing the Operations Manual, Check Lists, etc., George and Geoff were busy working on a detailed programme for the future training of an initial batch of 30 pilots (15 captains and 15 first officers). This amounted to something like 360 hours base training and 600 sectors of line training, a programme that was expected to take the best part of three months. Like George and myself before them, the trainees were to attend ground courses with BAC at Hurn and then with Rolls-Royce at Derby. This was to be followed by simulator training with Aer Lingus, although plans were in hand to switch to the One-Eleven 400 simulator manufactured and operated by the Redifon company at Aylesbury, using our own instructors. These were Bill Downes, our former Link Trainer instructor who had completed a One-Eleven ground course with BAC, and Doug Bell, a former Aer Lingus simulator instructor that George and I had poached to join Cambrian! Trainees had first to successfully complete the ground technical courses and then the simulator training before proceeding to base training, but of the first group of trainees only one, a First Officer, failed to reach this stage, despite extending his simulator training.
In addition to pilots, steps were taken to train engineers and cabin staff. The engineer training was to be carried out at Cardiff by BAC instructors Ken Morse and Colin Webster, both of whom later joined Cambrian, bringing with them a wealth of One-Eleven engineering expertise. Cabin staff training, carried out at both Cardiff and Liverpool bases, was to be the responsibility of Cambrian's Brian Ainsworth, assisted by Alan Clowes and Vince Knowles.
Both George Keeble and I thought the One-Eleven was a fabulous aircraft, and we had thoroughly enjoyed our time flying them with Autair. Neither of us had experienced any technical problems of note, although we had been told that it was not unknown for an air system isolation valve to remain closed despite being selected open by a switch in the cockpit. This failure to open prevented an engine from starting, but the problem was overcome by opening the valve manually, using a special tool carried in the aircraft. Like all Autair pilots, we had been taught how to do this, also how to check the engine oil levels and supervise the refuelling process; with no engineering support at most of their destinations, Autair pilots were expected to perform these tasks in the normal course of their duties.
I did my last trip with Autair on 30th November, to Palma and back in G-AWBL, one of the aircraft shortly to come to Cambrian. In the meantime, Geoff Perrott had been in touch with the Met Office for advice on the whereabouts of an airport offering the best prospects of good weather for an extensive base training programme. Their answer was Seville, and this was accepted by Geoff. Accordingly, after receiving our first One-Eleven, which was due at the end of December, we were to proceed to Seville, accompanied by a Training Captain on loan from Autair and two Training Captains provided by BAC. We were to be joined at Seville by Capt Jimmy Joy of the Civil Aviation Flying Unit (CAFU), for the purpose of observing and approving George and myself as Base Training Captains (Type Rating and Instrument Rating Examiners) on the One-Eleven. In passing, I first met Jimmy in 1953, when we had both been Dakota co-pilots on the 'Little Berlin Airlift' that accompanied the East German uprising which resulted in the Berlin Wall. I met him again some years later when I was on an Instrument Rating Examiner's Course with the CAFU at Stansted, where he had become an Examiner.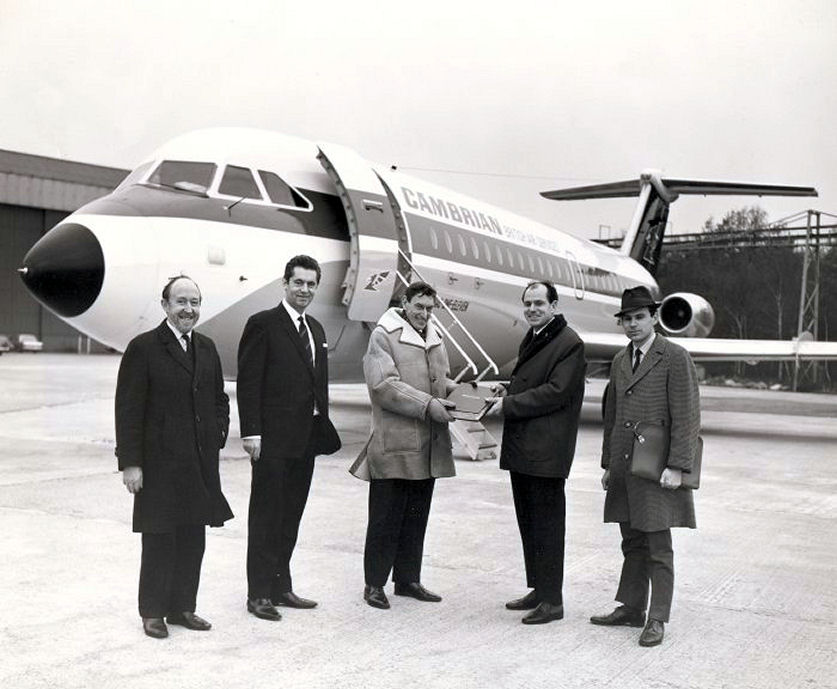 The hand over ceremony at Wisley on the 19th December 1969 - BAe Systems
On 19th December 1969 George and I, accompanied by Ron English and John Cox of Cambrian Engineering, made our way to the BAC factory airfield at Wisley to take delivery of our first One-Eleven. This was G-AVOF, now resplendent in Cambrian colours, and shortly after mid-day I carried out a 20 minutes acceptance flight in it with Capt Hancock of BAC. This was followed by a little handing over ceremony, with a BAC representative formally passing the aircraft's log books and other documents to John Cox, at that time our Engineering Manager. At 4.45 pm that same day, I flew 'OF to Luton, with George in the right hand seat, where we landed after dark in a light snow storm. The aircraft was to remain in Autair's hands over the Christmas period for certain work to be carried out, after which we were to collect it and proceed to sunny (or so we thought) Spain.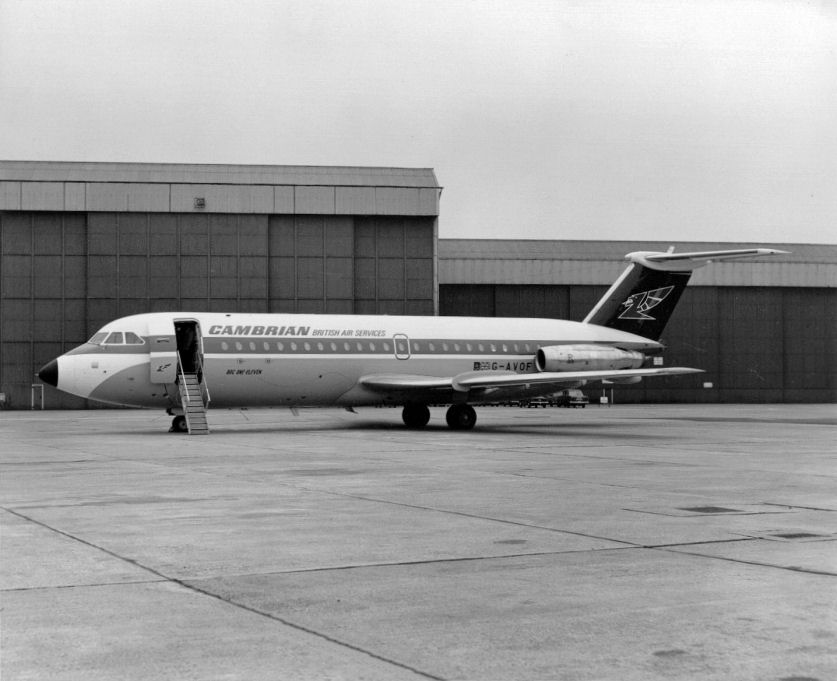 Hand over day at Wisley 19th December 1969 - BAe Systems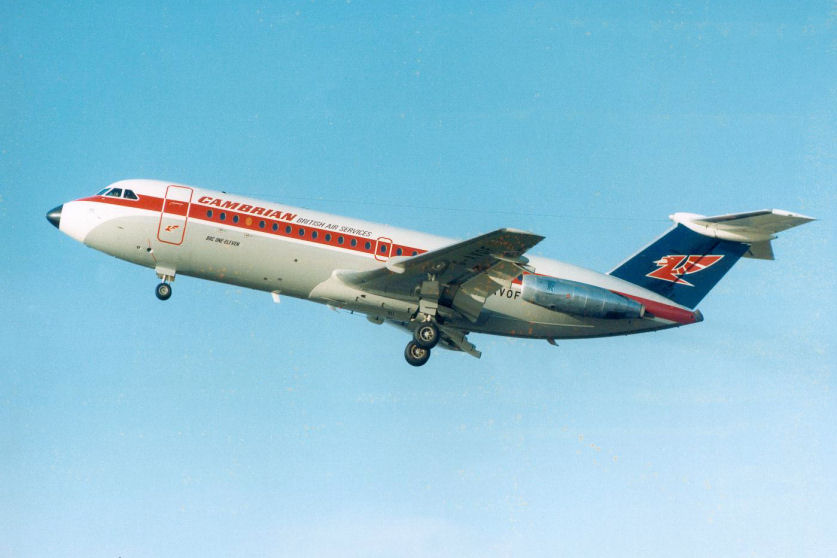 G-AVOF gets airborne at Wisley during a test flight - BAe Systems
On 28th December we departed Luton for Seville, with George in the left-hand seat and myself as copilot. We were accompanied by Capt Pete Varley of Autair, Colin Webster, on loan from BAC to look after the servicing of the aircraft in Seville, and the first batch of Cambrian trainees. At Seville we were to be joined by two Training Captains on loan from BAC and, later on, by Capt Joy of the CAFU. Firstly, however, George and I completed our six-monthly handling checks and Instrument Rating renewals with Pete Varley, and then we began the base training of Cambrian pilots under his supervision. However, the weather was not as predicted by the Met Office, with persistent rain that was very heavy at times. So much for 'sunny' Spain!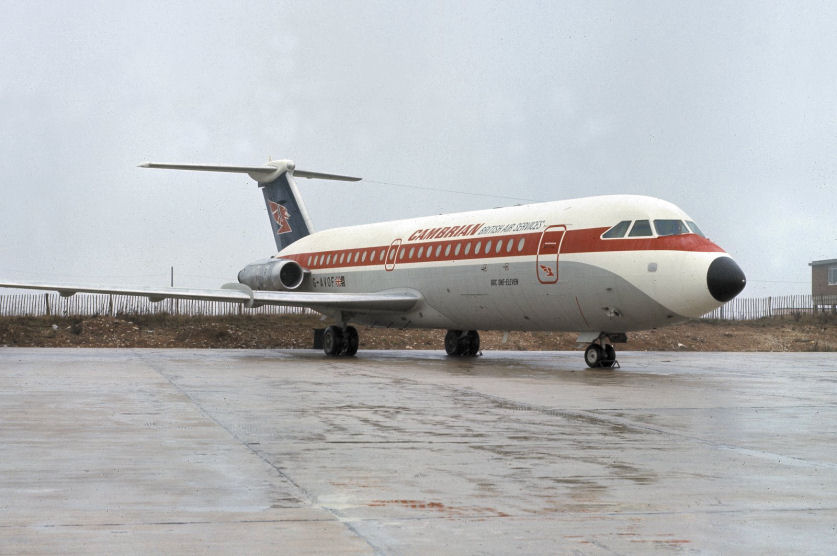 G-AVOF Luton December 1969
It was now that the previously mentioned foresight shown by Geoff Perrott paid off. Although qualified Type Rating Examiners (TREs), the Training Captains on loan from BAC were not Instrument Rating Examiners (IREs), although one of them was later replaced for a short period by another that was. Accordingly, it fell to George and myself to do most of the Instrument Rating renewals necessary to complete the base training of trainees. Had Geoff not arranged our secondment to Autair to gain qualifying IRE experience on the One-Eleven, our training programme would have been seriously affected.
On 7th January 1970 George and I were checked out as IRE/TREs by Capt Joy, but the weather remained dreadful for the next few days, badly affecting the training schedule. To see the One-Eleven take off in a cloud of spray, and what looked like a bow wave from the nosewheels, was quite a spectacle. Weather elsewhere in Spain was also poor, whereas conditions in the UK were surprisingly good with an equally good outlook. Accordingly it was decided to return to the UK, but with work still in progress extending the runway at Rhoose we opted for Liverpool, where Company facilities were available and where the runway was adequate for our purposes. On 10th January we said farewell to the hotel in Seville (and to a nearby restaurant/bar where a few of us had spent some pleasant evenings watching Flamenco dancing!), and departed for Liverpool, where the Adelphi Hotel was to be my home for much of the next two months.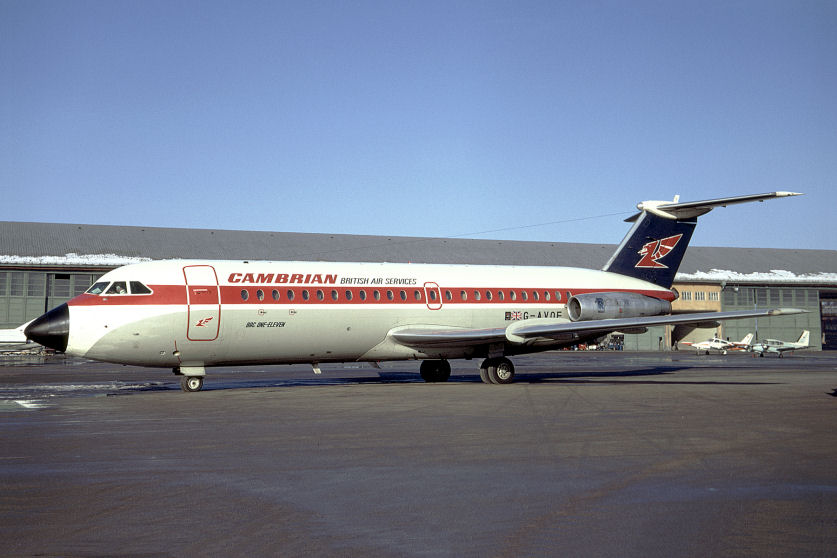 G-AVOF Munich Jan 1971 - Michael Roeser

As before, much of the base training was carried out by the BAC instructors, with George and myself mainly involved with IR renewals and now with line training. The latter was carried out on non-revenue flights to a variety of destinations, sometimes carrying cabin staff under training and other employees. Each trainee pilot was to complete about 12 hours base training followed by 20-25 sectors under supervision, ending with a line or route check. To assist with the line training of First Officers we were joined by Joe Forster, formerly a Training First Officer with Autair and now with Cambrian. By this time our second One-Eleven (G-AVOE) had arrived and was participating in the training programme, soon to be followed by the third (G-AVGP).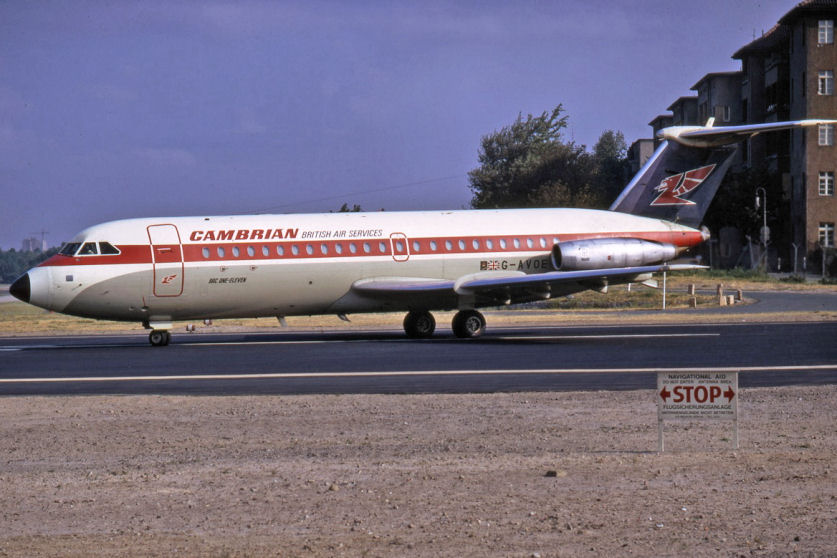 G-AVOE at Berlin Tempelhof September 1971 - Ralf Manteufel
Before the One-Eleven could be used on the Cambrian route network it was necessary to include it in the Company's Air Operator's Certificate (AOC). This required Board of Trade (BOT) approval of all the manuals and other documentation applicable to the One-Eleven, together with a proving flight with a BOT inspector on board. This took place on 19 January, when I flew from Liverpool to Heathrow with a BOT official on the flight deck. All went well and the One-Eleven was duly added to the Cambrian AOC. This meant we could now do some of the line training on services normally flown by Viscounts, thereby drastically reducing costly non-revenue flying. Routes flown on this ad hoc basis were Liverpool-London, London-Cork, Liverpool-Glasgow, Liverpool-Belfast and Manchester-Belfast, together with a few charters to Bordeaux and Rotterdam. The One-Eleven was similarly used on some of the Inclusive Tour (IT) flights for Hourmont Travel from Cardiff, Bristol and Liverpool. Using these ITs, as they were known, for line training further reduced the number of non-revenue flights being carried out. Overall the training progressed well, with few further interruptions due to weather or other reasons over the entire three months. Only one pilot failed the base training and this, plus the one failure at the simulator stage, gave us an overall failure rate totally unlike that previously experienced by Autair (by now renamed Court Line Aviation).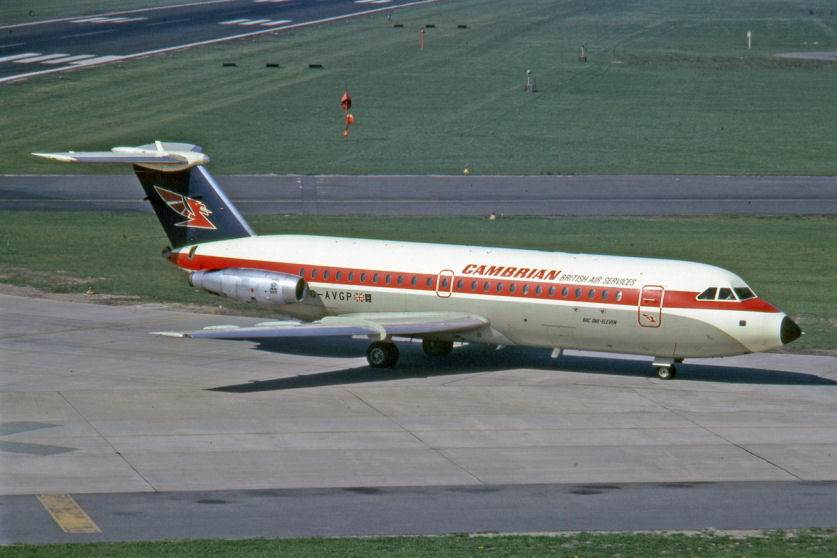 G-AVGP taxies in to the unique terminal at Berlin Tempelhof 1st May 1972 - Ralf Manteufel
As planned, One-Elevens replaced Viscounts on a number of routes from 1st April 1970, with single aircraft based at Liverpool, Cardiff and London, but there were frequent positioning flights between these stations to carry out ITs, often at night and at weekends, from Cardiff, Bristol and Liverpool. Destinations now being served were Paris (via Bristol and Southampton), Cork, Isle of Man, Belfast, Dublin, Glasgow and Manchester, and within a year ITs were being flown to Barcelona, Palma and Ibiza, progressively expanding to include Gerona, Valencia, Malaga, Munich, Alicante, Corfu, Genoa, Rimini and Tenerife, followed by Pula, Dubrovnik, Venice and Faro.
Although the emphasis in this article has been on the arrival of the jet-age with Cambrian, mention must be made of another training programme that took place during this time within the Company. This was in connection with the acquisition of Viscount 806s from BEA as replacements for our older generation Viscount 701s. A short ground school 'differences' course for pilots was conducted by BEA, followed by some flying for a few Viscount Training Captains who in turn carried out further training within the Company. The first of three 806s arrived in July 1970, followed by another five in 1971, and these continued operating schedules alongside One-Elevens for some years, with Capt Ash Goodhew as Fleet Captain Viscounts.
The One-Eleven was well received by crews and passengers alike, but the noise created by its two Spey engines resulted in numerous complaints from people living under their take-off flight paths. On board the aircraft it was very different, the engines being almost inaudible. In every way the One-Eleven fulfilled our expectations, but before long there were a number of Technical Log entries reporting vibration. This appeared to be some kind of airframe vibration, but occasionally slightly higher than normal levels of engine vibration were also indicated. These were within specified limits, but clearly required careful monitoring. Our own engineers were unable to locate the source of this vibration, so it was decided to take G-AVOF, the main offender, back to the manufacturers for an in-depth investigation. Accordingly, on 20th August I flew this aircraft to Hurn, where it was prepared for a test flight. Sensors were installed in various parts of the airframe, together with measuring and recording equipment in the cabin, and it was then flown by BAC test pilot Dave Glaser and one of his co-pilots, with myself observing from the jump seat. Engine indications were normal but vibration was experienced at times during the 1hr 10mins flight. After landing the test equipment was removed and an analysis then revealed that the source was a faulty seal between the port wing root and the fuselage centre section. Remedial action was taken and that evening I took the aircraft back to Cardiff.
Towards the end of the year, with a fourth One-Eleven (G-AWBL) due to arrive in early 1971, another group of pilots started their conversion training and all of them successfully completed the transition. For most of the year the One-Elevens had been largely trouble free, but as we moved into 1971 vibration problems were again experienced. This time, however, it was the more serious problem of higher than acceptable levels of engine vibration, but more on this subject in my next submission, covering Cambrian operations up to 1974 and my 1-11 days up until 1978.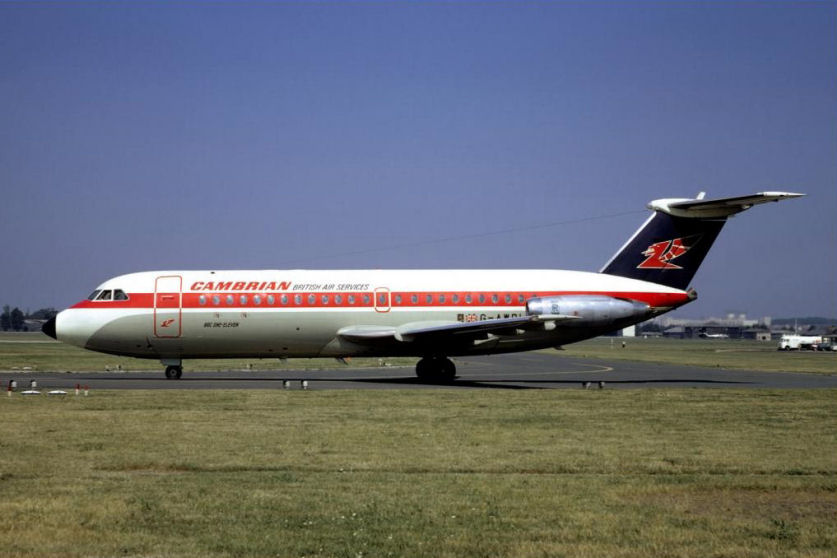 G-AWBL arriving at Paris Le Bourget on the 1st July 1972 - Christian Volpati
Cambrian and the One-Eleven 1971-1978
In my previous account of the One-Eleven coming into service with Cambrian I mentioned the vibration problems that were experienced from time to time in 1970. On some occasions the engine vibration indicators reflected this, but the readings were within the prescribed limits and the vibration was eventually traced to a wing root fairing seal. This was quickly remedied, but early in 1971 there were more reports of vibration, sometimes with higher than normal engine vibration indications. These were recorded and monitored and upon reaching a certain level the appropriate engine was removed for inspection and overhaul where necessary. Nevertheless, several engine failures occurred, together with a number of precautionary in-flight shut-downs, plus two failures during ground running tests.
The incident probably closest to disaster was that experienced by Capt Cedric Flood while taking off from Corfu, bound for Liverpool, in the summer of 1971. An engine failed just as the aircraft was lifting off, and the climb-out performance was greatly affected by the combination of high temperature and heavy take-off weight. In fact the aircraft showed little inclination to climb at all until the undercarriage doors had closed following retraction. Even then, the rate of climb was minimal, but displaying considerable skill Cedric eased the aircraft around the circuit and successfully landed at a weight considerably in excess of the normal maximum permissible. There were other engine failures, too, including two that I experienced myself. One of these occurred while on a final approach to land on Runway 28 at Bristol, with the undercarriage down and full flap selected. Full power was applied on the live engine, but with the aircraft sinking below the desired flight path in this configuration it was necessary to retract the undercarriage and flaps and initiate a go-around. Climbing straight ahead was more or less on course for Cardiff, where I decided to divert knowing that full engineering facilities would be available. The other engine failure I experienced was over the Bristol Channel shortly taking off from Cardiff bound for Palma, necessitating an immediate return and another over-weight landing. This, my log book reveals, followed an HP compressor break-up on No 2 engine.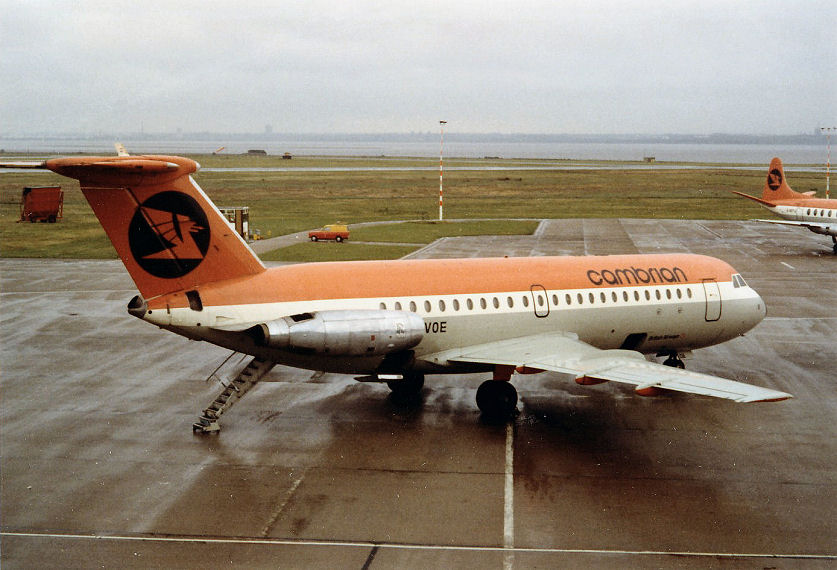 G-AVOE in its new livery - Liverpool 1972 via Peter Upton
The five failures mentioned here were among the dozen or more engines which were prematurely changed that year, and for some time there was no explanation for this. Eventually, however, the cause was found to be connected with the application of reverse thrust to slow down after landing. As Cedric Flood explained so well in his book A Pilot's Perspective: "The early 200 and 300 series 1-11s had spoilers, but our 400 series (like the 500 series) also had lift dumpers, which were positioned on the top surface of the wing more or less in front of the engines. These were activated by the spoiler lever, but, while the spoilers operated at all times, the dumpers only operated on the ground on landing. American Airlines had the same 400 series 1-11, and they had discovered that when using normal reverse on the short fuselage aircraft fitted with lift dumpers, the airflow to the engine was disturbed, causing temporary overheating, and eventual damage". It appears that while American Airlines had reported this to BAC, details had not been passed on to other 400 series operators. The problem was not experienced with the longer fuselage 500 series, due to the greater distance between the wing lift dumpers and the engine intakes, and the solution for the shorter fuselage 400 was to use reverse idle instead of normal reverse on landing. Normal reverse was still available, but was to be used only in an emergency or on the rare occasions that a short runway was in use. Subsequently, with this procedure in place, the aircraft were mainly trouble free.
Having first flown a couple of times as co-pilot to David Davies, the Air Registration Board's Chief Test Pilot, on annual Certificate of Airworthiness renewal test flights, I was cleared to carry out such flights on One-Elevens. I had previously carried out C of A renewal test flights on other types, including the Viscount and DC-3, but while generally satisfactory some elements of the test - particularly the DC-3's single engine climb performance - was fairly marginal. I was, therefore, delighted at the One-Eleven's test performance. In every aspect it performed quite superbly, but in particular its single-engine en route climb performance was much better than the minimum acceptable figures.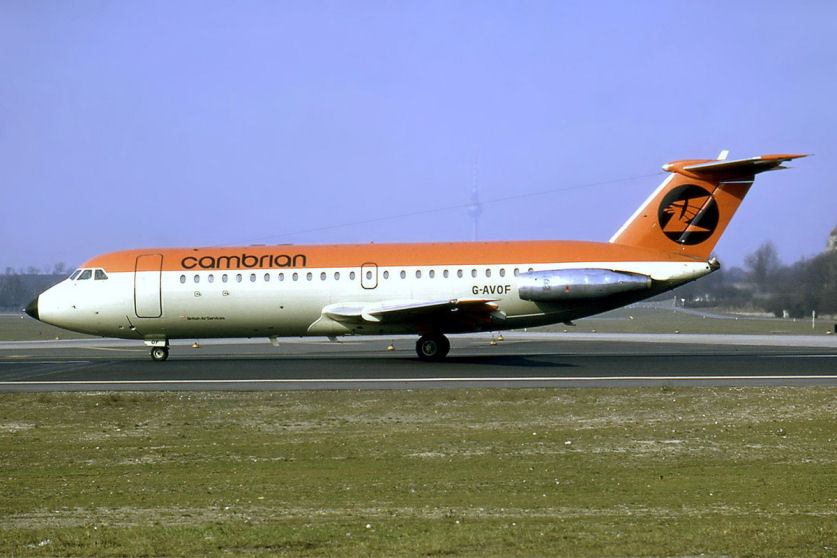 G-AVOF at Berlin Tempelhof 13 May 1972 - Ralf Manteufel
A fourth One-Eleven (G-AWBL) entered service with Cambrian in 1971 but basically single aircraft were still based at Liverpool, London (Heathrow) and Cardiff, with positioning taking place when necessary to cover IT flights from Cardiff, Bristol and Liverpool as before. However, from that autumn one aircraft was based in Berlin for several months to operate internal German services for BEA from Tempelhof to Hannover, Hamburg and Bremen. Later on a single aircraft also went on long term charter to Gulf Air, based at Bahrain, crewed by Cambrian pilots and cabin staff. Eventually, however, following the formation of British Air Services, the base at Cardiff closed and the Cambrian One-Elevens then became part of the British Airways Regional Division fleet, based at Birmingham. I remained a Base Training Captain, but flew a One-Eleven for the last time on January 2, 1978, when I took G-AWBL from Birmingham to Dublin and back.
Apart from the early problems described here, the One-Eleven was a superb aeroplane, a delight to handle and well liked by pilots, cabin staff, engineers and passengers alike. It was with mixed feelings that I said farewell to the One-Eleven, but a whole new world was opening up for me with a move to Heathrow. Then came four years on the Lockheed L-1011 TriStar, another magnificent aircraft and at that time the most advanced wide-body jet in service anywhere. All things considered I could not have wished for two better aeroplanes than the BAC 1-11 and the Lockheed L-1011 in which to wind up my career as an airline pilot.
| | | | | | |
| --- | --- | --- | --- | --- | --- |
| Registration | c/n | Type | Delivery | Withdrawn | Notes |
| G-AVOE | 129 | 416EK | 19Jan70 | 01Apr74 | To British Airways |
| G-AVOF | 131 | 416EK | 19Dec69 | 01Apr74 | To British Airways |
| G-AVGP | 114 | 408EF | 04Apr70 | 01Apr74 | To British Airways |
| G-AWBL | 132 | 416EK | 12Feb71 | 01Apr74 | To British Airways |
Ken Wakefield - My Cambrian Story
My association with Cambrian Air Services (CAS), as the airline was originally known, began in 1953, at which time I was a Dakota First Officer (co-pilot/navigator) with Meredith Air Transport, a London-based associate company of Trek Airways of Johannesburg. Most of my flying was on charter flights between Europe (mainly Amsterdam, Frankfurt and Dusseldorf) and Johannesburg, with trips originating from Southend, where the aircraft maintenance was contracted to BKS Air Transport, Ltd. Flying an unpressurised Dakota at 8-10,000ft meant I saw a lot of the African terrain, and while navigation was a real challenge I thoroughly enjoyed every aspect of the job. However, I was usually away from home on 12-day trips (four days outbound, with three en route night-stops, followed by 3-4 days in Jo'burg and a four-day return flight) and as I was recently married this lifestyle left something to be desired. Accordingly, in a bid to get into shorthaul flying and a more acceptable home life, I applied to British European Airways, butthey were not recruiting pilots and applications to Silver City Airways and other companies met with a similar response.
At that time I was also a pilot with the RAF Volunteer Reserve, flying Tiger Moths and Chipmunks with No 12 Reserve Flying School at Filton, Bristol, and while carrying out my annual two weeks continuous training in 1953 I learned from Phil Hendy, one of the Reserve School's Staff Pilots, that he was about to leave to join CAS. This, I learned, was a Cardiff-based company operating scheduled services under an Associate Agreement with BEA (in those days the operation of scheduled services was restricted to the two national airlines, BEA and BOAC, and their associate companies). I also learned that CAS was a long established company, having been formed in 1935 by Mr S Kenneth Davies, a founder member of the Cardiff Aero Club and one-time Chairman of the Royal Aero Club. After the war "SKD", as he was popularly known, also became Chairman of the Welsh Advisory Council for Civil Aviation and in 1951 he was appointed to the Board of BEA. This required him to resign his position as Managing Director of CAS, but he maintained an interest in the company whose operations were then centred on scheduled services from Cardiff (Pengam Moors) Airport to Weston-super-Mare and Haverfordwest. CAS was then using DH Rapides that were also employed on charter work and occasional pleasure flights, for which an Auster J/1 Autocrat was also used. In addition, the Company was contracted to carry out army co-operation work, providing radar tracking practice for Territorial Army anti-aircraft gunners. It also operated two Airspeed Oxfords, supplied by the RAF, for the similar radar training of Royal Auxiliary Air Force fighter controllers.
Largely thanks to 'SKD' a close relationship was established between CAS and BEA, and approval followed for the Welsh airline to operate associate scheduled services from Cardiff to the Channel Islands and Paris. Shortly after this CAS also took over from Morton Air Services flights to the same destinations from Bristol, for which purpose the Company augmented its fleet of five Rapides with three Doves (joined by a fourth later on) purchased from Morton and Olley Air Services.
In the autumn of 1953, having learned from Phil Hendy of 12 RFS that CAS was looking for pilots, I wrote to the Company and was duly invited to Pengam for an interview. I was met at Cardiff Central Station by George Handy and driven in the company's Ford V8 Station Wagon to the airport, where I was interviewed by Wing Commander L B'Bill' Elwin, SKD's successor as Managing Director, and Jim Callan, the Company's Commercial and Operations Manager. In the course of this interview I was told that the Company was looking for two additional pilots for the 1954 season, one to fly the RAF Oxfords on fighter controller exercises and, when not so engaged, to fly the company's Rapides and Doves. The other appointment was for a Rapide/Dove captain to also act as co-pilot on a Dakota that the Company planned to operate in the summer of 1954. I indicated that I was very keen on the latter job, and although my pilot-in-command experience was fairly low I received an offer of employment, to start on 1 May 1954 or sooner if I could conveniently terminate my current employment. Undoubtedly my previous Dakota experience played a big part in this offer as I later discovered that the only pilot in the company type rated on the 'Dak' at that time was the 'Wingco' himself. I also had an Auster type rating, which would be useful for the occasional pleasure flying the Company carried out.
Following my interview I was given technical handbooks on the Rapide and Dove, with which to prepare for and sit the type rating written exams on both types. It was also suggested (my free time permitting) that I do the flying conversion training to get both types on my licence before joining the Company. Accordingly, on 13 April 1954 I again went to Pengam, this time to meet Capt George Keeble and accompany him on the service to Haverfordwest, where he carried out my Rapide conversion training. George was then based at Haverfordwest, from where he flew daily connecting services to and from Cardiff, and later that day I returned to Pengam with him. By now the Meredith Air Transport operation had been taken over by the shipping company Davies and Newman, which subsequently became Dan Air, but the same Johannesburg and other charter flights continued and my Dove training had to wait until I actually joined CAS. Meanwhile the Company moved from Pengam to the new Cardiff Airport at Rhoose, and around this time it was decided that upon joining I would be based at Bristol (Whitchurch) Airport. I was to replace Capt Denys Axel-Berg, who was then about to leave the Company to join Jersey Airlines (although he later rejoined Cambrian). Phil Hendy, the former 12 RFS Staff Pilot now a captain with CAS, was also based at Whitchurch, and as Bristol was the hometown of both my wife Joyce and myself this arrangement suited us very well. We were then living in London and welcomed the forthcoming move back to the West Country, not least because we were expecting our first baby.
As arranged, I started work with Cambrian on 1 May 1954, initially occupying the second pilot's seat of Doves to gain familiarity with the aircraft and the routes to the Channel Islands, Liverpool and Paris. I then did my Dove conversion training with Capt Arthur Townsend, the Chief Pilot, followed by a period of line training. During this time I also flew Rapides on army co-op exercises, pleasure flights and charter work. I was then route checked by Arthur, a pre-war Liverpool policeman and a great character, and cleared to operate as captain on scheduled services on both the Rapide and Dove. Occasionally I also flew the Autocrat, sometimes on pleasure flights but also on a couple of charters to Birmingham for a Cardiff-based bookmaker. However, a few weeks after I started with Cambrian, Phil Hendy and I were informed that henceforth we were to be based at Rhoose. This made sense as in any event we were frequently commuting by train between Bristol and Cardiff, sometimes staying overnight in Barry. Accordingly, I was quite happy to move to Wales, but Phil continued to commute from Bristol for a few months but then left CAS to join BEA. To continue with Ken's Cambrian profile please click on the following links on the Cambrian Airways website:- 1954 to 1956 and 1957 to 1959
This article first appeared on the Cambrian Airways tribute website which has been created by Garry Hillard at:- www.cambrianairways.org.uk. I am very grateful to Ken for allowing me to reproduce it as a special feature on my website.