AN HISTORIC BAC 1-11 CHARTER FLIGHT
By Richard Church - With photos by Paul Filmer and Kevin Perry

What is one of the last two operational commercially operated BAC One-Elevens was chartered by 'Classic Jet Tours' for an enthusiast's charter flight out of Love Field Airport in Dallas, Texas on 27th August 2011. The aircraft is operated by Business Jet Access, one of 'The Wright Group' of companies. The only other commercially operated One-Eleven known to be flying is operated by Tombouctou Aviation and although registered in Mali had most of its flying activity out of Tripoli-Mitiga in Libya prior to the recent unrest there. It is now located in Bamako in Mali and is registered as TZ-BSB, (c/n 086) is also Stage 3 hush-kitted and is expected to fly again in the very near future once certification issues have been resolved.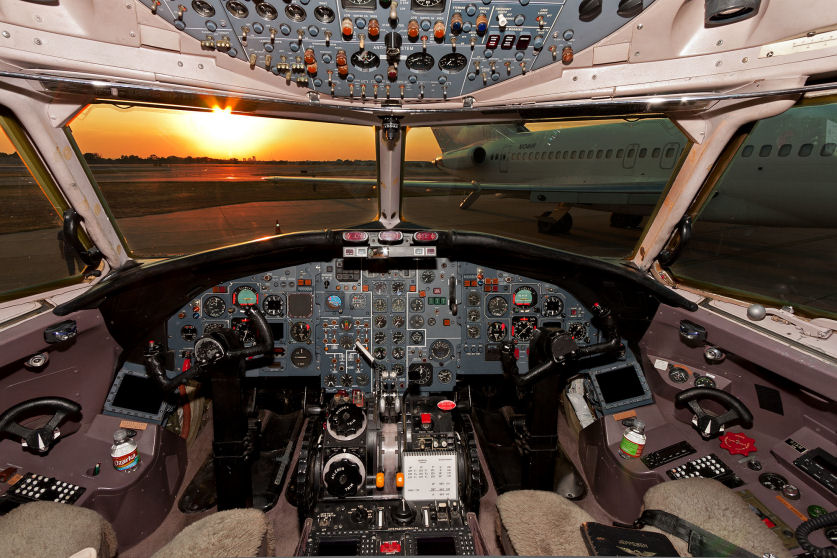 On the eve of the charter, Business Jet Access positioned the aircraft in front of the Business Jet Center on the north side of Love Field airport for a photo shoot as the sun set behind it. The delightful Chaney Nall of Executive Flight Solutions with Business Jet Access and the equally charming Don Draper, the Quality Assurance Inspector with the same organisation were on hand to show people over the aircraft and to ensure that it was in the ideal position for photography. The aircraft had earlier been shampooed to show her off at her best with her highly polished natural metal wing, fin and tailplane leading edges and engine intakes and her very pleasant paint scheme. Some of the people attending this event were not booked on the charter but were there to enjoy the occasion and would be photographing the aircraft the following day as it took off and returned again.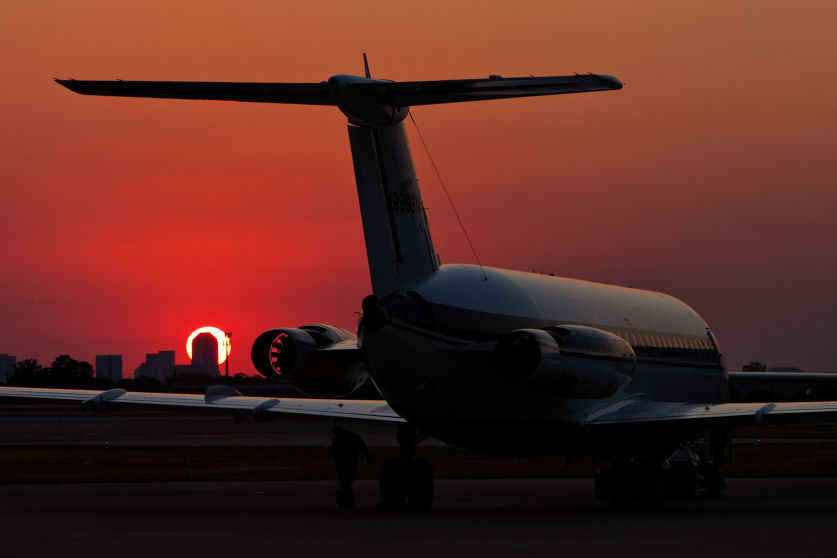 The following morning all those booked on the flight were asked to report at reception in the foyer of the executive terminal at 0900 for a 1000 departure. All were made most welcome by young Sean Burris of Classic Jet Tours (who had organised this trip) and his mother and father Lucie and Tom, who would accompany us on the flight and Chaney Nall and Don Draper of Business Jet Access. After the formalities of checking all twenty-one passengers in, we all got to know each other and met the two pilots, Captain Ward Abbs and David Nay. The Captain initially converted to the One-Eleven using the US Air simulator at Pittsburgh in order to fly for Air Wisconsin when they leased four Series 200s for a short while in 1985 and 1986 pending delivery of new BAe 146s. He later returned to One-Eleven flying for Elite Express in 1998 and has been with Business Jet Access since 2003.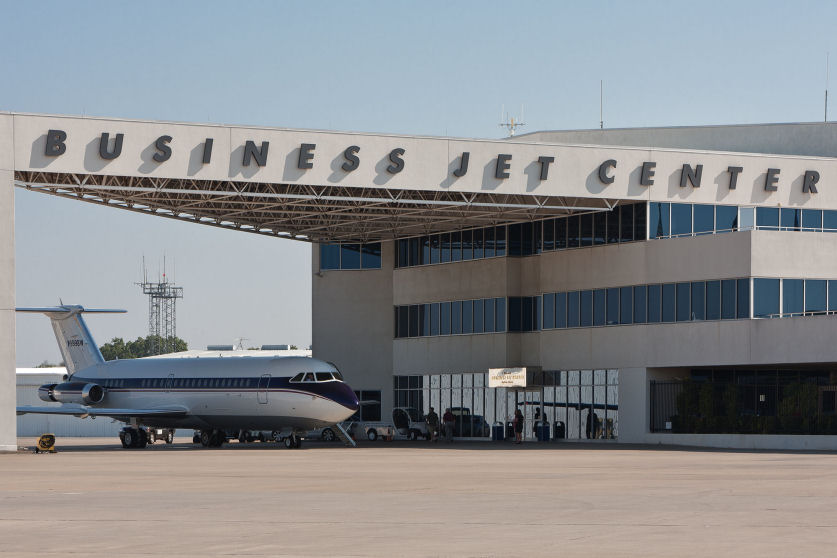 Many of the passengers had come some distance for this charter with the following nationalities represented:- Abu Dhabi, Belgium, Canada, Germany, Greece, Switzerland, the UK and the USA.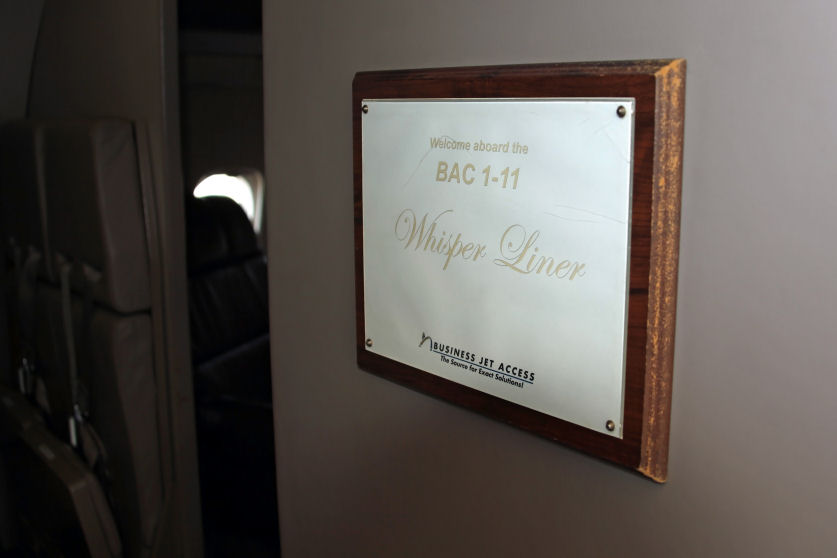 The aircraft had been positioned under the covered section in front of the airside doors thankfully with the APU running. The outside air temperature was in the order of 100 degrees Fahrenheit. Just before 1000 we all boarded via the front steps and were welcomed on board into the large beautifully appointed cabin by the two very attentive cabin attendants Yvette Van Pelt and Shelia Orr.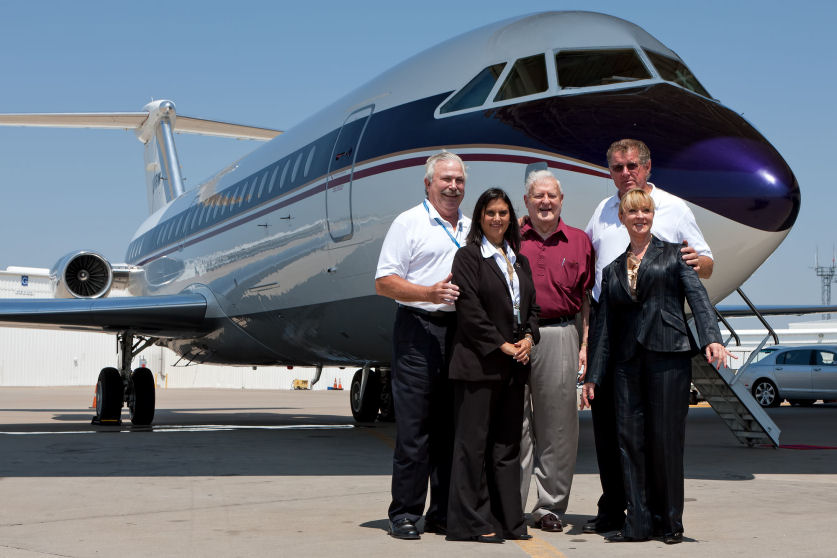 We selected which seats we wanted to use and settled down and strapped in for our flight. The front passenger door remained open during the engine start. In this way we could all hear the nostalgic sound of the starter motors screaming as the Spey engines rapidly wound up.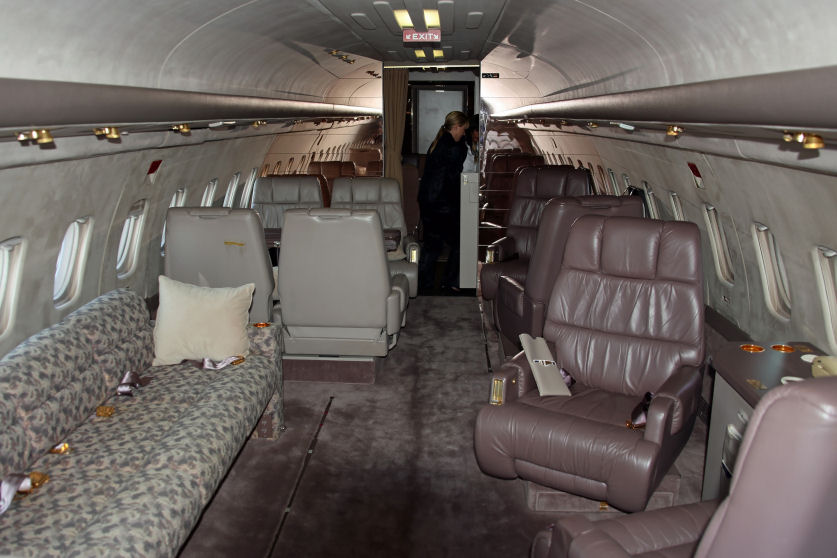 The door was then closed and the aircraft taxied to the holding point of runway 13L where the aircraft was held for approximately fifteen minutes.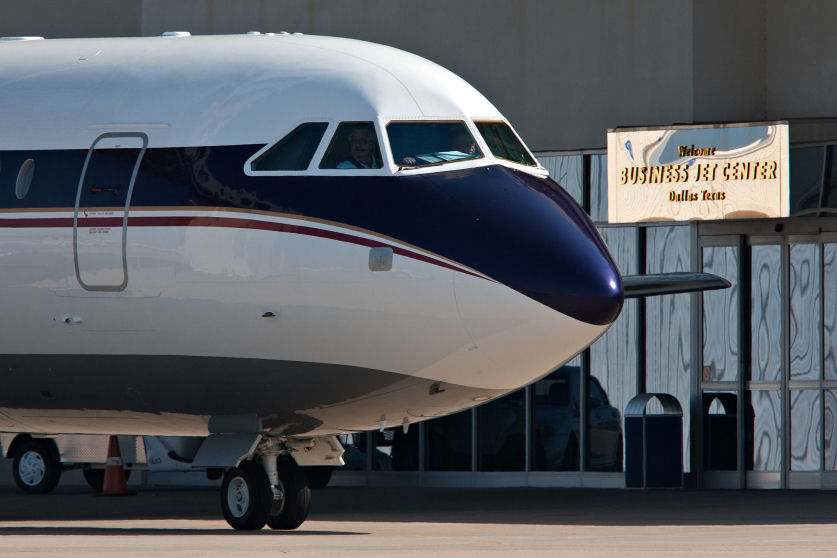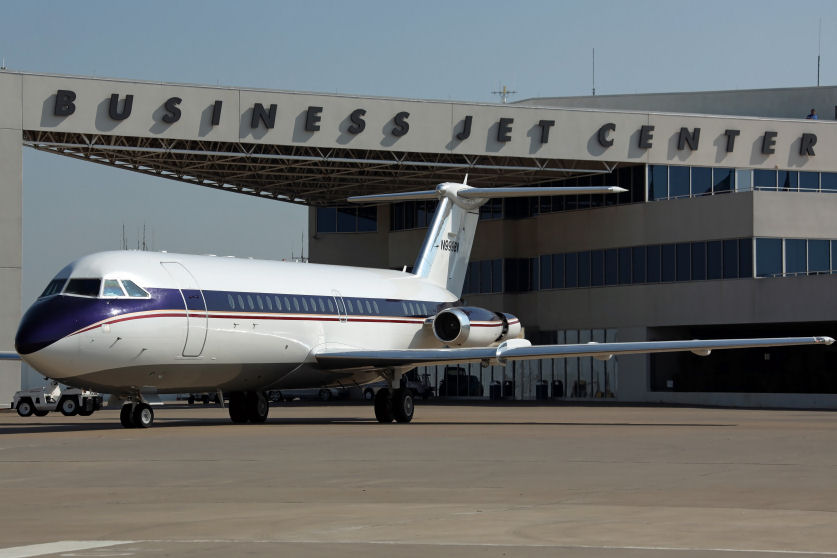 We then turned onto the runway and accelerated before taking off towards downtown Dallas.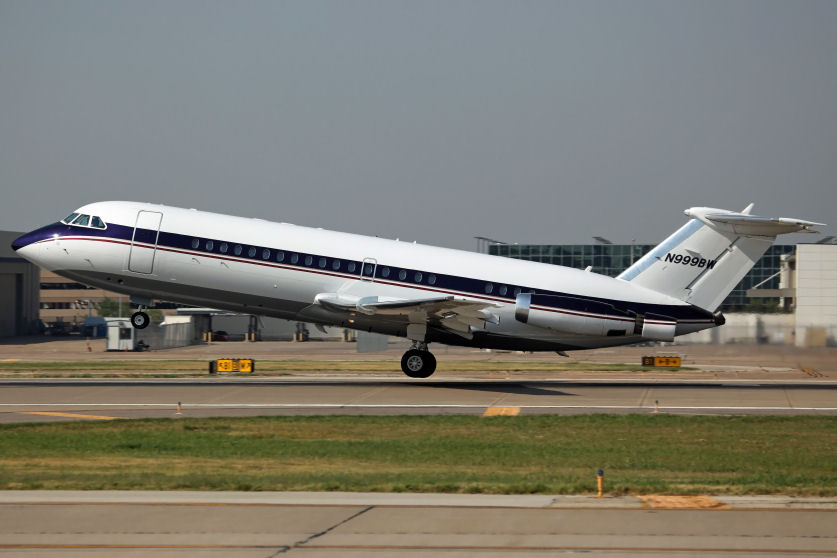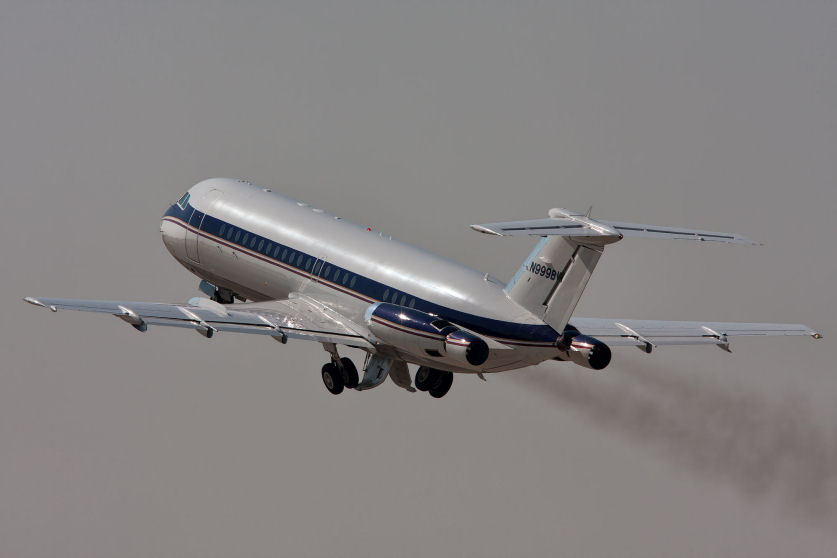 After skirting the numerous modern office blocks we turned and headed in a north westerly direction climbing to 20,000 feet over the arid Texas countryside. During the flight we were served either Bucks Fizz or Champagne and also had a large selection of biscuit type snacks to pick at. We all moved around to experience the noise levels at different points in the cabin and had access to the cockpit where we could chat to the crew. Just short of Amarillo we descended to 6,000 feet as we overflew the Red River and the Palo Duro Canyon, the second largest canyon in the USA. Here there were great opportunities to photograph the amazing scenery. We then turned and headed back towards Love Field climbing back to 20,000 feet. As we approached Love Field, Captain Abbs informed us that he would be doing a go-around. Just as we came over the threshold to runway 13L, the engines were powered up, the flaps were retracted to take-off setting and we climbed away.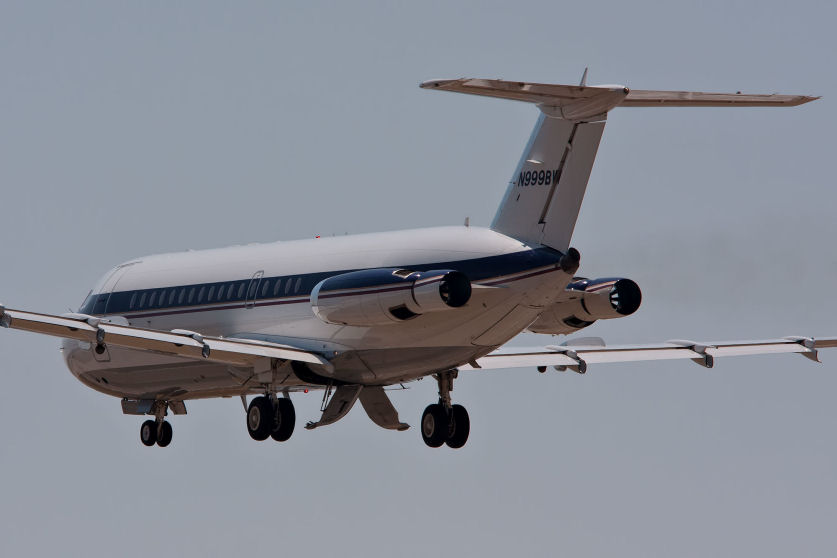 The power surge and the acceleration as well as the climb were most impressive from this old lady and brought back memories of go-arounds that some of us had done in the past in earnest.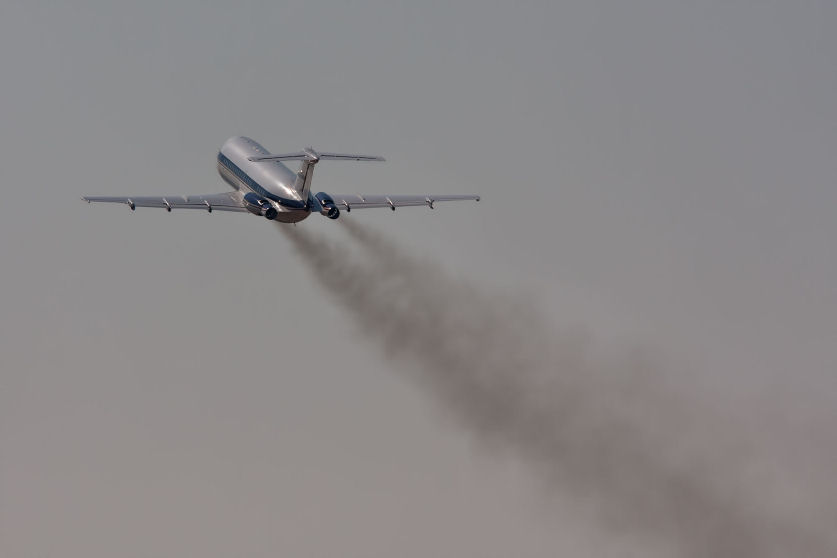 We finally touched down on the same runway some one hour and fifty-three minutes after our take-off and the reverse thrust was engaged.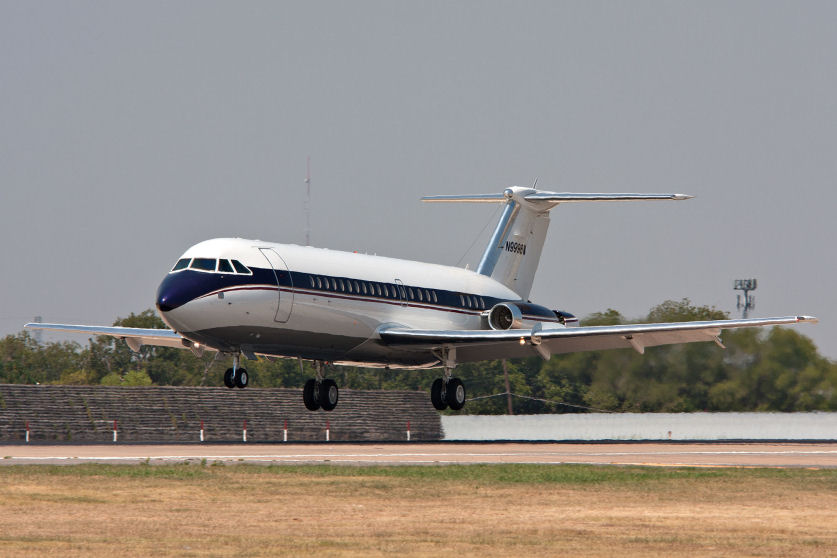 A round of applause came from the cabin as we taxied back to the terminal.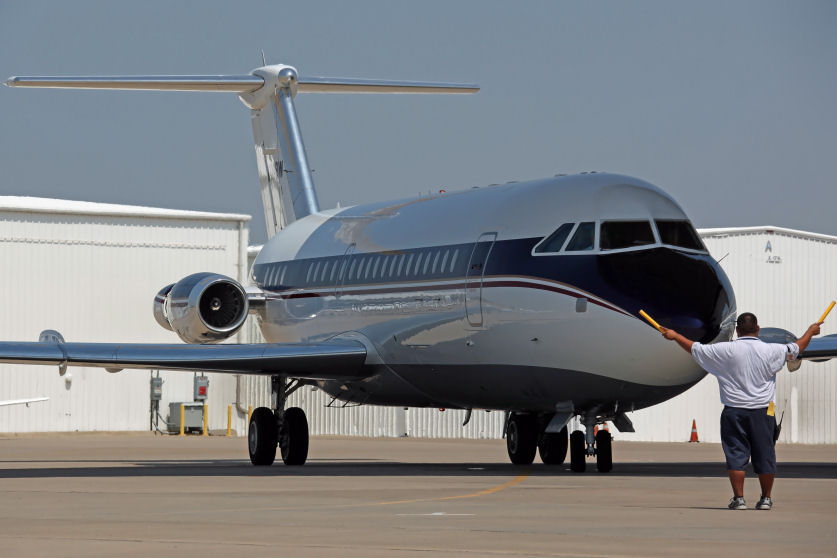 The flight had been as smooth as could be and was how I remembered all of the many One-Eleven flights I have made. The noise levels inside the cabin were remarkably low with the rear cabin being a little noisier especially during take-off.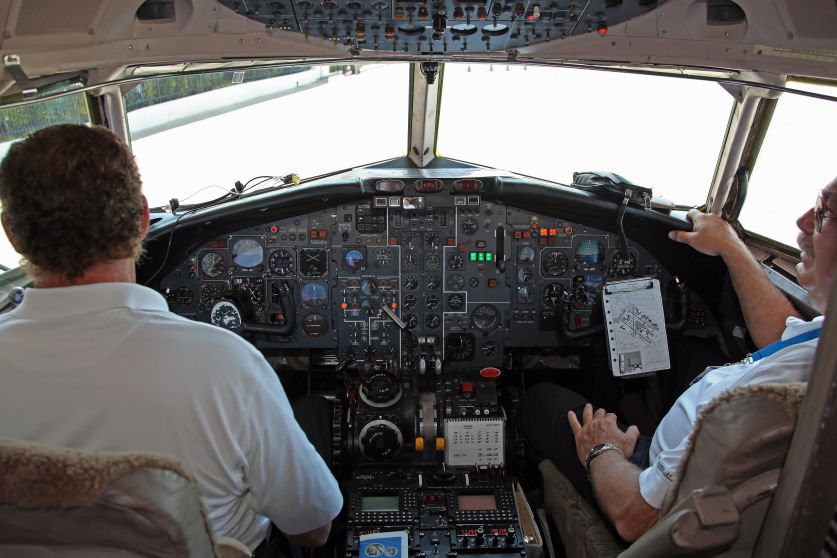 After the forward door was opened and the airstairs lowered, we all disembarked and were met by the Business Jet Access team together with Robert J Wright who had purchased this aeroplane in 1997. The whole team clearly love this old One-Eleven and clearly lavish her with much attention and keep her looking pristine.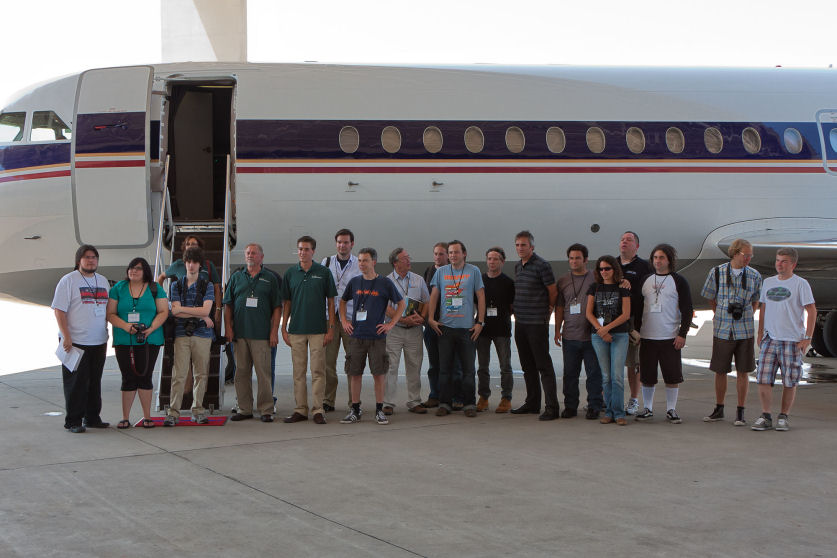 It is hoped to fly N999BW for some time yet and several charters are being lined up for her in the next few months. No expense has been spared in keeping this aircraft in tip-top condition. After team and crew photographs, the aircraft was started up again and taxied to the hangar area on the opposite side of the airfield.
Aircraft History
The aircraft involved is a Series 419EP with constructor's number BAC.120 and is currently registered as N999BW. This aircraft has always been a VIP configured aircraft based in the United States since it was first handed over new to Engelhard Industries Inc on 20th September 1967 and delivered the following day. It had been ordered new by Page Airways International after they had been appointed exclusive sales agents for new build executive configured One-Elevens in North America. The aircraft, initially registered N270E, first flew from Bournemouth-Hurn on 8th August 1967 and was used for crew training there from 23rd August until 7th September. The aircraft was initially named "Platinum Plover 111" although the name was not physically applied to the exterior of the aircraft. On 30th April 1971 it was sold to the Rockwell Manufacturing Co through agents Qualitron Aero Services Inc and registered N44R. It was later sold to the Amway Corporation on 30th March 1977 and was then registered as N524AC. It remained with this company until it was sold to B.L. Yachts/BL Aviation Group as N87BL in early April 1996 having been refurbished in September 1992. In 1997 the current owner, Robert J Wright of the 'The Wright Group', 'Jet Place Inc' and 'Business Jet Access', heard that a broker was already in negotiation with a prospective Nigerian customer for the disposal of the aircraft. Robert Wright immediately went to see the aircraft while it was on routine maintenance in Oklahoma City and put in an instant bid for the aircraft as it was and a deal was struck. Jet Place Inc obtained the aircraft on 22nd August 1997 and it was registered to them on 17th September 1997 later officially being registered N999BW on 5th February 1998 although it had been noted carrying these marks earlier in San Diego on 25th January.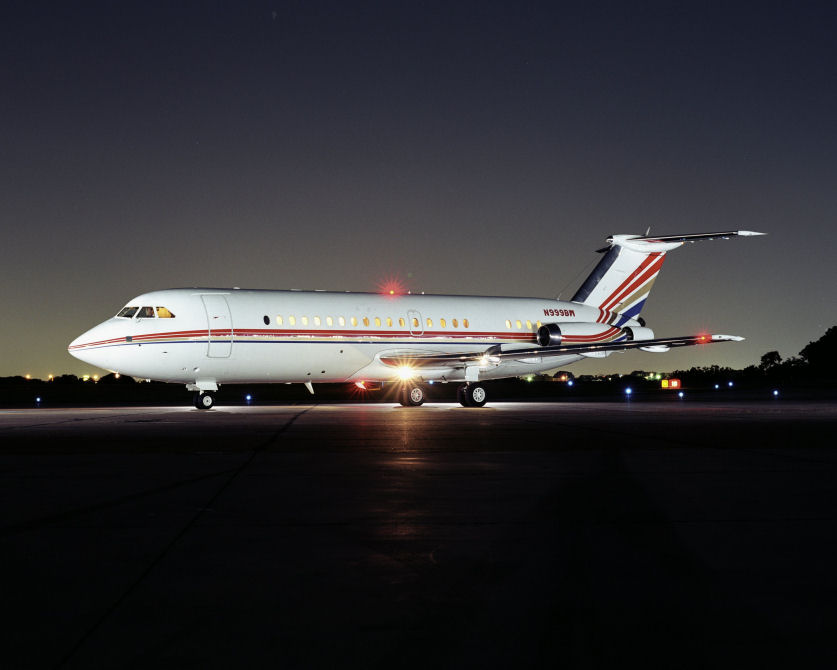 Since this time the aircraft has been extensively modified and updated with Stage 3 hush-kits developed by Quiet Technology Venture Ltd of Opa-locka, Florida in September 2000. It has since been used on various tours including those by 'Stars on Ice' (visiting 65 cities in three months on two occasions), Carlos Santana, Jon Bon Jovi and by two United States Presidents. In August 2005 it was ferried from Love Field to McKinney Aerospace for heavy maintenance and an avionics retrofit before returning home in April 2006. The following month it ferried to Ardmore where it had an extensive cabin refit and a repaint before returning to Love Field in October 2006. The aircraft is marketed through the company named Business Jet Access. The most recent cabin update was the installation of Lou Martin & Associates accordion window shades and composite side wall panels with no overhead stowage bins in June 2010. The window shades are a vast improvement on the originals both in appearance and operation and seem much more robust.
The aircraft is certificated to FAR Part 135 and is RVSM certificated. Prior to this charter, the aircraft had flown 10,130.6 hours and completed 6,420 landings/cycles.
Interior
See the thirty passenger seat layout below.

There are well appointed toilets both forward and aft.
Entertainment equipment includes dual TV monitors, dual video cassette players, CD player, Surround Sound 1000 and Airshow 200.
In the forward cabin to starboard are two four place conference groupings upholstered in tan leather with tables. There are six individual club seats upholstered in leather (two to starboard, four to port) that rotate, a five place divan to port and four place divan to starboard upholstered in fabric.
There is a separate cabin to the rear with a four place conference grouping in leather with fabric inserts with table to starboard and a three place divan in fabric to port.
Between the two cabins is a large well appointed galley with push-button bar, microwave, five ovens, a coffee maker and a trash compactor.
Entry is via the rear airstairs (not used on this flight) or the forward port door. There is a service door opposite the forward entrance to starboard.
Gold plated fixtures, Lou Martin & Associates accordion window shades.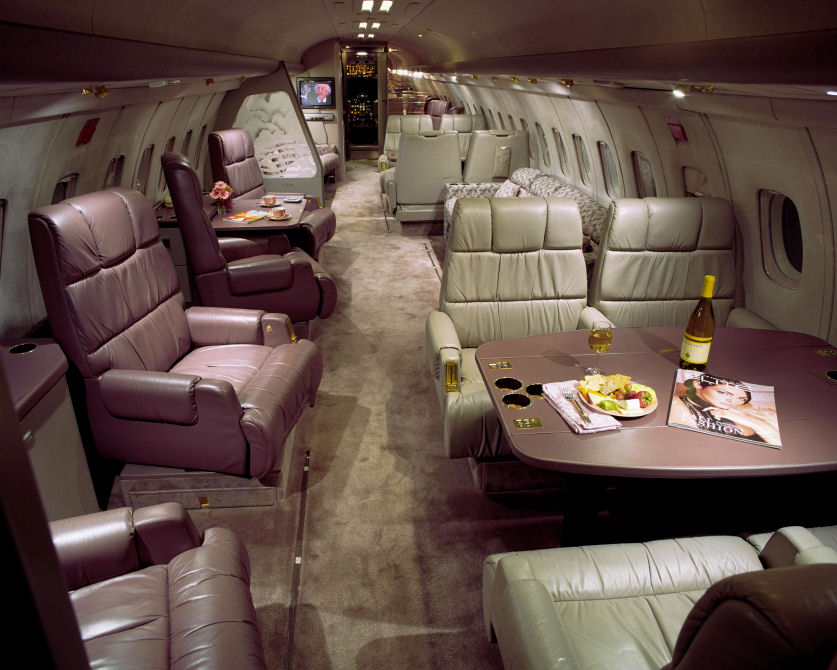 Airframe
| | |
| --- | --- |
| Total Hours | 10,132.6 |
| Total Landings | 6,421 |
Engines
Two Rolls-Royce Spey 511-14 with Stage 3 hushkits
Auxiliary Power Unit
Equipment
Air Cruisers emergency escape slides
EROS quick-donning oxygen masks
KGS static inverters
Lights
Tel-Tail wing tip mounted fin logo lights
Twilight strobe kit
Emergency evacuation lights
Avionics
| | |
| --- | --- |
| ADF | Dual Collins |
| Avionics Package | Dual Collins FD-108/Pro Line 11 |
| CVR | Fairchild A100 |
| FDR | Fairchild F800 |
| Flightphone | Wulfsberg VI with cockpit handset |
| Hi Frequency | King KHF950 with SELCAL |
| Transponder | Dual Collins TDR94D |
| Autopilot | Bendix Elliot 2000 |
| Communications Radios | Dual Collins VHF-22C |
| DME | Dual Collins DME-42 |
| Flight Director | Dual Collins FD-108 |
| FMS | Dual Honeywell GNS-XLS with GPS |
| Navigation Radios | Dual Collins VIR-32 |
| TAWS | Sandel ST-3400 |
| TCAS | Collins TCAS-94 TCAS-II |
| Weather Radar | RCA Primus 880 colour with dual indicators |
Personal background info
RJ Wright was sitting at his home in Denver when he initially read about the contract out for the BAC 1-11. He called Bernie Little with BL Aviation to find that his broker was already talking with someone in Africa. Mr Wright then went to see it whilst in routine maintenance in OK City, and called immediately to make an offer – no pre buy, he wanted to take it as it was. The deal was made, and well within the time frame of RL Wright funding the development of Stage III Hushkits. Bernie Little called asking to buy the plane back at the price in which it was sold. Mr. Wright refused and the rest is history!
Pilot Biography
David Nay:- Thanks to a call from Ward Abbs, I started flying 999BW at Business Jet in late 2006. I retired from Air Wisconsin after 31 years, the last 18 flying the BAC 1-11 successor from British Aerospace, the BAe146.
Ward Abbs:- Well, when I was at the Air Wisconsin, we had 4 BAC 1-11s ( they were an interim aircraft as we waited for more BAe146's, a 4 engine jet, 100 pax) and we went to school at US Air in Pittsburgh in 1985. They had 30 BAC 1-11's so they were well equipped and had a very good and intense ground school and simulator program. The training was about 6 weeks and we came away with a BAC type rating. I flew the line for about 2 years in the BAC 1-11 before our BAe146's arrived. We lived down in the Milwaukee, Wi area and in 1998 I started flying for a corporate operator here, Elite Express a FAR 125 operator, they had 3 corporate BAC 1-11's. 1-400 (which was owned by Conrad Hilton of Hilton Hotels) and 2-200's. 1 of the 200's was a former Tenneco Corp aircraft, and the other -200 was an old US Air aircraft. At that time I was still flying for the airline and flew part time for Elite Express. We would do charter trips in the US, Canada and the Caribbean.
There were 3 operators with the BAC's, Northrop Grumman (FAR-91) 3 BAC's, Elite Express (FAR-125) 3 BAC's and Business Jet (FAR-135) 1 BAC.
So as you would guess the BAC community was very small so we all knew each other and when Elite Express was doing the training down in Miami at the simulator center, they ask me if I would be a simulator check airman for them, and of course, the answer was yes, so I flew for Elite as a check airman and instructor and also Aero Services in Miami when needed. Well guess who else did their training in Miami, Business Jet. So we got to know the pilots at Business Jet and when they had an opening for a pilot and check airman in 2003, I was privileged enough to go to work here. What a great opportunity!
Since then Elite Express sold all their BAC's.
So how long have I been involved with the BAC 1-11? 1986 - 1989 then 1998 - 2011. With Business Jet, 2003 - present, August 2011.
It is a very solid and stable aircraft and Business Jet's BAC has been totally updated with the latest avionics and the interior is 1st class ++. If you can imagine, the airlines had a 70 seat configuration in the US and Business Jet's BAC has 30 seats!!
Any aircraft of 75,000 lbs. or more is required to be Stage III. Mr. Wright funded the development for Stage III Hushkits for the BAC 1-11, GII, GIIB, and GIII.
In order for pilots to be trained in a flight simulator, R.J. Wright purchased the BAC flight simulator from British Airways, based in Bournemouth, England, which is now used by pilots in Europe, Asia, Africa, and the United States.
Please see below for specs/history of N999BW as supplied by Business Jet Access
Owner:-
The Jet Place, Inc.; Robert J. Wright, President
Make: BAC
Model: 1-11 400 Series
Manufacture: August 8, 1967
Standard Airworthiness Certificate: September 20, 1967
Purchase Date: August 22, 1997
Department of Transportation Registration: N999BW September 17, 1997
Airport: DAL-KDAL-Dallas Love Field; Dallas, TX, United States
Aircraft History:-
The Jet Place, Inc. (Robert J. Wright): August 22, 1997 -Present
B.L. Aviation Group (Bernie Little): April 8, 1996 - August 22, 1997
Amway Corporation: March 30, 1977 - April 8, 1996
Rockwell Manufacturing Company: April 30, 1971 – March 30 1977
Del Engelhard Industries: September 21, 1967 – April 30, 1971
Page Airways International: August 8, 1967 – September 21, 1967
On Certificate (Part 135):- March 24, 1999
Interior: October 17, 2005
Repaint: October 4, 2006
Weight and Balance: December 14, 2009
Avionics Update: December 15, 2009
Static Check: December 15, 2009
AFM Rev. Date: October 10, 2006
Maintenance/Certifications:-
Maintained: FAR Part 135
Certifications: RVSM
Interior Details:-
September 1992
Passengers: 30
Exterior Details:-
As of October 2006
General Colors: Matterhorn white upper and silver lower with ruby, gold and purple custom stripes
Cockpit Details:-
Sundstrand Mark II GPWS, Sandel ST3400 TAWS, Baker audio panels, Heads Up Technologies cabin
General: briefing and CMS 400 checklist, dual marker beacons
I would like to thank the following people for helping to make this event very special in every way, and for their contribution to this very historic special feature:-
All the staff at Business Jet Access who were involved in making the 28th August such a wonderful day
Richard Church - Author of "The One-Eleven Story".
Paul Filmer - Photographer -http://www.skippyscage.com - Global Aviation Resource
Jay Davis - Photographer - http://jaydavis.zenfolio.com/bac111
Kevin Perry - Photographer