UK MILITARY BAC 1-11'S - THE QINETIQ FLEET

At a time when the BAC 1-11 has virtually disappeared from our skies forever there is one last haven where the aircraft can still be seen in the air in the UK. Located at Boscombe Down, QinetiQ has operated the remaining UK based 1-11s for the past few years. All five 1-11s operated by the UK military have spent their final years based at Boscombe Down. These aircraft are:-
XX105 - c/n 008 - series 201AC - Due for scrapping
XX919 - c/n 091 - series 402AP - Cockpit section at BDAC
ZE432 - c/n 250 - series 479FU - Withdrawn with corrosion
ZE433 - c/n 245 - series 479FU - Stored - Used for spares
ZH763 - c/n 263 - series 539GL - Current
All five aircraft still exist in one form or another as of November 2010. It is hoped that one aircraft can be saved for preservation to showcase the huge contribution made by this unique 1-11 fleet. The 50th anniversary of the BAC 1-11 will take place in August 2013. I therefore hope that ZH763 will still be in service to enable it to take part in celebrations. Hopefully, when "763" is finally retired from service the aircraft will be flown into Coventry to join the Air Atlantique Classic flight / Airbase collection where it will remain a fully serviceable static airframe.
Below the 1-11 article I've included a small piece written by Boscombe Down Aviation Collection member Ron Fulton introducing you to the collection and their current precarious situation.
Richard Church has written a special article to help raise the profile regarding the plight of these very unique airframes. We can't afford to loose all five airframes to the scrapman! At least one aircraft must be saved to tell the special story of the UK MOD 1-11 fleet whose service has spanned five long decades.
BAC One-Elevens with QinetiQ & its predecessors.
The predecessors of QinetiQ during the BAC One-Eleven's life have changed their names on several occasions. When the first aircraft came on strength, this state owned organisation was known as the Royal Aircraft Establishment (RAE). In April 1991 it became the Defence Research Agency (DRA) and in April 1997 was renamed the Defence Evaluation and Research Agency (DERA). On the 2nd July 2001 the organisation was split in two as QinetiQ and the Defence Science and Technology Laboratory based at Porton Down, Wiltshire. The former became a public private partnership in February 2003 before becoming a full plc in February 2006 and continues the flying operations at Boscombe Down and the operations of the Empire Test Pilots' School.
The first BAC One-Eleven to adopt military marks in the United Kingdom was a Series 201AC which was purchased from Caledonian//BUA in April 1971. This aircraft, c/n BAC.008 and formerly G-ASJD, was prepared for the RAE at Hurn by the British Aircraft Corporation and was delivered to the Blind Landing Experimental Unit (BLEU) at Thurleigh, Bedfordshire as XX105 on 26th March 1973. The aircraft had earlier been involved in a forced landing on Salisbury Plain on 20th August 1964 prior to its delivery to British United Airways Ltd. It was dismantled and returned to Hurn for a rebuild. This was to be the first of five One-Elevens to eventually carry military serials in the United Kingdom and was fitted with long range tanks and specialist radar prior to delivery. This aircraft which was never Stage 2 hush-kitted was painted in a spectacular colour scheme with a red cheat line and rudder, white top and brilliant yellow underside and wings. Apart from its autoland tests, it was also used to trial civil and military avionics systems. The aircraft was relocated to Farnborough on 23rd March 1994 and onwards to Boscombe Down on 23rd August of the same year. It was later fitted with a coloured 'glass' cockpit and had touch screen flying controls added during the latter part of its life. On 28th May 2003 this historic aircraft flew a special formation flight with QinetiQ's other two operational One-Elevens before making its final flight, which included a flypast at Hurn on 5th June of the same year, into honourable retirement at Boscombe Down. It was moved to the Boscombe Down Aviation Collection where it remained until October 2010 when it was removed for scrapping.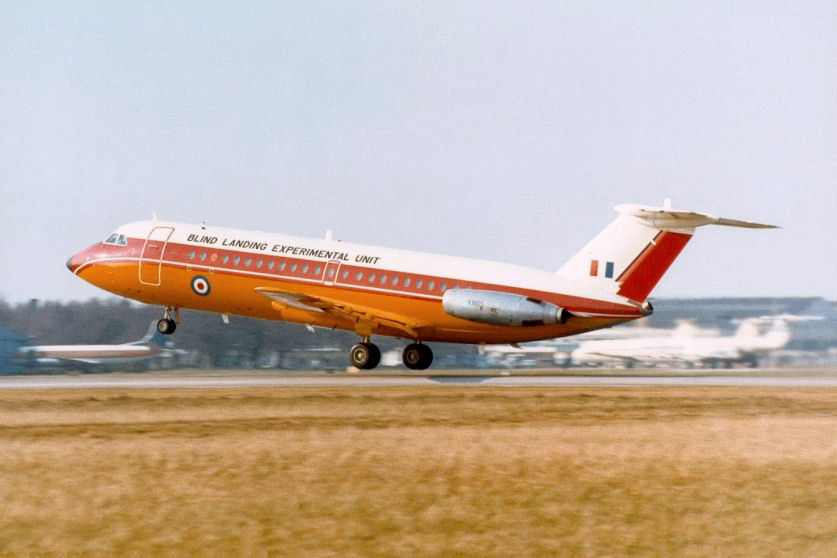 XX105 gets airborne from Hurn on delivery to the Royal Aircraft Establishment 26 March 1973
On 16th May 1974 a Series 402AP (c/n BAC.091), formerly PI-C1121 with Philippine Airlines, joined the Royal Aircraft Establishment at Thurleigh (RAE Bedford) carrying the serial XX919 and painted with a white top, blue cheat line and grey undersides. However on 14th August of the same year it relocated to the RAE at Farnborough for the use of 'Radio Flight'. Here it was used for satellite communications and sonobuoy research (with launching through the rear stairwell), and trials of long range navigation aids and aerials and high frequency communications equipment. It adopted the 'Raspberry Ripple' colour scheme in the 1980s. The aircraft was fitted with a tail mounted miniature TV camera and video system in 1990 by the Mission Management Department, first flying as such on 21st March. It ferried to its new base at Boscombe Down on 24th March 1994 after making a ceremonial flypast at Farnborough. The aircraft made its last flight on 4th March 1997 and was put in storage. It was sold at auction for £210,000 on 16th March 2000 and after removal of all useful parts was broken-up at Boscombe Down on 6th July 2000.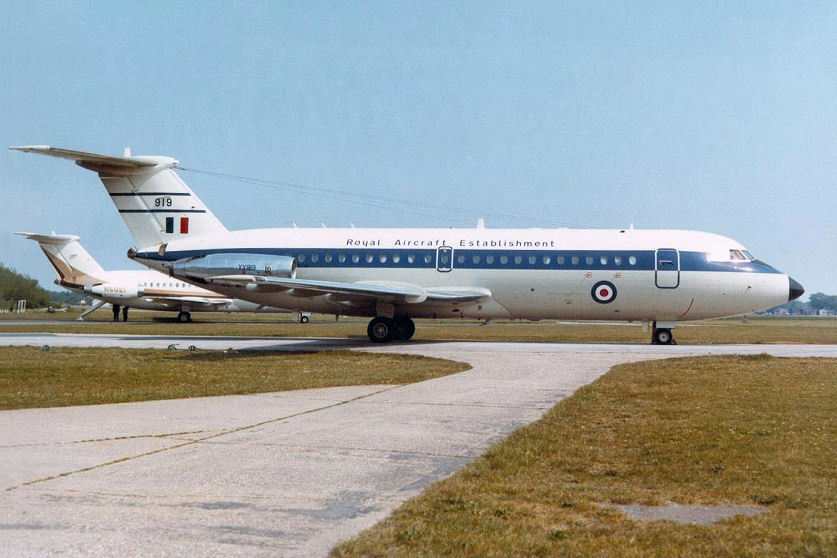 XX919 at Hurn prior to delivery to the RAE at Thurleigh in May 1974
In the late spring of 1984 the two Series 479FUs of Air Pacific Ltd registered as DQ-FBQ (c/n BAC.245) and DQ-FBV (c/n BAC.250) were obtained. The first became ZE433 and was based at Thurleigh where it was converted into a flying laboratory. Initially operated in basic Air Pacific colours without titles, it later adopted the famous RAE red, white and blue 'Raspberry Ripple colour scheme. The nose was modified and extended to accommodate the Blue Vixen lightweight, coherent, multimode pulse Doppler airborne interception radar for in flight trials. This new radar was due to be installed in the Sea Harrier FA2. Following the completion of these trials, the aircraft was further modified to accept the ECR90 radar that was due to be used in the Eurofighter Typhoon. It first flew in this form on 8th January 1993 and incorporated ram air and liquid cooling systems fitted in the forward hold for equipment cooling. The aircraft is fitted with a Power Conversion Equipment pallet supplied by the Auxiliary Power Unit which provides power to a suite of instrumentation racks. Accommodation is provided for four Flight Observers on sliding/swivel seats facing starboard to monitor the equipment installed. Fourteen seats at the rear of the cabin are provided for additional observers with intercom facilities. An additional six passenger seats can be fitted to the rear of the cabin when required. With the closure of Thurleigh in March 1994, the aircraft was transferred to GEC Ferranti Defence Systems Ltd (now SELEX Sensors and Airborne Systems Ltd) and based at Edinburgh for radar and associated trials. It was eventually transferred from Edinburgh to Boscombe Down. This aircraft was put into storage after performing its last flight into Boscombe Down on 13th November 2008. It is presently being used for spares.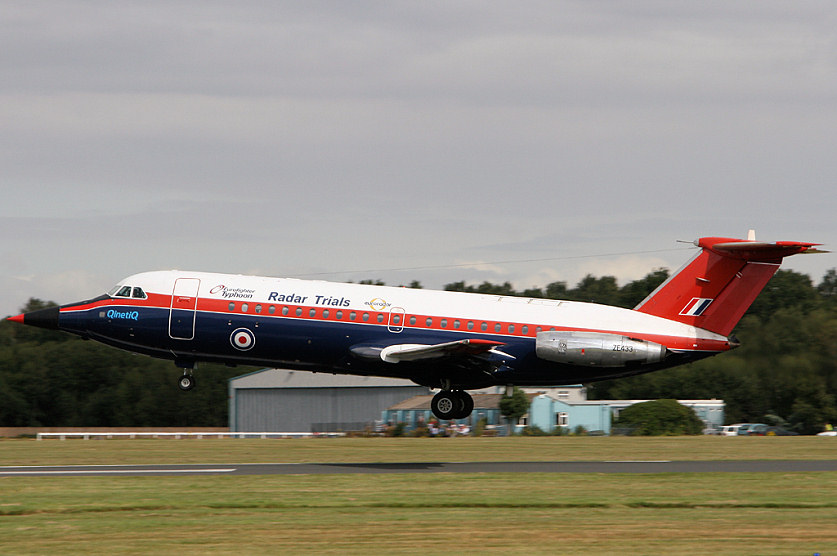 ZE433 comes into land at Hurn after a test flight in between maintenance with FR Aviation on the 17th August 2007
The second Series 479FU was taken over by the Empire Test Pilots' School as ZE432 and initially painted in the same 'Raspberry Ripple' colour scheme as its sistership with 'Empire Test Pilots' School' titles. Training stations were installed in the forward cabin while the standard Air Pacific seating and overhead racks were retained to the rear. The aircraft was later painted in the spectacular colour scheme you see today with the organisation's Griffin emblem over a red fin. It was withdrawn from service during November 2009 due to major corrosion issues. After a major overhaul / corrosion repairs it was due to return to service by the end of October 2010 but unfortunately further corrosion has been found so it remains to be seen whether or not it will eventually return to service.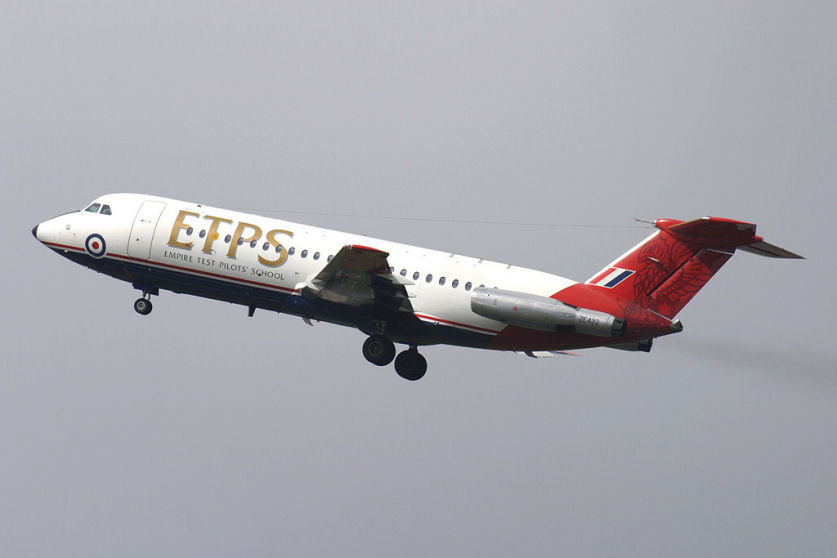 ZE432 carries out a practice ILS and go-around during crew training at Hurn on the 19th April 2004
The final aircraft to adopt a military serial was Series 539GL (c/n BAC.263). This late production aircraft was delivered new to British Airways plc and only flew with them for eleven years as G-BGKE before it was sold to GEC-Marconi Avionics (Holdings) Ltd in June 1991. It was leased to the DRA and painted with Aerospace Division DRA titles. After trials work it was stored at Thurleigh until it adopted the serial ZH763 and was ferried to Farnborough on 9th February 1994. It moved to Boscombe Down on 15th July of the same year where it was converted into a flying laboratory facility, primarily for radar trials. The conversion included the installation of a variety of racks and cabinets in the main cabin area, which can be configured to meet customer requirements. An Enhanced Surveillance Radar (ESR) scanner assembly was installed in the freight bay with an antenna and large bucket type radome mounted under the belly. A radar auxiliary receiving antenna was mounted under a radome on the starboard upper side of the fuselage. The aircraft also has a selection of aerials fitted to both the upper and lower fuselage surfaces that can be used for experimental systems. This aircraft is the last BAC 1-11 to fly in the UK.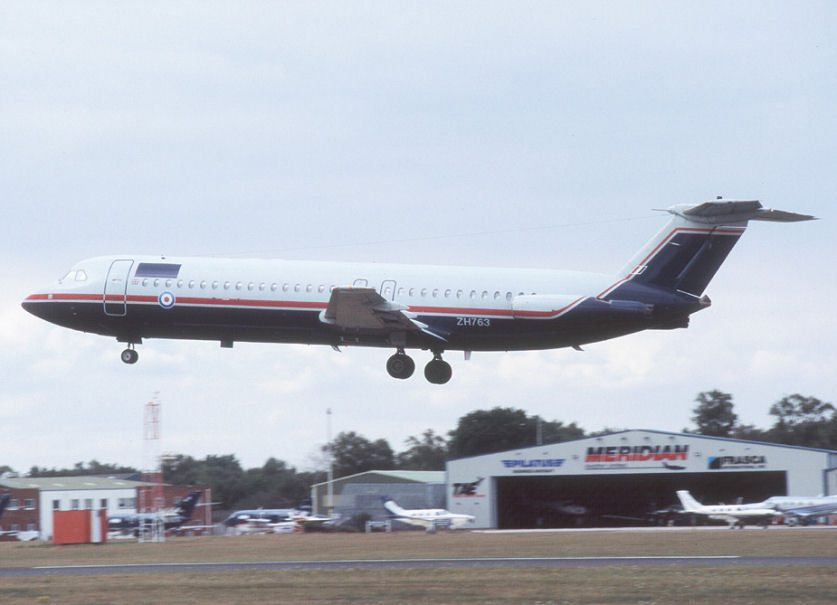 ZH763 carrying out a BAC 1-11 40th anniversary flypast at Hurn on the 20th August 2003
An introduction to the Boscombe Down Aviation Collection by Ron Fulton
Military flying began at Boscombe Down in 1917 and continues to the present day. Experimental operations began in 1940 and the site remains at the forefront of aircraft testing as the UK's and Western Europe's only dedicated flight test centre. This unique story is told by the Boscombe Down Aviation Collection (BDAC), which was started in the late 1990's by the then Officer Commanding the RAF Support Squadron at Boscombe Down to help preserve Boscombe Down's history. Attempts were made to register it as a charity but due to its location inside the security wire it proved impossible to justify our cause with the limited public access available to the site. In January 2007 it was decided by the then growing band of volunteers, and prompted by the Ministry of Defence (MOD), to set up the organisation on a legal footing and this resulted in the formation of Boscombe Down Aviation Collection Ltd which took over the assets and liabilities of the previous ad-hoc group.
The Collection started as little more than a few documents and photographs, but soon larger artefacts of historical importance were acquired and the Collection rapidly outgrew its first accommodation. This resulted in the MOD approving the use of more accommodation specifically to hold the artefacts and relatively quickly the Collection grew to hold significant aircraft and portions of aircraft that had served at Boscombe Down. This resulted in a growing band of volunteer enthusiasts who undertake the conservation, preservation and restoration of the Collection, which has now grown to fill a complete Hardened Aircraft Shelter together with its surrounding hard standing and associated offices including an extensive archive. The Collection now contains many unique items of historical importance and national interest and spans the time frame from 1917 till the present with the bulk of the artefacts coming from the 1940's and later.
The Object of the Collection is to advance the education of the public by the provision of a collection dedicated to recording and exhibiting all aspects of flight and flight testing at Boscombe Down thereby preserving its heritage for future generations, and the Mission of the Collection is to collect, restore, preserve and display artefacts and documents that relate to Boscombe Down and its place in flight and flight test in the UK.
The recent announcement by the MOD that they wish to charge BDAC the full market rent for the accommodation that they occupy has made it impossible to stay in the current accommodation. The main reason being that as visitors cannot be admitted to the area because of security and fire escape concerns there is no significant income with which to pay the rent. Therefore it was decided to relocate to Old Sarum Airfield where the entire collection is now on public display in one of the original historic World War 1 hangars.
Boscombe Down Aviation Collection (BDAC)