ROMAVIA
The "origins" of Romavia are about as complex as it gets in 1-11 terms for one very simple reason. It was a government / state owned organisation which came into existence whilst the "Iron Curtain" was still in place therefore ensuring that very little was known about its operations, especially during the early years. Officially Romavia commenced operations on the 3rd April 1991 but after much research it appears that the name (titles) appeared on these aircraft before April 1991. What is known is that three ROMBAC 1-11s, YR-BRE, YR-BRH and YR-BRI were used by the company and that each of the nine ROMBAC 1-11s that were built, came off the Bucharest Baneasa production line in full TAROM livery. It was always assumed that they were all delivered to the airline. however further research suggests otherwise. One thing is certain, and that is that all the TAROM 1-11s operated into Western Europe and to airports such as London Heathrow, Zurich, Paris, etc where they were photographed by many enthusiasts however BRE, BRH and BRI have never been photographed at any airports in TAROM livery. The official line is as follows:- "Romavia was founded in April 1991, as autonomous under the coordination of Ministry of Defense and as the principal operator designated to perform special flights for the Presidential Administration, Romanian Government and Parliament. It also provided ad-hoc public services (passenger individuals or organized groups) in the form of regular charter and travel agency work". As well as this work a comprehensive maintenance facility was set up at Bucharest Otopeni Airport with many other 1-11s being maintained by the company. I am currently in the process of trying to establish exactly what the three airframes actually did after they were rolled off the production line. One thing that is known beyond any doubt is that all the aircraft were leased out to other airlines throughout their lives with operators such as LAR - Romania, Citylink Airways - India, Air Memphis - Egypt, Aero Asia - Pakistan, Aerotrans Airlines - Cyprus. With more research I hope to complete the very interesting story of this extremely secretive operator.
YR-BRE first flew on the 27th March 1986. It is believed that it was initially used by the Ceausescu Government. "Republica Socialista Romania" titles appeared on the aircraft as shown in the very grainy image below.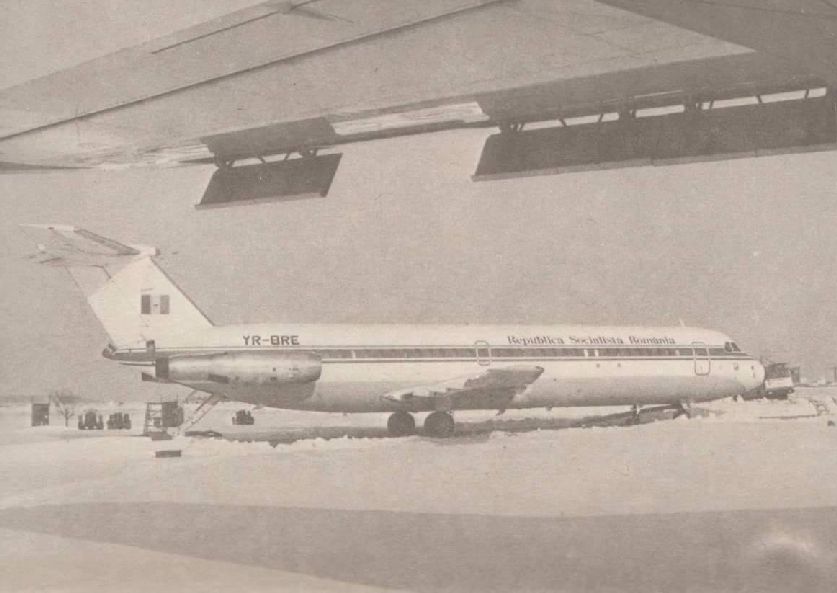 After the ousting of the President in December 1989 the aircraft was Leased to LAR in the summer of 1990 before appearing with Romavia stickers under the cockpit in the Autumn, therefore before the official launch date of the company.
YR-BRE at Munich October 1990 via Michael Roeser
YR-BRH first flew on the 1st December 1988 and it is believed that it was also operated by the Government with the same titles applied as YR-BRE. However no photographic evidence exists unfortunately. It is thought that this airframe was first operated by Romavia at about the same time as YR-BRE with stickers once again being applied below the cockpit windows.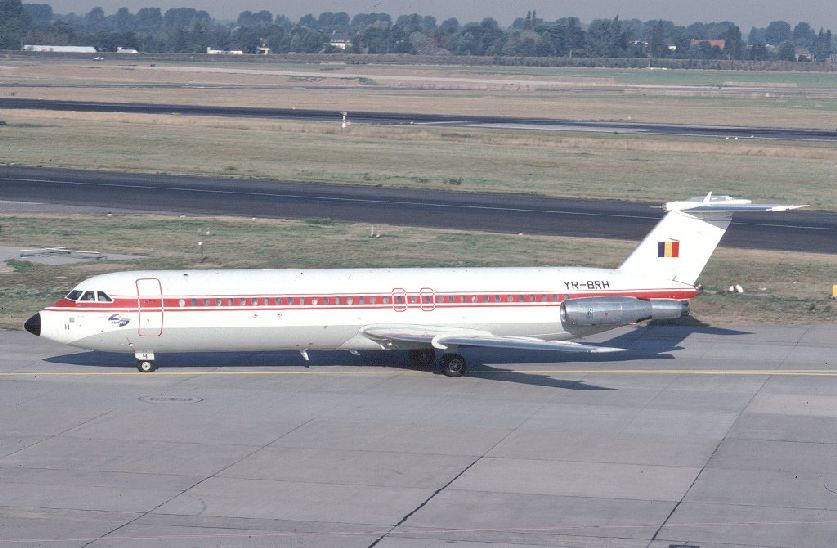 YR-BRH at Dusseldorf September 1991 - Photographer unknown
What suggests to me that this aircraft also flew for the Government is the fact that there is a large Romanian flag in the middle of the tail fin which is the same as on YR-BRE. Things were slightly different with YR-BRI. It is known that this aircraft was rolled out of the Baneasa factory in full TAROM livery with their normal logo on the tail fin. It first flew on the 3rd October 1989 but didn't receive its Certificate of Airworthiness until July 1990 after the collapse of the Ceausescu Government. It was first seen at Baneasa in February 1992 in a very similar livery to the other two aircraft however this time it had full Romavia titles on the fuselage as well as the stickers under the cockpit. Notice the different location of the Romanian flag on the rudder which was the standard position for all the TAROM aircraft. It is therefore unknown exactly when YR-BRI entered service although it does appear that it spent some time in storage at Baneasa.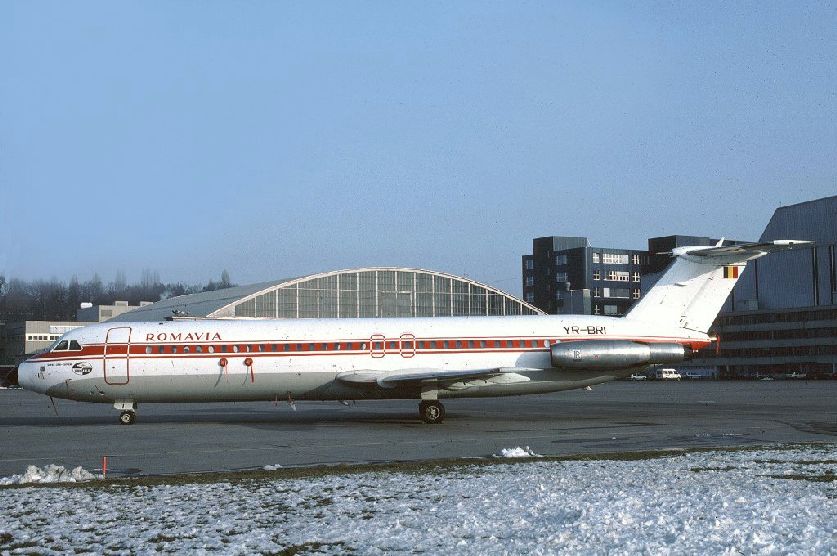 YR-BRI at Bucharest Baneasa in February 1992 by A Lerch
Once the airline had officially launched in April 1991 my understanding is that one aircraft was used for further government / VIP work whilst the other two aircraft either operated for Romavia or were leased out to other operators. The aircraft were leased out as much as possible, no doubt to gain access to valuable leasing payments. There simply wasn't enough work to keep the other two 1-11s busy in Romania. Therefore by November 1992 YR-BRH and BRI were leased out to Citylink Airways who were based in Delhi, India. Unfortunately the lease lasted less than a year as the company went bust in October 1993.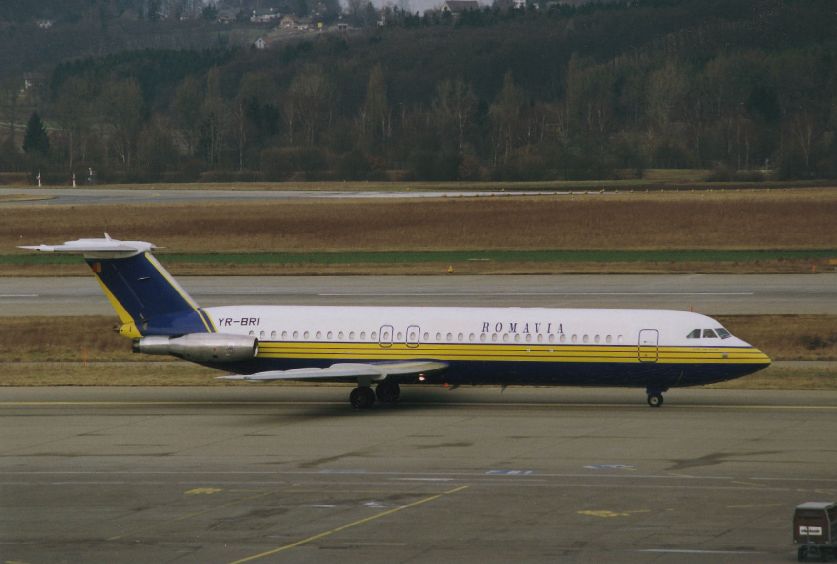 YR-BRI in Citylink Airways livery and Romavia titles at Zurich in 1993 via Peter Upton
During 1993 another new airline was launched in Pakistan. Aero Asia commenced operations in May 1993 and leased eight out of the nine ROMBAC 1-11s built at one point or another during their history. Romavia leased their three 1-11s to the airline at various periods throughout 1994 and 1995.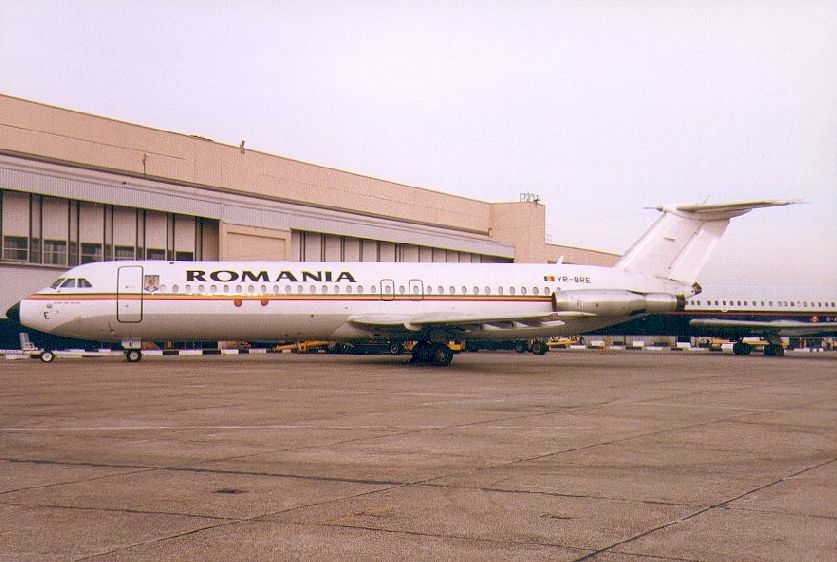 YR-BRE seen at London Heathrow in between a number of leases to Aero Asia during the mid 1990s by Alan Howes
Although YR-BRE appears to have been chosen as the government VIP aircraft YR-BRH was also given "ROMANIA" titles in between the Aero Asia Leases which suggests that they took it in turns until the leases were completed.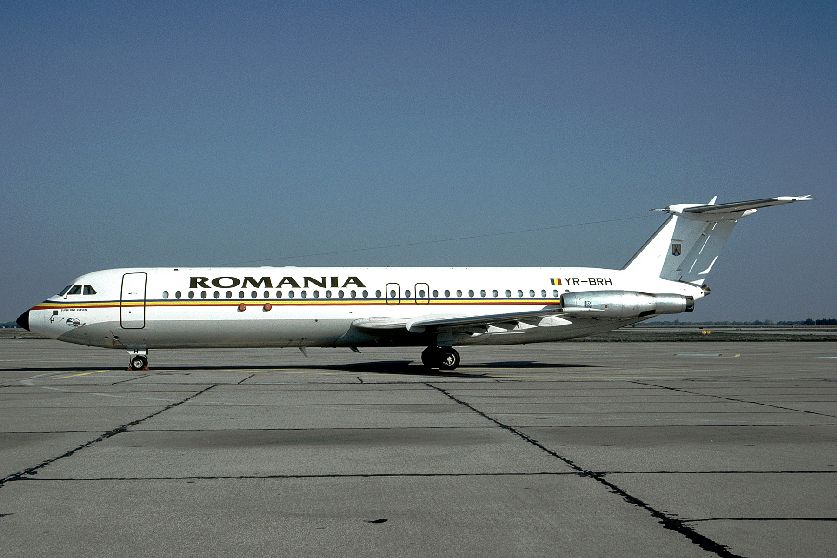 YR-BRH at Munich in October 1993 via Michael Roeser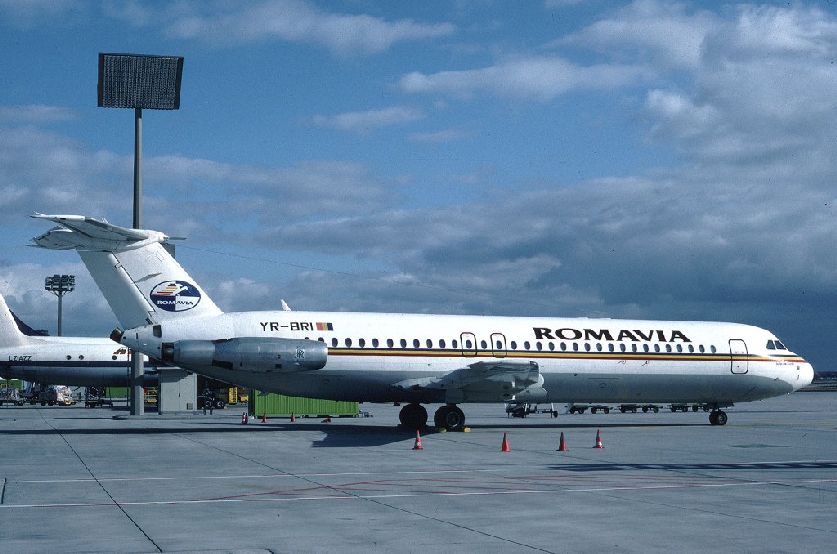 YR-BRI at an unknown location - the photographer is also unknown
By late 1995 all the aircraft had been returned by Aero Asia after they had bought four ROMBAC 1-11s from TAROM. Very few images appeared of the aircraft during the late 1990s which suggests that there was little if any work for the aircraft. In the meantime the company were looking to lease the aircraft out at every opportunity. Eventually their persistence paid off when Air Memphis of Egypt leased YR-BRH and YR-BRI during 2000. The aircraft were still in basic Aero Asia livery at this time and wore Air Memphis titles. This lease lasted less than one year. On arrival back in Bucharest both aircraft were given a new "Romavia" livery, the first time that the company had actually painted its aircraft in it own livery!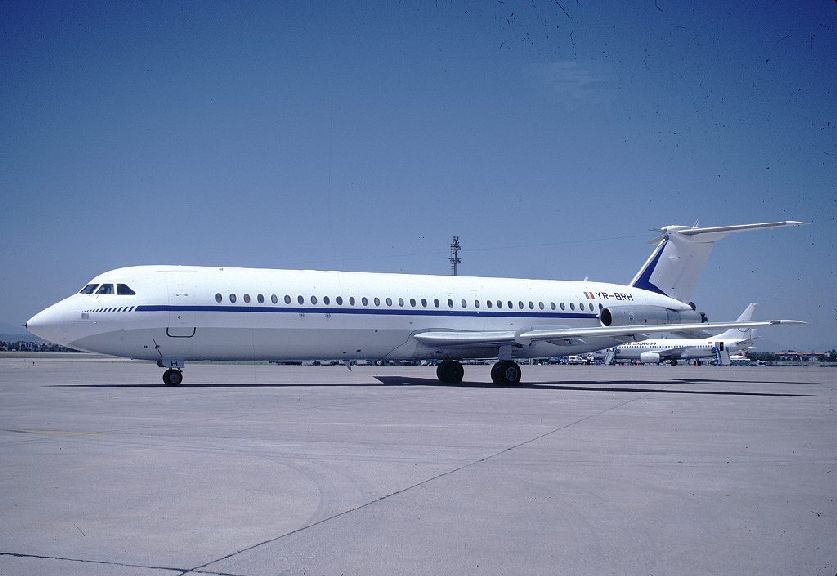 YR-BRH in the new Romavia livery in July 2001. Both airport and photographer are unknown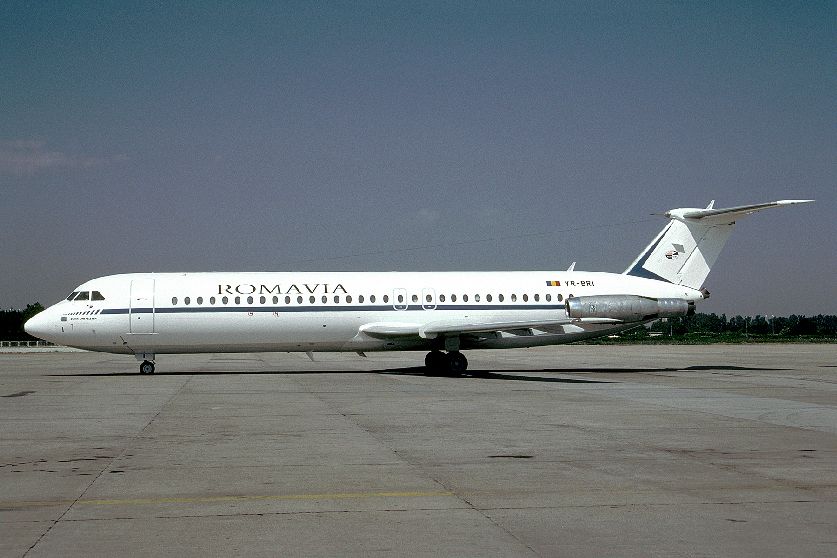 YR-BRI at Bucharest Baneasa July 2001 via Michael Roeser
One of the major problems encounted by Romavia during the early 2000s was a lack of serviceable Rolls Royce Spey engines. As a result YR-BRH was withdrawn from service on the 14th November 2001 and never returned, eventually being scrapped in 2009. Shortly afterwards YR-BRI received an updated livery when it was leased to Cypriot airline Aerotrans Airlines for the summer of 2002. When it returned it was given "ROMANIA" titles along with small titles below saying "Ministry of National Defence". The aircraft was used to carry Romanian troops during this period. The slightly different Aerotrans livery was also adopted by YR-BRE since the aircraft was originally due to join YR-BRI in Cyprus but never made it out there.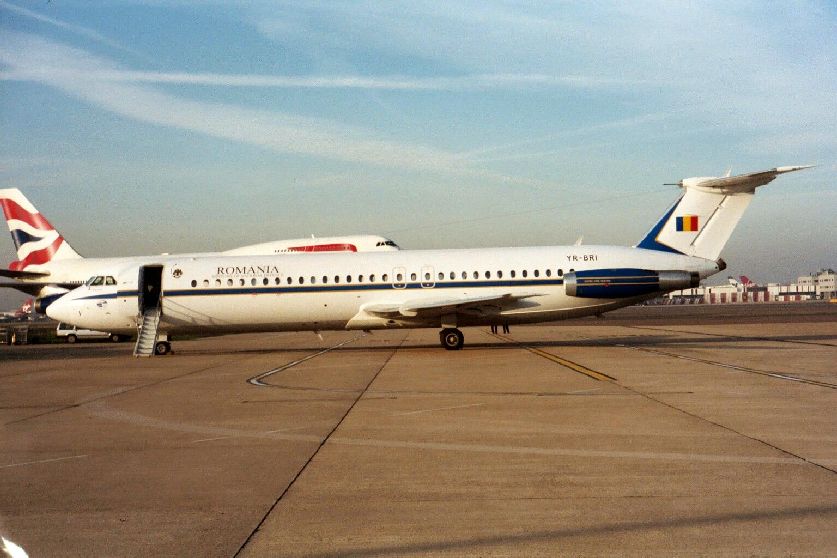 YR-BRI at London Heathrow 9th December 2003 by John Taggart
Nothing lasted long with many changes of use taking place with these aircraft and several different liveries worn! Soon afterwards YR-BRI appeared with yet a further variation of titles. This time the aircraft was seen in Kabul supporting peace keeping operations during the Afghan war against the Taliban.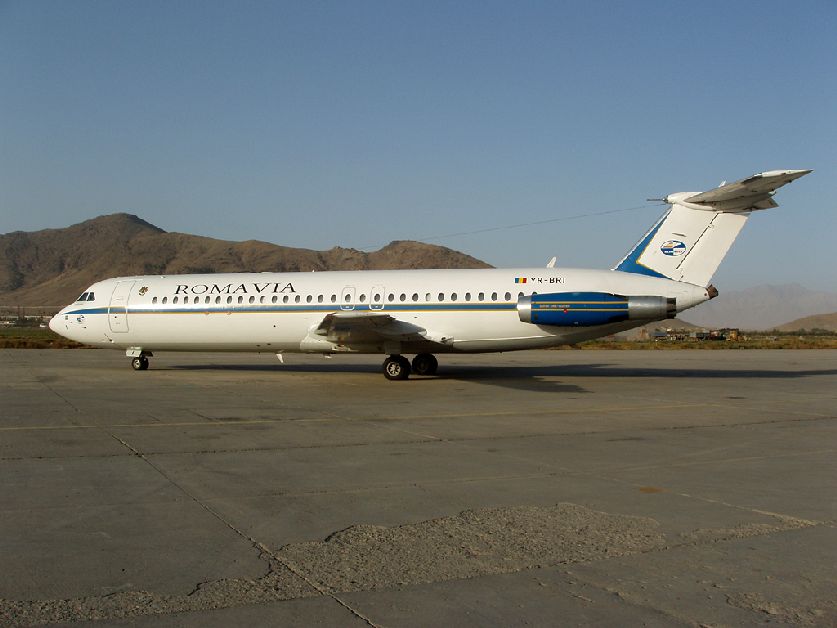 YR-BRI with "ROMAVIA" titles pictured at Kabul in September 2004 by Dan Smith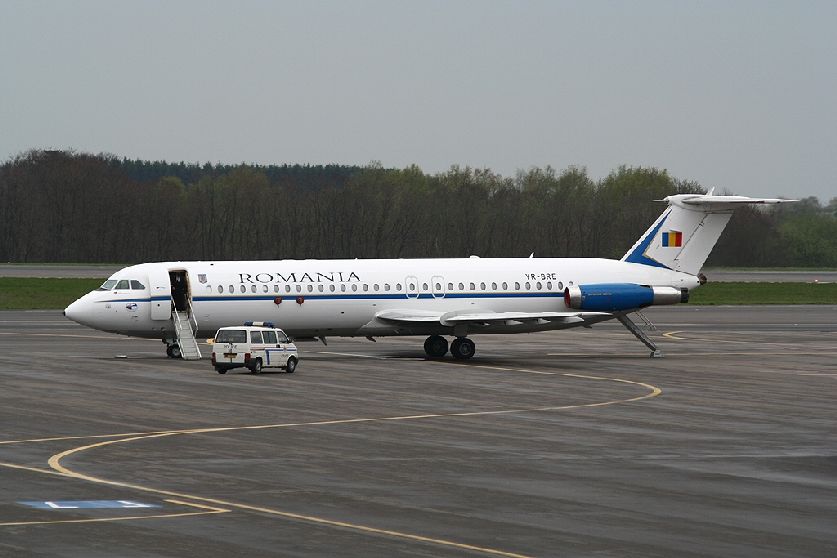 YR-BRE in its final livery at Luxemburg on the 24th April 2005 by Rainer Bexten
During the mid 2000s Romavia carried out work in an attempt to certify the stage three hush kits that had been installed on a small number of series 400 1-11s. Despite a huge amount of time and effort and several test flights, the procedure for EASA certification in co-operation with TENECIA Ltd.-UK sadly came to nothing primarily as a result of the general financial situation in Romania. It was all about guarantees, yet none could be given!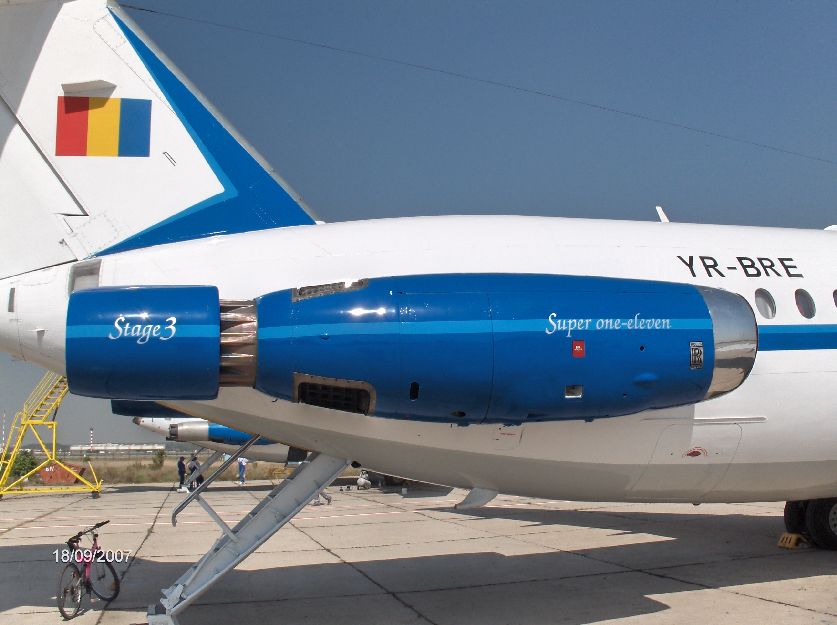 YR-BRE carried out several test flights with this stage 3 hush kit fitted during 2007 by Toni Nini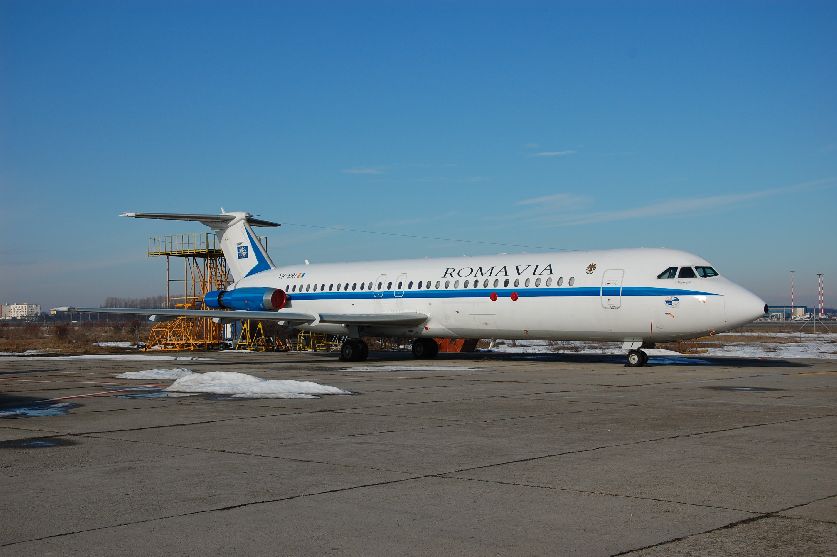 YR-BRI in storage at Bucharest Otopeni on the 31st December 2009 by Vali Muresan. It also flew with a stage three hush kit fitted which is seen here
By January 2009 YR-BRI had been taken out of service having carried out its last flight in February 2008. YR-BRE was withdrawn on the 23rd September 2009. Both were officially withdrawn from Romavia service on the 15th October 2009. Romavia continued to operate with BAe 146 and Boeing 707 aircraft until it was declared bankrupt in 2014.
| | | | | | |
| --- | --- | --- | --- | --- | --- |
| Registration | c/n | Type | Delivery | Withdrawn | Hours / Landings |
| YR-BRE | 405 | 561RC | 03Apr91?? | 23Sep09 | 8188 / 7210 |
| YR-BRH | 408 | 561RC | ?? | 14Nov01 | 11543 / 9904 |
| YR-BRI | 409 | 561RC | Feb92?? | 27Feb08 | 11602 / 8025 |