JETLINE / MIA AIRLINES
When you think of Romania and the BAC 1-11 you immediately think of TAROM and ROMBAC, the many years of service with the national airline and the disaster of the ROMBAC programme, however what is much less known about is the operation of the BAC 1-11 in the corporate role in the country. From the 1960s through to the early 2000s the 1-11 was primarily involved in passenger operations through TAROM, LAR, Jaro International and Romavia.
However, at the beginning of the 2000s it became clear that an entirely new operation was being set up and supported by Romania. What is known is that the entire "operation / business" lasted for more than a decade before the last 1-11 was finally retired in 2011. As many as eight aircraft were involved and these carried many different registrations. After some further research it has become apparent that the whole operation was linked to a new African community Group "The Community of Sahel-Saharan States" (CEN-SAD) that was created in 1998. The first airframe VP-BBA cn126 was registered to SST Aviation / Trans Africa Airlines on the Bermuda register in May 2000. It actually had a "CEN-SAD" logo on the tail when it was first photographed at Athens Airport. It is known that the infamous arms dealer Victor Bout was very closely associated with the operation. Although the airframe was not thought to be directly part of the Jetline fleet it is believed to have been linked to another family member of the owner. During its service it wore three different liveries!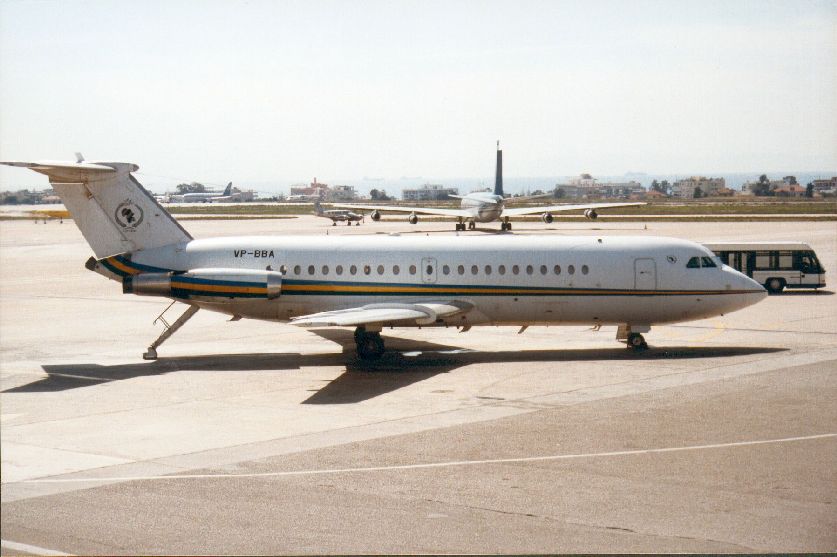 VP-BBA As it first appeared in May 2000 taken at Athens Ellinikon International Airport - Photographer unknown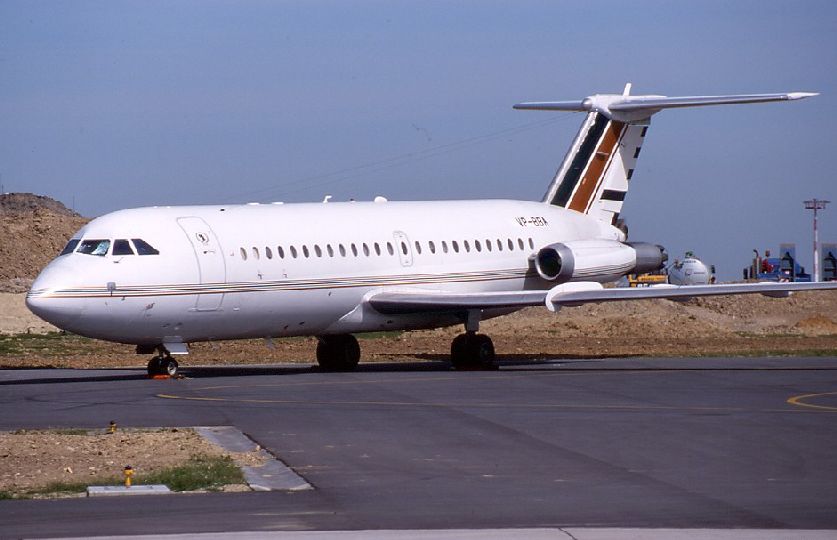 This livery was worn at some point. The photo was taken at Brussels in May 2001 by Jochem Jottier. Note the CEN-SAD logo on the door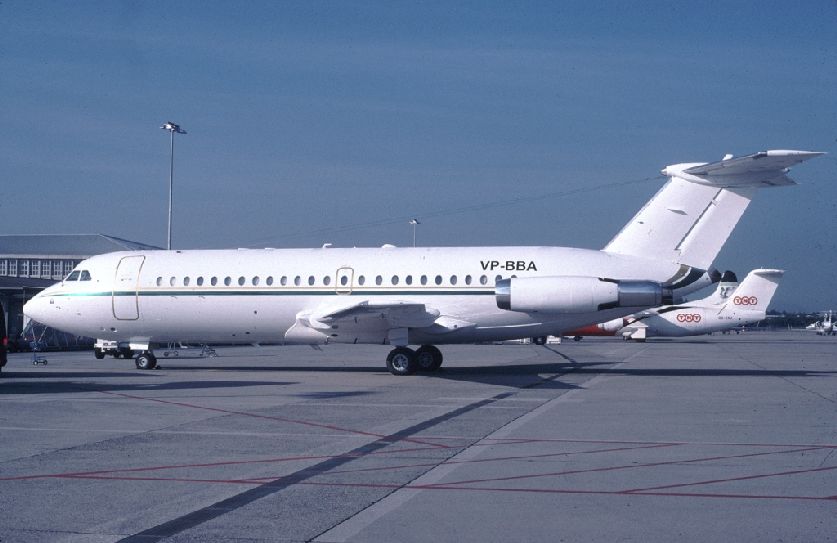 VP-BBA as it appeared in 2001. 3C-QRF and P4-CBH also appeared in the same livery - Photographer unknown
It remained in service until approximately February 2005 when it was ferried to Bucharest Otopeni for storage and preparation for new customer Libavia as 5A-DKO. It was eventually delivered to Tripoli Mitiga as such on 12th October 2006 but to my knowledge never flew again and survives to this day as a derelict airframe. (see Google Earth)
The next two aircraft to join the fleet were registered in Aruba as P4-CBH cn088 (Ex HZ-MAJ) and P4-CBI (Ex N128CF) cn061 both in June 2001. However no evidence exists that cn061 ever flew as P4-CBI. It was eventually registered in Equatorial Guinea as 3C-QRF and was first seen in Geneva in December 2001. Both were quickly resprayed into the same livery as VP-BBA which suggests that all three airframes were operating under the same ownership despite the different "flags of convenience" in terms of where they were registered!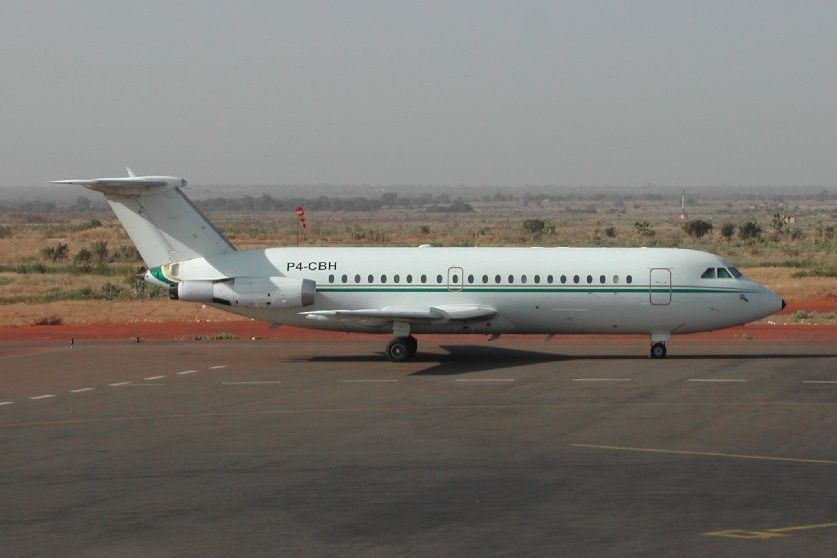 P4-CBH parked on the Bamako Ramp, Capital of Mali, on 12 January 2004 - Taken by me from my A300 Cockpit!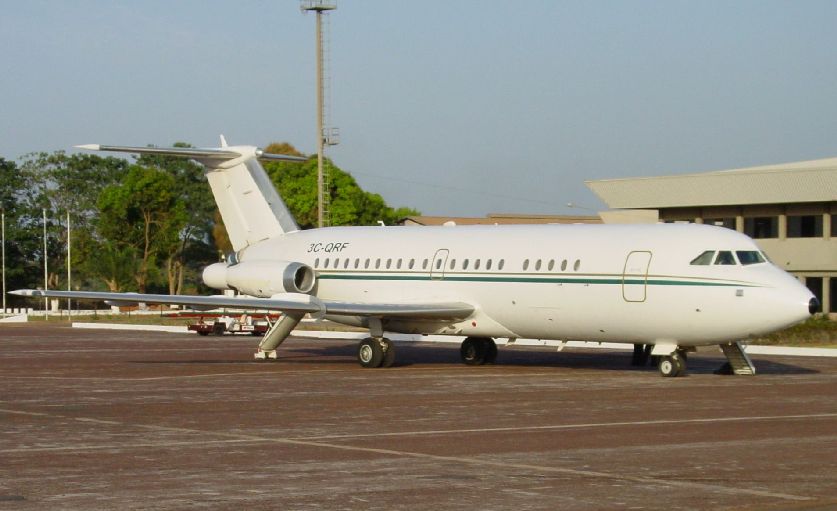 3C-QRF Being readied for departure at Guinea Bissau in 2002 via Rares Mandu
These aircraft were being operated on executive / VIP flights throughout the Middle East and Africa with "heavy" maintenance initially carried out by Medavia in Malta to my knowledge. Although the company name was originally known as Jetline Inc, due to various issues it was changed to Jetline International by May 2003. Once again, questionable activities were taking place with the aircraft and they were subsequently placed on the EU banned list, therefore it's fair to say that the operation appeared to be attempting to do it's best to "side step" the authorities! The Romanian Authorities seem to have had different ideas however and allowed the company to set up its maintenance headquarters at Bucharest Baneasa! Jet Technics took over most of the maintenance activites by April 2004 when they came into existance. 3C-QRF spent much of its time operating flights for the Mali President as his "Air Force One", supported by P4-CBH.
Next to join the growing fleet was another Aruba registered aircraft P4-JLB cn260, a series 475 which arrived at Southend as VP-CHM in March 2003 for preparation for its new customer. It was delivered to Bucharest on the 27th March flown by a Ukrainian crew! This airframe did return to the UK when it visited Southend again on the 18th October 2004 for an extended stay, eventually departing on the 23rd March 2005. The EU ban had clearly been lifted by this time!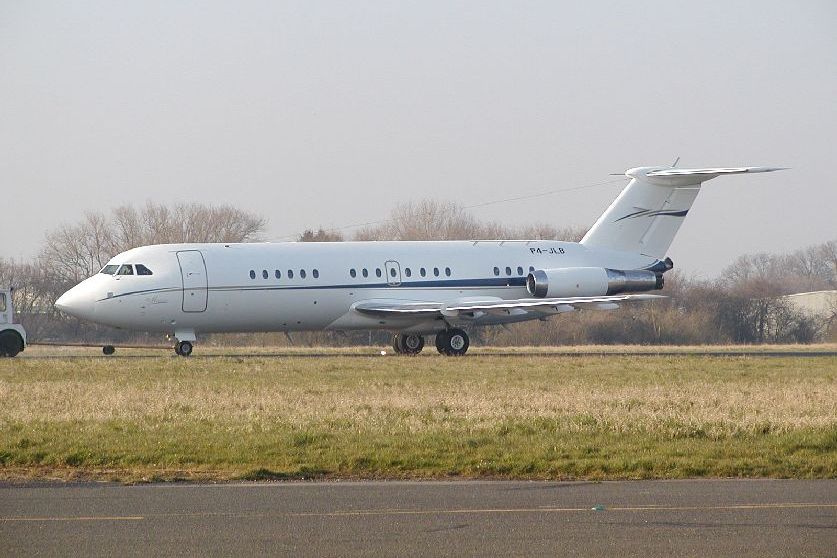 P4-JLB being prepared for Jetline International at Southend by BAF Engineering in March 2003 - Copyright of Peter Watson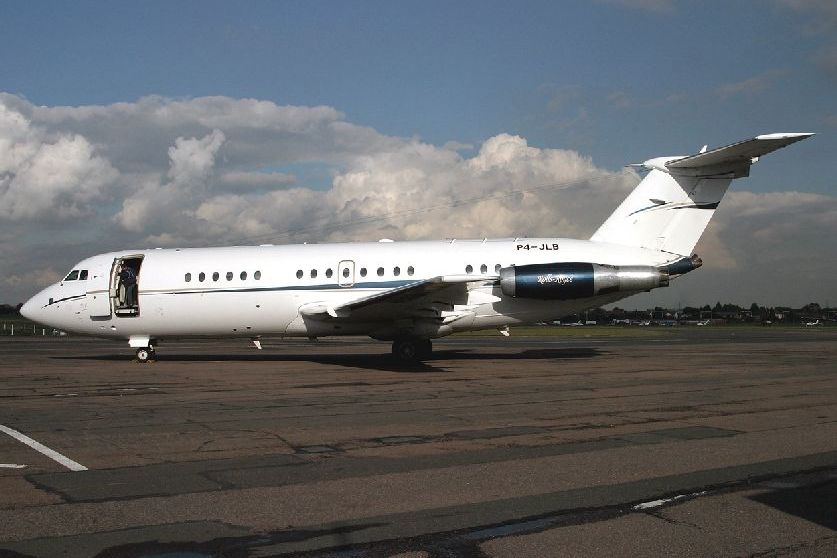 P4-JLB Seen at Southend again for maintenance in October 2004 - note the "Rolls Royce" engine cowlings - Copyright of Keith Burton
A fifth aircraft arrived in Bucharest Otopeni from Bournemouth on the 15th August 2003, VP-CLM cn072 on the Cayman Islands register. It is unclear whether or not it flew again after its arrival but rumours suggested that it might have been implicated in an arms shipment deal which was exposed before the aircraft ever got airborne again from Otopeni. It was seen engineless at Otopeni on the 26th November 2004 and spent the next couple of years being used as a spares source before eventually being scrapped by July 2006.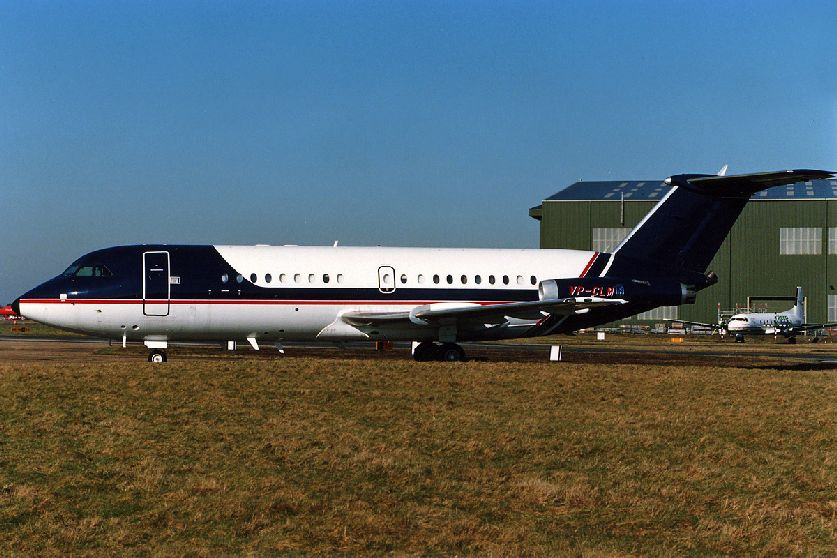 VP-CLM seen at Bournemouth in 2002 before it was delivered to Bucharest Otopeni in August 2003 - Copyright of Tony Best
In December 2003 the sixth aircraft joined the fleet, VP-CJL (Ex N325V) cn086. What was different with this airframe is that it had stage three hush kits fitted, installed by Quiet Technology Aerospace in the USA. This gave Jetline immediate access to the rest of Europe where stage two aircraft were now banned. It wasted no time and was seen all over Europe within weeks of arriving with the company. The earlier EU ban clearly didn't affect Jetline "International"!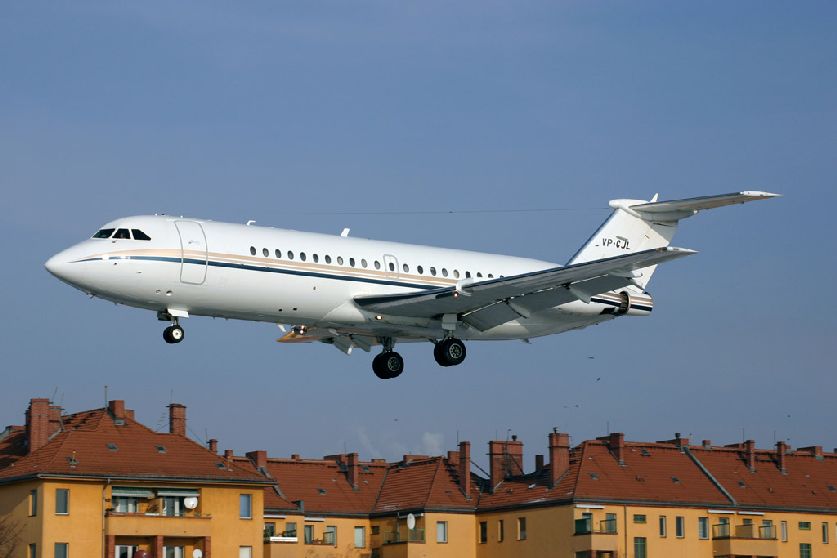 VP-CJL about to touch down in Berlin Tempelhof on the 28 January 2004 - Copyright of Marcus Fornell
By November 2004 it is thought that all the aircraft were being flown by Romanian crews, seconded from Romavia etc. By this time 3C-QRF was running out of hours and was reportedly stored at Baneasa in September 2004. It was "officially" time expired by the 23rd march 2005. In May 2005 the company was renamed JetEX Flight Support with the operational side trading as MIA Airlines S.R.L. JetEX set up their headquarters in Dubai. The first change that took place was that VP-CJL became YR-CJL.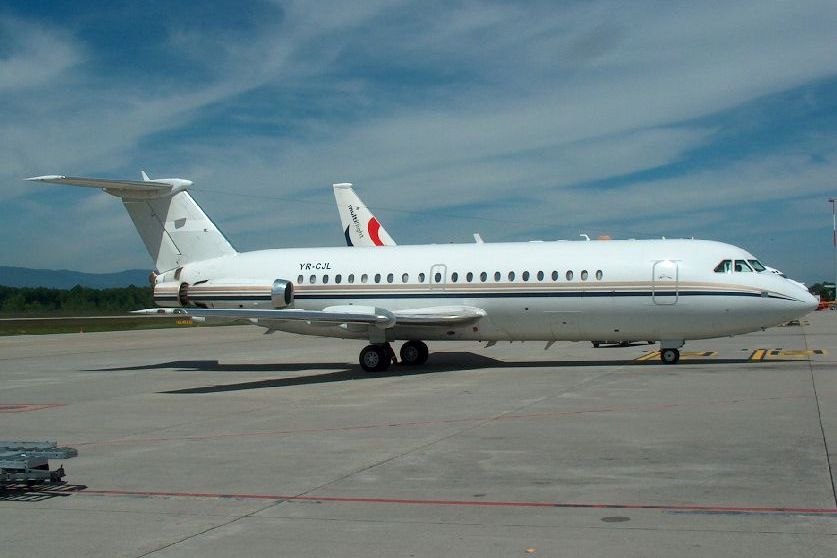 YR-CJL on its first visit to Geneva as such on the 25 May 2005 - Copyright of Jean-Luc Altherr
Out of the blue, P4-JLB was photographed at Geneva on the 28th June with a stage three Hush Kit fitted and a rather exotic Honduras registration HR-ATS. It came to light that Jet Technics had set about a programme to Stage 3 hush-kit the Series 475 One-Elevens utilising the Quiet Technologies programme already approved on the Series 400 aircraft. The first such conversion was carried out on c/n 260 P4-JLB which first flew as such on 9th May 2005 before being approved by the Romanian Civil Aviation Authority. This intermediate registration change enabled the kit to be used before full approval had been received. Once the Romanian CAA had given approval to the conversion it became YR-MIA on the 3rd August.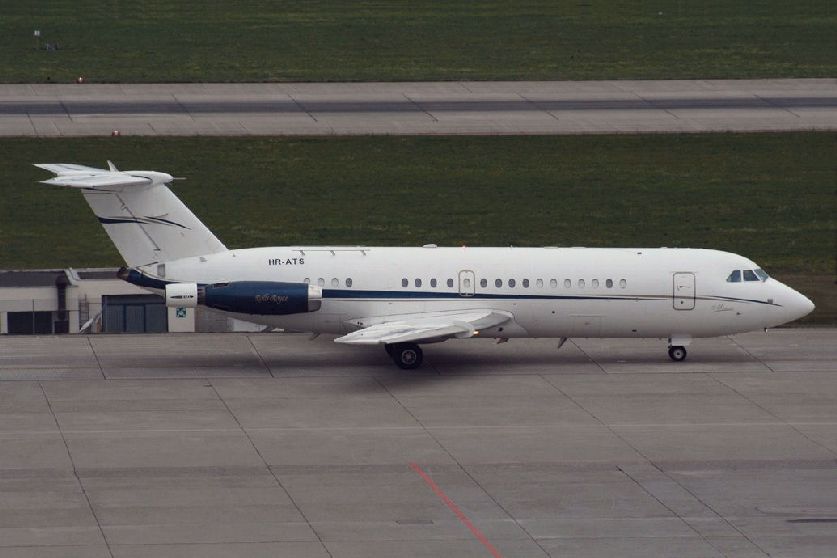 P4-JLB in its new guise as HR-ATS with stage three hush kit at Geneva 28 June 2005 - Copyright of Jean-Luc Altherr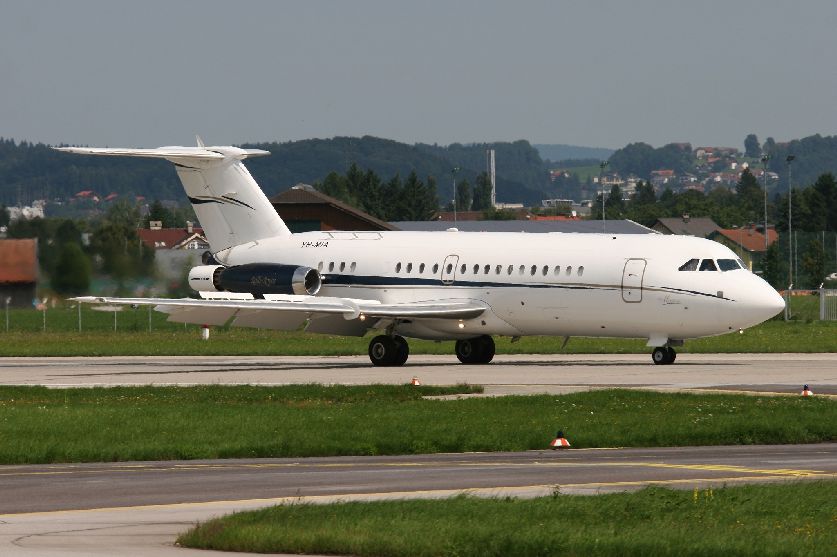 YR-MIA about to vacate runway 34 at Salzburg on the 27 August 2005 - Copyright of Berni Muller
In January 2006 a further two aircraft were purchased which had spent several years based at Bournemouth. G-MAAH cn259, a series 475 was delivered to Bucharest Baneasa on the 31st January 2006 while VP-CCG cn081 followed on the 7th March 2006 although only as a spares source. Jet Technics immediately set about installing stage three hush kits on G-MAAH and re-registered the airframe as YR-HRS. It first flew on the 7th April 2006. As a result of now having three stage three hush kitted aircraft in service P4-CBH was ferried to Baneasa on the 3rd July 2006 and withdrawn from use but not before it had been resprayed into yet another new livery in April 2005. It was eventually scrapped in November 2007.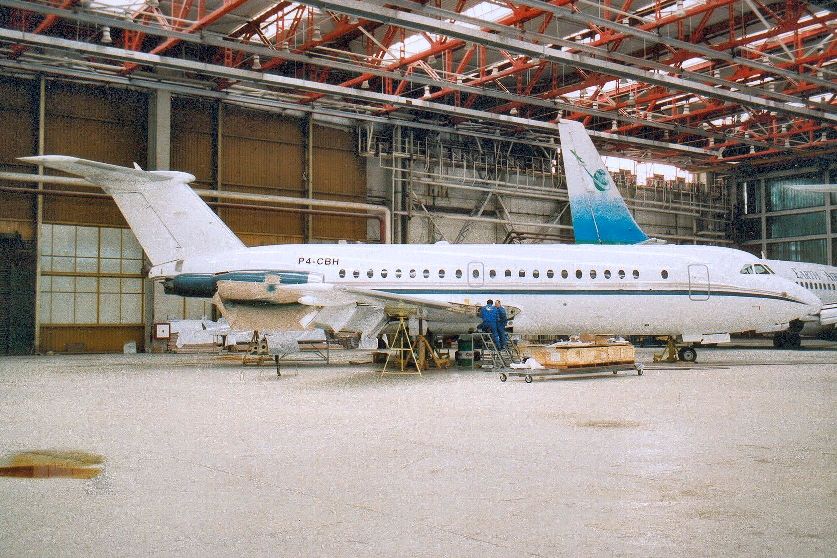 P4-CBH receiving a new paint job in one of the Romaero hangars at Baneasa 13 April 2005 - Copyright of Richard Church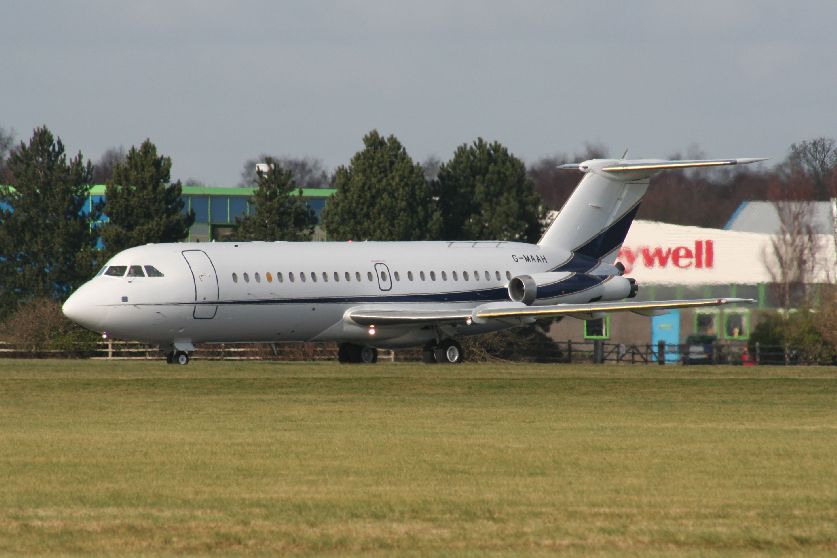 Newly repainted G-MAAH about to leave Bournemouth for Bucharest Baneasa on the 31 January 2006 - Copyright of Peter Clark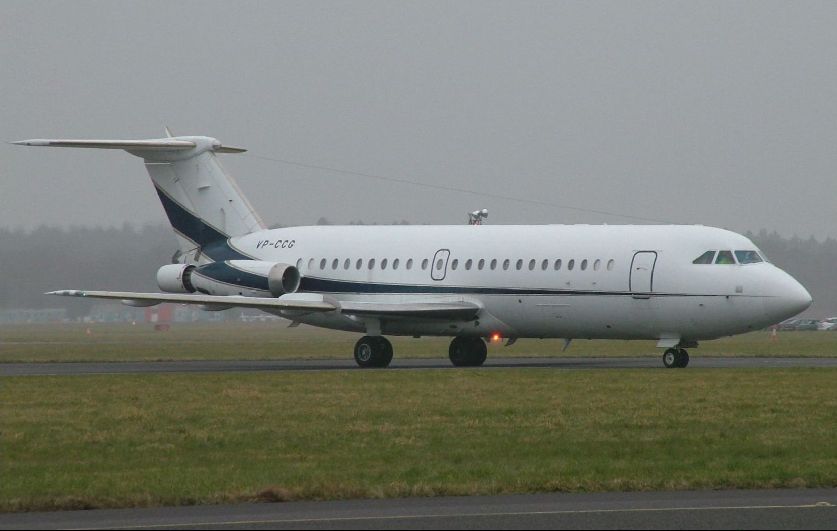 VP-CCG at Hurn in February 2006 after a test flight prior to its delivery / last flight to Baneasa - Copyright of Andrew Stevens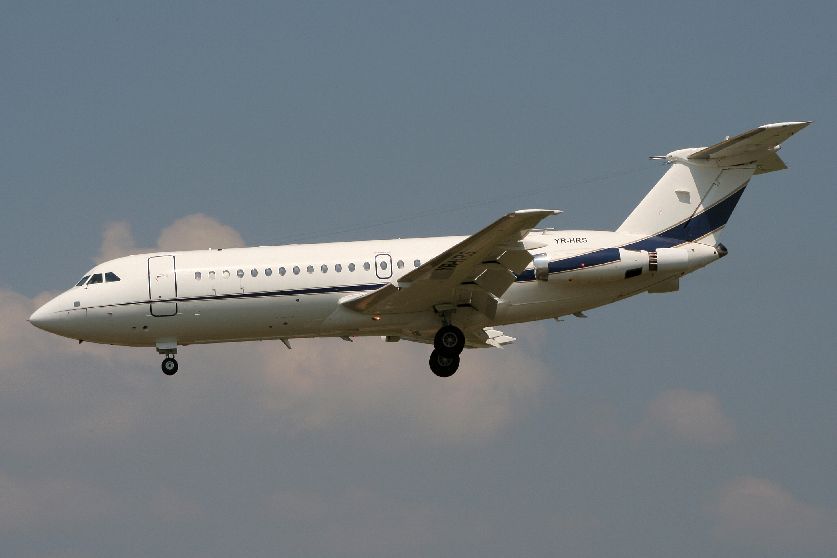 YR-HRS Final approach into Geneva 12 June 2006 for an eight month stay! - Photographer unknown
YR-HRS was photographed landing in Geneva on the 12th June however it didn't depart again until the 17th February 2007! I believe it underwent a cabin refit although it looked totally immaculate when I saw it in 2003. Later in 2006 VP-CLM was scrapped at Otopeni while VP-CCG was scrapped at Baneasa in October which just left the three stage three hush kitted 1-11s flying, a series 401AK - YR-CJL, a series 488GH - YR-HRS and a series 492GM - YR-MIA. All of these were maintained by Jet Technics and were flying throughout Europe the Middle East and Africa. Although the entire fleet was now Romanian registered, the "status quo" didn't last for very long. On the 11 April 2007 YR-CJL was test flown at Baneasa as TZ-BSB having been transferred to the Mali register with a new owner Tombouctou Aviation Company, a very unexpected development! It was based at Bamako, Mali for operation on behalf of the Mali Government. On the 6th June 2007 a very significant event took place as YR-MIA flew into London Gatwick, for many years the "spiritural home" of the 1-11. Fortunately several photos recorded the event, the last time a BAC 1-11 ever flew into the airport.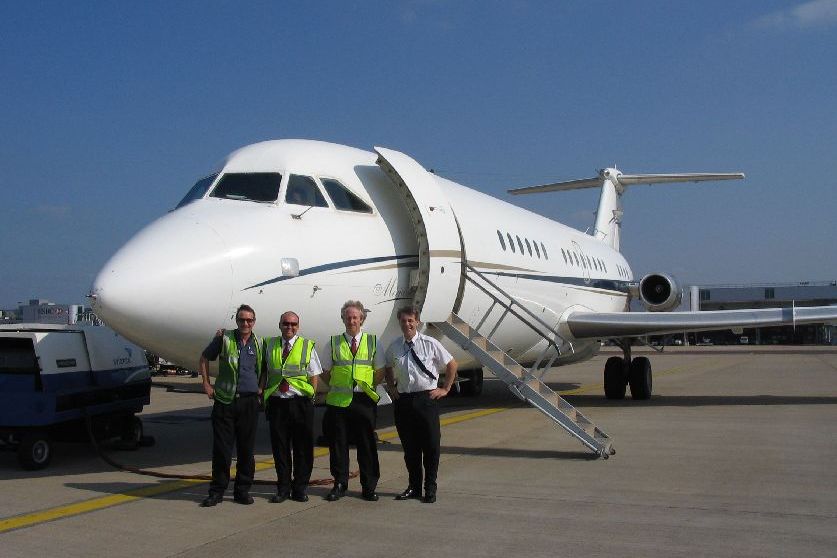 The last time a BAC 1-11 visited London Gatwick on the 6th June 2007 with handlers in attendance! - Copyright of Simon Richards
In June 2008 YR-MIA followed YR-CJL and joined the Tombouctou Aviation Company fleet as TZ-BSA and eventually YR-HRS also followed on the 10th June 2009 being re-registered as TZ-BSC. The aircraft were being flown regularly around Europe, Libya and Mali with operational bases at Tripoli Mitiga and Bamako while maintenance was initially being carried out by Jet Technics although this arrangement ended at the end of June 2009 when Romaero took over. The link up with JetEX Flight Support continued. Sadly, once again, things were not destined to last! On the 12th February 2010 a major bombshell was dropped on the company as Airbus decided to withdraw the BAC 1-11 type certificate signalling the beginning of the end for most remaining 1-11 operations. Romaero tried unsuccessfully to get permission to continue working on the 1-11s after the "TC" withdrawal. TZ-BSA was grounded in Mitiga from March 2010 and never flew again, TZ-BSB managed to fly out of Baneasa to Bamako on the 5th March 2011 but never flew again while TZ-BSC did continue to fly for a short while longer arriving back in Baneasa for the very last time on the 9th February 2011.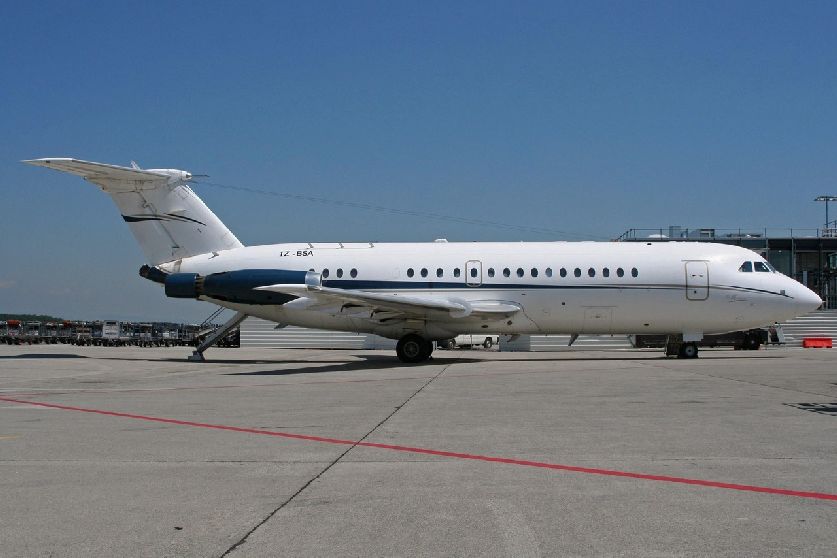 TZ-BSA pictured during one of its regular visits to Geneva on the 16th July 2008 - Copyright of Jean-Luc Altherr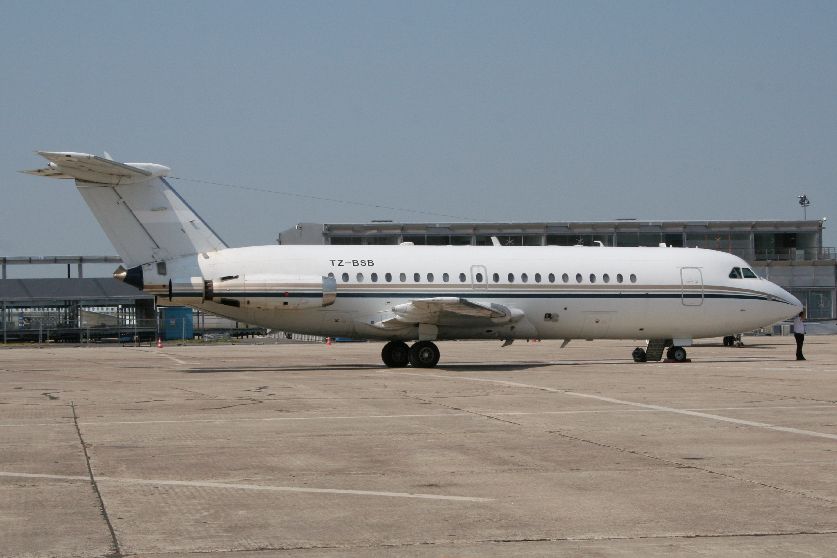 TZ-BSB at Paris Le Bourget on the 1st May 2007 - Copyright of Pierre Pauvard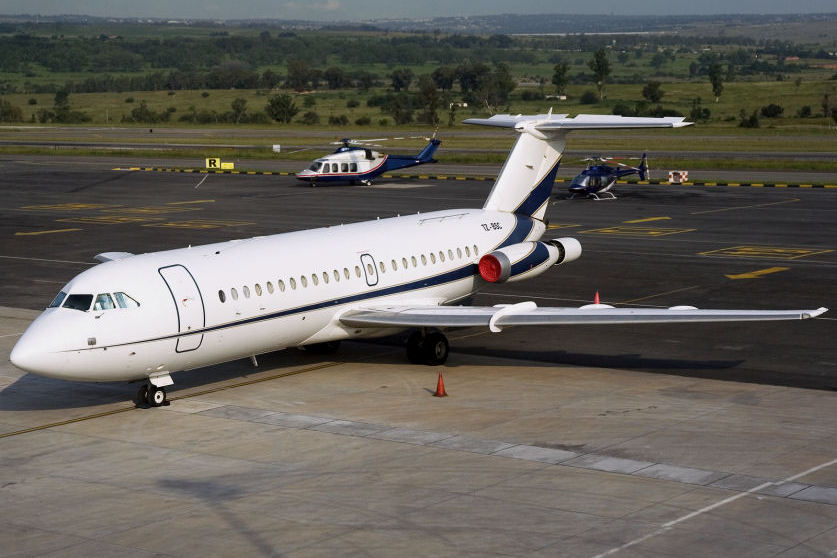 TZ-BSC taking a break during its final mission in Lanseria, South Africa on the 27th January 2011 - Copyright of Sean Mowatt
By February 2011 it was all over and although Tombouctou Aviation Company soldiered on for a while longer without the BAC 1-11s their operation came to an end in 2012. Their Boeing 707 TZ-TAC flew into Manston on the 28th April 2012 and departed as N707BN and that was the end of that!
I have to say that this decade long period of BAC 1-11 executive jet operations was a very welcome part of "The One-Eleven Story", and it was very fitting indeed that the entire set up was based around Bucharest Baneasa, a unique and historic airport in itself but much more so when you consider its links with the BAC / ROMBAC 1-11 over the years. The fact that we witnessed these eight aircraft soldiering on during this period with so many exotic registrations carried was definitely a bonus for aviation fans, the only downside being that some of the operations were linked to some rather dubious goings-ons over the years!
And one final twist occured soon after the last aircraft was grounded in Bucharest. TZ-BSC became an office at Baneasa Airport, and in the process of its last conversion acquired one more very unique livery at Baneasa although sadly a very nasty person cut the end of the wing off!!!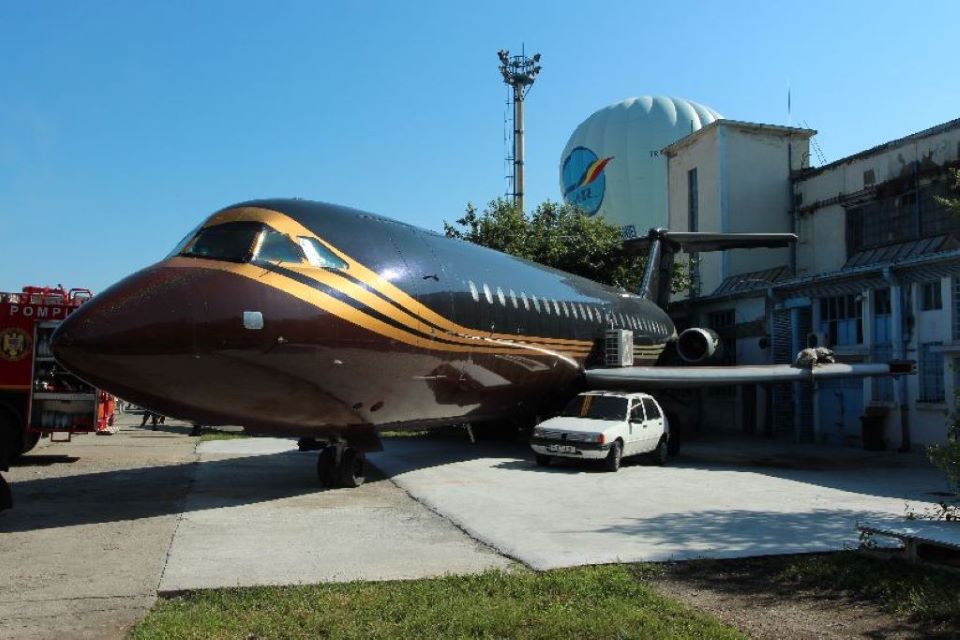 TZ-BSC in its final guise at Baneasa - such a shame about the port wing being cut off though! Photographer unknown