1975 to 1978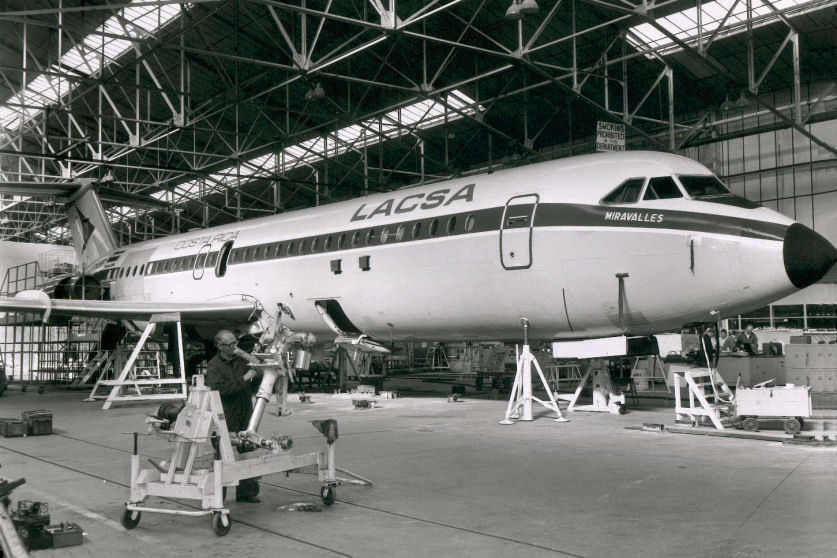 LACSA 1-11 TI-LRF returned to Hurn in September 1975 for repairs after a heavy landing incident. It departed as TI-LRL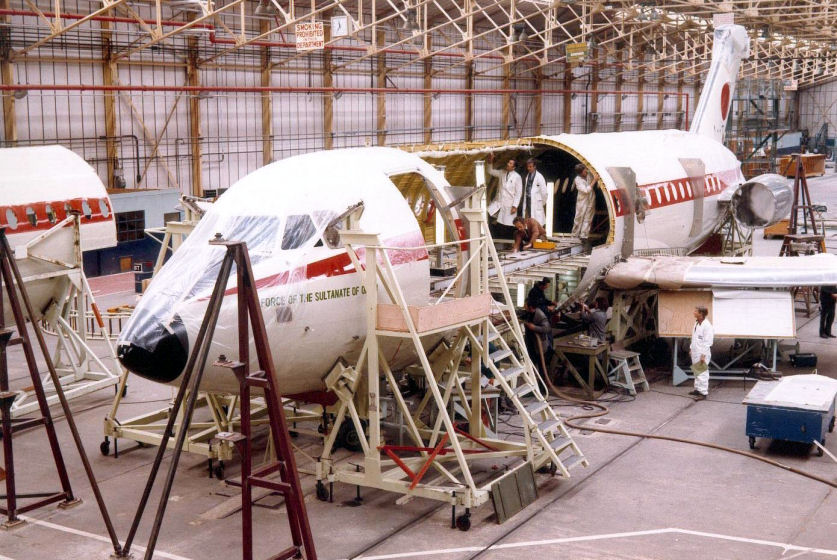 Air Force of the Sultanate of Oman 1-11 1003 being fitted with a forward cargo door at Hurn during the summer of 1975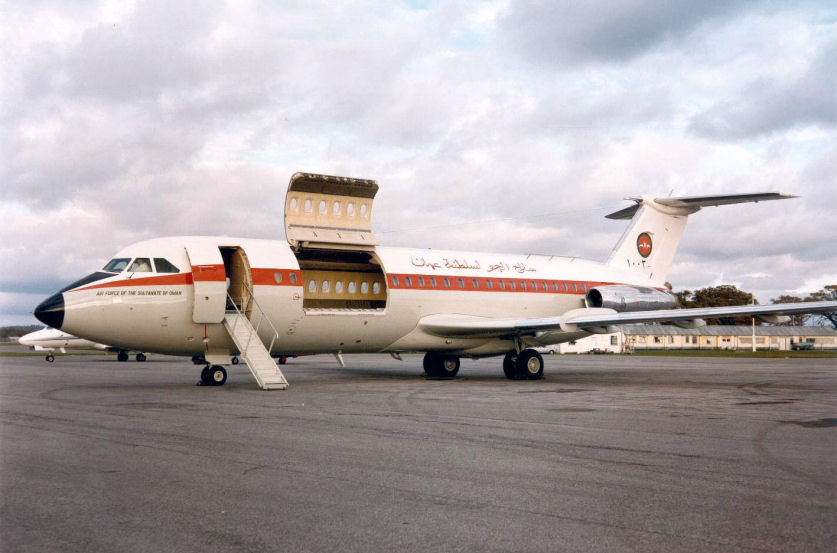 1003 ready for delivery to Oman on the 1st November 1975. It suffered an oxygen fire just weeks later and returned to Hurn by sea for extensive repairs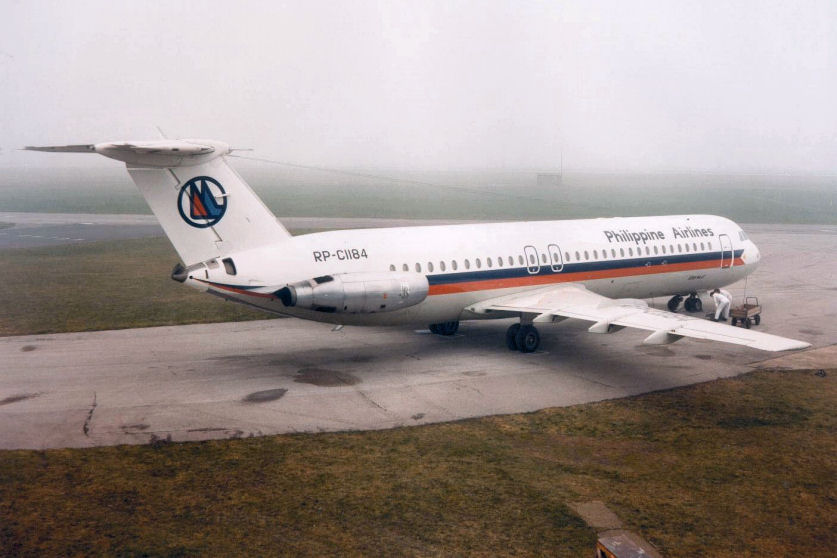 Final checks take place prior to RP-C1184's "second" delivery flight from Hurn to Manila on the 22nd February 1976. It survived two bomb blasts!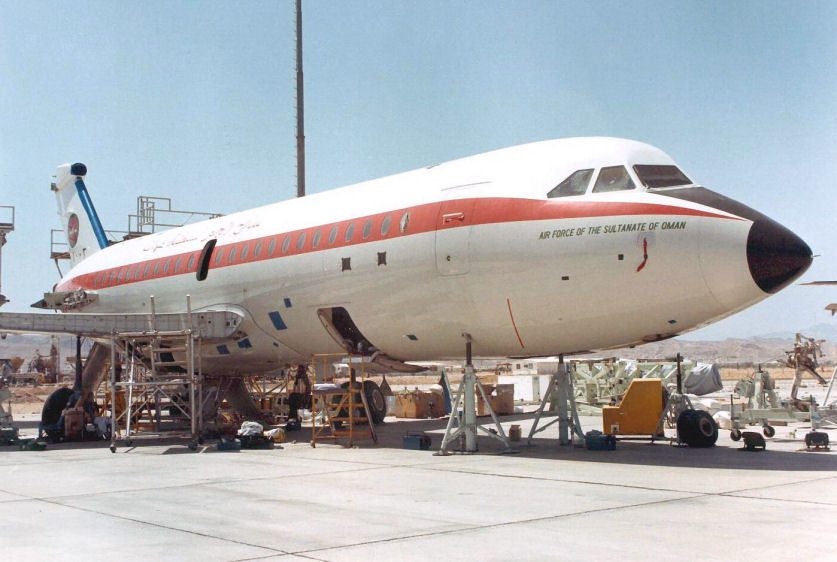 1003 being dismantled at Muscat Seeb prior to being returned to Hurn by sea and road after a cockpit oxygen fire which severely damaged the airframe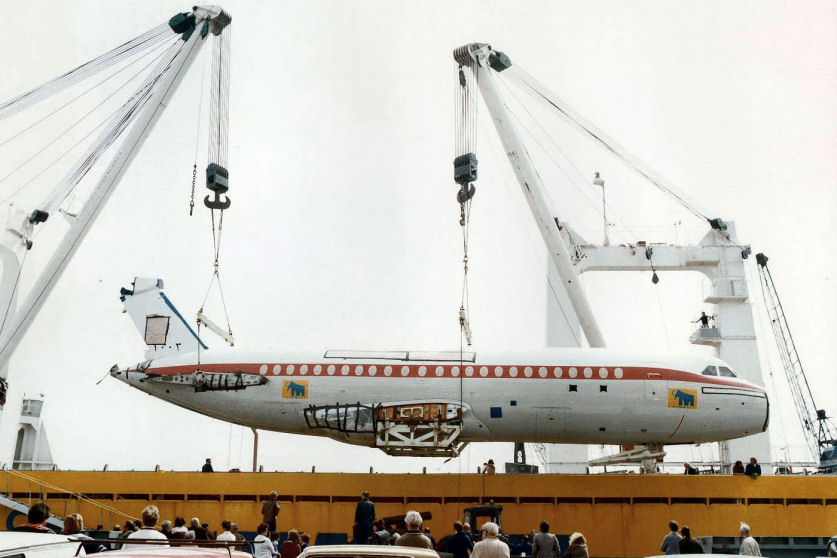 1003 arriving at Poole Harbour during May 1976 after a long sea Journey from Oman. It arrived at Hurn by road on the 23rd May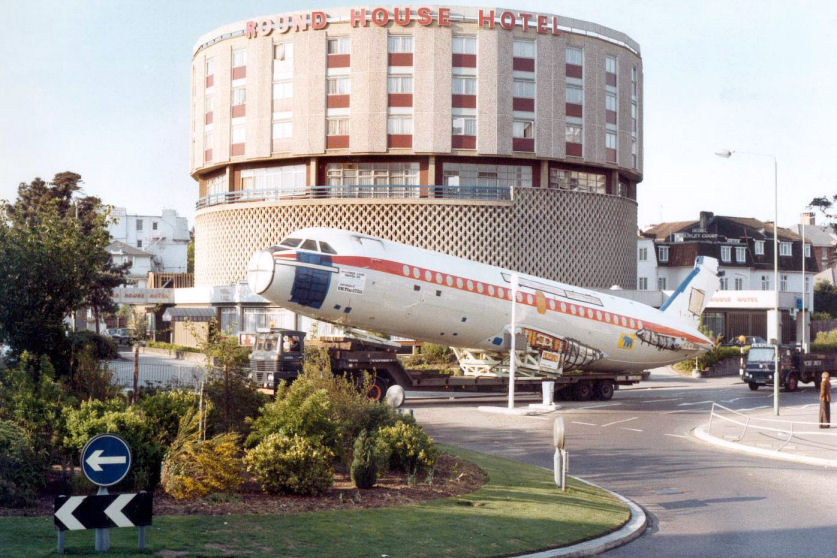 1003 being driven past the Round House Hotel, Lansdowne roundabout! This gives you a real idea about the scale of this unique operation
1003 continues its tour of the town having been driven along Gervis Place towards Bournemouth Square - An interesting route!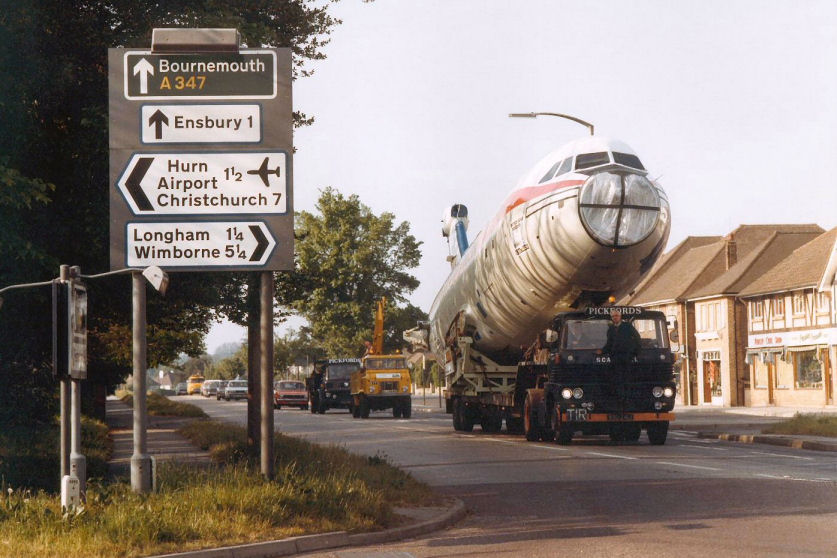 And along the A347 New Road, towards Parley Cross before making a right turn at the traffic lights onto the B3073 Christchurch Road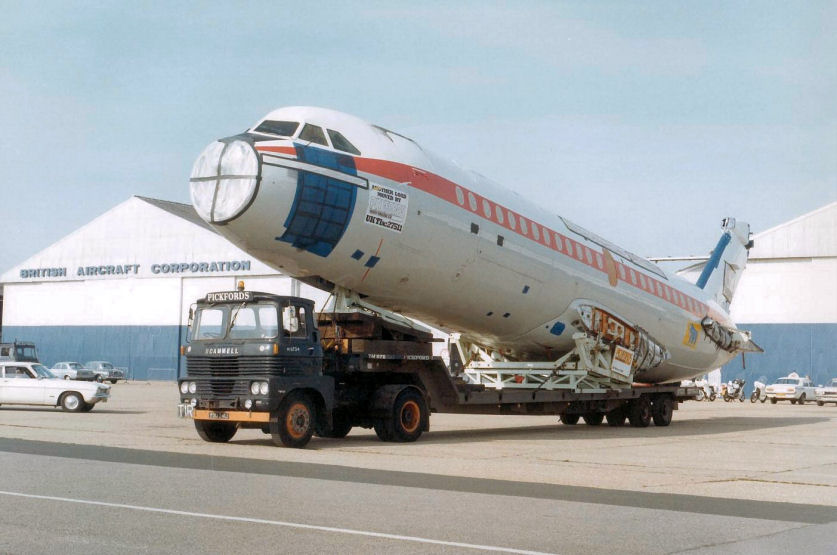 And finally through Chapel Gate and on into the BAC Factory site at Hurn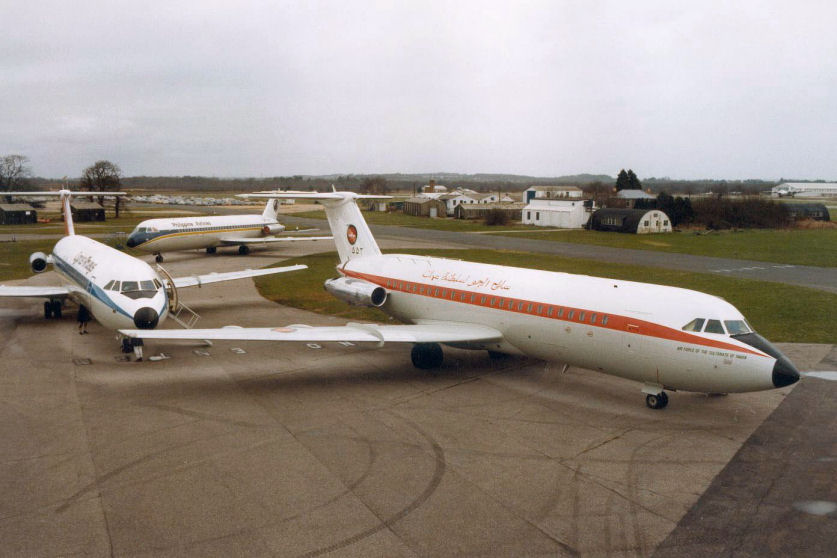 It took 9 months for repairs to be completed. It was rolled out of the factory again as 553 before departing back to Oman on the 7th February 1977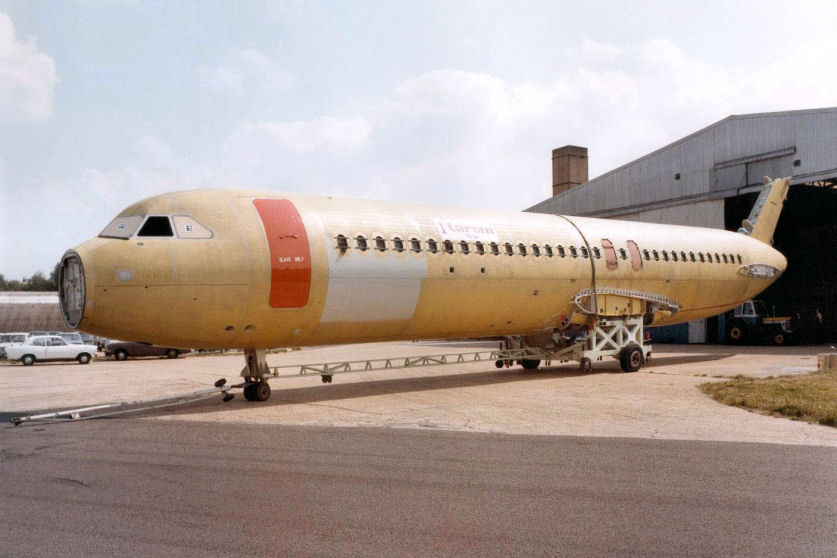 The first BAC 1-11 series 500 for Tarom, YR-BCI, being moved to the paint shop at Hurn - November 1976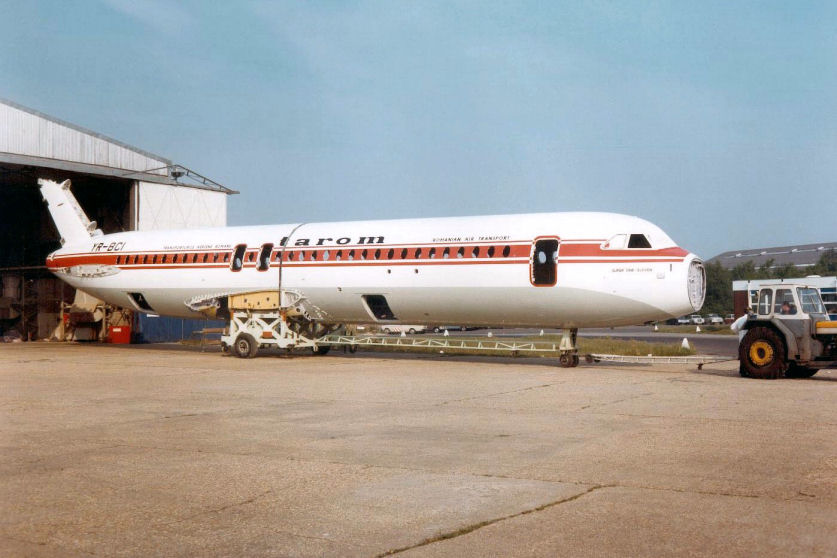 YR-BCI then moved from the paint shop to the final assembly line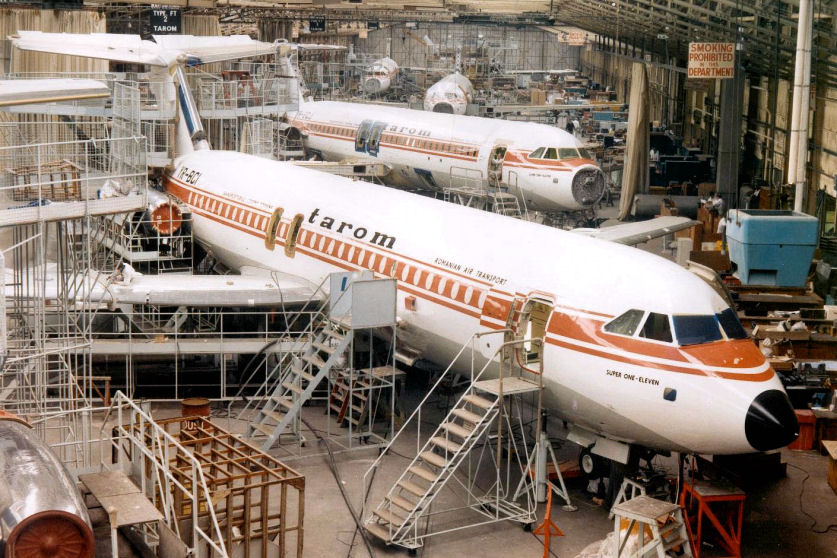 Final assembly takes place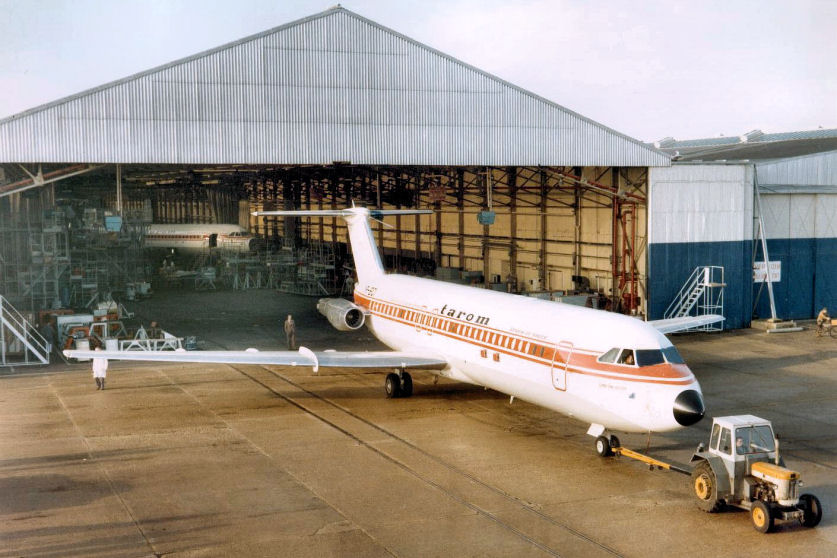 Roll out on the 8th December 1976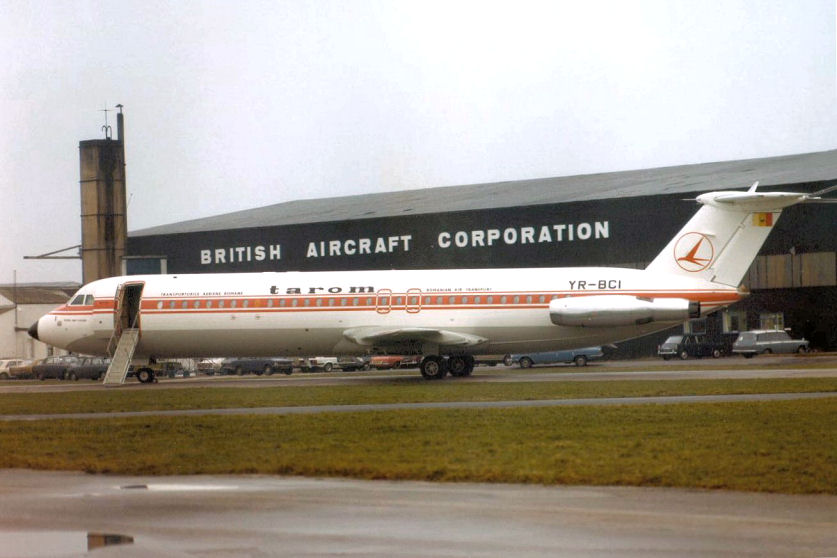 Final pre-flight checks take place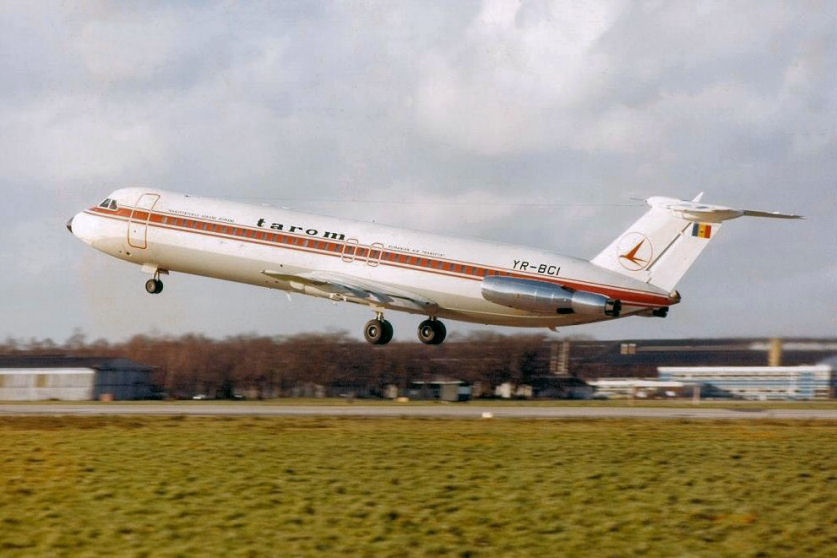 And she's airborne at Hurn for her first flight on the 20 December 1976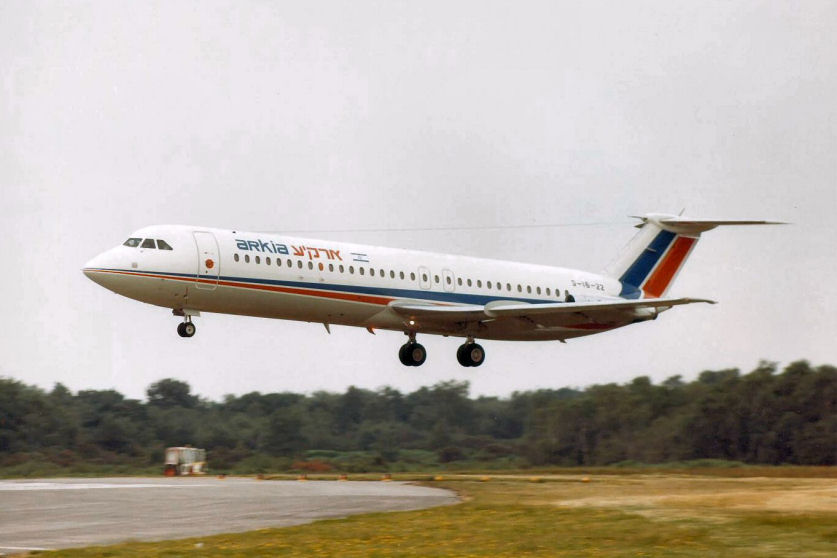 Before delivery several 1-11s wore class "B" UK regs. Arkia's first aircraft G-16-22 is about to touch down at Hurn on the 12 July 1977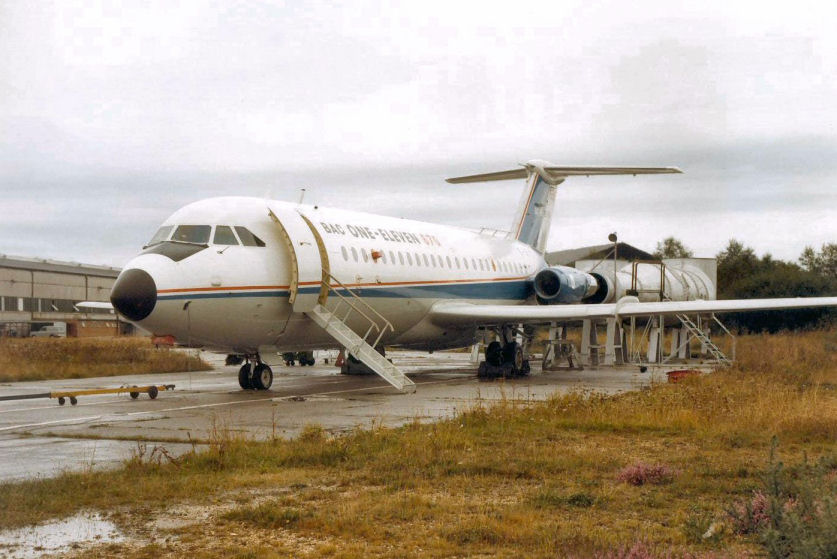 G-ASYD as a series 670 having it's "hushkitted" engines run on the engine test bay at Hurn during September 1977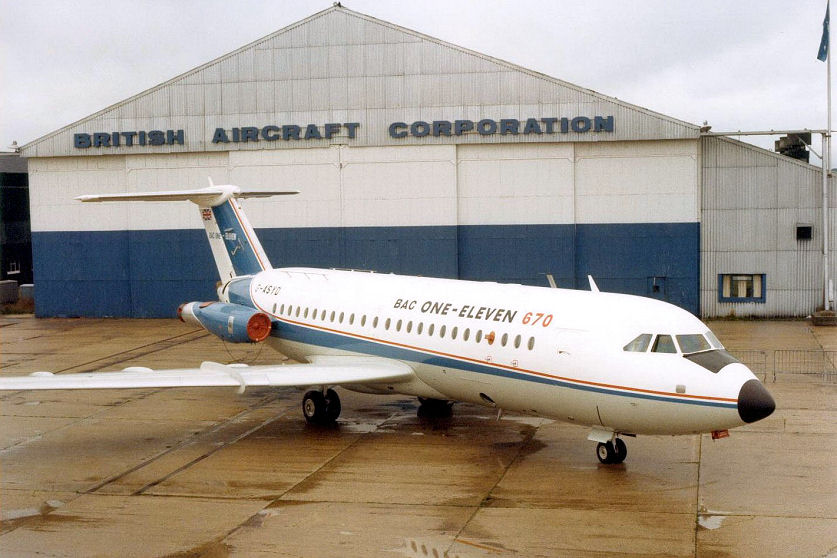 G-ASYD showing off that "classic" 1-11 line once again outside a rather wet Hurn final assembly hangar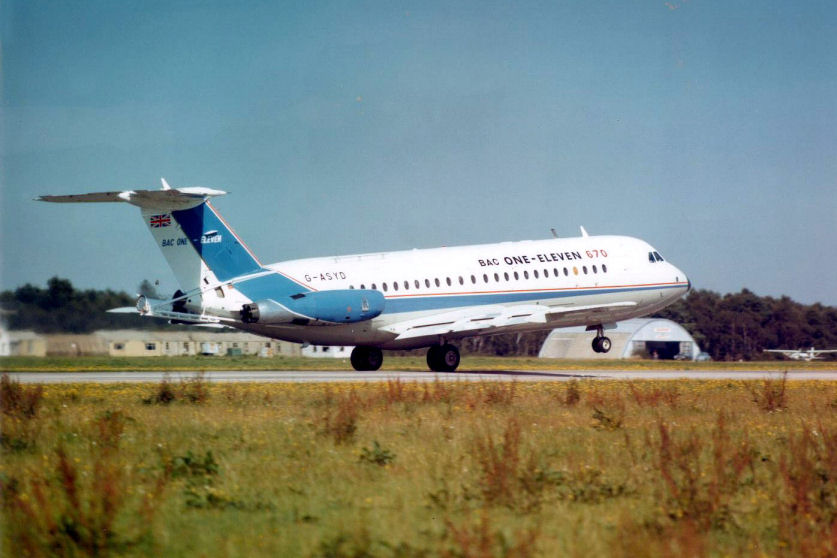 G-ASYD takes off on runway 08 at Hurn for stall testing with parachute assembly attached to the back end - September 1977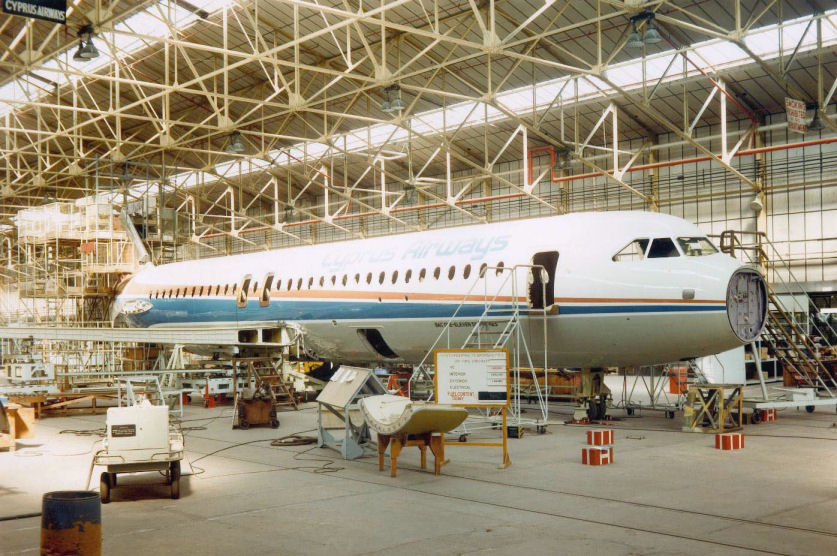 The first brand new 1-11 for Cyprus Airways, 5B-DAG, taking shape on the production line during October 1977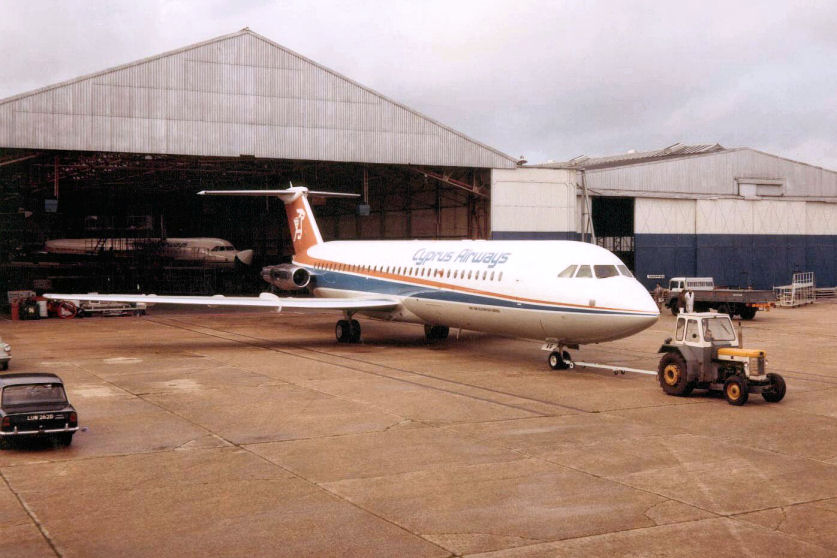 5B-DAG rolled out of the assembly line on the 4th November 1977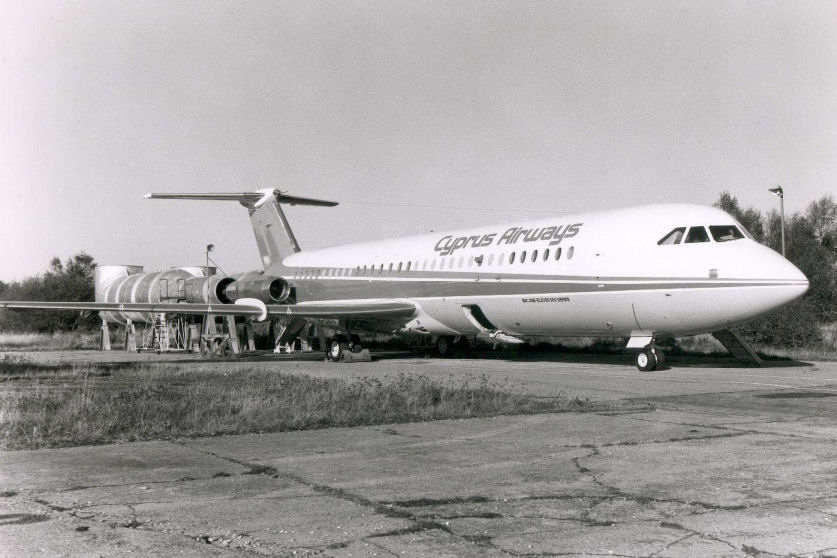 Before having her engines checked out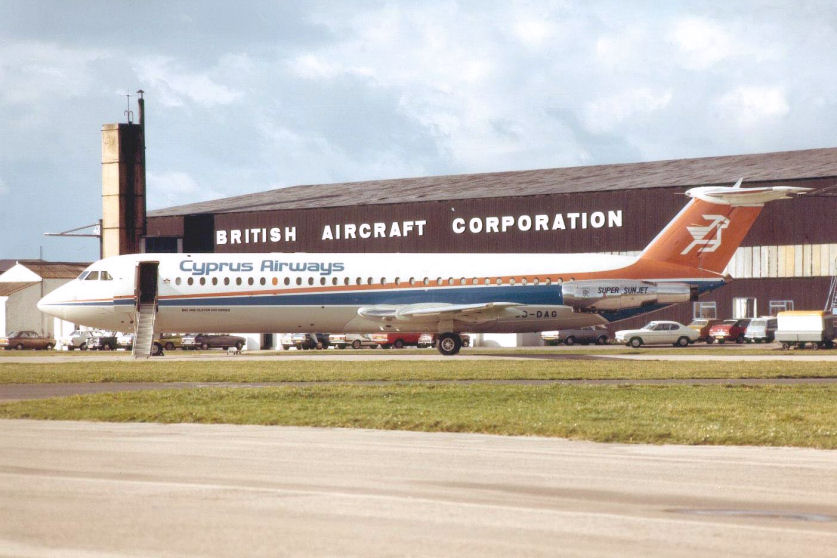 And posing for the camera before delivery to Larnaca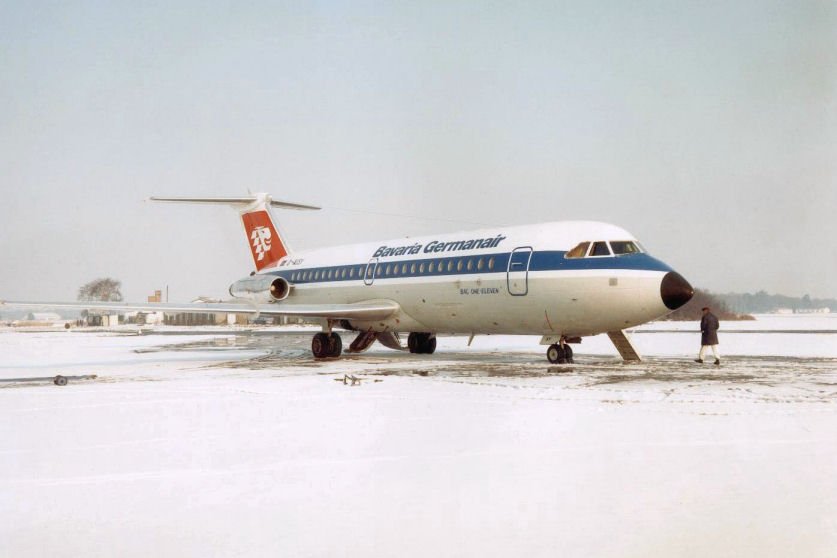 Bavaria Germanair 1-11 D-AISY returned to Hurn for executive conversion on the 28th November 1977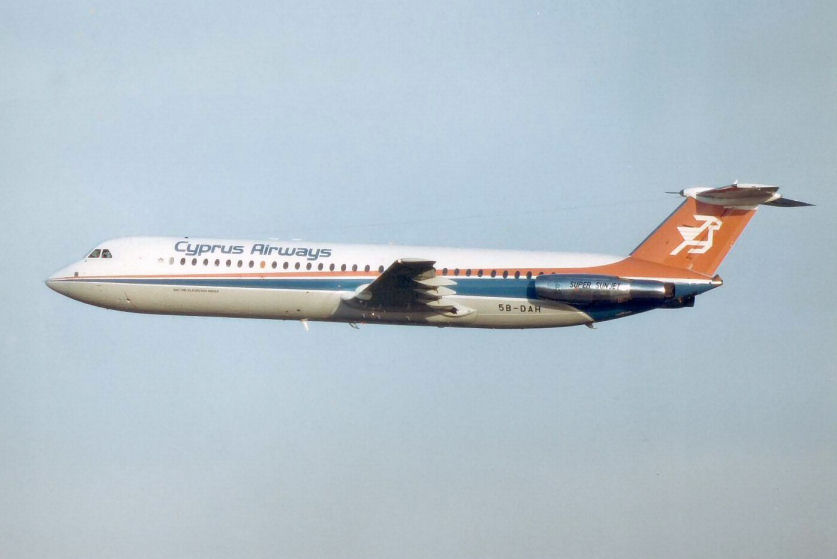 Cyprus Airway's second 1-11 carries out a final flypast at Hurn before being delivered on the 28 January 1978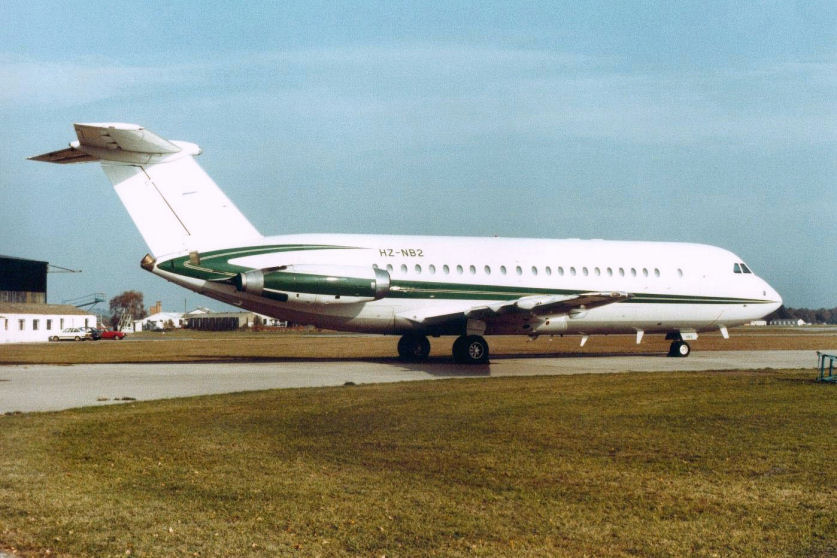 The National Bank of Saudi Arabia bought HZ-NB2. It arrived at Hurn to be prepared for its new owner on the 18th February 1978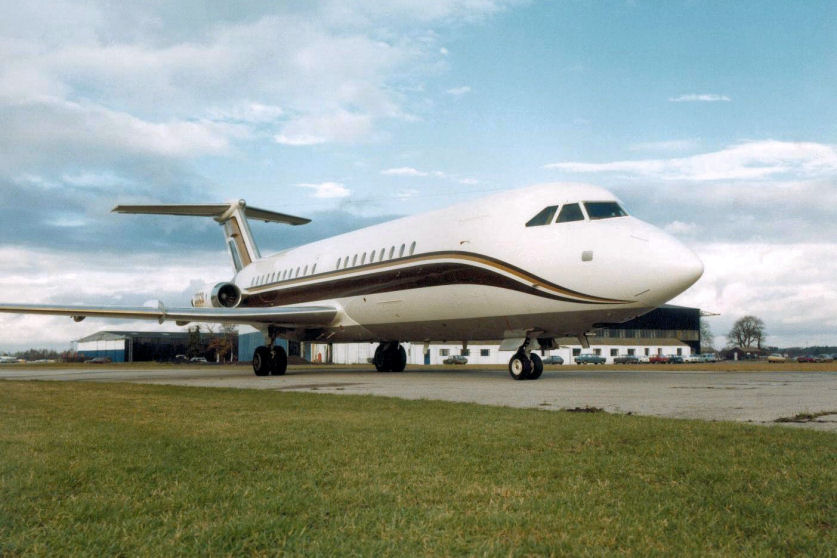 US registered 1-11 N500CS received attention at Hurn during March 1978. Dozens of 1-11s were registered in the USA!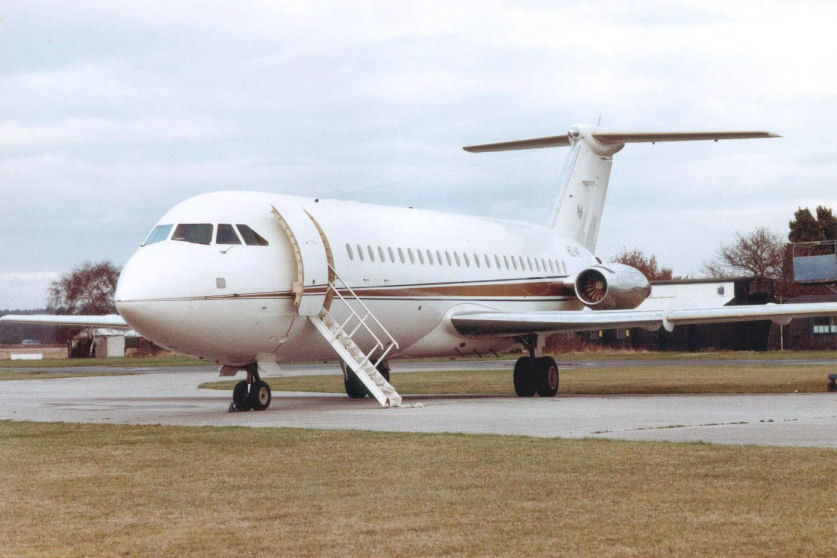 D-AISY became HZ-MF1 after executive conversion at Hurn. Aravco became it's new owner in March 1978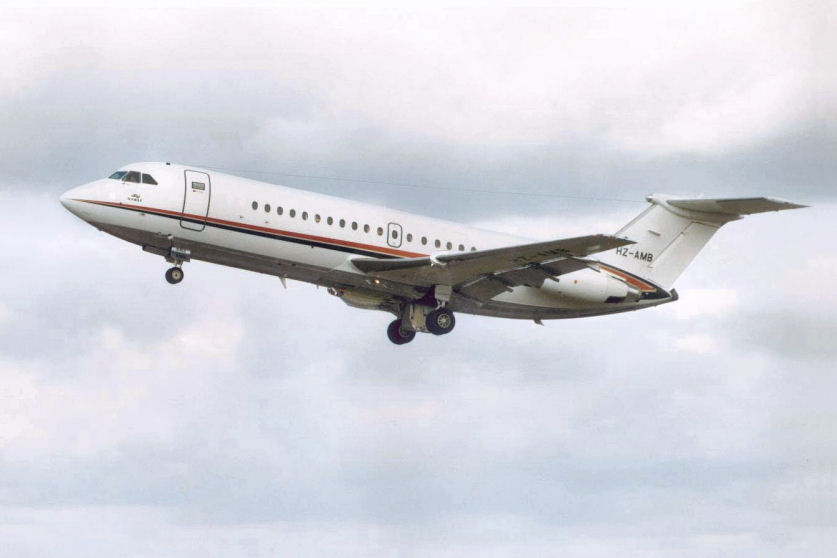 One of many Saudi registered 1-11s HZ-AMB gets airborne at Hurn - April 1978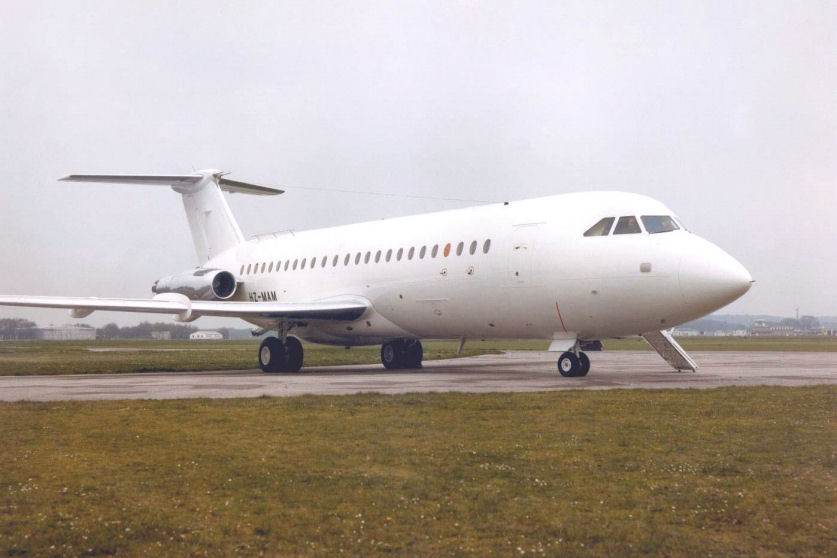 This Saudi 1-11, HZ-MAM was delivered "NEW" from Hurn to owner Sheikh Mouaffak Al Midani on the 19th May 1978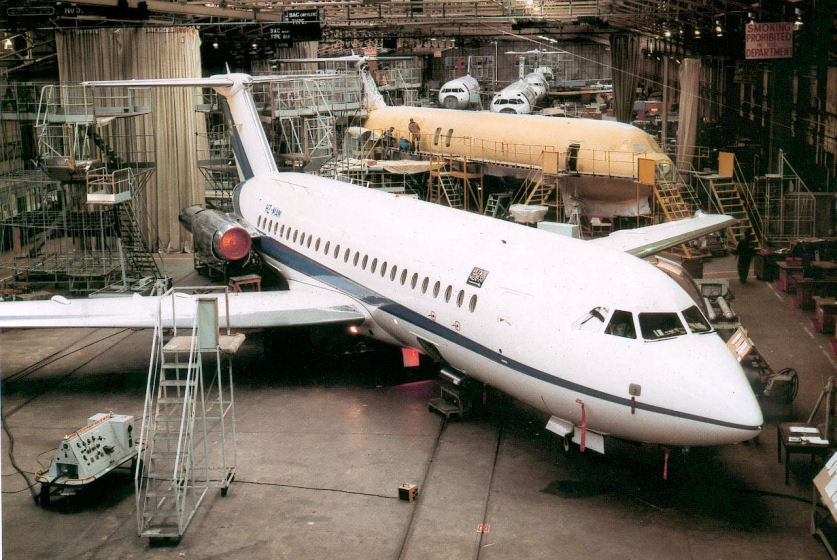 After a coat of paint HZ-MAM receives it's final hangar inspection before delivery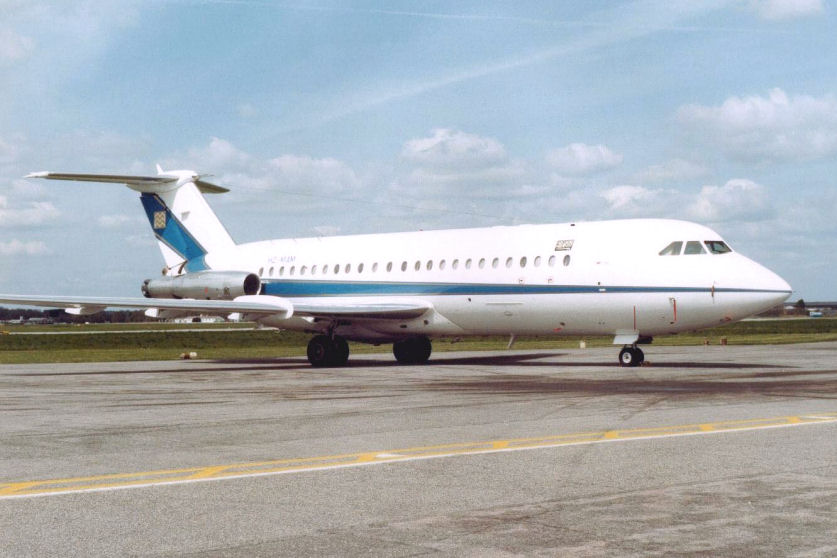 HZ-MAM parked on the Western Apron at Hurn before departing to the USA to have its executive interior fitted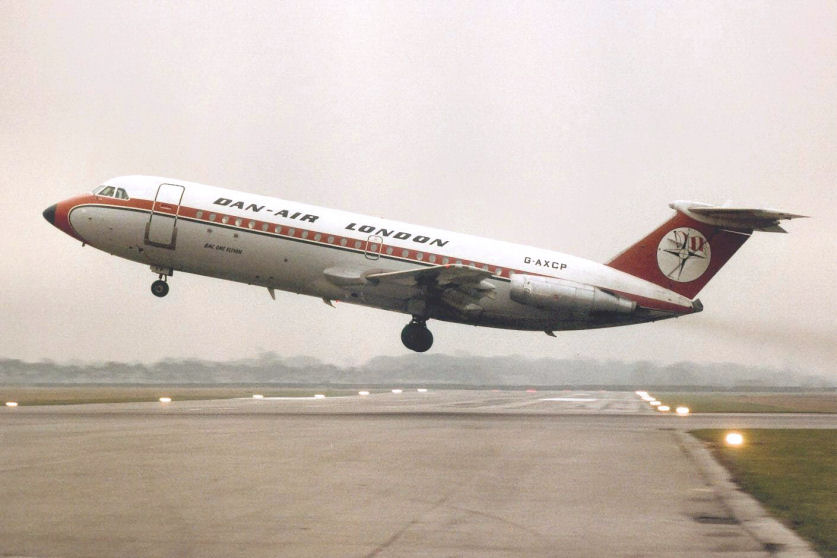 Dan Air carried out occasional flights from Hurn to Jersey during the late 1970s. G-AXCP departs on runway 08 during the summer 1978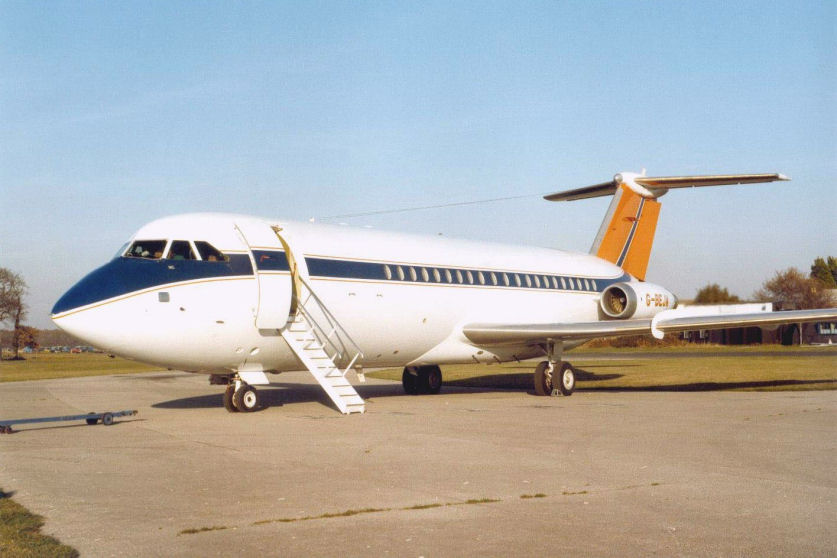 Ford Motor Company 1-11 G-BEJW flew into Hurn during 1978 for maintenance - A "perfect pose" on a lovely sunny day!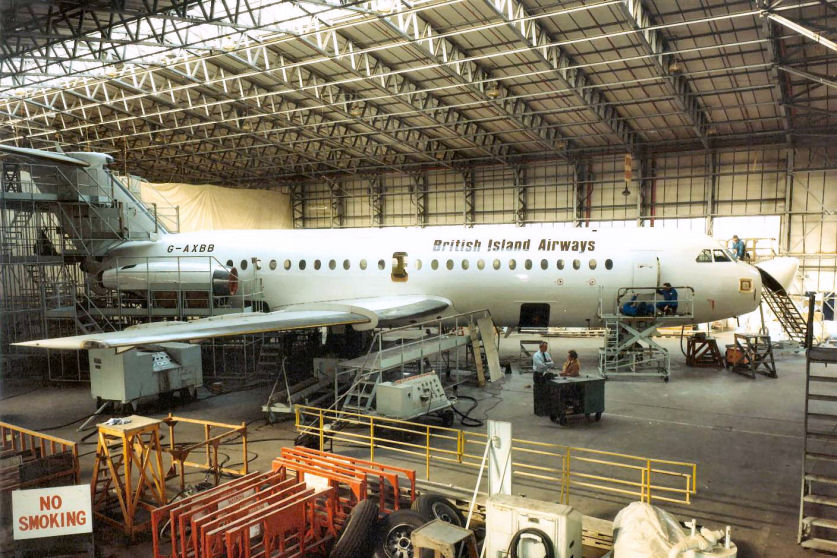 British Island Airways first 1-11 G-AXBB being prepared for the airline at Hurn. It was delivered in June 1978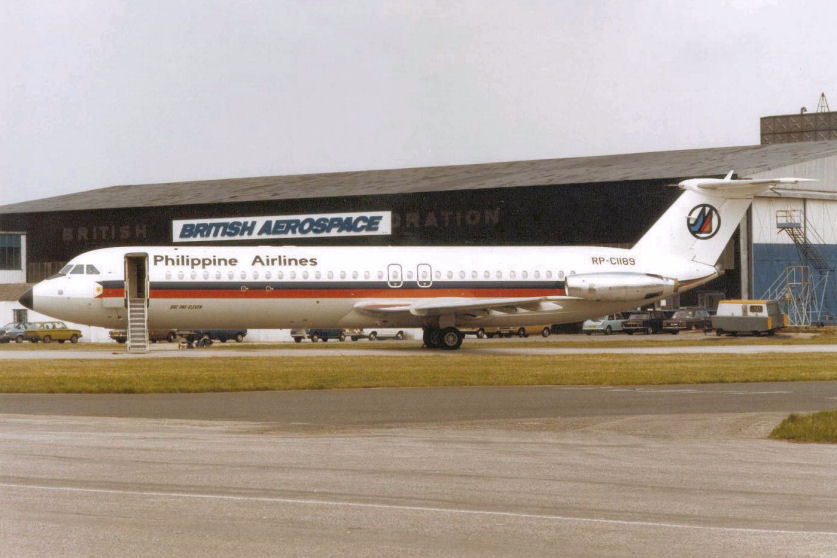 RP-C1189 for Philippine Airlines ready to depart for its delivery flight to Manila on the 10th August 1978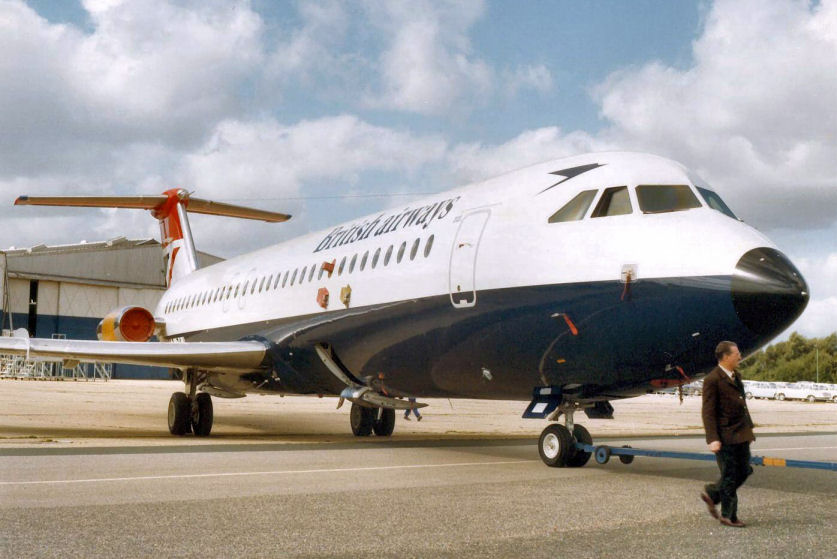 Cyprus Airways 1-11 5B-DAJ was initially leased to British Airways as G-BFWN after completion at Hurn in October 1978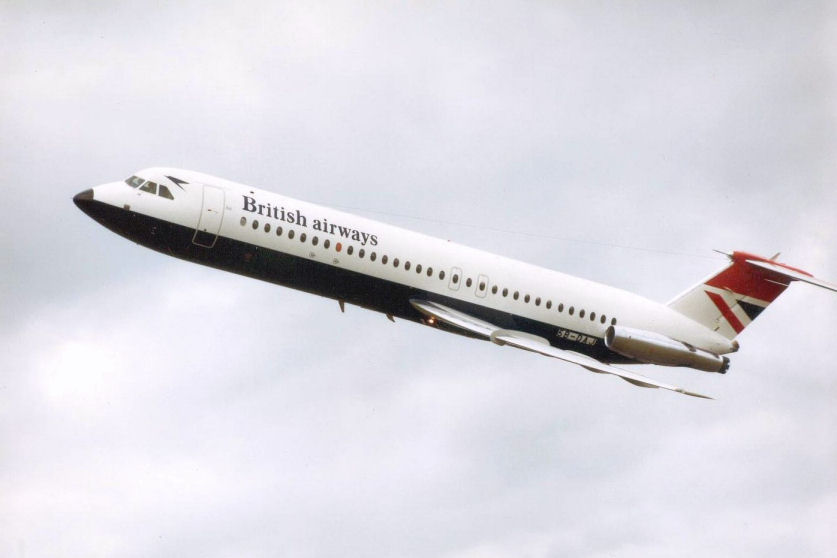 5B-DAJ carries out a rather low flypast at Hurn before being delivered to the British Airways on the 7th October 1978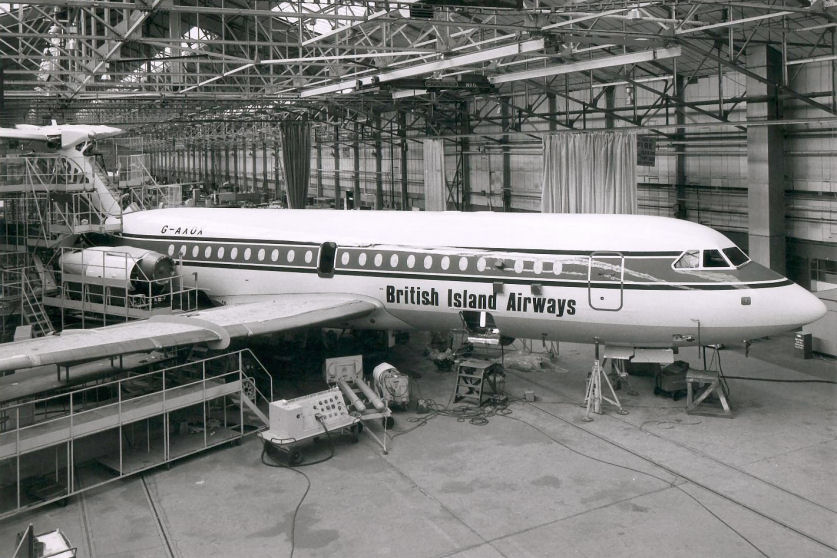 British Island Airways second 1-11 during final preparations before delivery to the airline on the 6th January 1979