1969 to 1971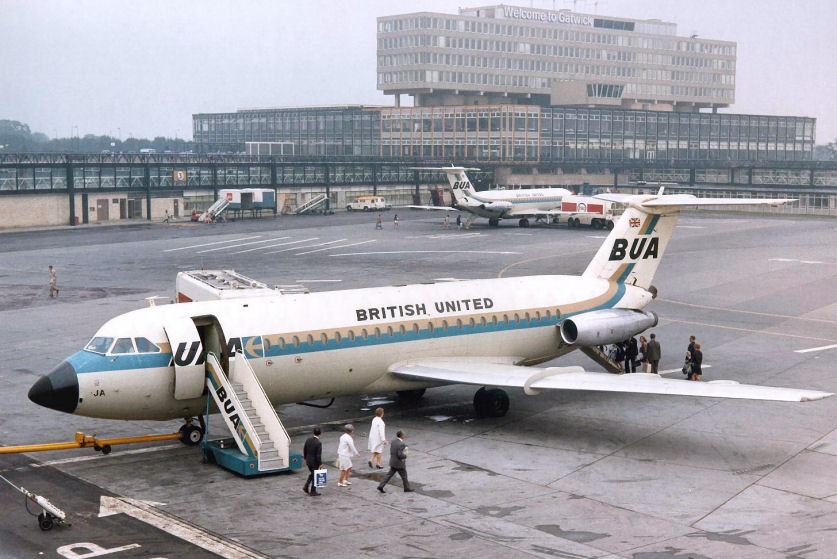 A classic Gatwick scene in the late 60s! G-ASJA on the Northern apron 1969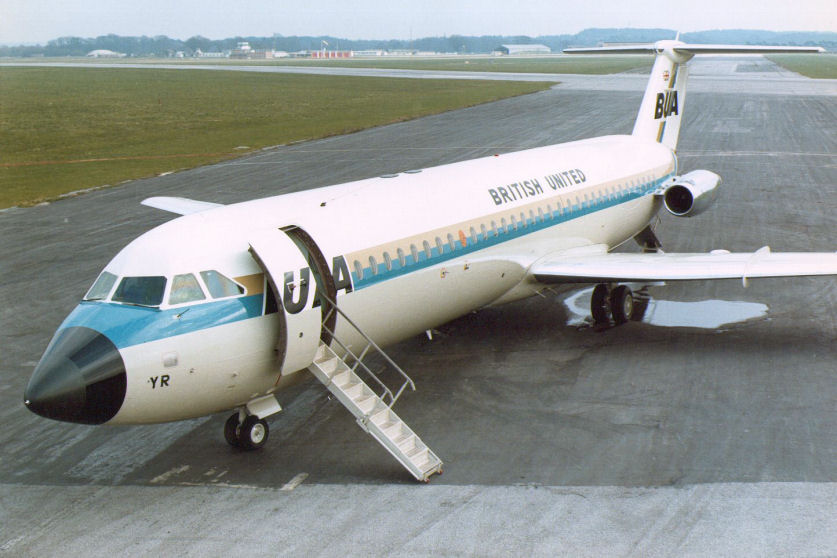 British United's first series 500 1-11 G-AWYR poses for the camera at Hurn 25th Mar 1969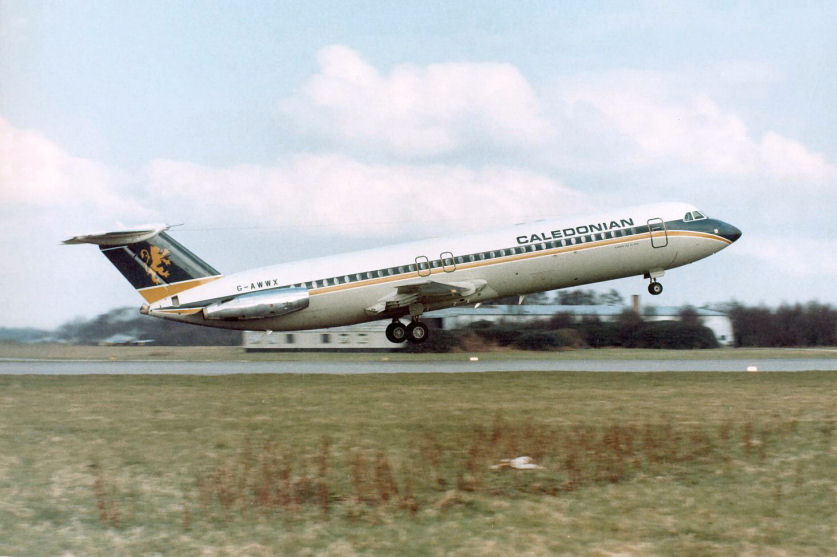 And the competition! G-AWWX getting airborne at Hurn 29th Mar 1969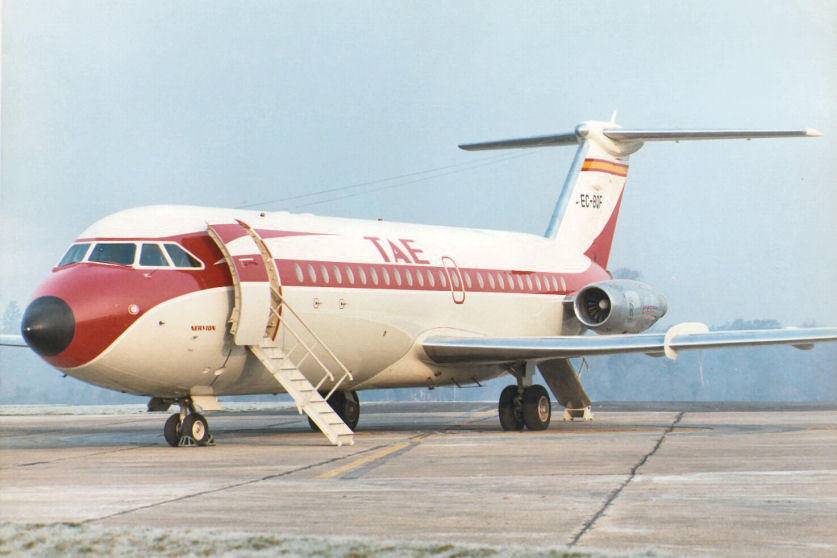 The one and only Spanish registered 1-11 EC-BQF prepares for a test flight at Wisley 1969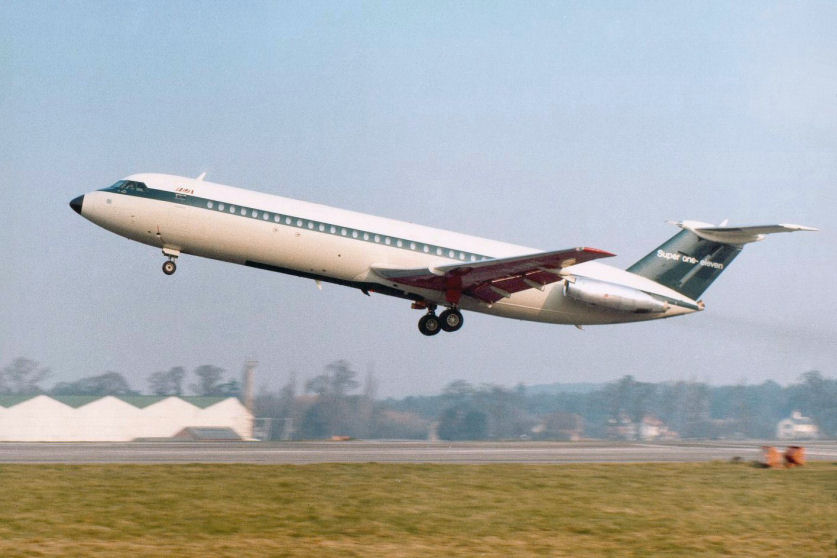 G-AVMR at Wisley 1969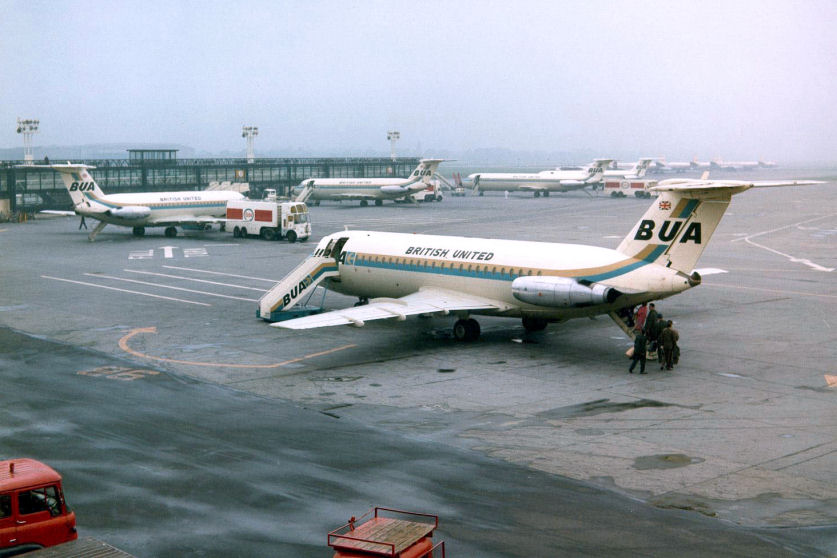 A truly wonderful sight on the ramp at Gatwick during the late 1960s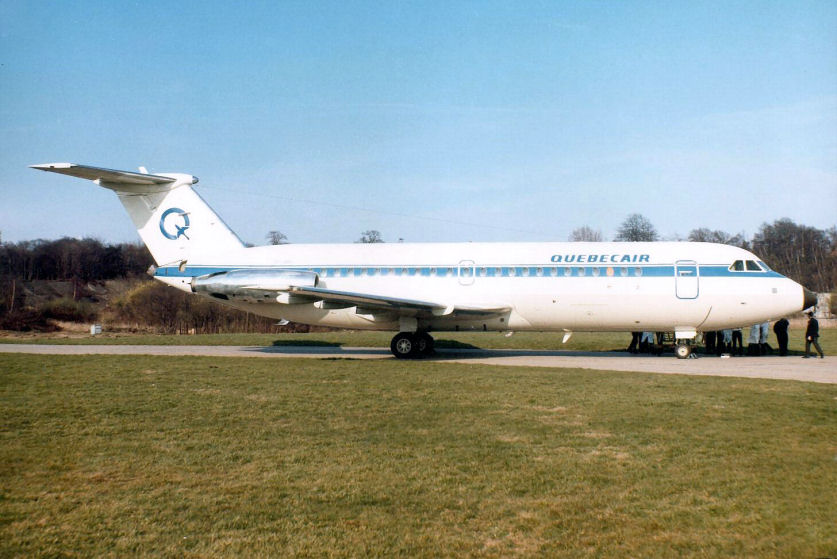 CF-QBO Weybridge Apr 1969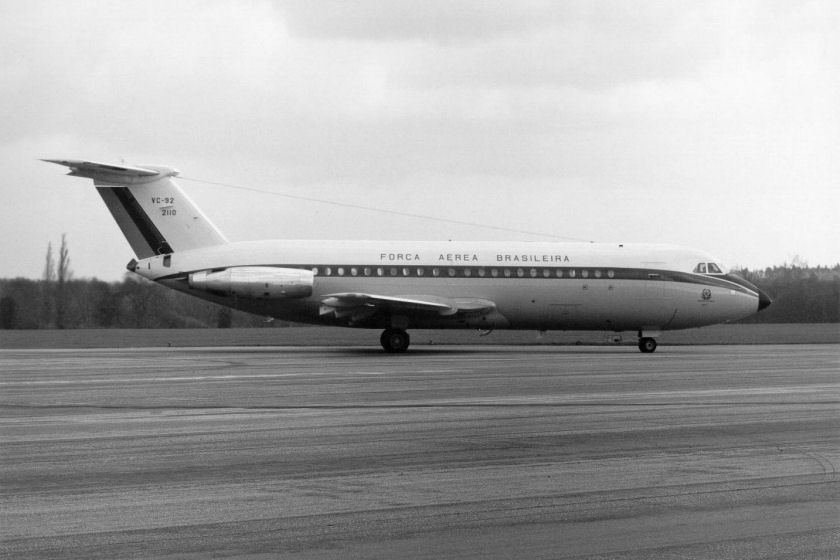 A rather exotic registered 1-11 VC-92-2110 prepares to depart from Wisley May 1969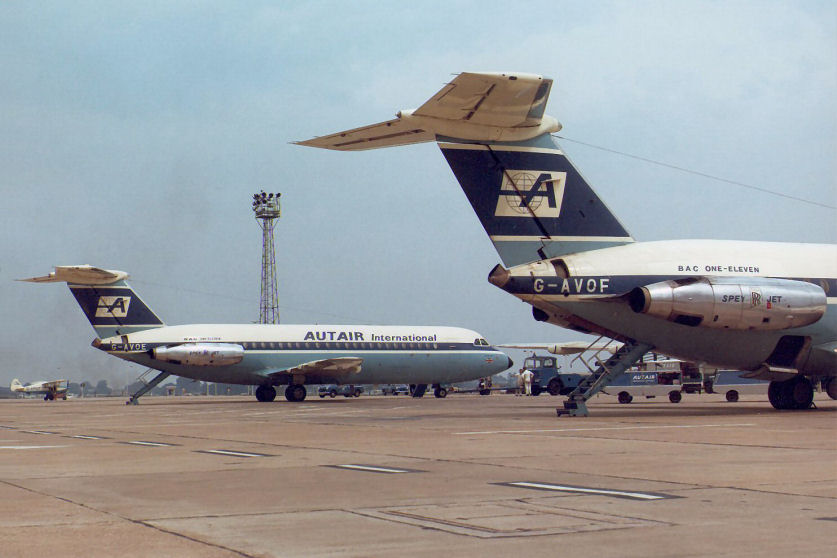 G-AVOE and G-AVOF - A classic Luton scene during 1969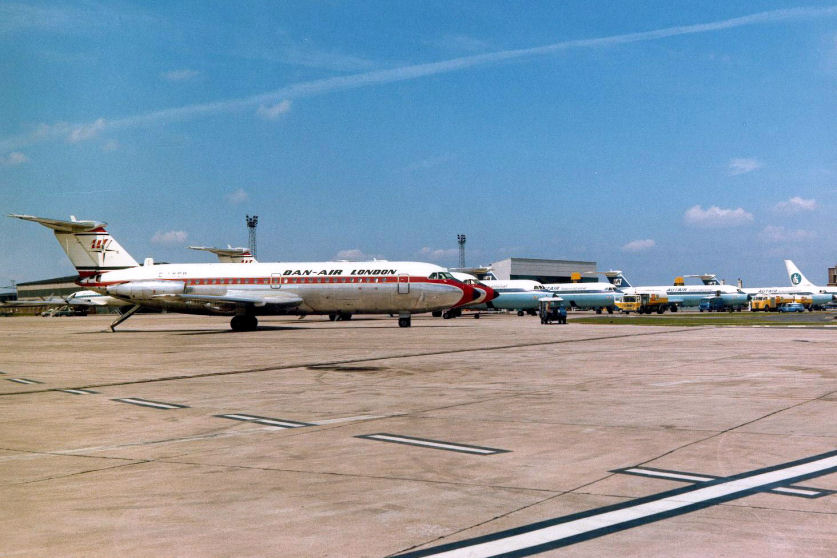 Wow! How about that for a line up at Luton - starting at the far end - G-AVGP, G-AWXJ, G-AVOF, G-AVOE, G-AXCK, G-AXCP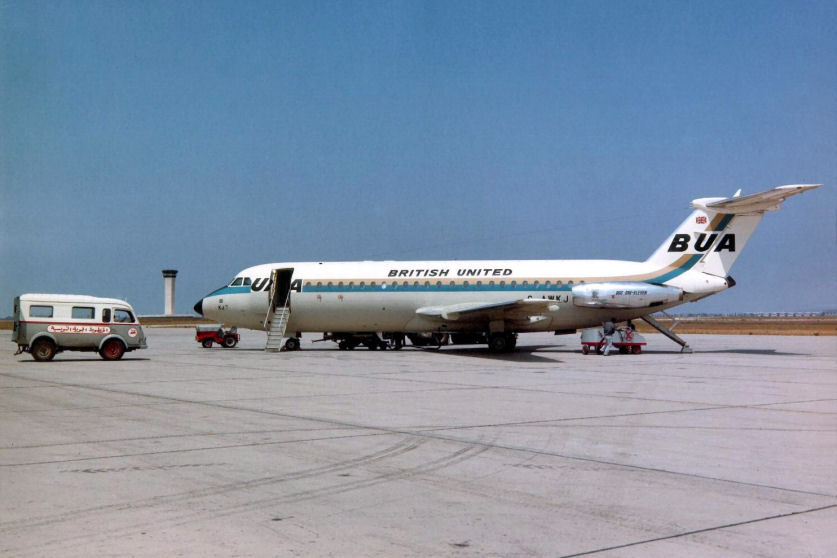 G-AWKJ on lease to BUA during the summer of 1969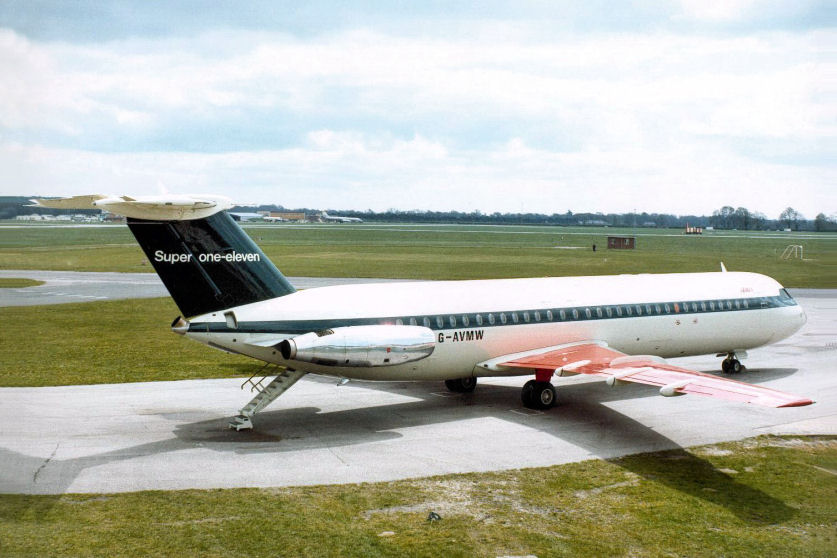 G-AVMW at Hurn May 1969 - Spot the Spantax Convair 990 in the background!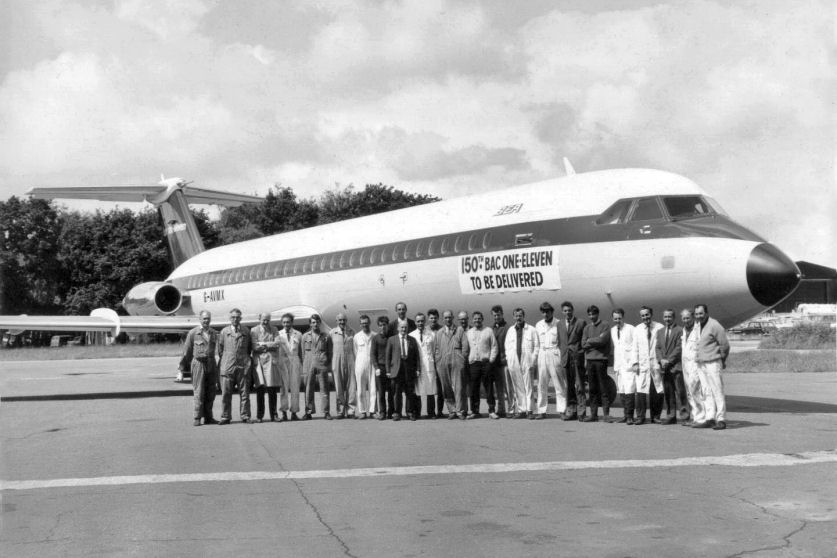 G-AVMX and a very proud workforce at Hurn 20th Jun 1969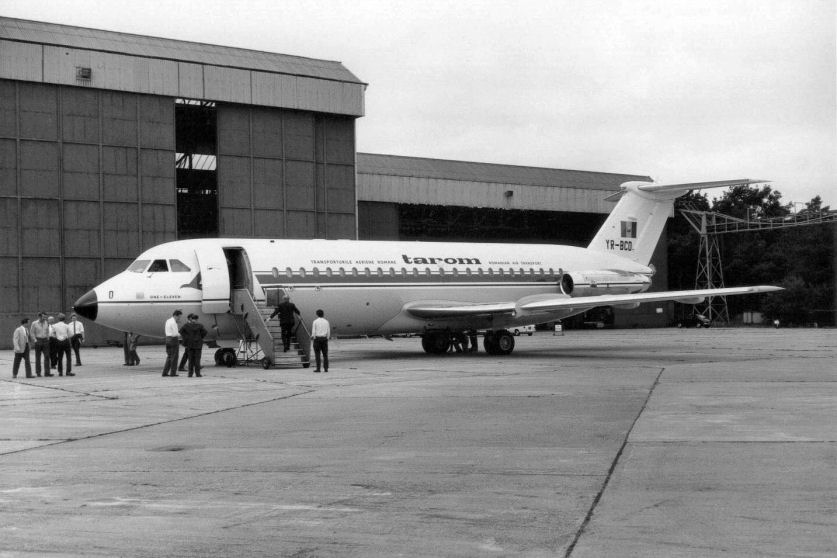 YR-BCD Wisley Jul 1969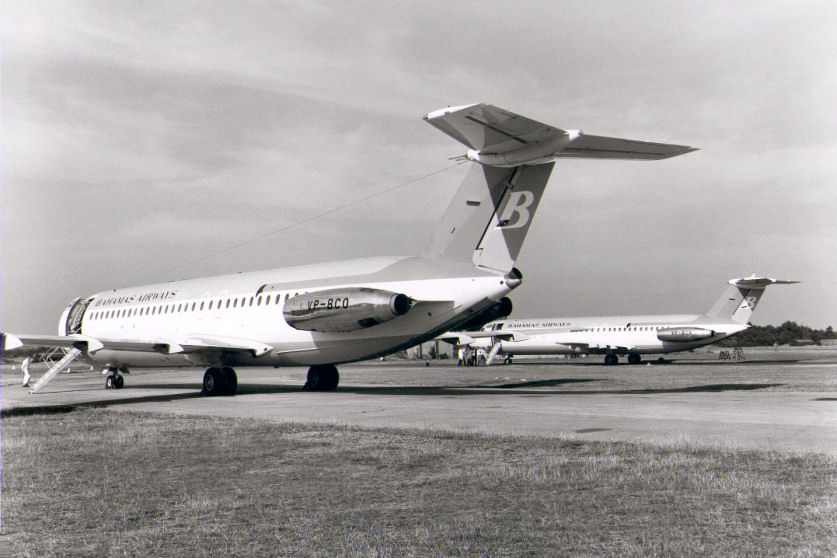 Bahamas Airways first two series 500s during final pre-delivery checks at Hurn Jul 1969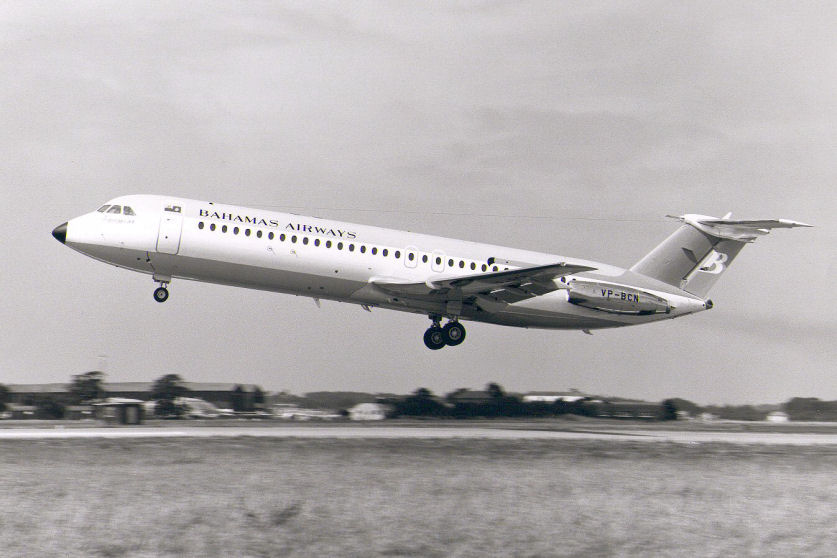 Bahamas Airways 1-11 VP-BCN delivery flight from Hurn Jul 1969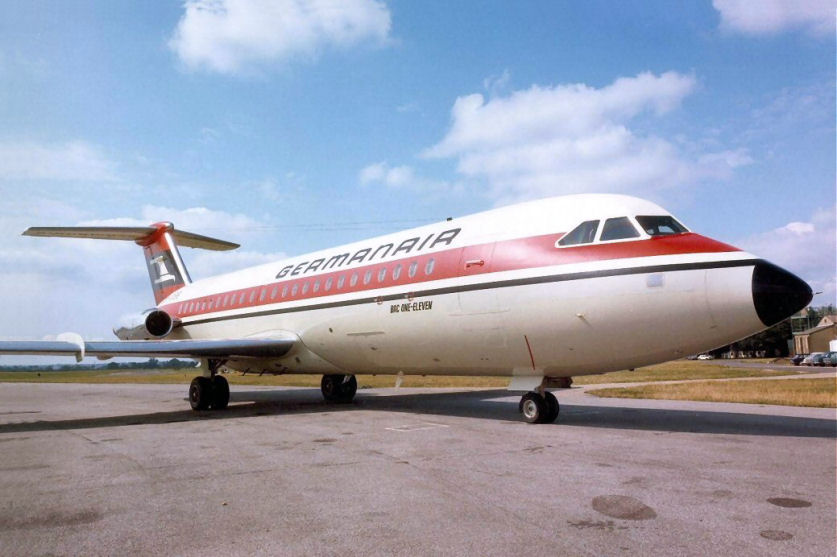 Series 409AY G-AXBB being prepared for its lease to Germanair at Hurn Aug 1969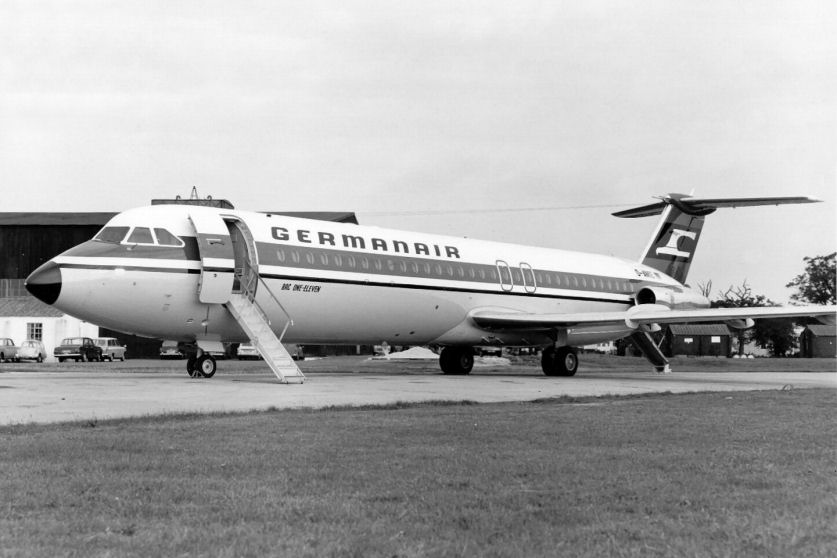 Germanair's first 1-11 524FF being prepared to depart to its new owner at Hurn Oct 1969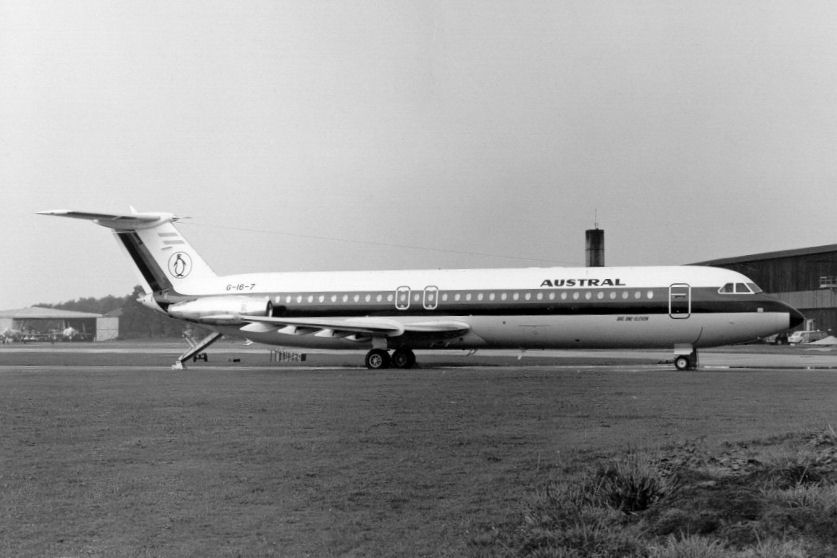 Austral 1-11 LV-JNR "class B" registration G-16-7 prior to delivery at Hurn Oct 1969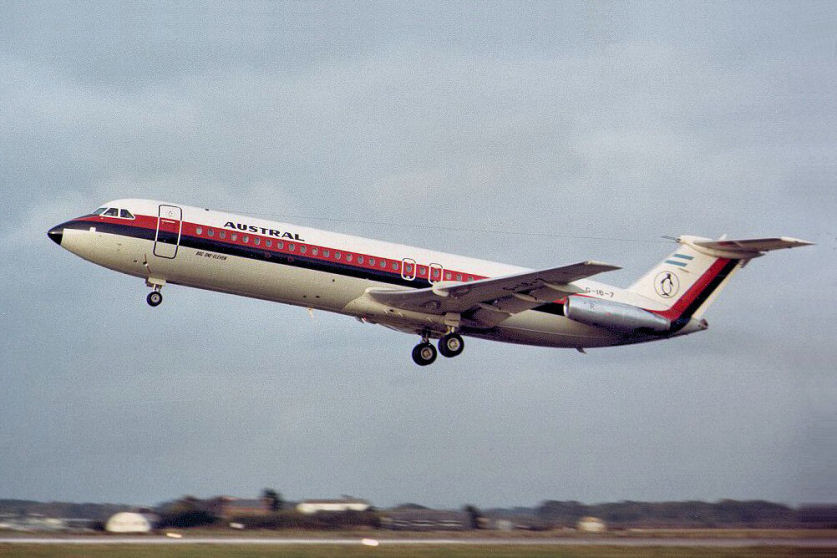 LV-JNR departs on a test flight from Hurn still registered as G-16-7 Oct 1969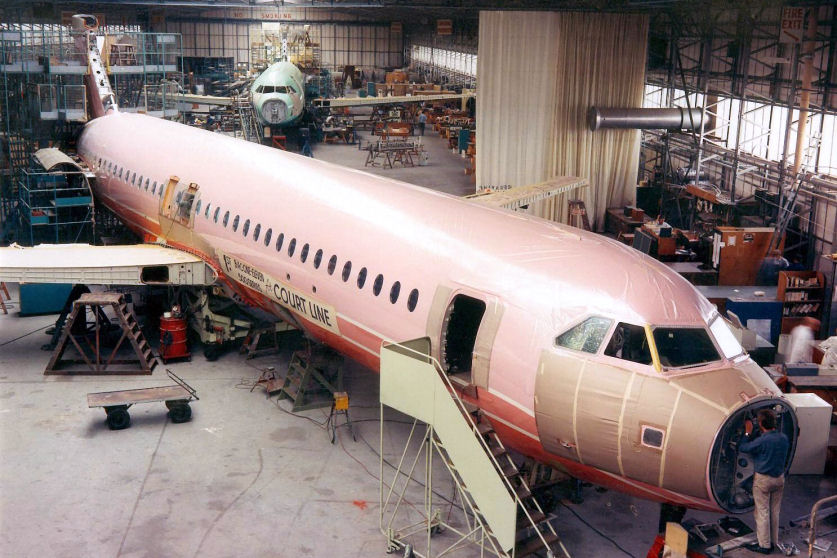 Court Line's first two 1-11s G-AXMF and G-AXMG on the Hurn production line Oct 1969
Aerotransportes Litoral Argentino - ALA 1-11 521FH LV-JNT with Class B registration G-16-10 at Hurn Nov 1969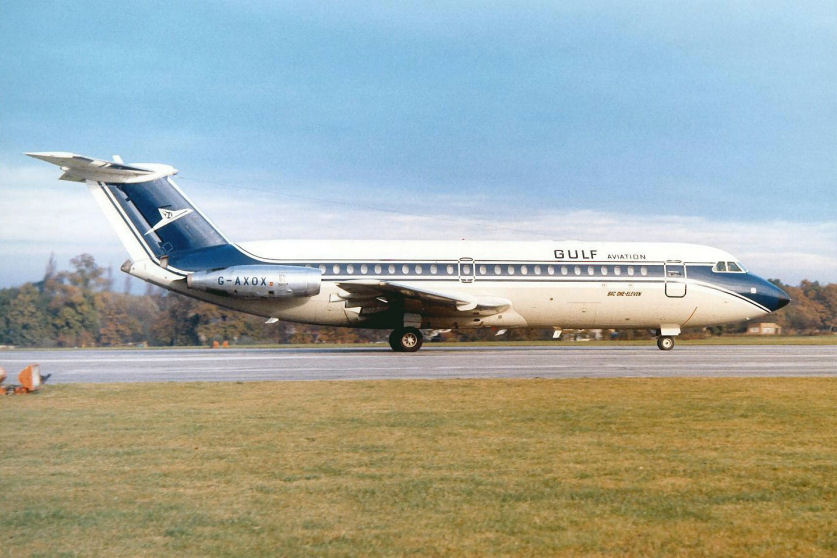 Gulf Aviation's first 1-11 a series 432FD G-AXOX prepares to depart at Wisley Nov 1969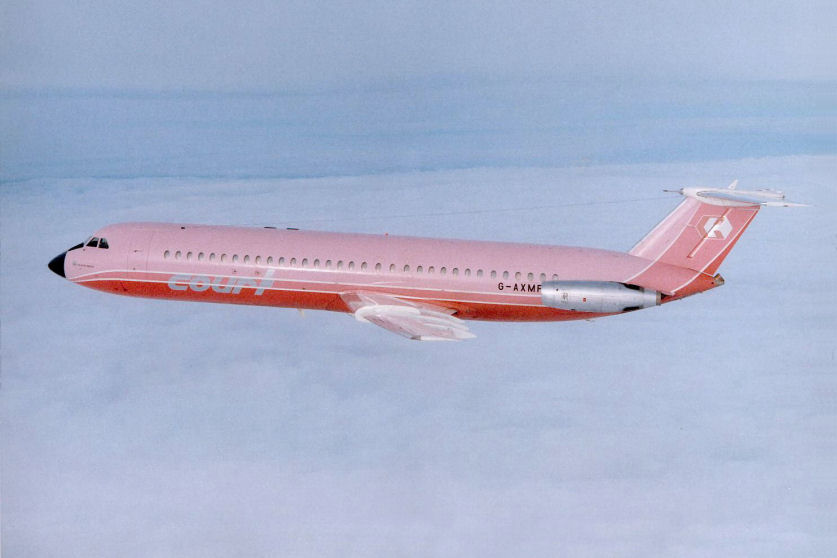 A stunning shot of Court Line 1-11 518FG during a test flight during Nov 1969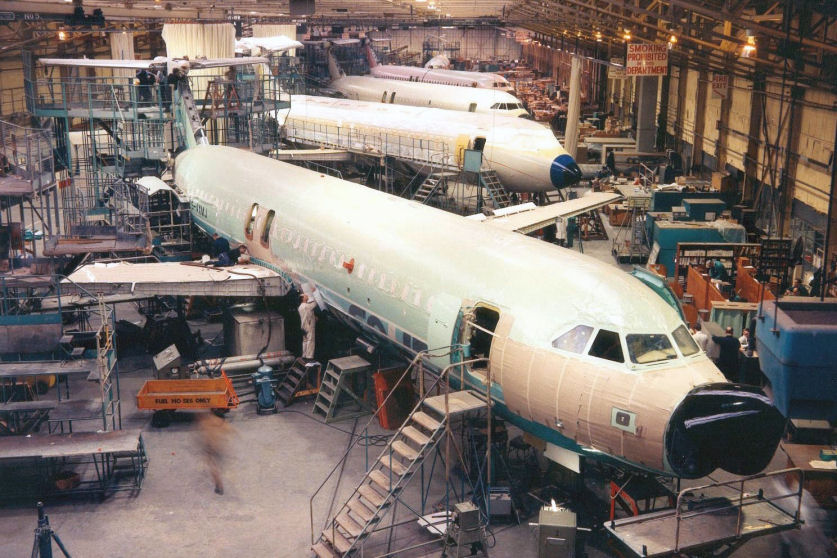 Court Line 1-11 G-AXMJ on the Hurn production line Dec 1969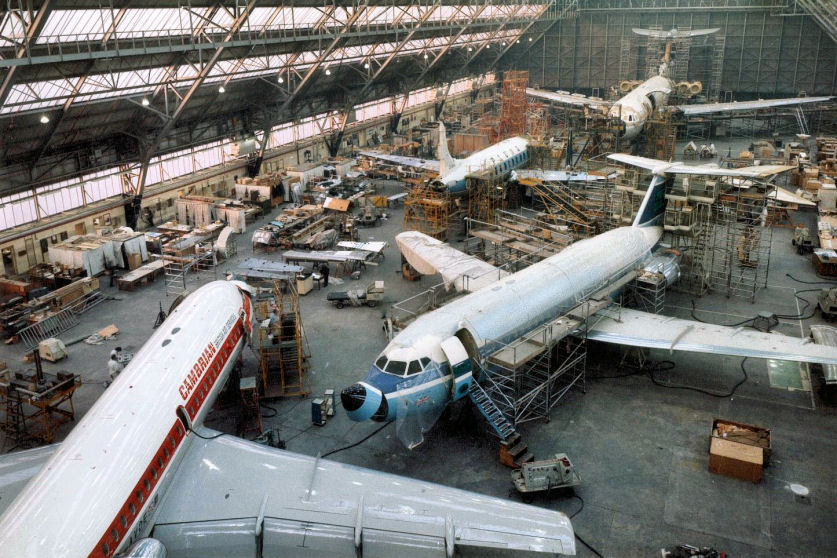 A truly historic image of Cambrian 1-11 G-AVOE and Autair 1-11 G-AWXJ in the famous VC-10 hangar at Brooklands Dec 1969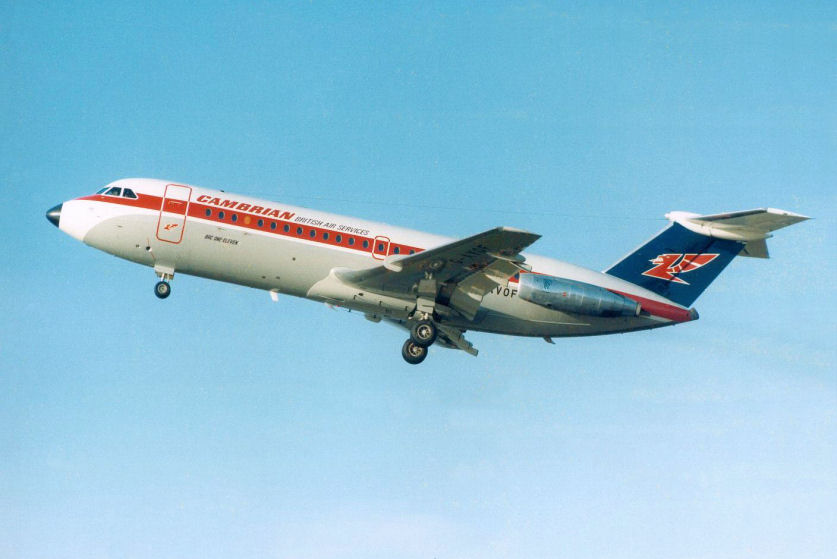 Cambrian's first 1-11 G-AVOF on delivery 19 December 1969 having previously flown with Autair for just over a year
G-ASYD parked on the western apron being readied for another test flight out of Hurn - Is that the company DH Heron behind?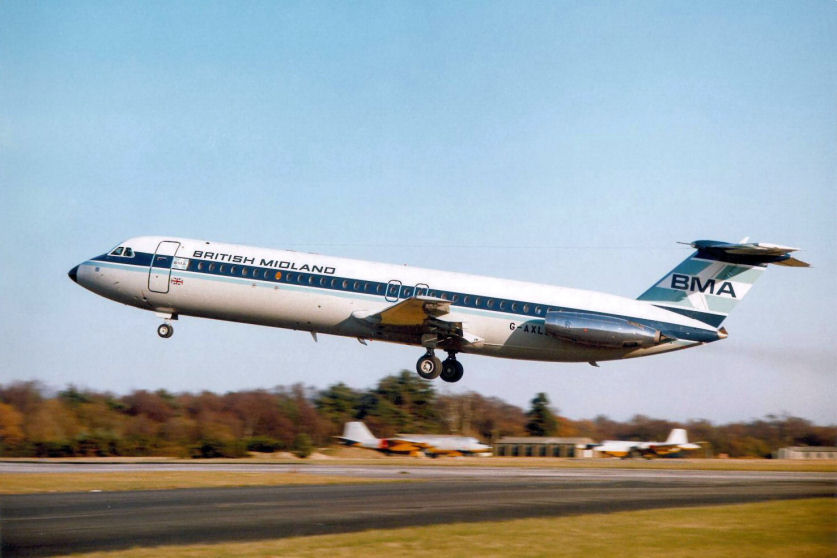 The first of three 1-11s for British Midland G-AXLL gets airborne at Hurn in January 1970 with two FRADU Canberras parked behind.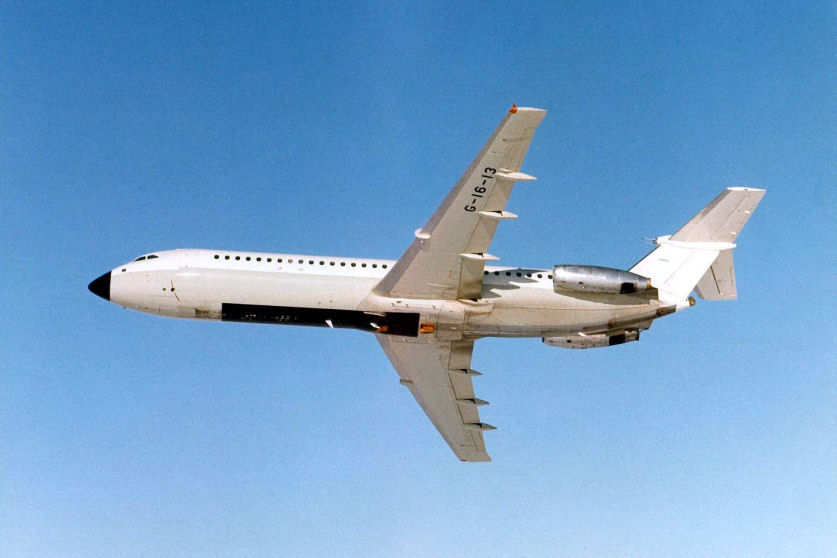 Class B registered 1-11 G-16-13 May 1970, flew with BAC for nearly a year before being delivered to Phoenix Airways as HB-ITL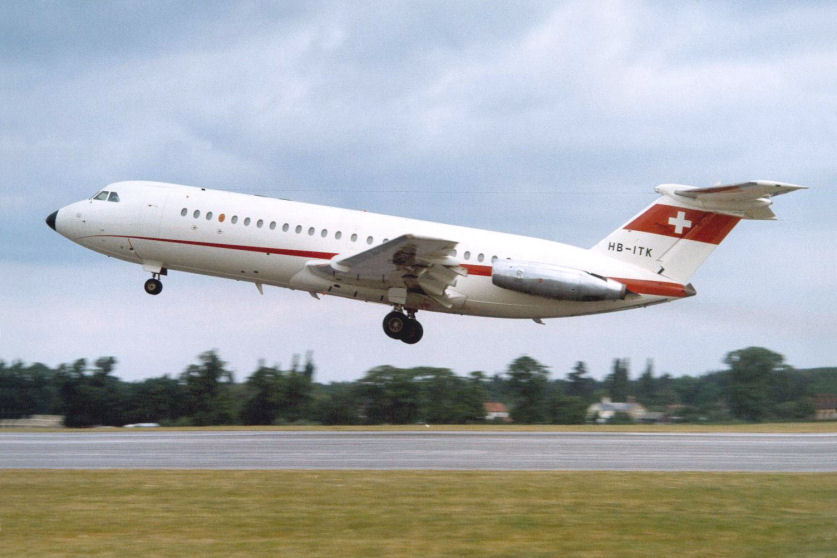 Aeroleasing SA 1-11 HB-ITK gets airborne at Wisley June 1970 - The deal fell through however and the aircraft wasn't delivered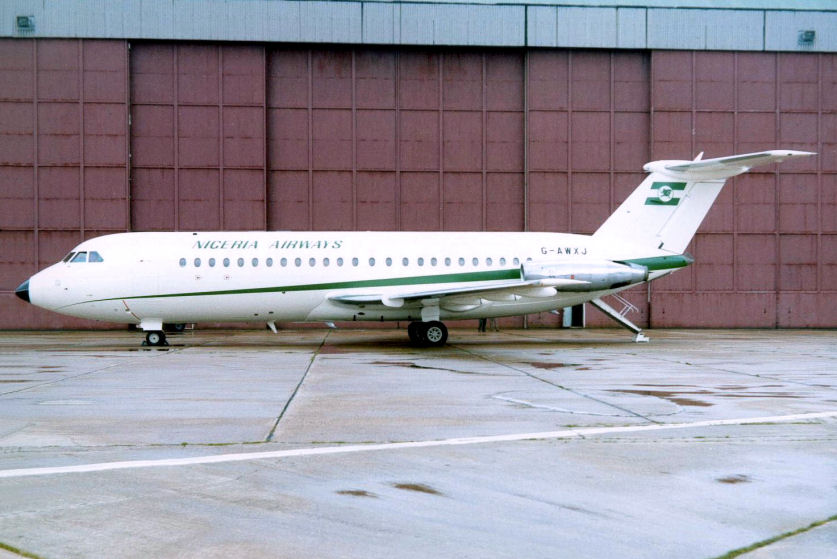 HB-ITK reverted to G-AWXJ and was prepared at Wisley for delivery to Nigeria Airways as a demonstration aircraft in August 1970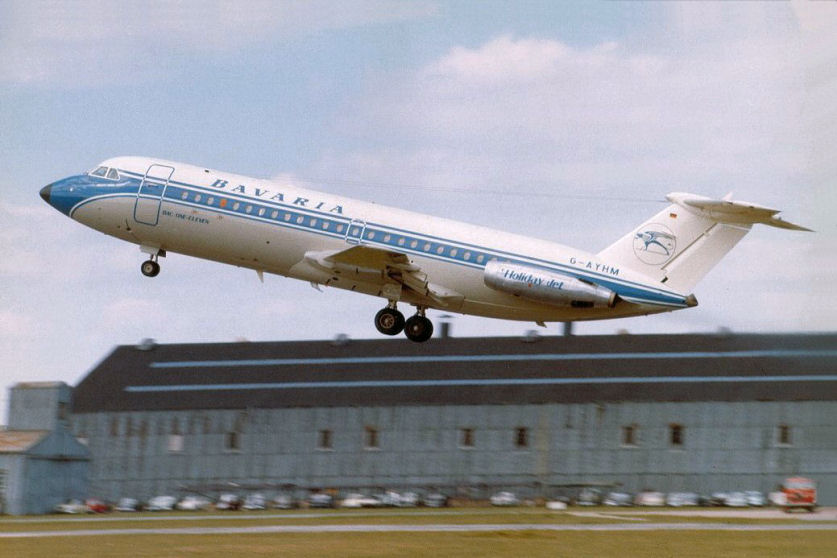 G-AYHM departs from Weybridge 1st Aug 1970, on lease to Bavaria for 4 months This aircraft wore four different liveries during its first 4 years of service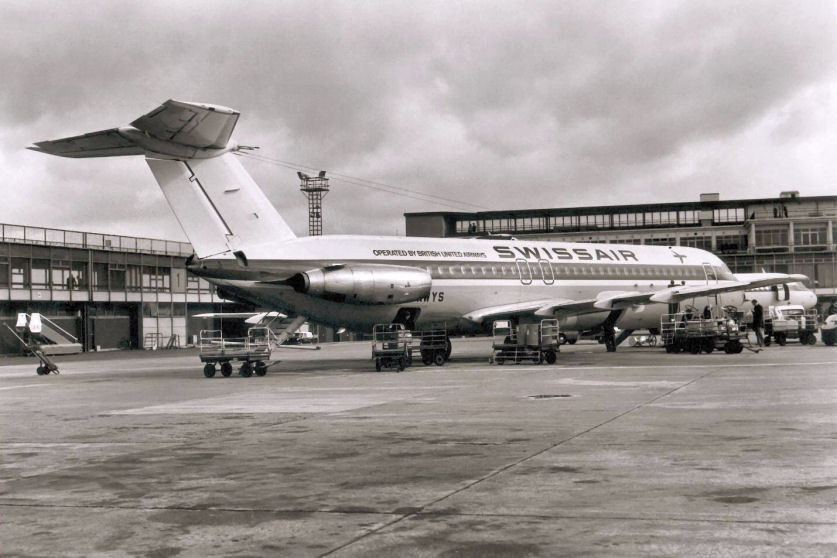 G-AWYS being unloaded at Manchester - British United leased this 1-11 to Swissair for the summer season in 1970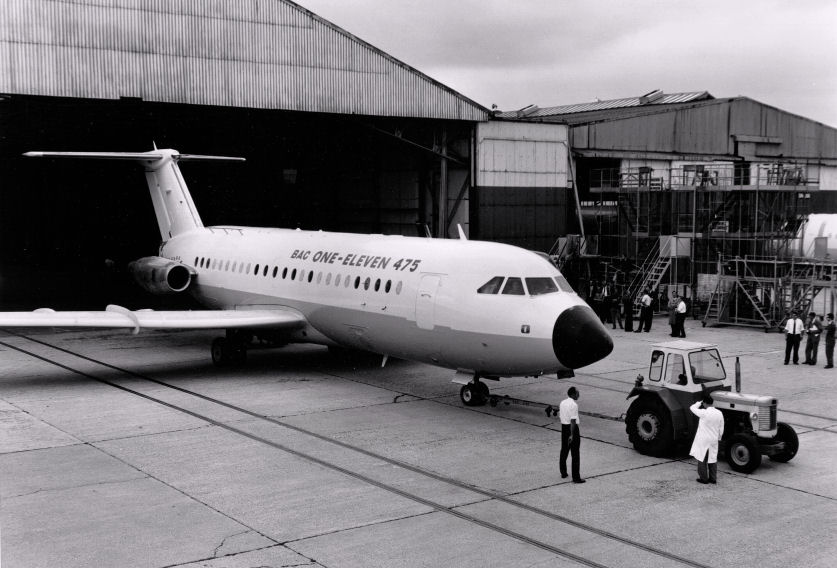 G-ASYD being rolled out as a "new" aircraft for the third time at Hurn in August 1970 as the series 475 prototype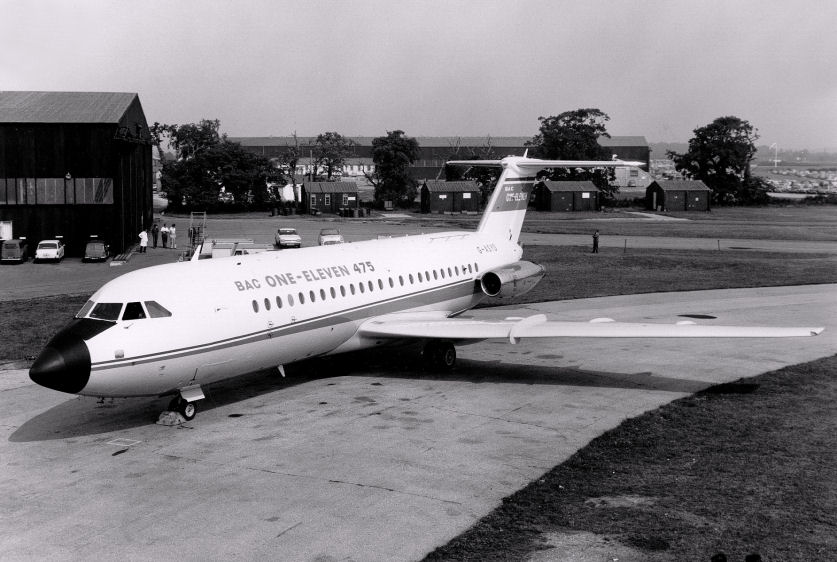 G-ASYD received its new coat of "house colours" paint in readiness for its maiden flight as a series 475 at Hurn - August 1970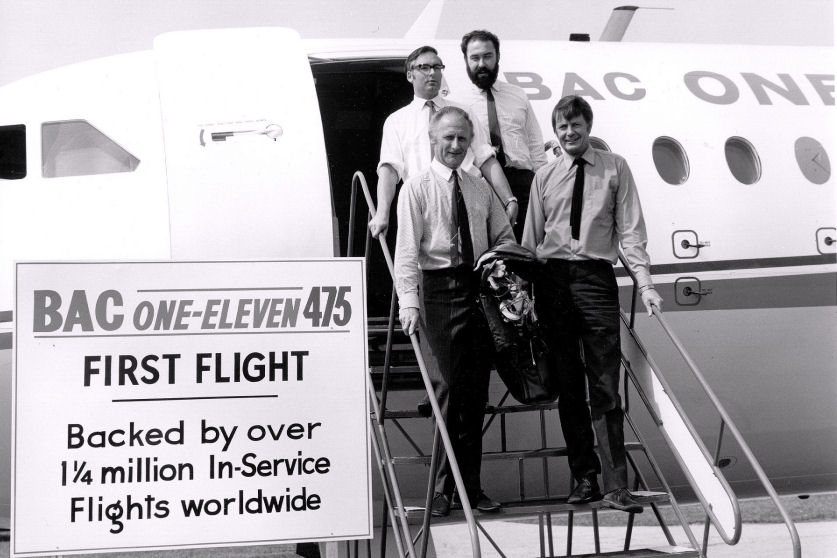 BAC flight test team - Pilot Roy Radford with Co Pilot and BAC Chief Test Pilot Dave Glaser pose for the press after a successful first flight at Hurn - 27 August 1970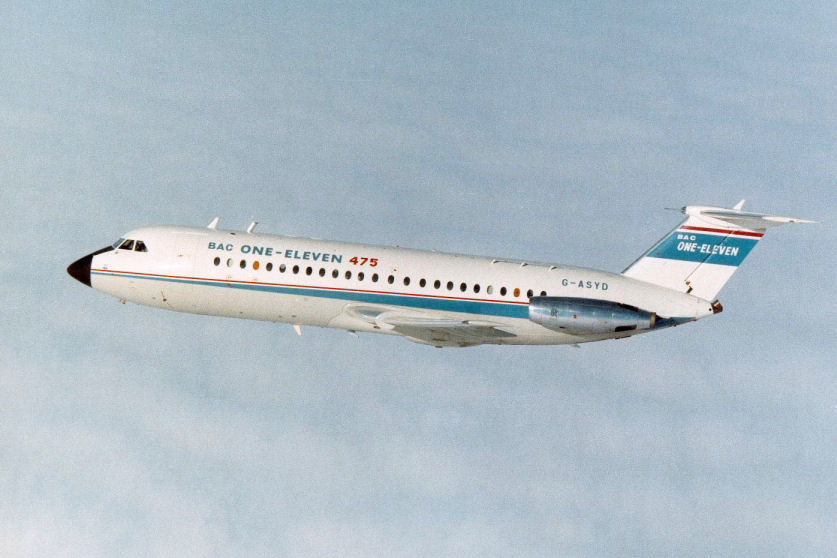 A very fine shot showing off the superb lines of this new version of the aircraft, designed to operate from "hot and high" rough strips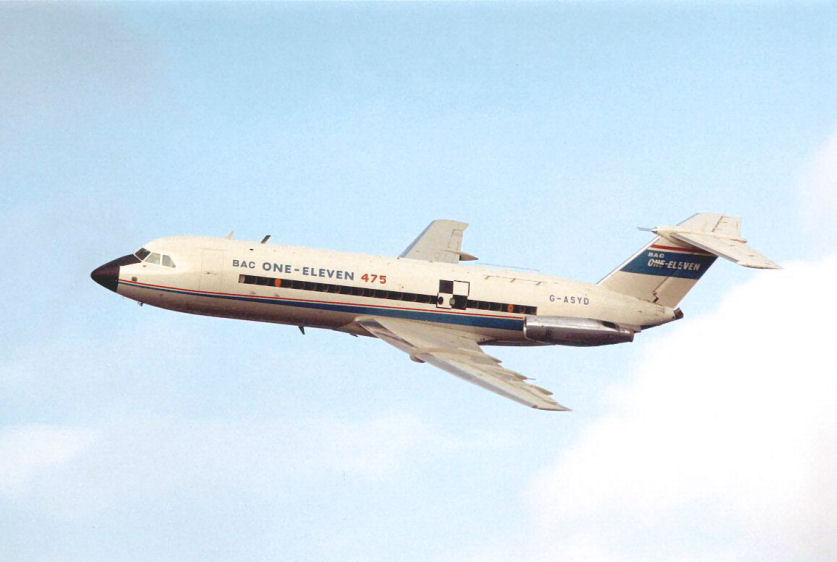 During 1971 G-ASYD received a modified livery for further trials at Wisley (wet runway) and Waterbeach (gravel runway)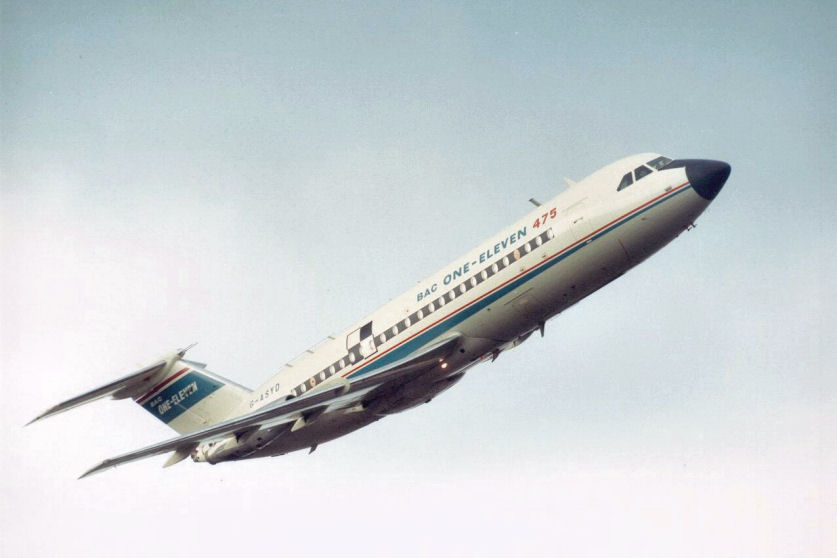 Another angle of a lovely aircraft!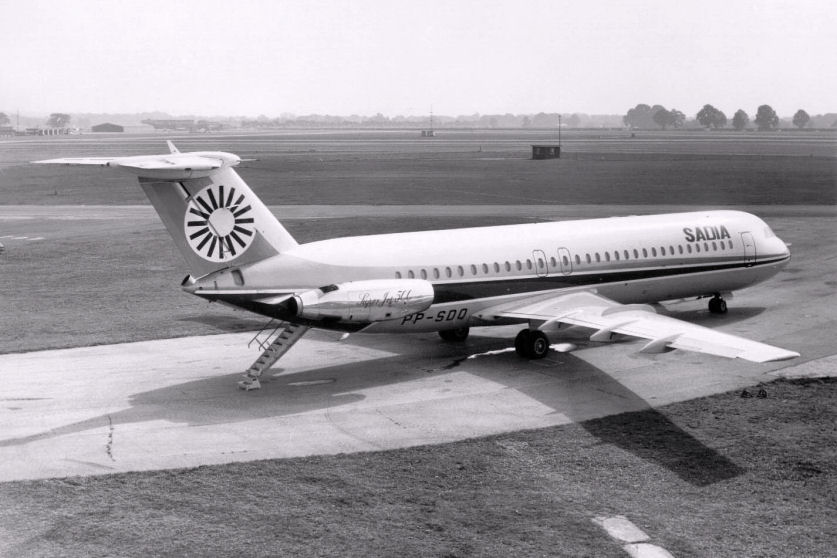 SADIA 1-11 PP-SDQ being prepared for its delivery at Hurn - October 1970 - Sadly it was written off just 4 years later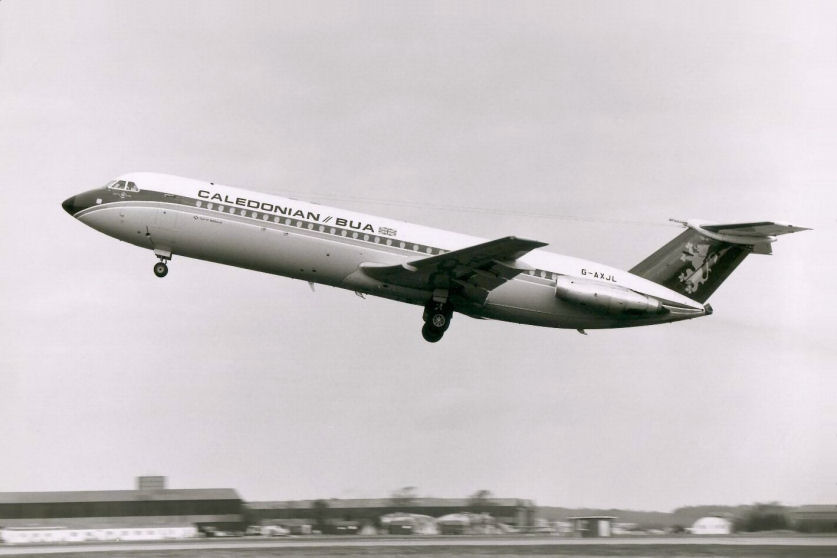 G-AXJL named "Isle of Mingulay" takes to the air at Hurn in February 1971 after having Caledonian // BUA titles applied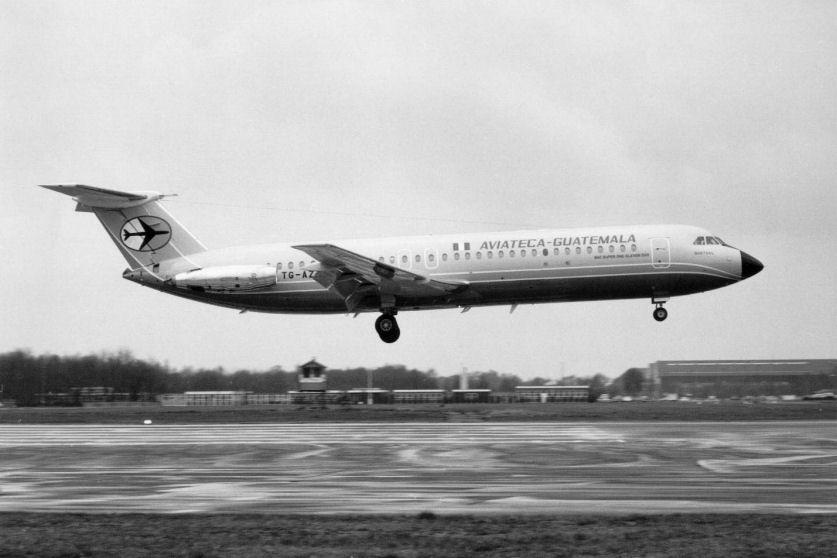 Series 516FP TG-AZA lands on runway 08 at Hurn after a successful test flight - March 1971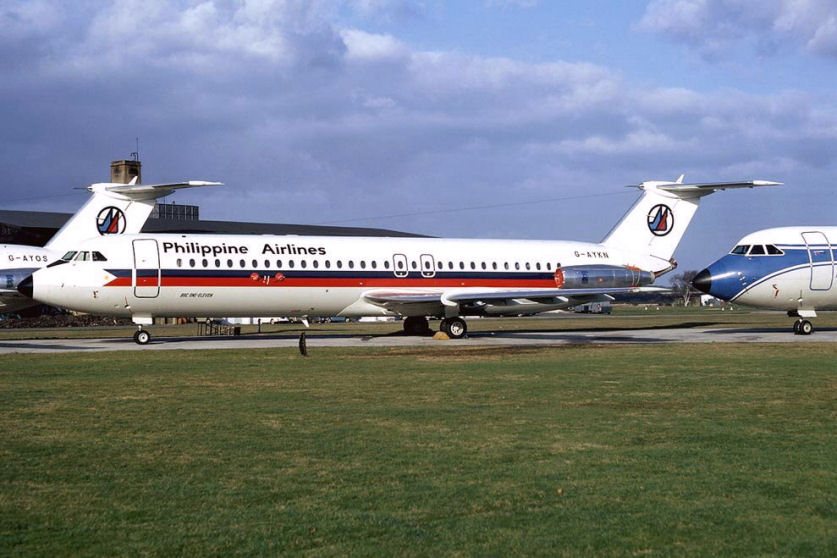 G-AYKN was registered as such for demo flights to Tarom in October 1970 before being delivered to Philippine Airlines - Stored at Hurn April 1971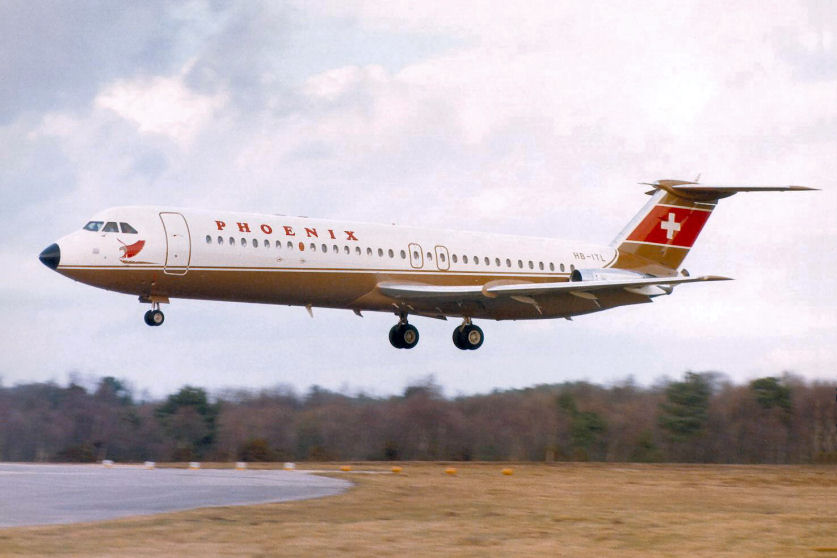 Series 529FR HB-ITL landing on runway 26 at Hurn shortly before being delivered to Phoenix Airways on the 1st April 1971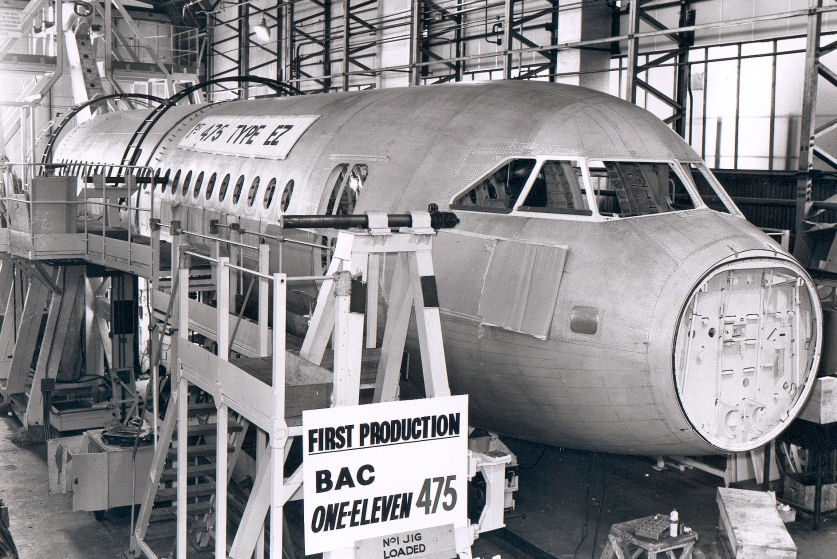 The caption says it all! G-AYUW during assembly at Hurn early in 1971 - Eventually delivered to Faucett as OB-R-953 on the 23rd July 1971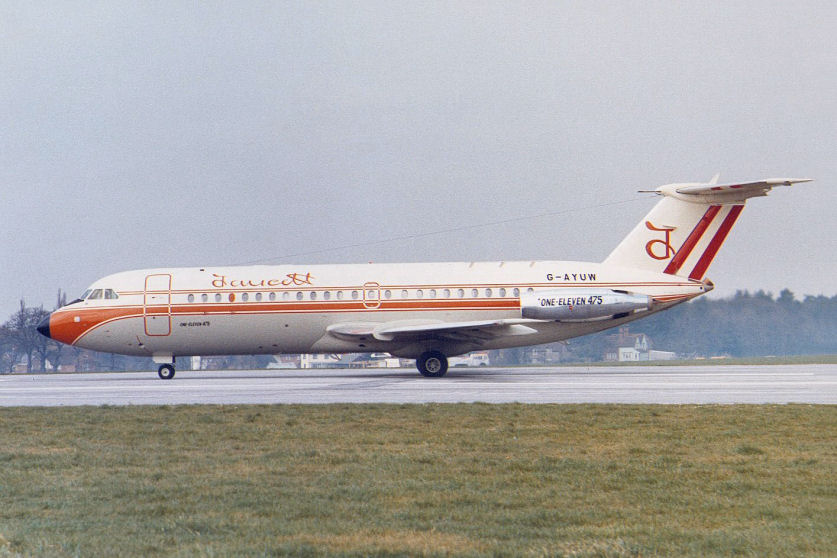 Having received its new livery the aircraft arrives at Wisley for further flight tests before a high profile appearance at the Paris Air Show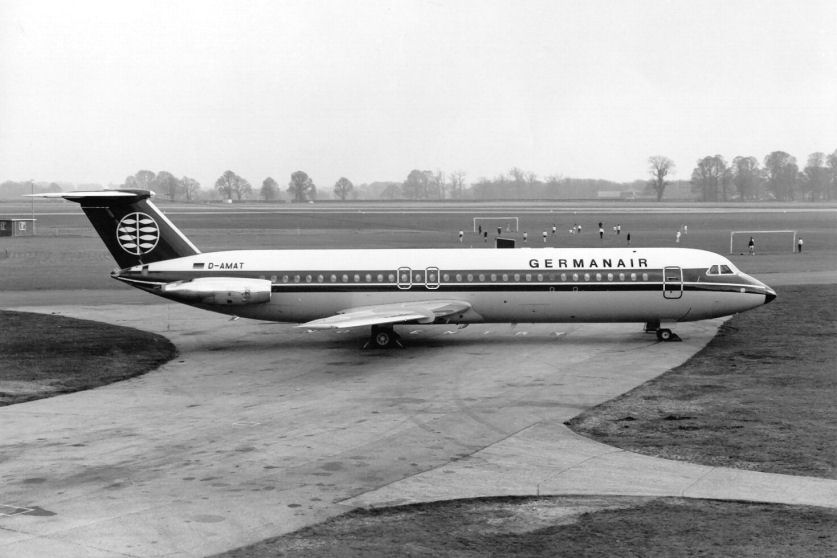 Redesignated as a Series 524FF, D-AMAT watches a football match at Hurn before being delivered to Germanair on the 8th May 1971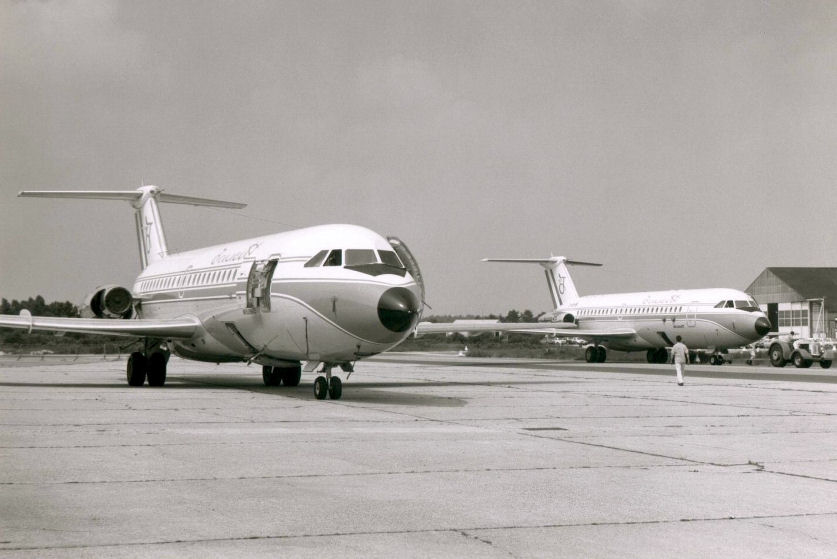 A lovely shot of two brand new 475 series 1-11s destined for Faucett. The closest aircraft is OB-R-253 with G-16-16 behind at Hurn in July 1971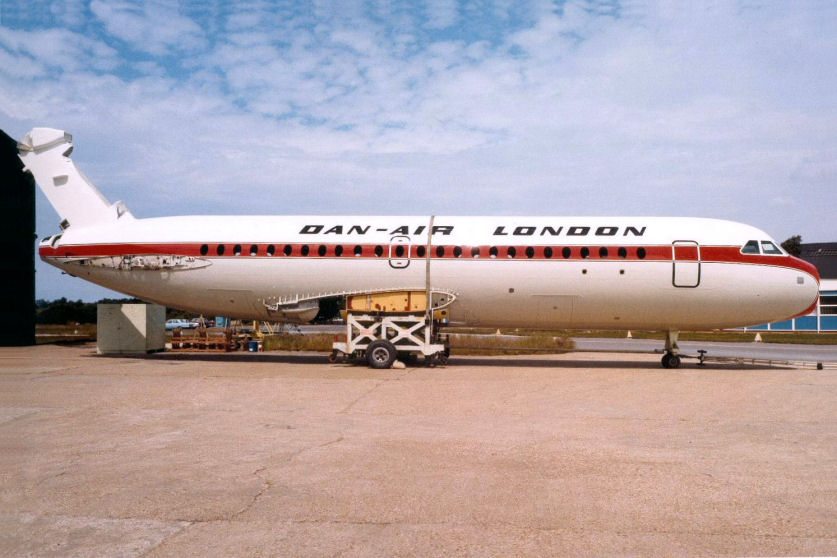 Dan Air's one and only "factory fresh" 1-11! G-AZED was rebuilt on the Hurn production line after a crash and delivered on the 21st December 1971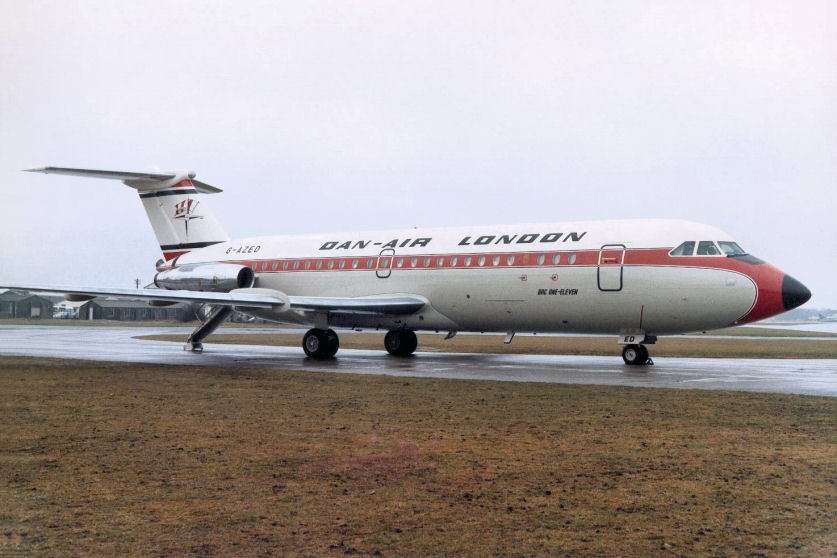 A splendid livery on a fine aircraft - Rebuilt Series 414EG G-AZED preparing to depart to Lasham on delivery to Dan Air
The very short lived MERPATI Nusantara Airlines 1-11 N5032 was delivered via Heathrow on the 13th August 1971 - The deal fell through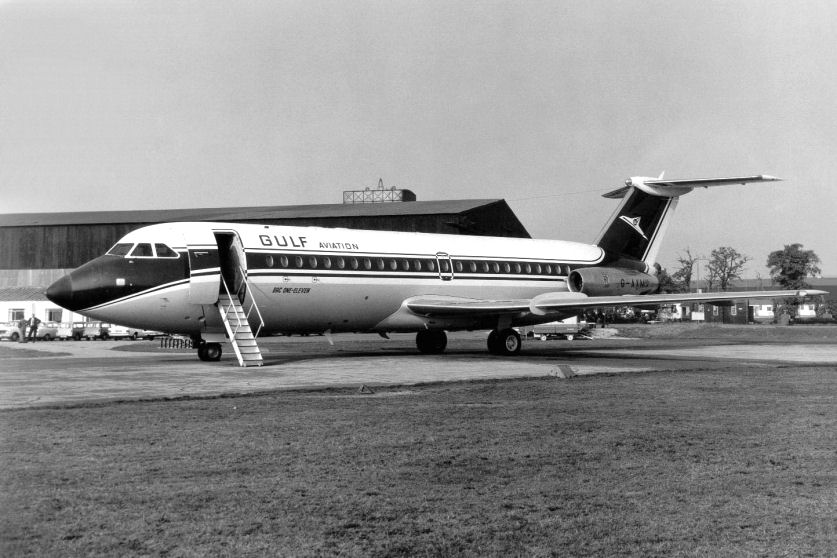 Series 432FD G-AXMU being readied for delivery to Gulf Aviation at Hurn on the 3rd November 1971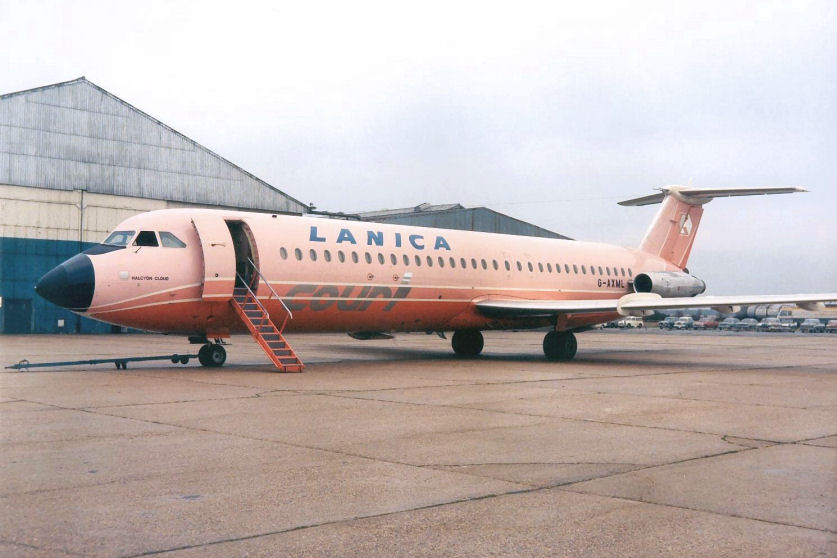 A simple solution to a short term lease to LANICA! Court Line's G-AXML prepares to depart from Hurn to Managua, Nicaragua December 1971