1966 to 1968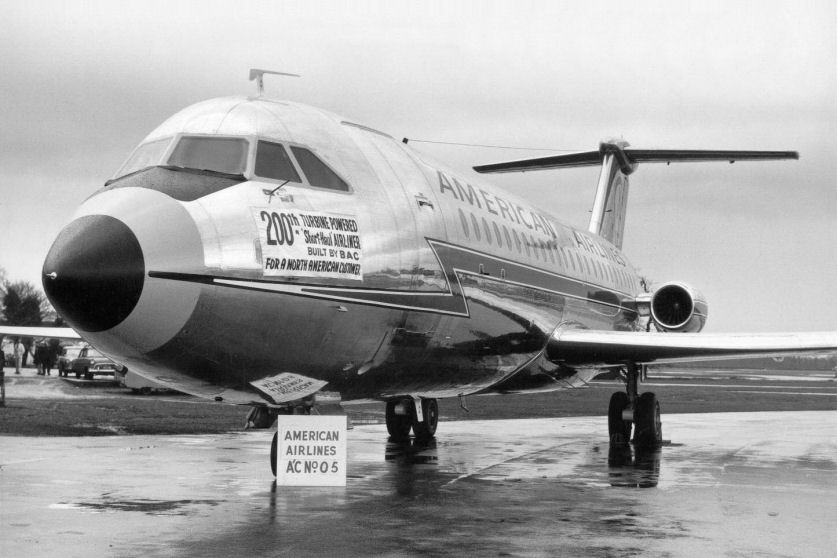 N5019 200th Turbine powered short haul airliner built by BAC for a North American customer Hurn 25 Feb 1966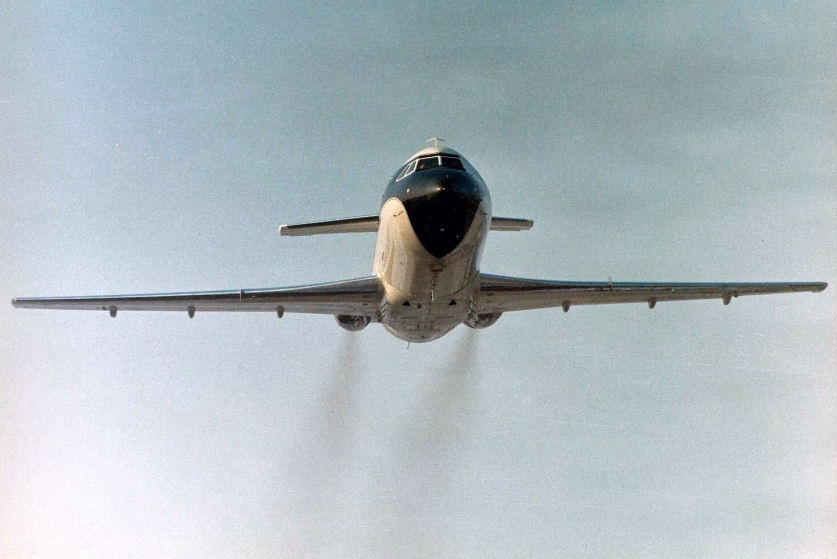 Helmut Horten's D-ABHH shows off the beautiful line of the 1-11 as it climbs away. Get ready to cover your ears! Weybridge Jan 1966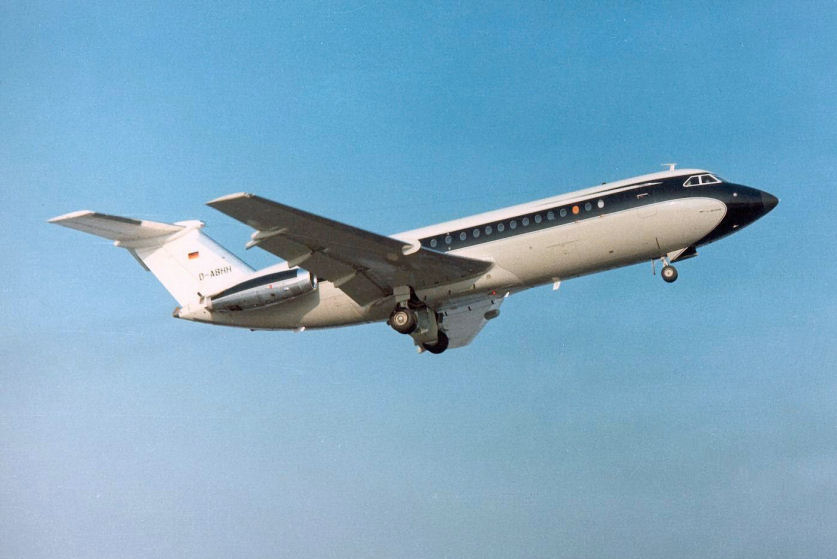 D-ABHH first 1-11 executive and first aircraft built at Weybridge on departure Jan 1966
PI-C1121 for Philippine Airlines on the Weybridge production line early 1966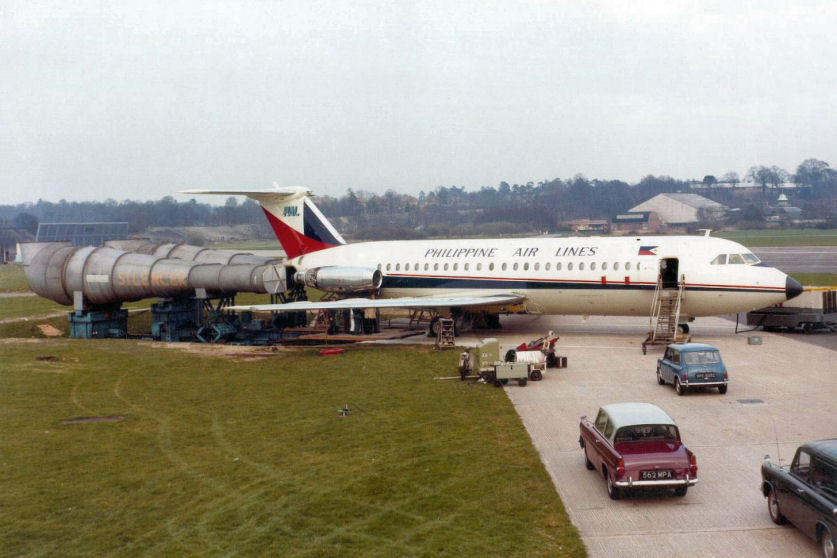 PI-C1121 A "classic" Weybridge shot, cars included, with the famous circuit and museum site in the background Apr 1966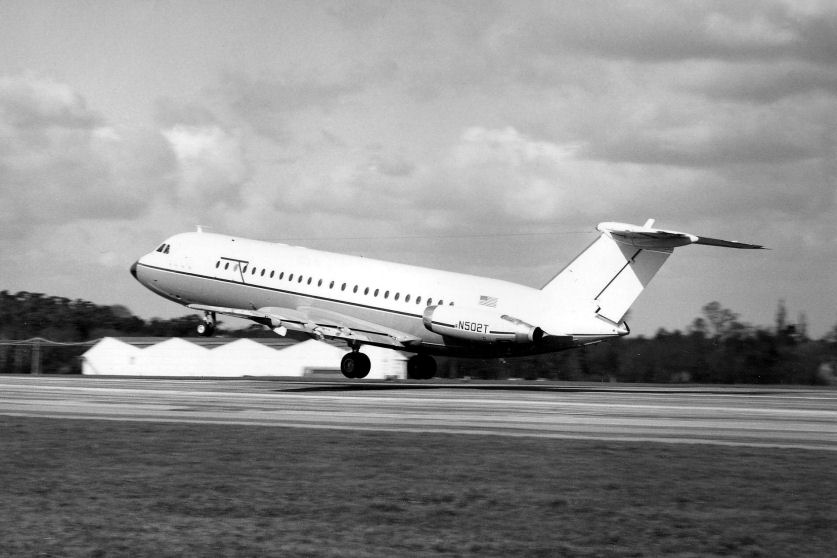 N502T for Tenneco departing from Wisley Mar 1966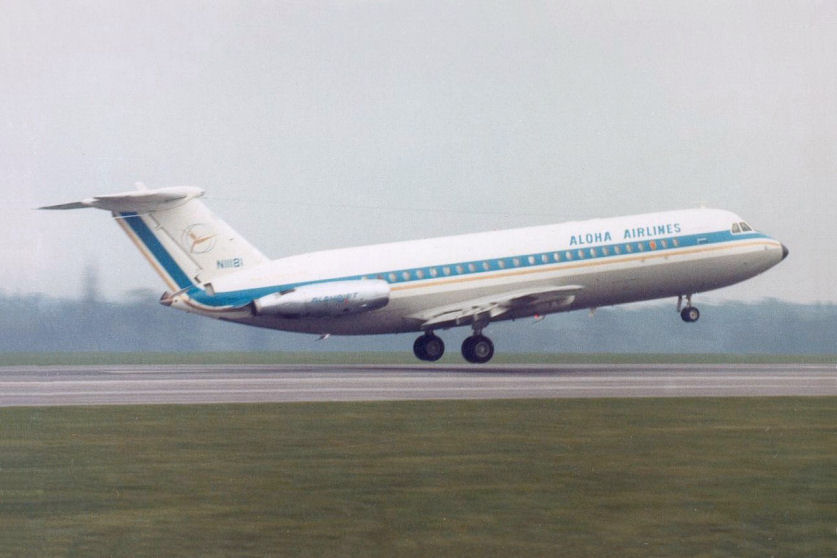 N11181 gets airborne at Wisley Apr 1966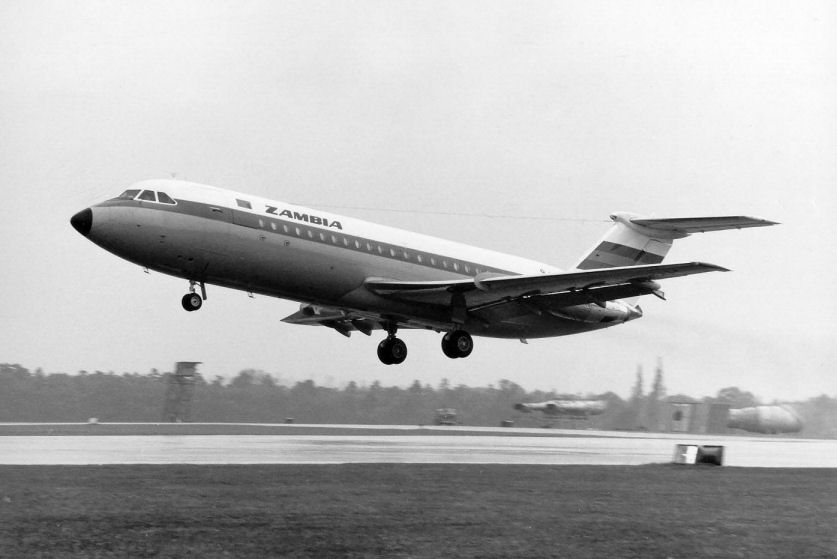 9J-RCI departs on another test flight from a wet Wisley Apr 1966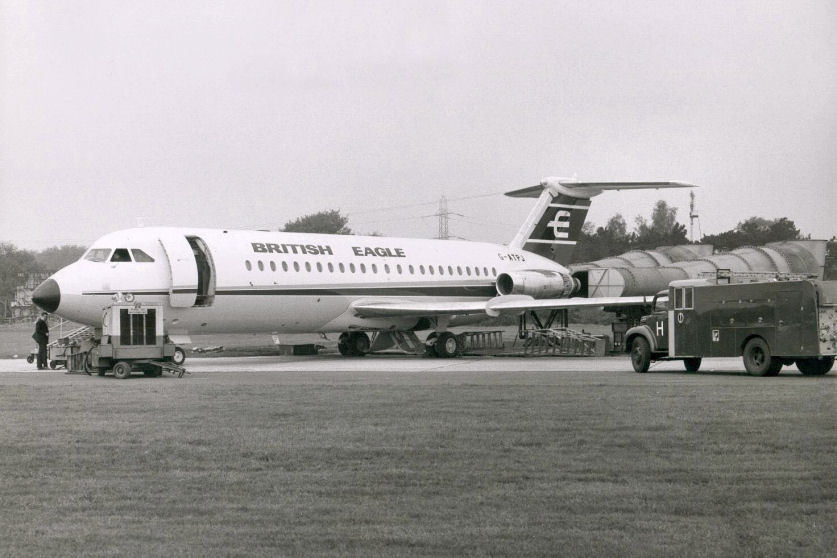 G-ATPJ carries out engine runs at Weybridge May 1966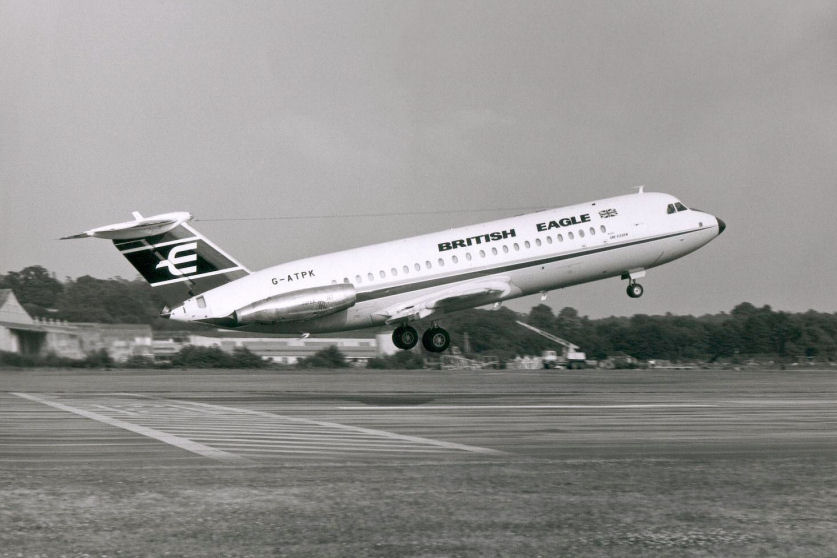 G-ATPK Airborne just passing the "latest lift off" runway markings on the short Weybridge runway 14 Jun 1966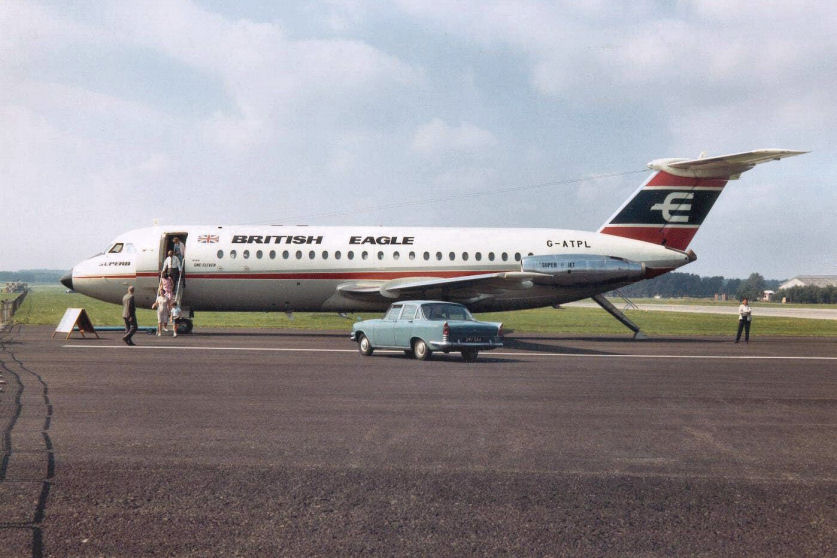 G-ATPL at "Farnborough 1966" Oh and another classic British car!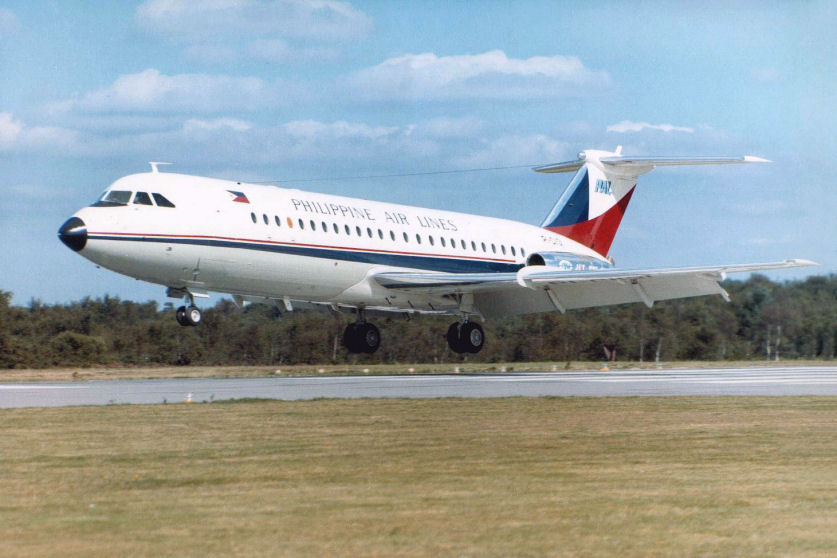 PI-C1131 approaching the Hurn runway Sep 1966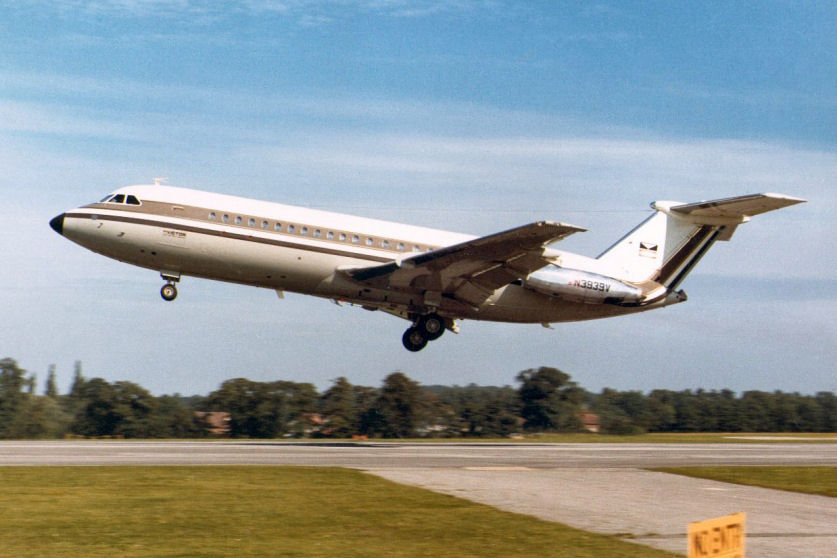 N3939V for Victor Comptometers takes to the air at Wisley Sep 1966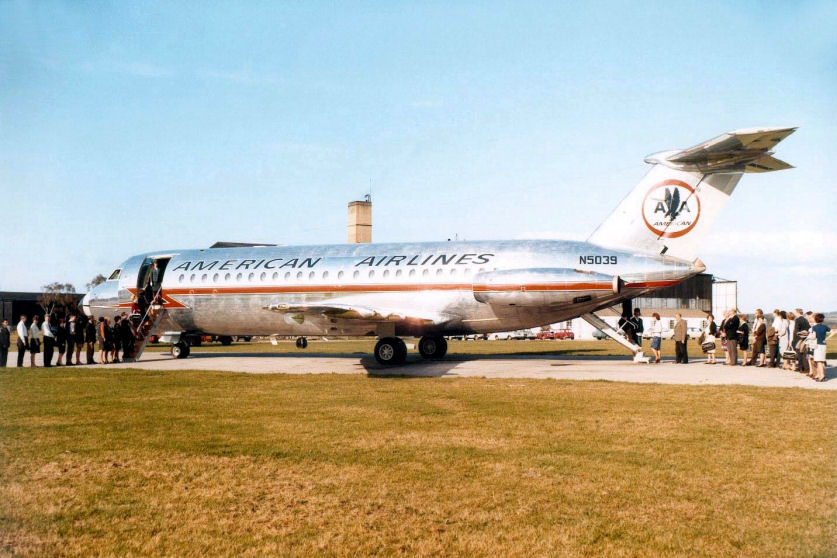 N5039 Hurn Oct 1966 - I wonder what the occasion is?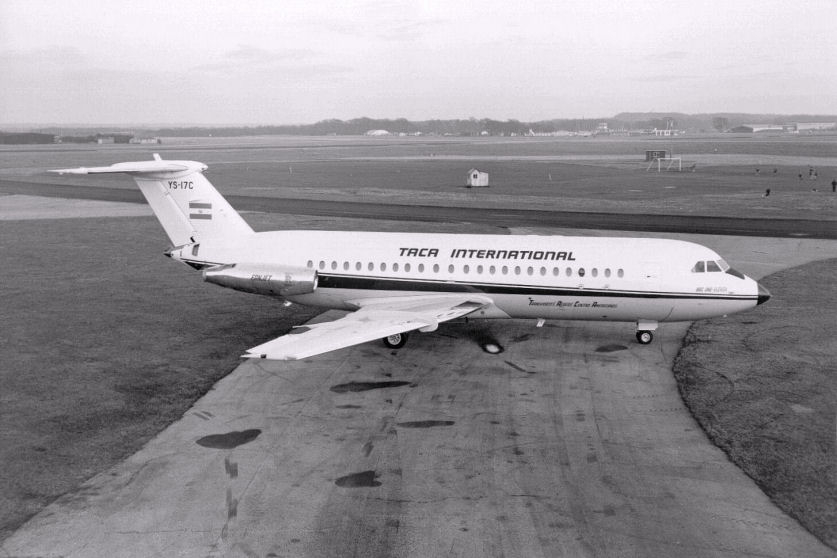 YS-17C promotional shot at Hurn Dec 1966 - A classic view with the BAC football pitch in the background!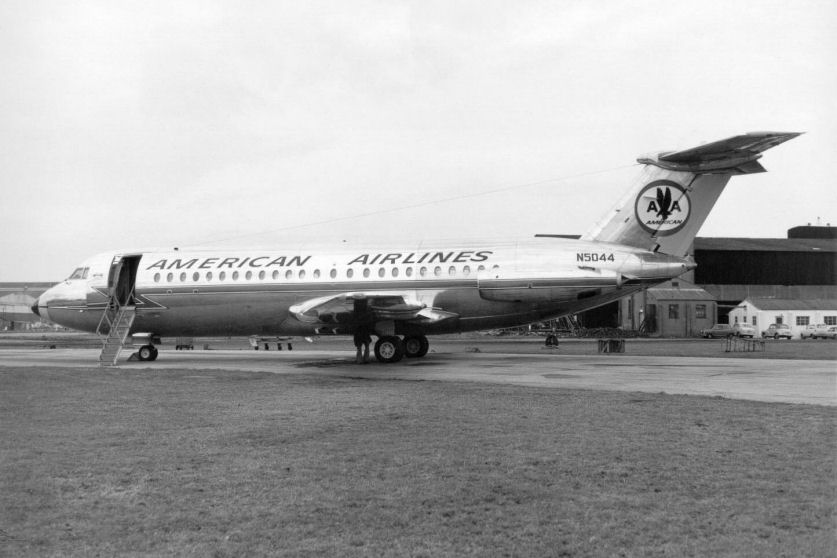 N5044 Last of 30 aircraft for American Airlines prior to delivery at Hurn 16 Dec 1966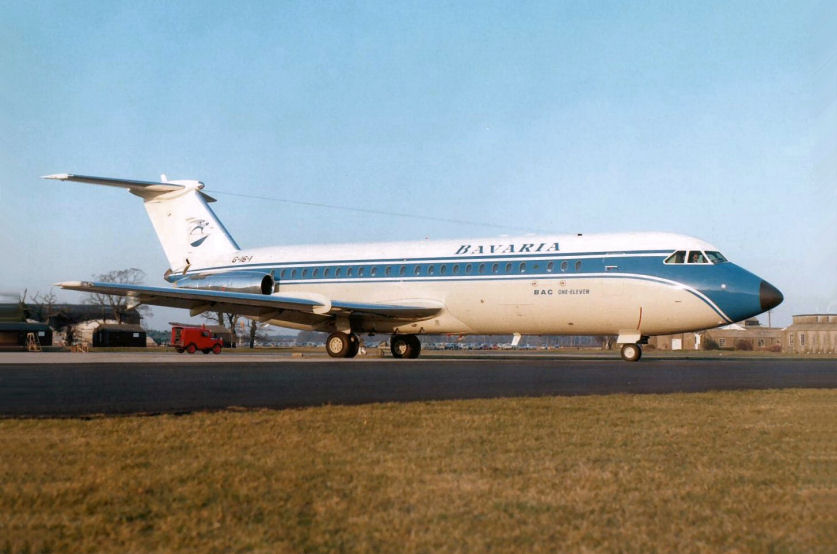 G-16-1 Test registration prior to lease to Bavaria as G-AVEJ Hurn Jan 1967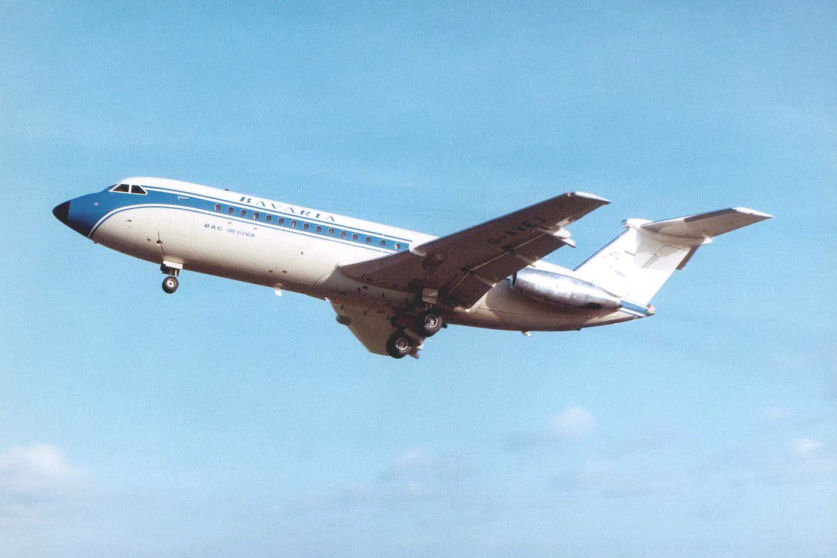 G-AVEJ departing from Hurn Feb 1967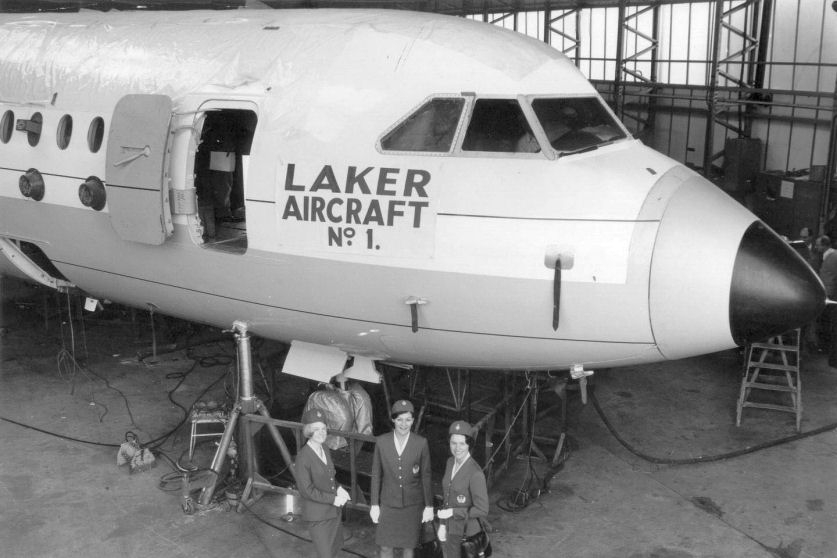 G-AVBW final assembly at Hurn with three glamorous Laker Stewardesses Jan 1967 - Where is Sir Freddie?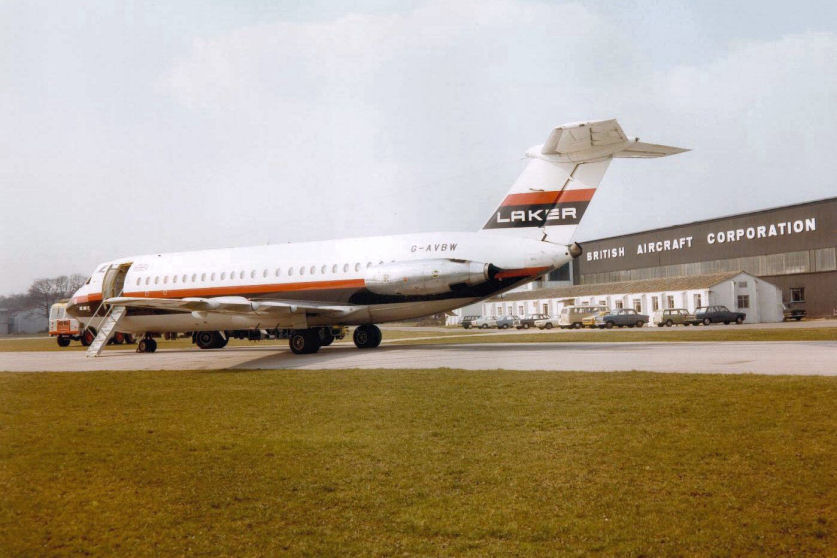 G-AVBW prior to its first flight at Hurn Feb 1967 - Another classic promotional view - And still no sign of Sir Freddie!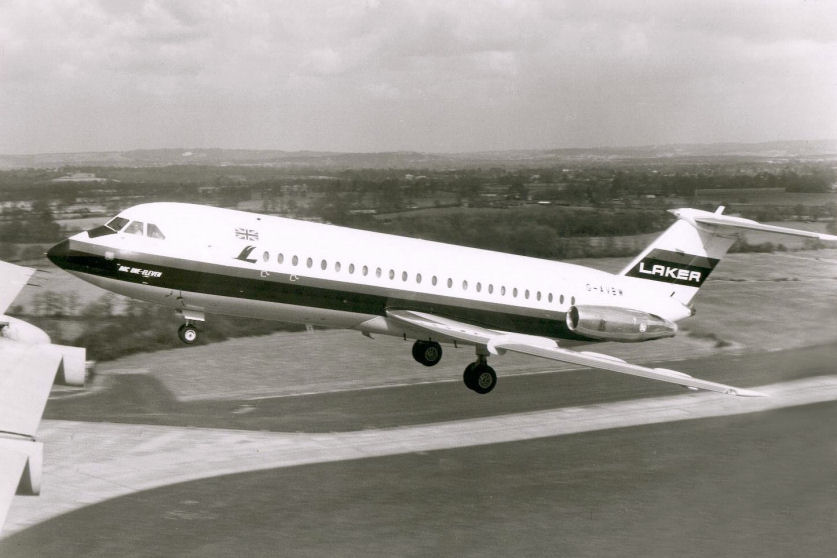 G-AVBW - What a shot! Getting airborne from ? Anyone know? Feb 1967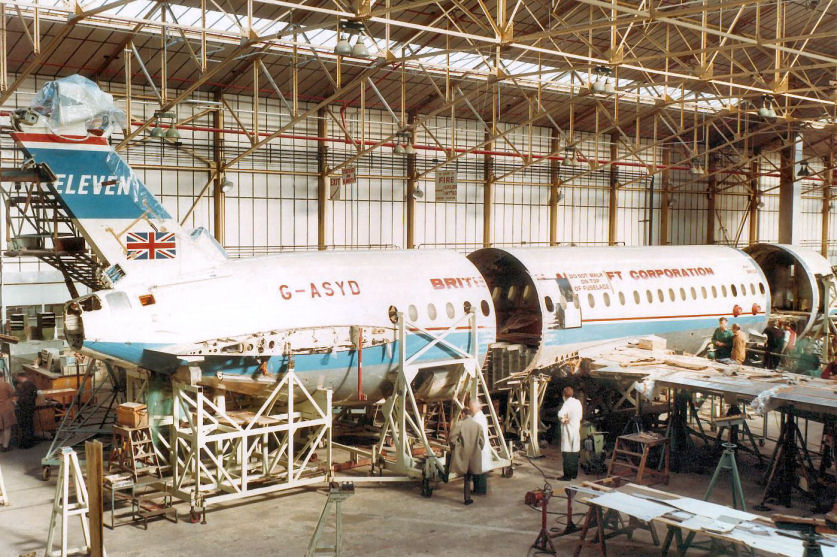 G-ASYD "cut and shut" - being changed from a series 400 to the series 500 prototype Hurn Mar 1967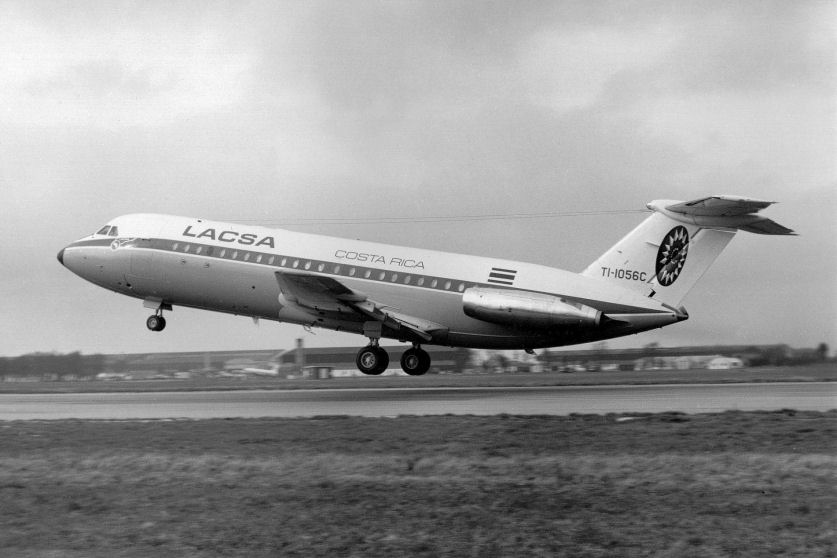 TI-1056C departing Hurn on its maiden flight 6 Mar 1967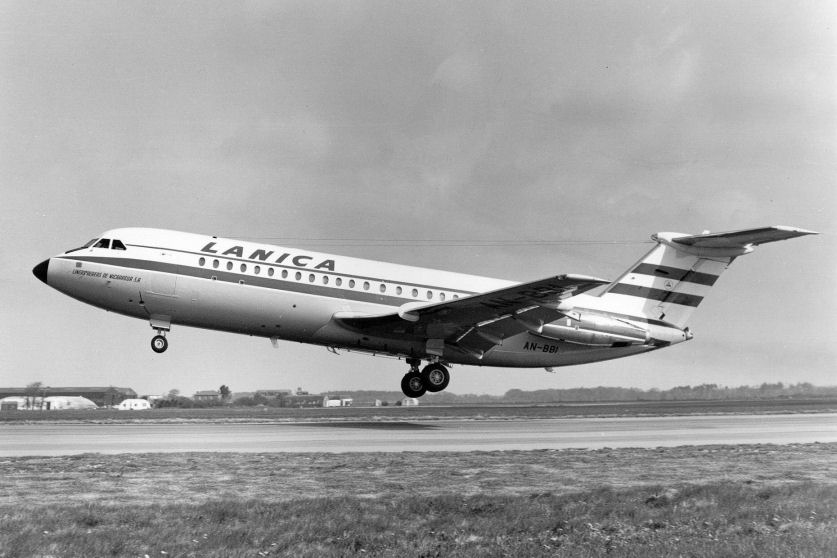 AN-BBI And another first flight from Hurn 8 Apr 1967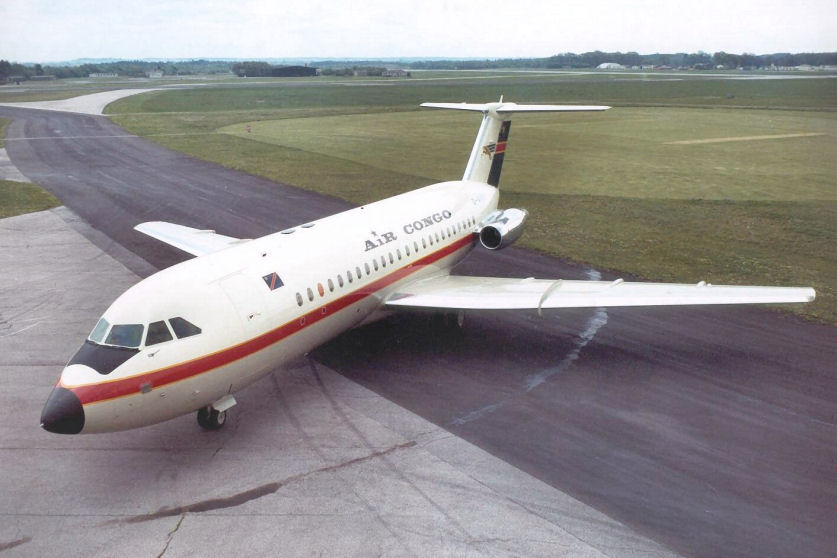 G-AVBY looking splendid in its "unique livery". What was Sir Freddie thinking after taking delivery of this brand new 1-11 in May 1967?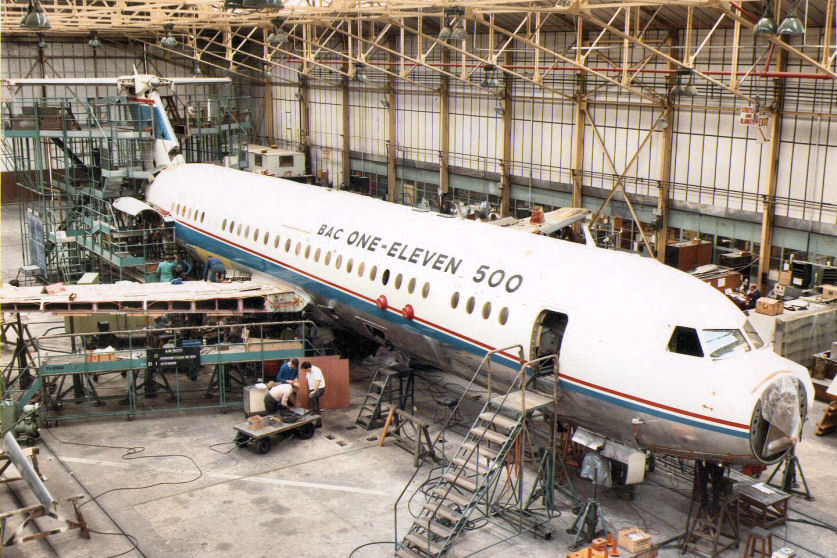 G-ASYD series 500 prototype takes shape at Hurn May 1967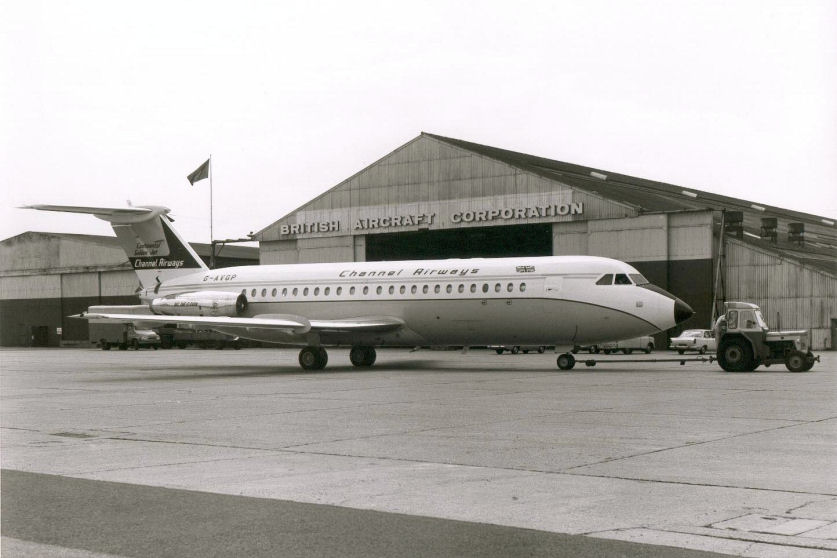 G-AVGP - Another "classic" BAC promotional photo during rollout at Hurn Jun 1967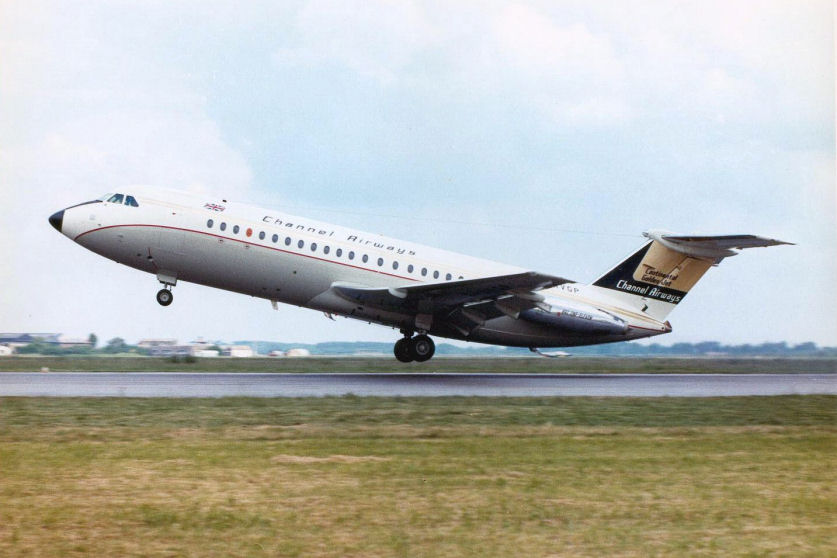 G-AVGP leaves the ground on her maiden flight at Hurn 9 Jun 1967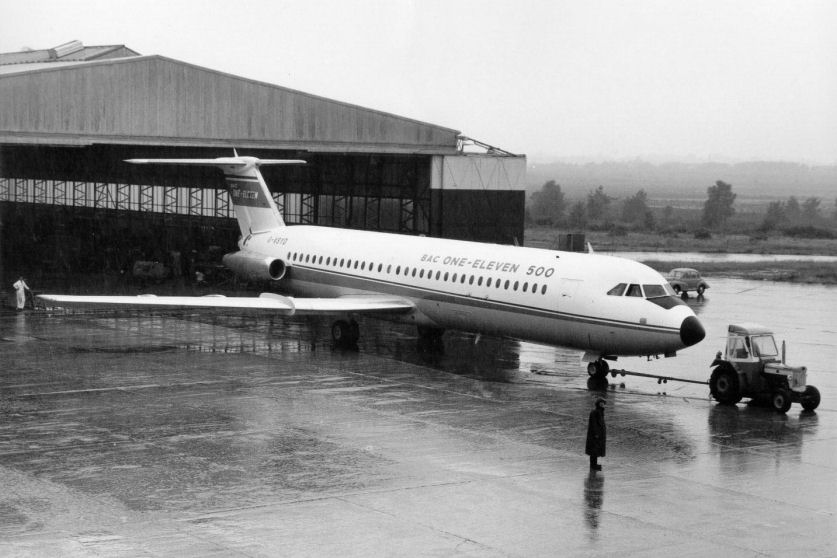 G-ASYD series 500 prototype rollout at Hurn 22 Jun 1967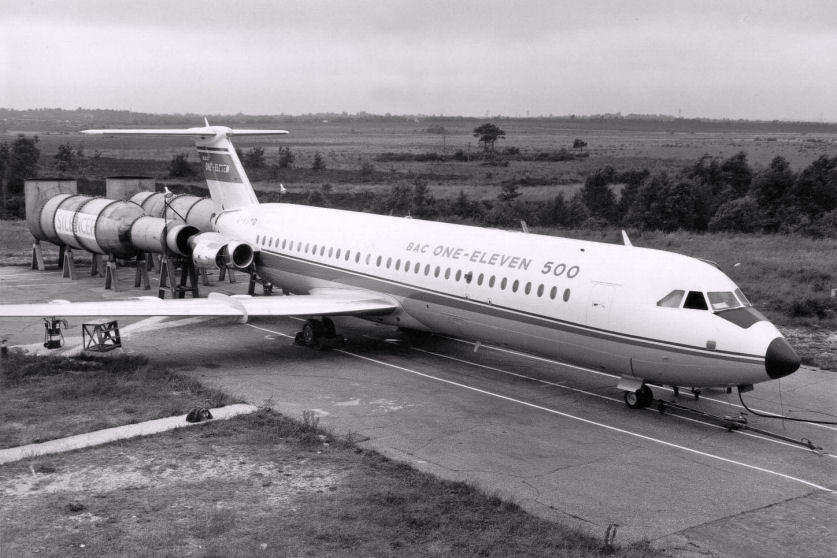 G-ASYD towed straight over to the engine test bay for engine runs at Hurn 22 Jun 1967 - at least the weather's improved!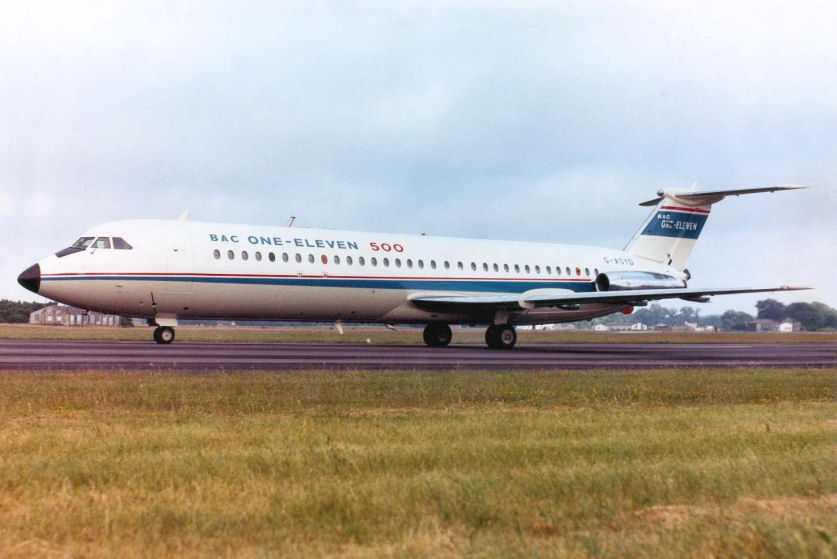 G-ASYD series 500 prototype ready for her first flight at Hurn 30 Jun 1967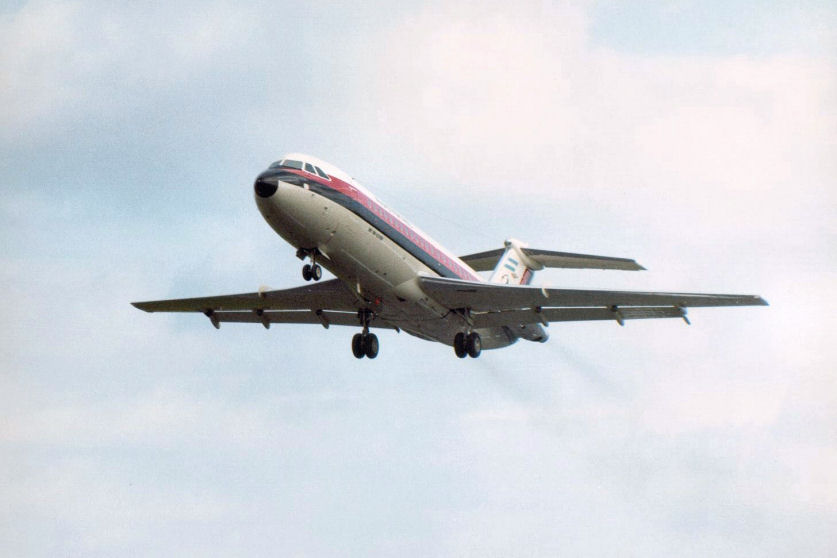 LV-IZR First flight at Hurn 21 Jul 1967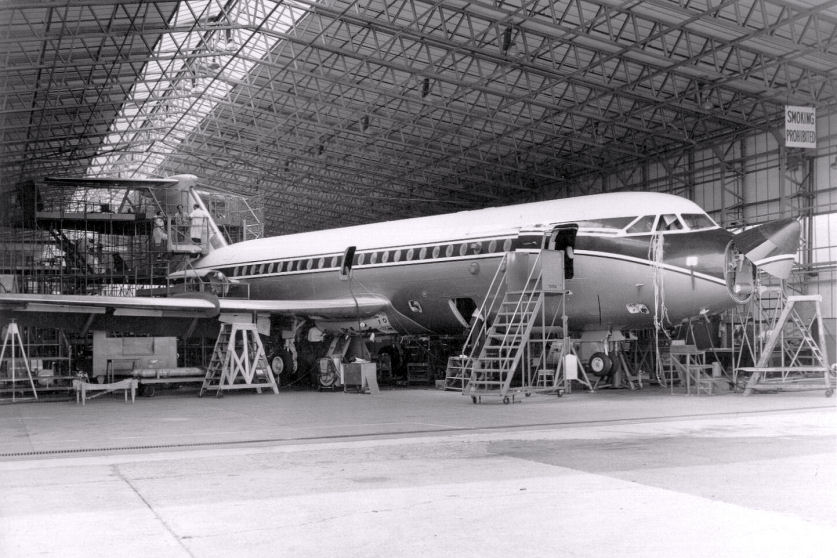 N270E for Engelhard Industries in the final stages of production at Hurn Jul 1967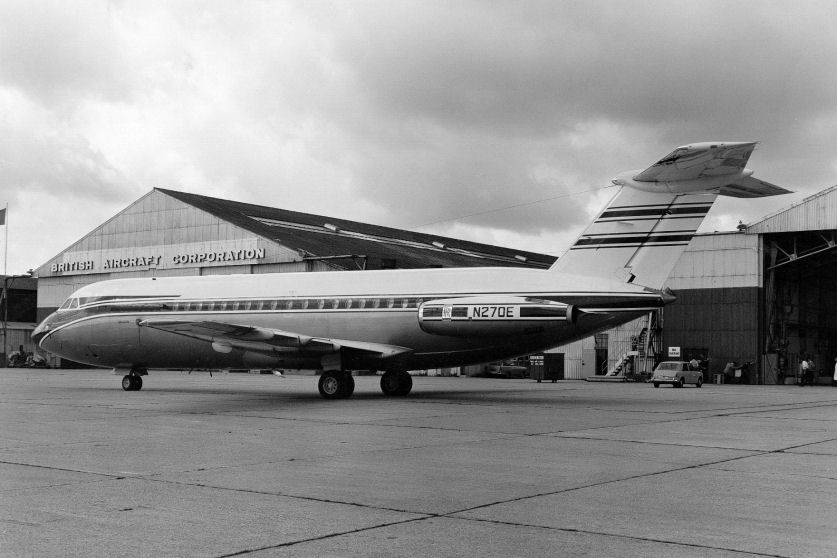 N270E Rollout day at Hurn Aug 1967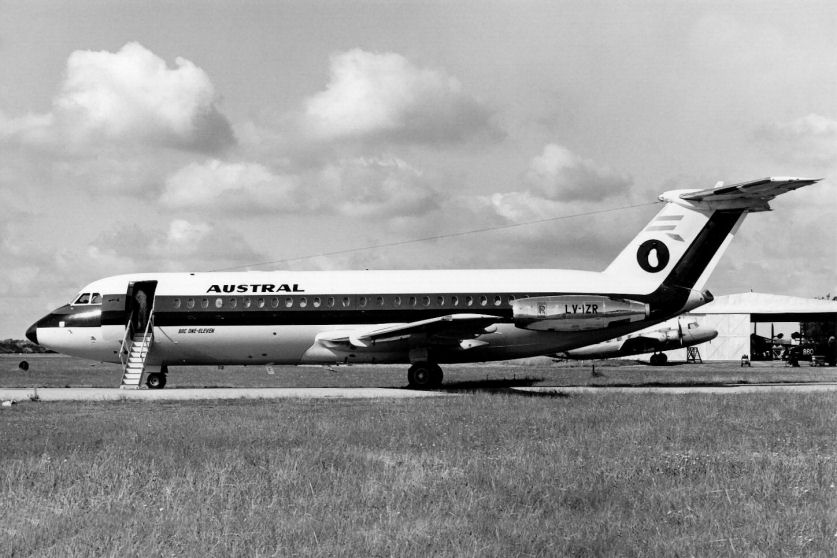 LV-IZR at Hurn prior to delivery Aug 1967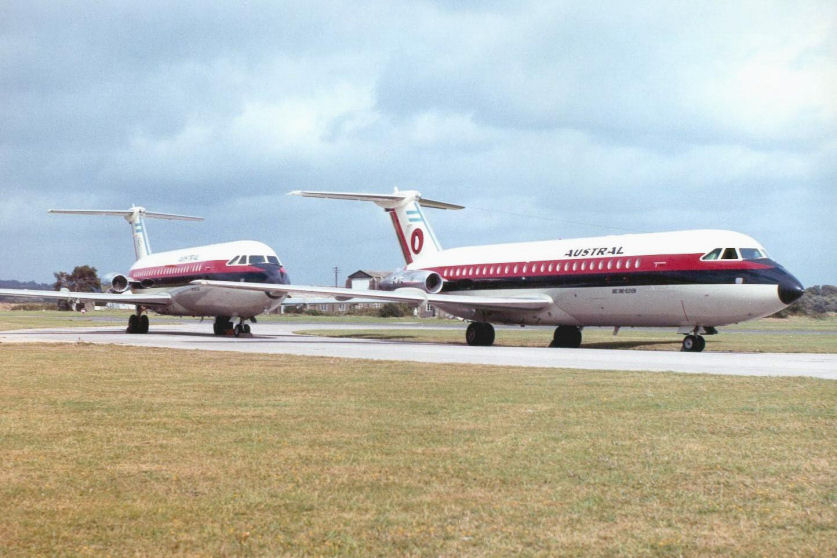 G-AVTF (LZ-IZR) and LV-IZS Hurn Sep 1967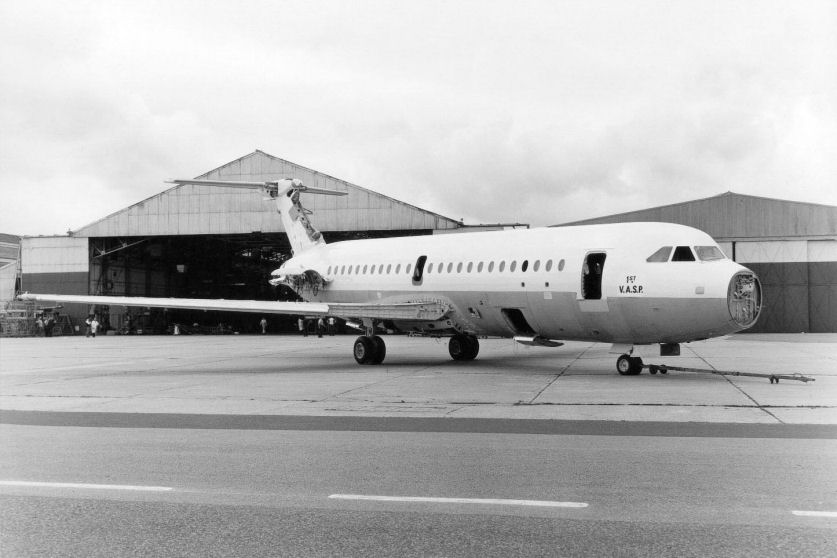 PP-SRT for VASP during a pause in construction at Hurn Sep 1967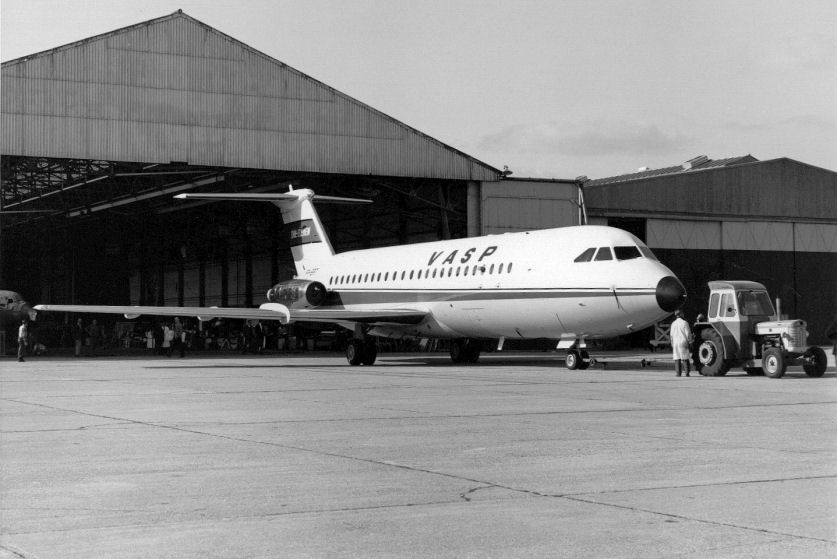 PP-SRT Rollout at Hurn Oct 1967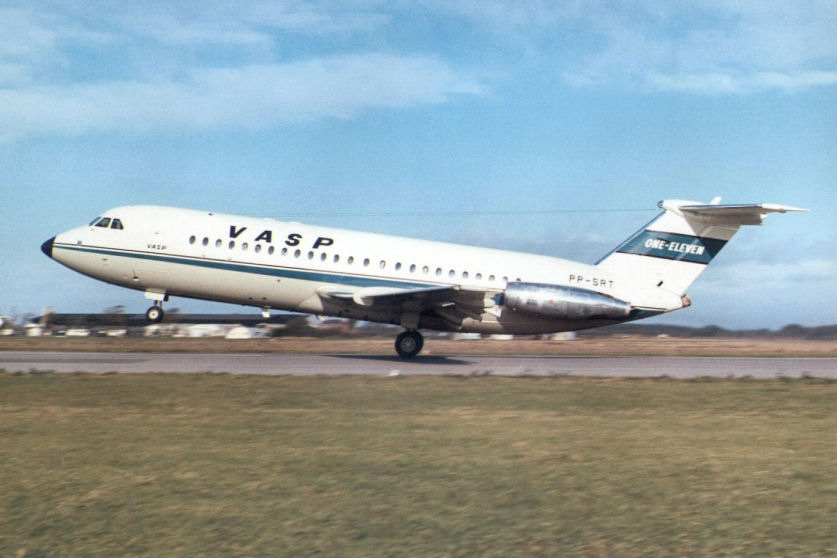 PP-SRT Maiden flight at Hurn 18 Oct 1967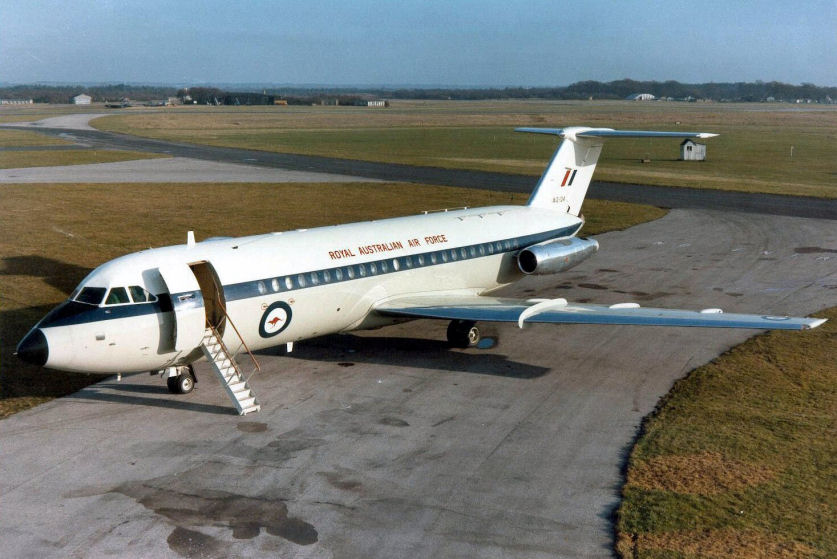 A12-124 in the "usual" promotional parking bay and ready to fly at Hurn 3 Nov 1967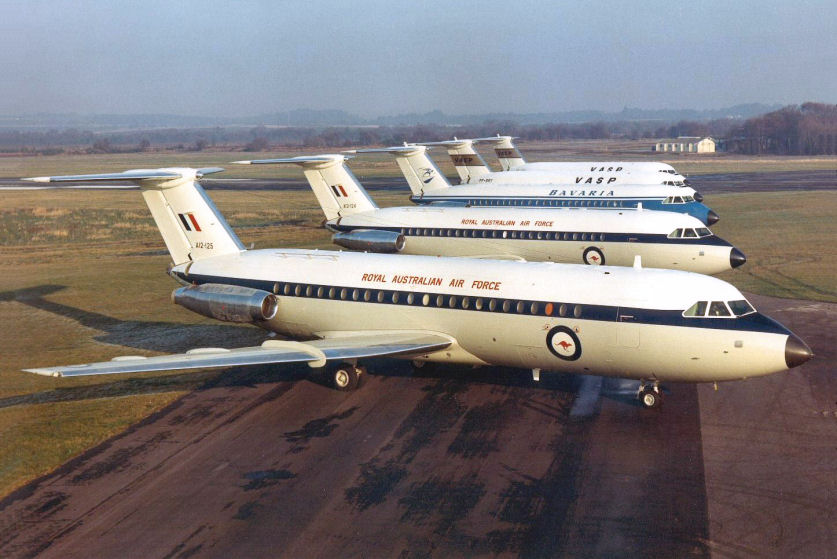 One of the greatest line ups of all time at Hurn A12-124 A12-125 D-ANDY PP-SRT PP-SRU Hurn Dec 1967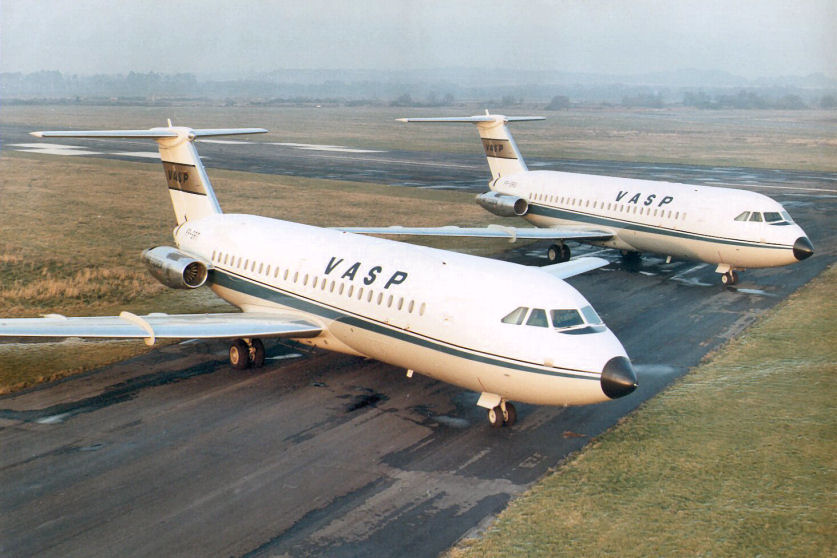 PP-SRT PP-SRU at the end of that famous line up Dec 1967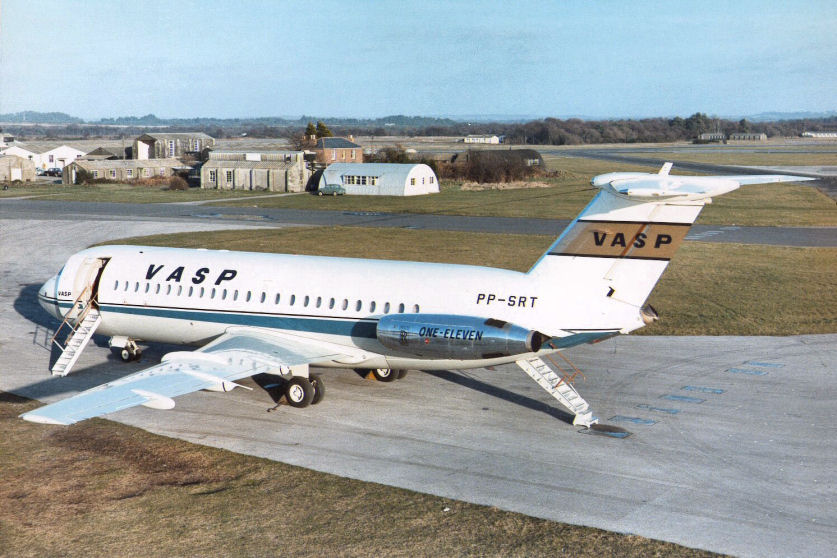 PP-SRT being prepared for delivery at Hurn Dec 1967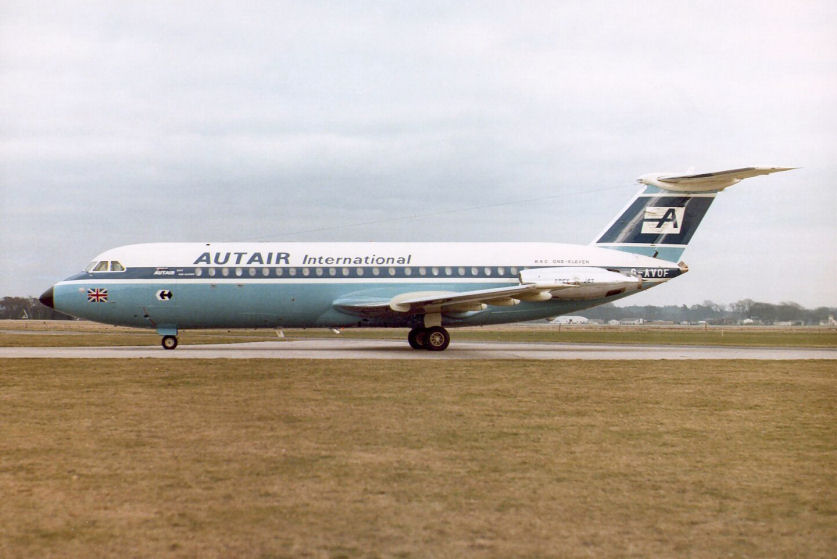 G-AVOF about to take to the air for the first time at Hurn 18 Jan 1968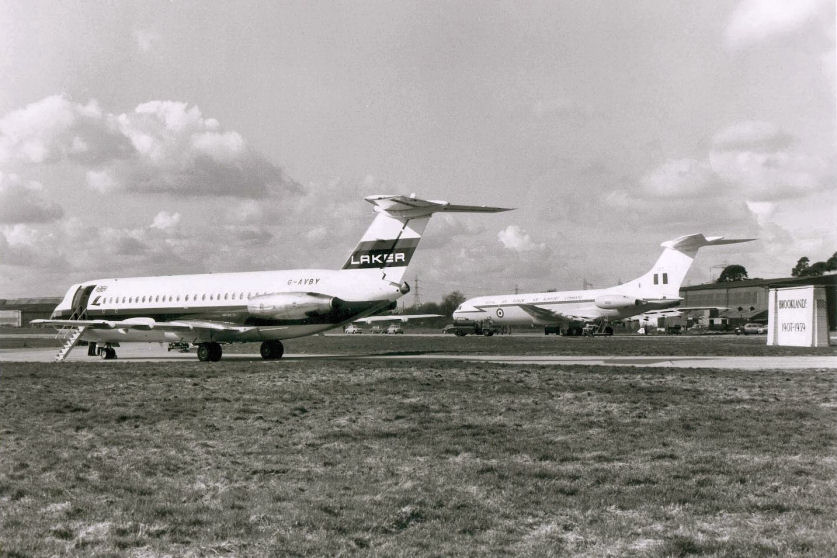 G-AVBY poses for a "classic image" with an RAF VC-10 at Weybridge Feb 1968 - Note the Brooklands circuit memorial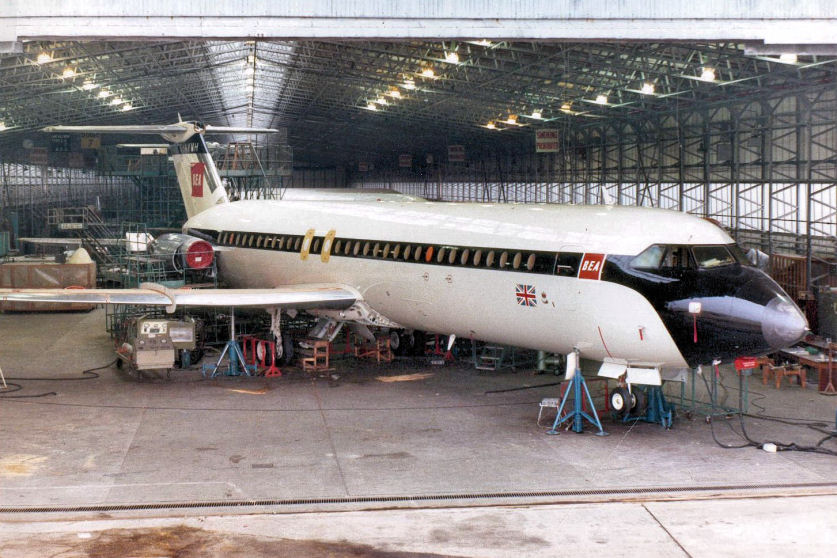 G-AVMH first production aircraft for British European Airways in the final stages of production at Hurn Feb 1968
G-AVMH after arriving at Wisley for trials 8 Feb 1968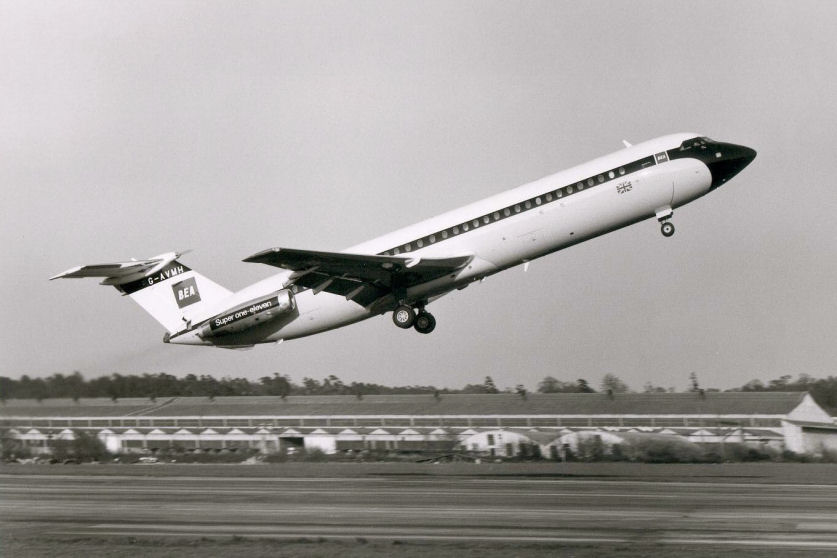 G-AVMH on a visit to Weybridge Feb 1968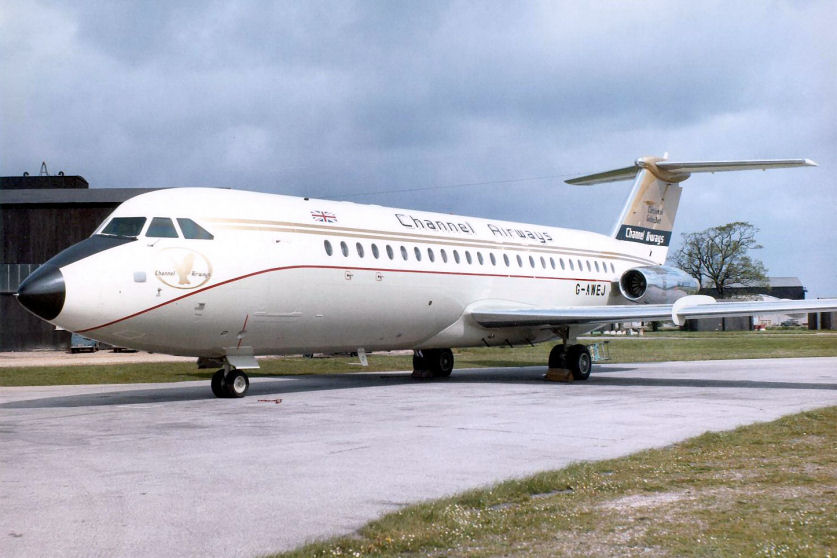 G-AWEJ looking pristine in its new channel Airways livery at Hurn May 1968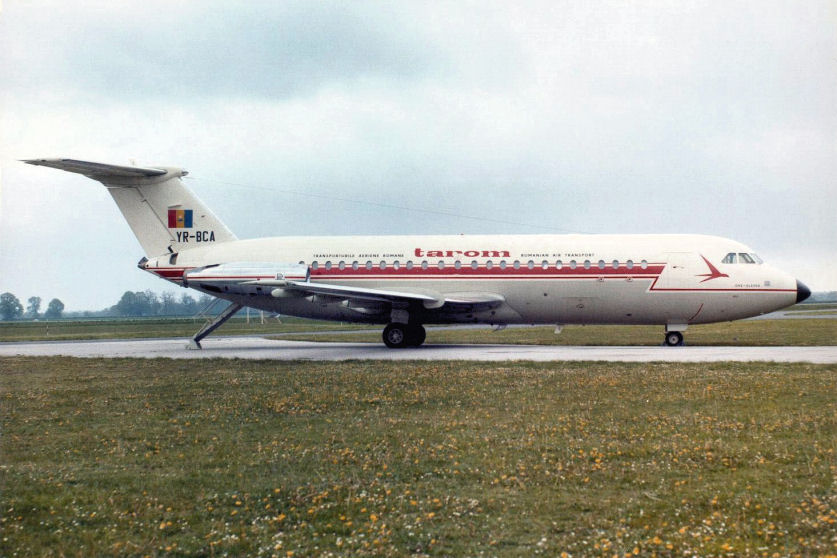 YR-BCA at Hurn Jun 1968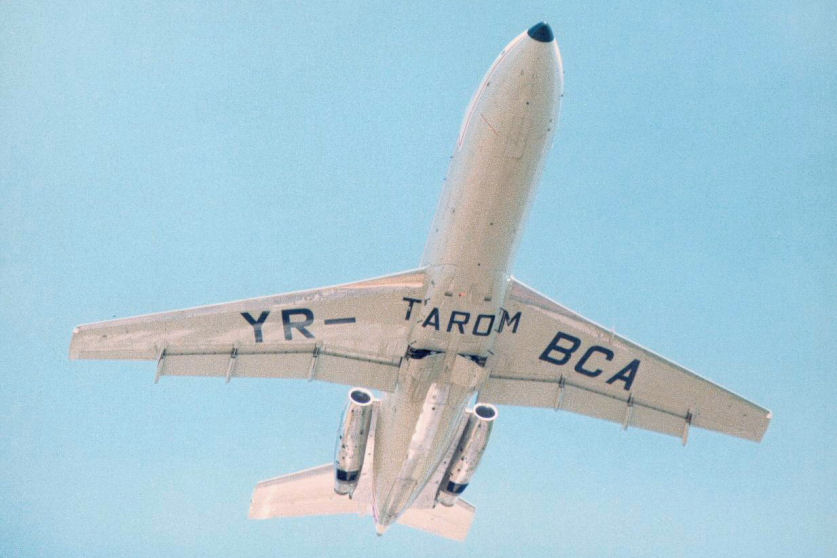 YR-BCA departs on delivery from Hurn 14 Jun 1968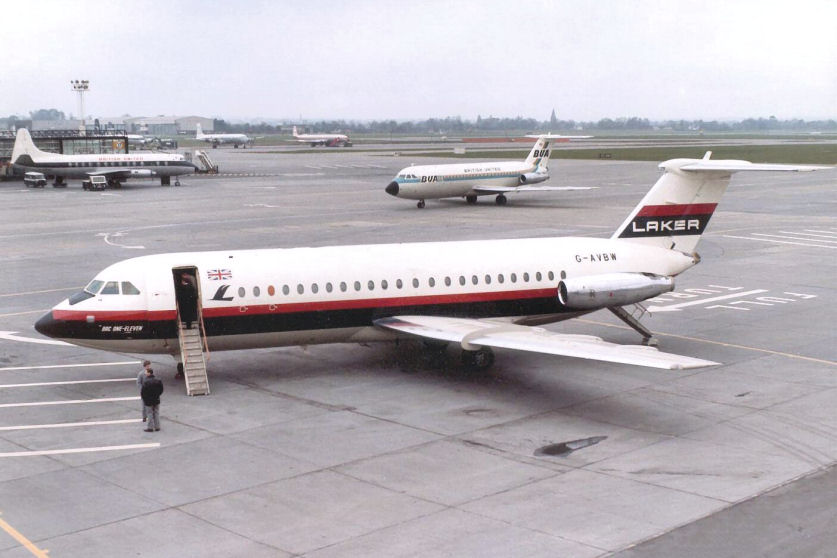 G-AVBW in a superb photo taken at Gatwick in 1968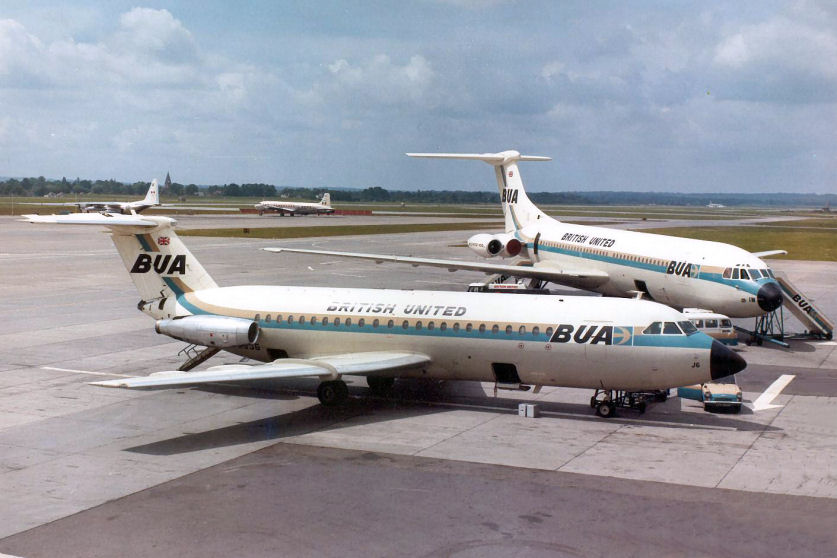 G-ASJG with VC-10 G-ASIW behind in one of my "favourite" images taken at Gatwick during 1968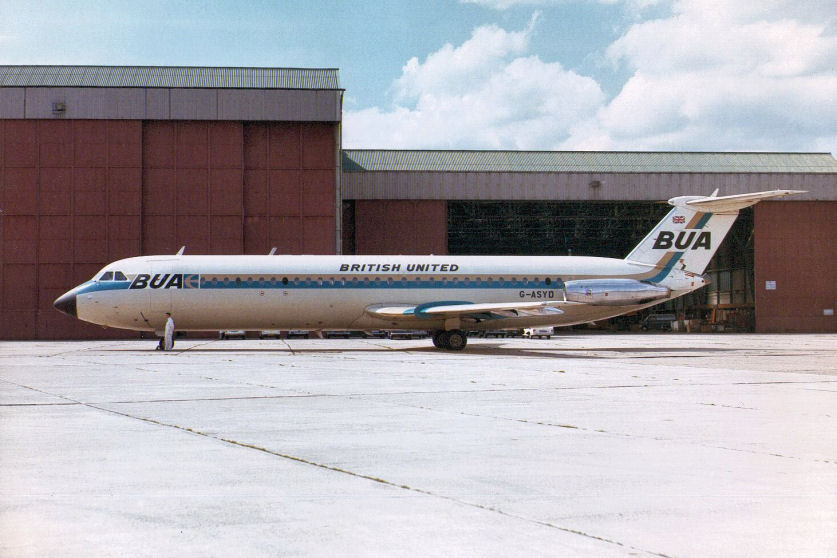 G-ASYD in a very rare photo of it with BUA colours painted on one side only at Wisley Sep 1968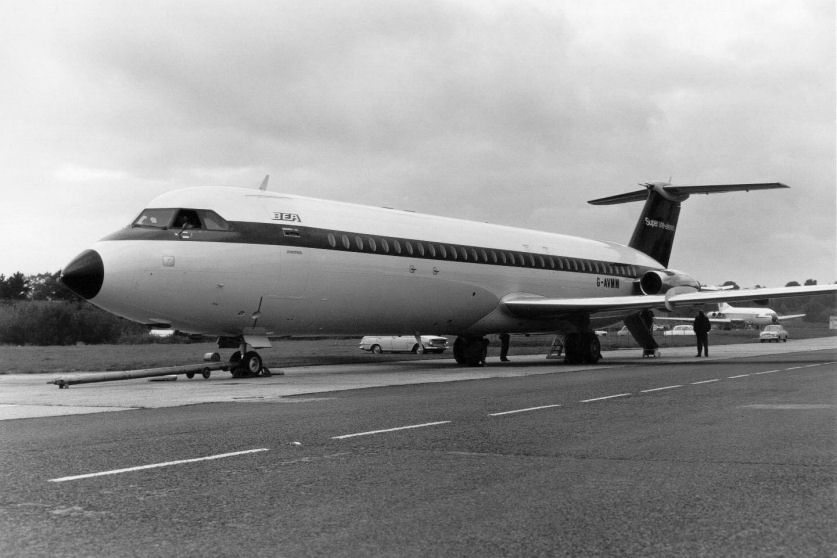 BEA 1-11 G-AVMM on a visit to Weybridge Sep 1968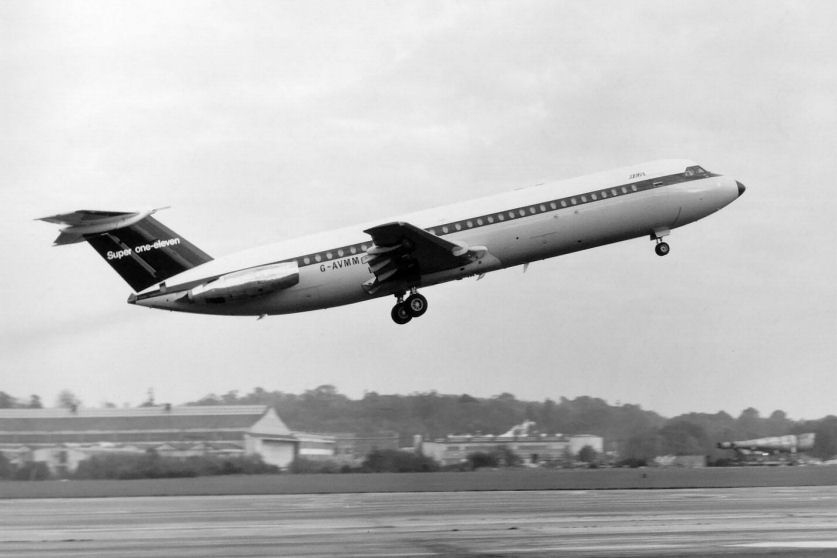 G-AVMM departing Weybridge Sep 1968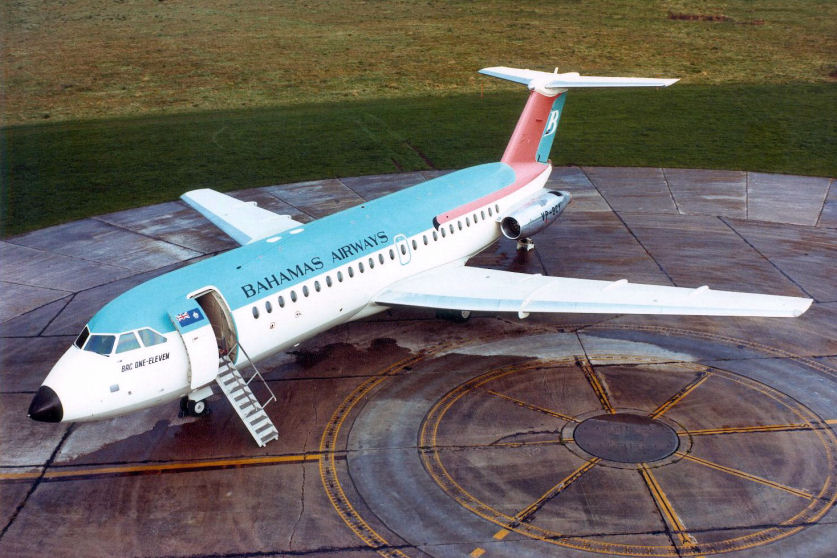 VP-BCY on the compass swing ramp at Wisley Nov 1968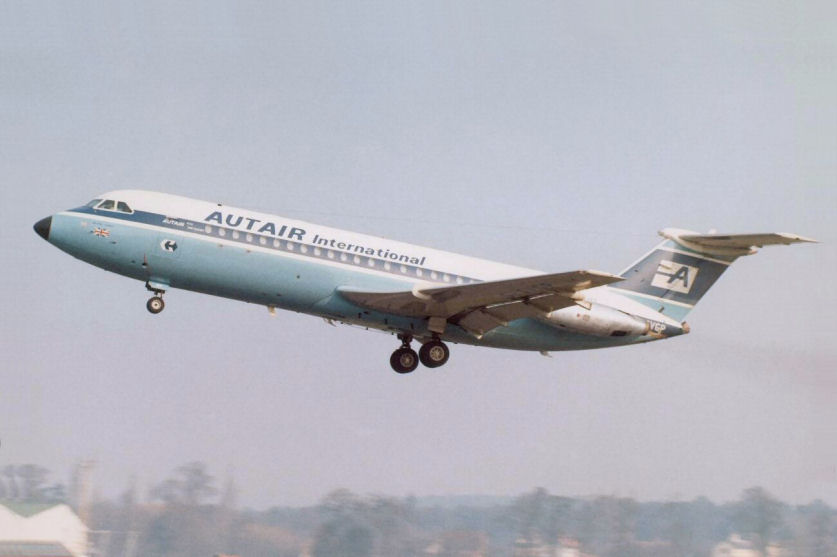 G-AVGP departs from Wisley Dec 1968